Inside/Outside: Questions for Patagonia's Retail District Manager Brooks Scott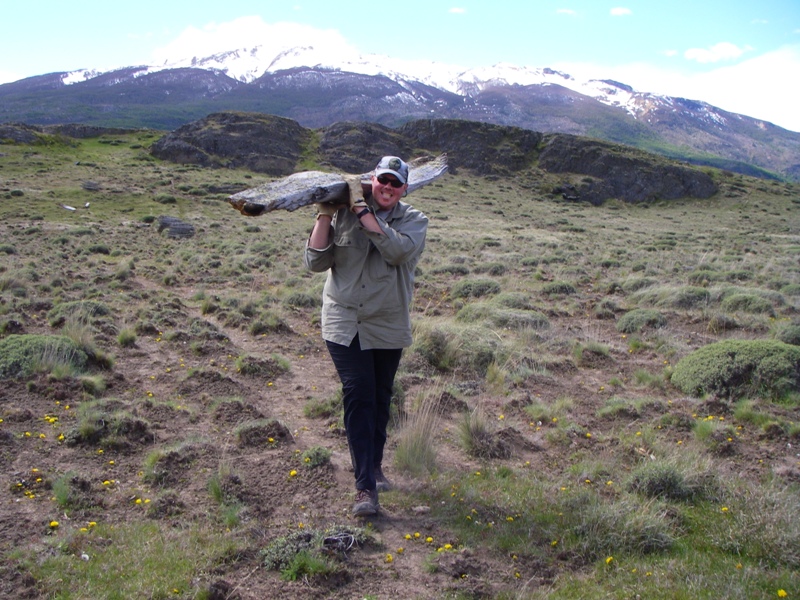 Editor's note: Craig Holloway continues his excellent interview series today with some questions for Patagonia Retail District Manager, Brooks Scott. Craig chose to interview Brooks for his insightful knowledge and passion for retail. Brooks lives in Chicago with his family and oversees the Patagonia Chicago, St. Paul, Washington DC and Atlanta stores.
Craig – How did you come to work at Patagonia?
Brooks – I grew up wearing Patagonia clothes and love the company. After college I worked as a chef, but when my wife and I decided to start a family I had to change my lifestyle. I love to fly fish and got a job with Trout & Grouse, a Patagonia dealer. While working there I developed good relationships with some folks at Patagonia. When they opened their first store in the Midwest (Chicago) they hired me as manager.
Craig – Were you born and raised in the Midwest?
Brooks – I'm a native Chicagoan and it's an amazing city. What I really appreciate is the sense of community I feel in the different neighborhoods. There are so many of them, some as small as a few square blocks. My family and I lived in the suburbs, but we missed the city, so we moved back. While we were unpacking our next-door neighbors stopped by with a pie to welcome us to the neighborhood.
[Brooks shoulders the load during an internship with Conservación Patagónica. Valle Chacabuco, Chile. Photo: Brooks Scott Collection]
Craig – You have been working in Patagonia Retail for a long time. What do customers say to you when they have a great experience with the sales associates?
Brooks – Customers tell me it's the personal touch they receive when our sales associates are helping them. One time a customer brought his Critical Mass Bag into the Chicago store for repair. He loved that bag and didn't want to replace it. While the customer waited to have his bag repaired, he tried on a new shoulder bag. He loaded all of his stuff into the bag, but decided it would not meet his needs. After he got his repaired bag back, he bought a few things, heartily thanked the sales staff and left. Another customer tried on that same shoulder bag and discovered a few items the other customer had left in the bag. The sales associate remembered the customer, got his mailing address and shipped the items back to him. The customer wrote a letter to Patagonia saying how he was blown away by the service, and that he is now a loyal customer for life.
Craig – Does your eleven-year-old son teach you lessons that you share with your co-workers?
Brooks – Every day. When I was managing the Chicago store, there was a rule called the "Gordy Rule". It meant that I wanted my son to be able to find product in the stockroom within three minutes. That meant the stockroom had to be organized intuitively enough so that even a kid could find his way around easily.
Raising kids is experiential in nature, and a lot of my management philosophy revolves around letting people learn that the best way to do things is by experimenting. That's my version of being Not Bound by Convention, one of Patagonia's Core Values.
Craig – What do you like about wilderness in the Midwest that you won't see elsewhere?
Brooks – I live in what a lot of people refer to as "flyover" country. The Midwest has one of the most diverse environments in the U.S. I like to camp and fish in the Driftless Area, which is a large region that encompasses parts of four states: Illinois, Wisconsin, Minnesota and Iowa. It's an incredible wilderness area with hills and valleys, called coulees, many of which have crystal clear limestone-fed streams flowing through them. I can be on some of those streams in as little as 2 ½ hours from my home in Chicago.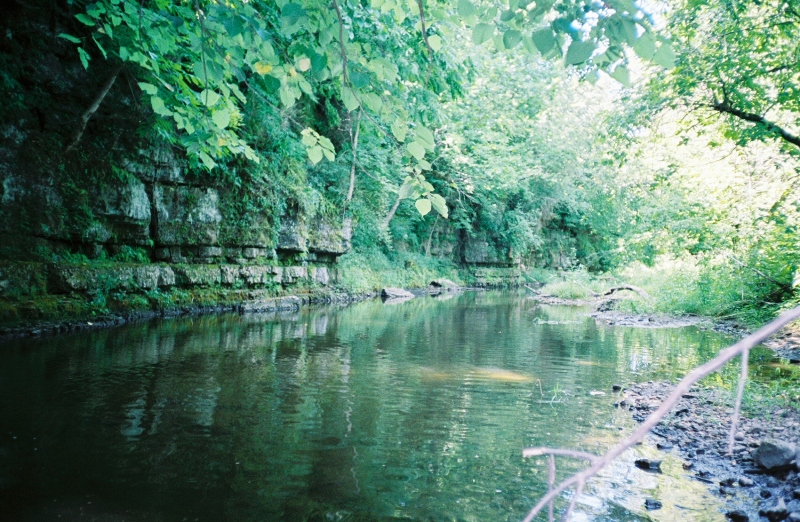 [Summertime greenery in Driftless country. Apple River, Illinois. Photo: Brooks Scott Collection]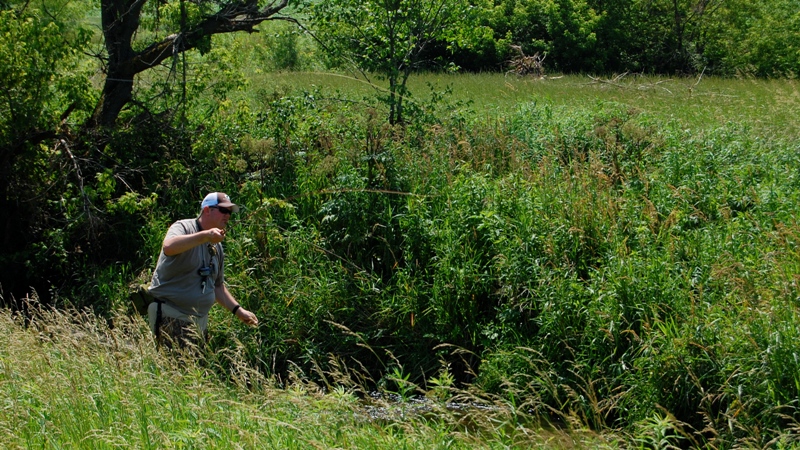 [Brooks wading in rarely touched water with a three weight, a handful of dry flies and rising browns. Wisconsin. Photo: David Sweeney]
Craig – What qualities make a good manager? 
Brooks – A good manager is a good listener. You have to listen to the people you work with and learn what they're passionate about. I let them develop their skills, and encourage them to use their strengths daily. The time and personal support I give to each co-worker is well worth it when I see everyone in the store work as a team. 
Craig – You traveled to Chile in 2007 for an environmental internship with Conservación Patagónica. What did you learn from that experience?
Brooks – That internship experience continues to inspire me every day. I traveled with a group of co-workers to Estancia Valle Chacabuco, which is in Patagonian Chile. Kris and Doug Tompkins started a nonprofit land trust there to create a national park. They purchase old ranches and need help with removing the fence posts, and removing nonnative plants. Patagonia got involved with the project by sending its employees down to provide manual labor. After a long day of hard work I'd look back down the valley and see how many posts we had removed. It made me realize the work I had just completed does make a difference in helping to preserve the natural world.
The Tompkins' vision is now a 500 million acre Patagonia National Park. But Conservación Patagónia's recent challenge is two proposed dam projects, which threaten the park's future. This troubling news deserves everyone's attention. I'm planning a trip to bring my family there next year. I want my wife and son to see one of the last great wilderness areas.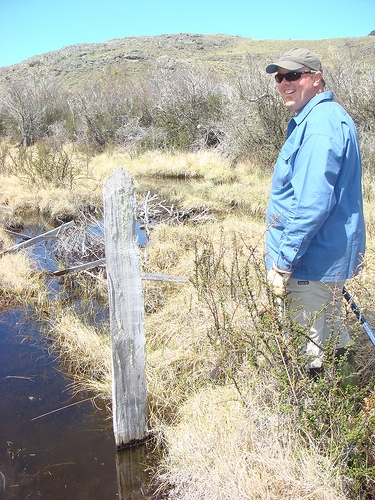 [Another post to remove. Valle Chacabuco, Chile. Photo: Brooks Scott Collection]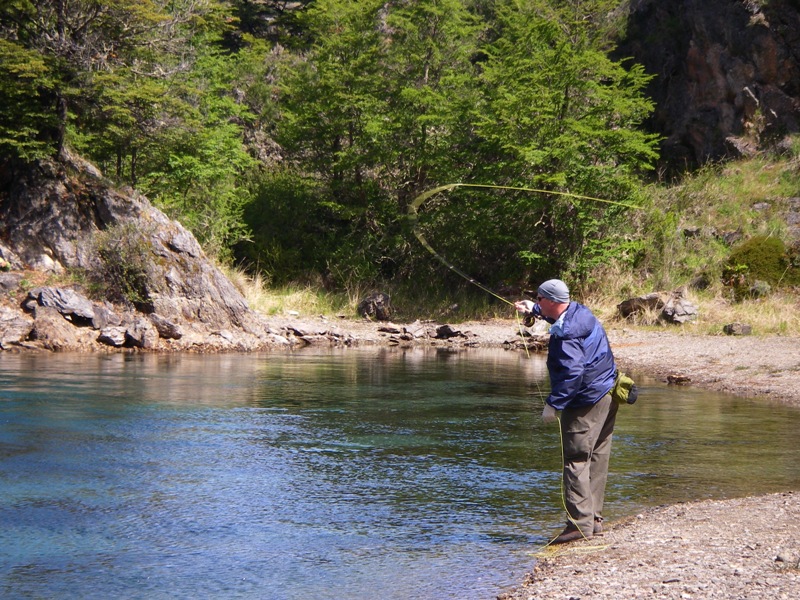 [Brooks wets his line for steelhead on the Cochrane River, Chile. Photo: Brooks Scott Collection]
Craig – Are there local environmental groups that you closely work with?
Brooks – I'm a passionate angler, so water conservation is important. The Chicago store gave its first grant to Friends of the Chicago River. The store also gave grants to the Prairie Rivers Network and Alliance for the Great Lakes.
As a former chef, I believe that local, sustainable and accessible food is important. The Chicago store has given over $10,000 in the last 4 years to the Angelic Organics Learning Center (2010 Patagonia Grants recipient). They do incredible work by bringing new people into organic farming to help train the next generation of farmers. I also serve on the board of Chicago's only member supported food Co-Op, the Dill Pickle.
Craig – Now that Patagonia retail stores use social media what changes have you noticed?
Brooks – The thing I've noticed with social media is that it's changing in how Patagonia relates to its customers and how customers relate to Patagonia. Now customers can visit Patagonia Facebook and read a customer's product review or read about what local environmental groups Patagonia works with and supports. And Patagonia sends timely messages via Twitter announcing store events and upcoming sales. Social media will be a vital part of Patagonia's future in how it communicates and interacts with its customers.
Craig – What do you think Patagonia will be like 30 years from now?
Brooks – Patagonia will be a different company in the future. I think a lot of what happens down the road will depend on the Chouinards' legacy. Their business philosophy will be passed on from one generation to the next. Part of that philosophy is that perfection in business is not attainable. Another part is leading an examined life, which means having the guts to publicly admit when Patagonia does something wrong. Patagonia will continue to help protect the remaining wild places on the planet and continue to teach businesses in other industries how this can be done.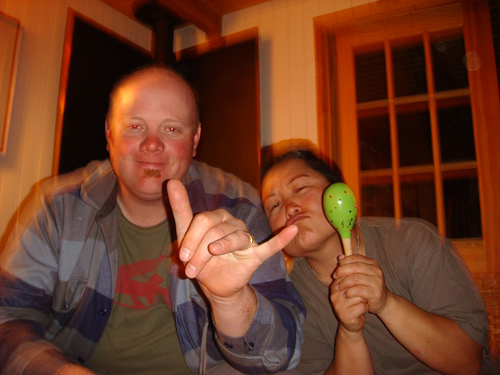 [Cha-cha-cha at the estancia. Valle Chacabuco, Chile. Photo: Brooks Scott Collection]