Bodies of Water
Bonnie Tsui
/
17 déc. 2020
/
5 min de lecture
/
Communauté
When a swimmer first knew she belonged.
To inhabit a body in the world is to notice when you are different. In the predominantly white town and school in Long Island, New York, where I grew up, my working-class Chinese immigrant family stood out. The white kids, in their casually cruel way, took pains to highlight our differences: my eyes, my hair, my skin. When I was 8 years old, my brother and I joined the swim team at a community pool 2 miles away.
Unlike our town, the Freeport pool was racially diverse. In that pool, there were Black and brown bodies; the kids did not jam up the corners of their eyes with their fingers or make fun of my last name. In that pool, with all those other kinds of bodies, my body started to feel like mine in a way that was good.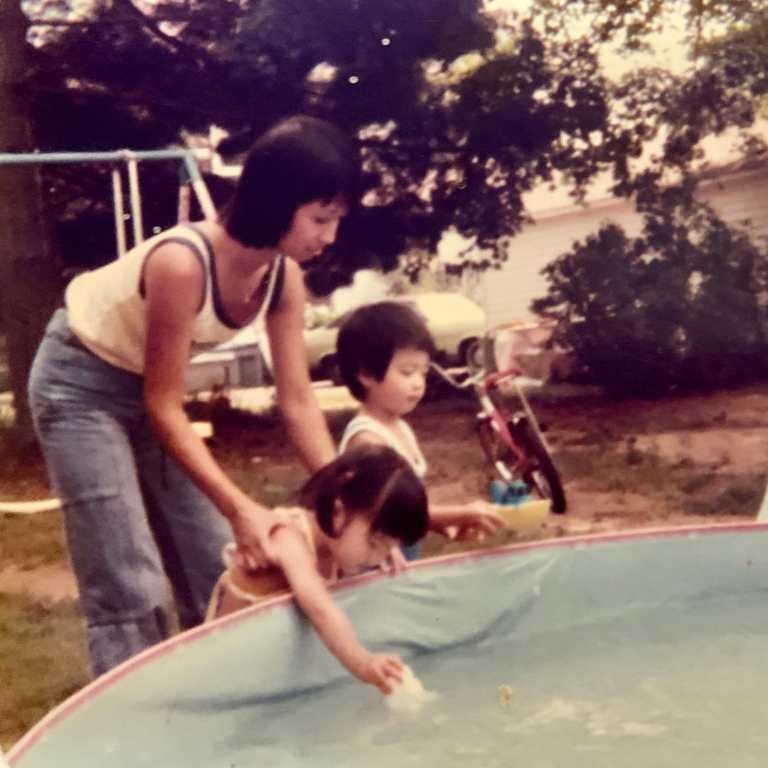 We were pared down to our essential selves and taught to stand out in new ways: a soaring starting dive, a powerful kick, a gorgeous, streamlined push-off. I learned that I could swim 50 yards underwater on a single breath. On a team of strong, capable bodies, I came to understand that mine was one of them—equally buoyed. In the water, in our caps and goggles and suits, we got the message that we were more alike than not. The pool was where I first experienced the feeling of belonging, and became confident enough as a swimmer that I never doubted my place in it again.
My swim team was coed. The original prohibitions at public pools in America were put in place in fear of this very thing: people of different races, genders and backgrounds mixing together. Where once Blacks, whites and immigrants swam together, regardless of race, by the 1920s, when cities began building expansive pools that were intended primarily for public leisure instead of public bathing, segregation had set in. In the decades of protests and riots that followed, it was a fight not just for the right of access, but for the right of recreation, of leisure, no matter what your skin color. Many activists saw pools as the ultimate symbols of that freedom.
Thanks to those decades of work, we had a public pool to escape to. There, my brother and cousins and I weren't "the Chinese kids"—we were the family of champion breaststrokers. We could be known for something else. Not that we dwelled on this every time we went to practice. Most days, it was not so complicated as all that. Or maybe it was, but for another reason: puberty on the pool deck. Every day, we sipped from the heady cocktail of hormones and H2O. Bodies simultaneously attracted and repelled, pulled and pushed, all invited to jump together into one chlorinated rectangle of possibility. This was freedom. It was a window open to the future, away from the strictures of home, parents, rules. Chlorine carried with it an appealing whiff of excitement. We could play at something we did not quite understand.
Three decades later, I look back at those days and begin to fathom the gift I was given. That pool changed my life. I became a lifeguard, taught swimming lessons, learned to scuba dive, swam in open water, took up surfing. To me, becoming a swimmer is synonymous with becoming an explorer. The portal to the undersea world was opened, and it is now a place where I feel powerful, strong, settled in my body. In my career as a journalist and traveler, I've swum everywhere from the San Francisco Bay to the South China Sea. What does water mean to us humans? Escape, relief, joy, on so many levels.
As I write this now, in a singular American summer of pandemic and protest, many public pools and beaches remain closed to those who need them most—they are denied that escape, relief, joy. Most municipal pools run at a deficit even in non-coronavirus times; some of those public pools will not have the means to reopen, even after the pandemic ends. The communities they serve will no longer have bodies of water that make them feel welcome. And another generation of swimmers will find the waters of the world closed to them, perhaps for good.
I mourn the prospect of community pools closing, because I've also learned that when you know how to swim, water can be a great equalizer: age, race, size and shape are irrelevant. All bodies are buoyed. But it takes our own conscious doing to make everyone feel welcome. Here in America, decades after desegregation, people of color, especially Black people, are told time and time again that they don't belong, at pools and beaches from Texas and Florida to North Carolina and Pennsylvania. When you're told you don't belong, eventually you might begin to believe it.
These days, I observe my two sons, landlocked water babies without their pool and their swim team community. Growing up in the Bay Area, amidst other mixed-race kids in progressive schools where race and inclusion is talked about from an early age, they think that swimming is a right. They are twitchy for the weightlessness of that water, the muscular action of summer afternoons wrestling with the ocean. I am twitchy myself, watching them.
My 7-year-old sighs one morning. "I miss swimming," he says.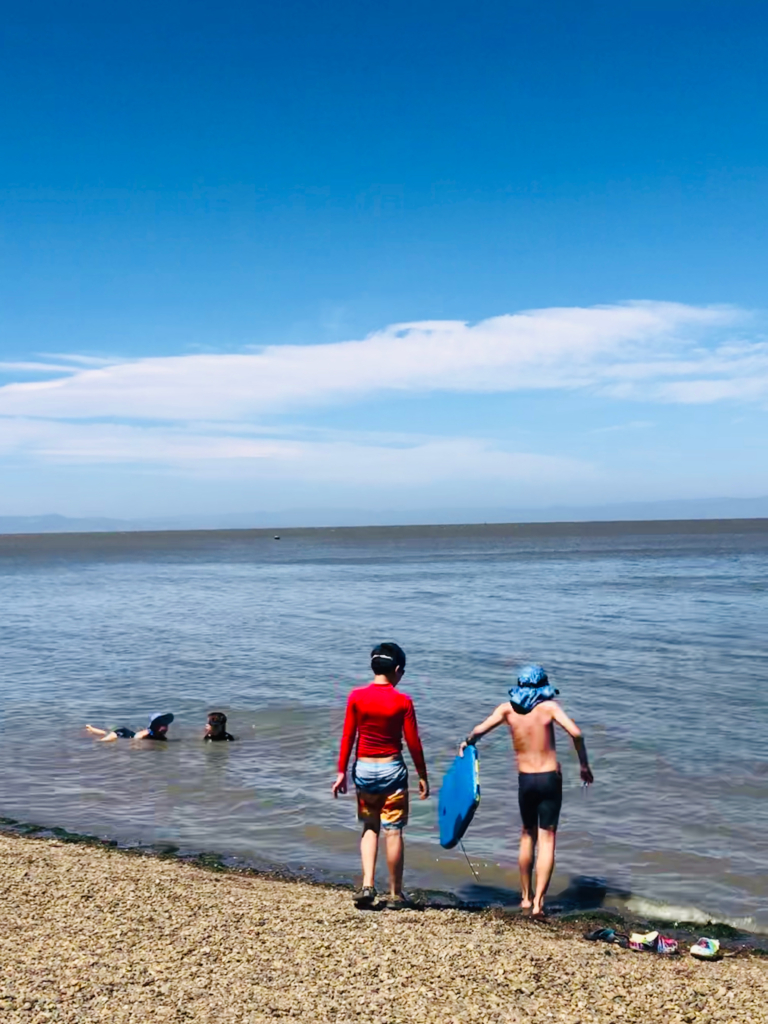 It's clear they are in need of joy, an aquatic adventure. On a sunny, windswept day, we head to China Camp State Park in Marin County, on the southwest shoreline of San Pablo Bay. The park preserves a historic shrimp-fishing village that was home to some 500 Chinese fishermen in the 1880s, when more than 3 million pounds of shrimp were harvested each year, most of it dried and exported to China.
The wooden buildings of the village, which include a general store, shrimp-drying sheds, and several residences, sit directly on a long, skinny stretch of beach. We pass through the village, masks on, and I think about how cool it is to walk through tangible Chinese American history on the way to a day at the beach. It is an unexpectedly concrete reminder of my heritage here in California. You belong. You've always belonged.
The water, of course, also reminds me of that. I'm happy to see a diverse and socially distanced crowd of families and young people dotting the sand, everyone respectful of one another's space. The boys sprint down the beach and beeline straight for the water, in the gleeful company of two of their best friends. They throw off their masks and splash around, chucking seaweed at each other. Then all four start swimming in the flat, calm expanse of shallow water, out to the end of the 300-foot pier that juts out into the bay. The curving arm of the beach is a bulwark that shelters them from the wind. They pause every now and again to turn and wave back at us. I shield my eyes from the sun and wave, watching as they stroke toward the horizon, momentarily free of cares, their bodies and spirits buoyed.