Africa-Americas Rowing Voyage: Four Guys in a 29-Foot Boat Rowing from Senegal to Miami
Hillary Fleming and the crew of the James Robert Hanssen
/
3 avr. 2013
/
17 min de lecture
/
Communauté
When Patrick first called to tell me he'd been asked by his good friend Jordan to join the Africa-Americas rowing voyage I knew there was no way he would turn it down. Though he spent a few weeks mulling it over, he wasn't fooling me. His biggest concern was missing out on his 5th season of Ski Patrol and the guarantee of fresh powder and the chance to throw dynamite across mountain tops.
Patrick is not a waterman. Even though he spent years' worth of mornings on the Long Island and Puget sounds as a competitive rower he always remained more tied to the mountains. During prep for the trip he would call me and talk about his crash courses in ocean weather, marine charts and nautical tools. I don't think he ever spent a night at sea before this trip! I knew he'd be a pro in no time, he guided whitewater rafting trips with no previous experience, guided backpacking trips, was on ski patrol at Crystal Mountain for four seasons.
I don't know whether this trip will turn him into a salty dog looking for a live-aboard sailboat or make him run back to the mountains as fast as he can, but I know either way he'll be glad he had the chance to be on the Oar Northwest team. And, as his protective older sister, I couldn't ask for a better group of guys for him to be out there with. Sometimes I look at their location on the map, think, "they are literally a tiny dot in the middle of the ocean," and then remember the great crew. Then, I'm just stoked to live vicariously through their adventure.
The four-man crew, including Pat, Jordan Hanssen, Adam Kreek and Marcus Pukonen, is attempting a Guinness Book of World Records passage, rowing in a human-powered row boat from Senegal, Africa to Miami, Florida, USA. Both Jordan and Adam are original members of the crew who crossed the North Atlantic in the same boat for a race in 2006. They row two at a time, keeping the oars going 24/7 unless weather conditions require them to be on sea anchor. This means they row about 12 hours a day, every day.
Right now they are on about day 71. They do not have an engine, they do not have a safety boat with them and their toilet is a bucket. They have solar panels and a wind generator to draw power for their nautical tools and other instruments aboard the boat. They had two spare oars but are now using both because large waves cracked the other two, leaving them with no more spares (yikes!).
These are a few of my favorite stories from their blog.
Day 6 – Face to Face with Oar-Breaking Waves
By Jordan Hanssen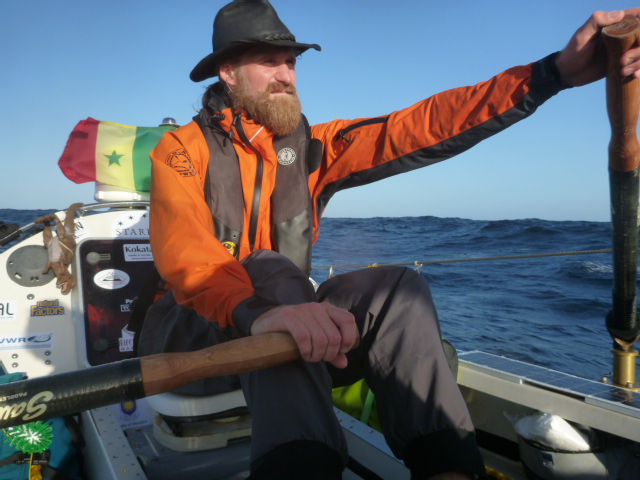 Jordan pulling at the oars, prepping the JRH for the next surfable swell. The Senegal flag flying in respect of our short-term host country. All photos courtesy of O.A.R. Northwest
A wave? What does a wave look like? On a blue bird day they are crystal blue and a six-foot wave from the seat of an ocean rowboat seems huge. There is the swell that rolls by mainly from one direction. On top of this are small wind waves making the water lumpy and hard to read. They rise and swell with a sound like fabric ripping towards us. Sometimes it jets under our boat and we roll over it without notice, other times they slam our boat with a slap and a crash of water. Each one seems to have its own agenda and will pick rowers at random to soak. Sometimes bow, sometimes stern, and often both. Occasionally a random swell will roll in from another direction, combining with the prevailing waves and making peaks. Our oars will flap and slam the top of the water trying to regain rhythm.
A nine-foot wave is huge… from the stern it rolls like a freight train. It rises the stern and slides through the boat, spilling into the sides of the boat… gently though, before sucking the boat forward on the back side.
Last night they were black lumps, the crashing the splashing of each wave bringing a smell of marine warmth. Adam and I rowed at midnight, two hours into a four-hour shift. We ride into the beam (side) of the waves, by far the most uncomfortable. We rest. Adam rows gently with the waves, I stand in the stern. I hear the roar… out of the corner of our eyes see a steep black face off to port. We lean into it. A crash. We roll hard and the gunnels touch the water. White bubbles under moonlight. An oar, carbon wrapped over a wood core, snapped. Small sundry on deck float away. We grab all of them but some toothpaste, conditioner… and one of our PDA that keeps our schedule. Luckily this was one of three.
Pat and Markus pulled all our vents shut. They thought we were going to flip.
The boat, fully loaded, rose up and spilled the water back into the sea. As soon as we could gain control we began to run with the waves. A more gentle course, but not favorable for going to Miami.
Shaken, we clean the deck while Adam holds course. I pull out our first of two spare oars and put it together. We run the night with the waves. In the morning we get an email saying we have gone too far south so we put out sea anchor and we ride the bow to the waves on a blue bird day… till the weather changes.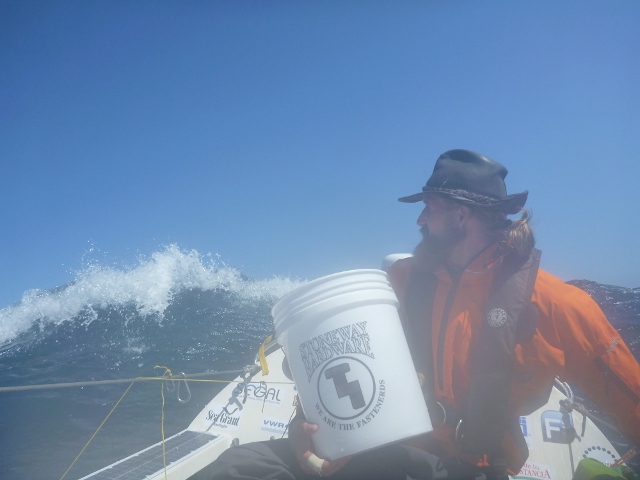 Waves like these don't give much warning before dousing every last dry spot on your body.
Day 14 – Hygiene
By Adam Kreek
Clean. Exactly what does "clean" mean on the James Robert Hanssen? Well, our clean is not quite what you land lubbers might usually think of "clean." Rather, I would describe our cleanliness as, well, an "Ocean Clean." We do not have the grime, germs and bugs of the land, but we have the challenge of seawater with its bacteria-laden, salty wetness.
Don't get me wrong. Out here – mostly for our moms' sake – we would love to be "Land Clean." But the JRH is a boat of compromises and our hygiene schedule is no different.
In civilization, we often think of the instant gratification we gain from cleaning: warm water feels nice, we don't smell, we look good. People want to hang out with us when we are clean, and our moms say we look handsome. However, we sometimes forget the serious longer-term health issues that we prevent through a regular hygiene schedule.
Without regular washing (and drying) your body starts to develop sores. Ingrown hairs, pimples and open sores show up more regularly. …AHEM… How do I put this? Your undercarriage is the most important part. It's a bit gross, but please think about it: You are spending 12+ hours a day sitting on a rowing seat. You are on a boat where standing is difficult, so you sit during your off-shift. You sleep with your bottom laying against the cabin cushions. (Yes Mom, we clean these surfaces regularly).
Every day we have alarms that go off to remind us to brush our teeth, put on sunscreen and wash. Washing is the most important. We wash in the kitchen/science/living room area in front of the two rowing stations. Its a bit of a show for the those who are rowing… Our first rinse is with salt water and minty fresh Dr. Bronner's Magic Soap. After the saltwater bath, we take 1/2 to 1 liter of fresh water to rinse off our body. Now that's fresh water conservation! (Try that at home…) Thankfully, after bathing we then clean the kitchen area. We usually clean up with our pants off. Awkward, but being dry dry dry is important!
In our first week rowing, after an outbreak of derriere sores, we instituted a policy: Operation Dry Bum. The first couple days we were wearing surf shorts that stayed wet. This was bad. Very bad. We now religiously use our Kokatat GORE-TEX pants in messy water. They block seawater splashes from ruining our seat time while wicking sweat away. Thanks Kokatat!
When sores get painful, itchy swollen and sticky, the first step is regular cleaning and drying. We clean as above or use baby wipes to supplement cleaning throughout the day. After some air drying we apply Bag Balm (a Vermont remedy for chapped cow udders) or diaper rash cream. Moms, please be assured, after our first week mishap, we are now caring prudently and regularly for that beautiful bottom you protected while we were young and diapered.
Future adventurers beware! Dry, clean bodies are key to an enjoyable time in the great outdoors. With enough forethought, the right equipment (like Kokatat), and proper discipline, you too can avoid the pitfalls of itchy, swollen body sores.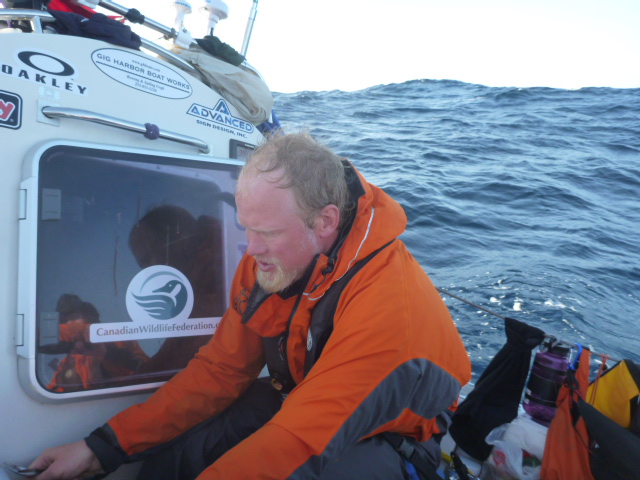 Adam sitting in the stern of the cockpit, tending to the day's laundry, prepping for the big shower.
Day 28 – And Then There Were Four
By Jordan Hanssen
I had just put in my ear plugs. These and a bandanna wrapped about my eyes have been the best way I can find sleep out here and I was feeling like this was going to be a good one. I sighed and settled into the constant roll of the boat that, although no longer makes me sick, still makes it hard to rest as it feels like my guts shift from one side of my body to the other, causing me to constantly engage some muscle in my body.
Then Pat flew across the cabin crashing into me. In the pit of my stomach I knew what happened. That was the sound of a wave that was going to break an oar. Pat rolled off me and we both stared out at the deck and surveyed the damage.
"Is everyone alright!?"
"Adam, Markus are you injured?"
Their were nods and yeses as they surveyed the scene. Nothing had left the deck but Adam was staring blankly at half an oar still gripped in his hand.
"The riggers are too strong." I kept swearing and mumbling to myself. On the first trip across the ocean – in even bigger weather – we had never broke an oar; however, parts of our rigger had broken. Of course I did not put it together if I had stronger riggers built it would mean that our just-as-strong oars had met their match and would be on the losing side of "Oar, Rigger, Ocean." (its like rock, papers scissors, but ocean always wins)
I went out and deployed our sea anchor. Markus was fine but Adam still appeared a bit shaken. I told him to go inside and get dry. Once on sea anchor we cooked and sent the food into Pat and Adam. Markus and I also decided to try and stay out on deck the whole night. Pat had been feeling a bit ill that day anyway. We bundled up into our dry suits, at least five layers on the top and bottom, and spent a night under the stars. I dreamt for the first time in a while.

Jordan & Adam rowing in messy seas out of the north
The following morning we had a meeting. We were down to four oars. Still at full power but with no room unless we came in one rower at a time… Not a proposition i looked forward to. Thankfully everyone was optimistic and I was glad everyone had a full night's sleep and the sun was finally out. Our goal is still Miami, and we have a long way to go before we are even within striking distance of any land. Anything could happen in the future but for now the practical conclusions were that we have to row more conservatively than we would like, especially through the night when we can't see the waves. Forecasts of waves of three meters with 20kt winds will likely mean time on sea anchor. And I hate sea anchor. That being said I would hate rowing with three oars even more. We also needed to see if there was anything we could do to our equipment. Our only option was spreading open the bronze oarlock to allow the oars to pop out easier. It would make rowing more of a pain but it might also mean preserving oars.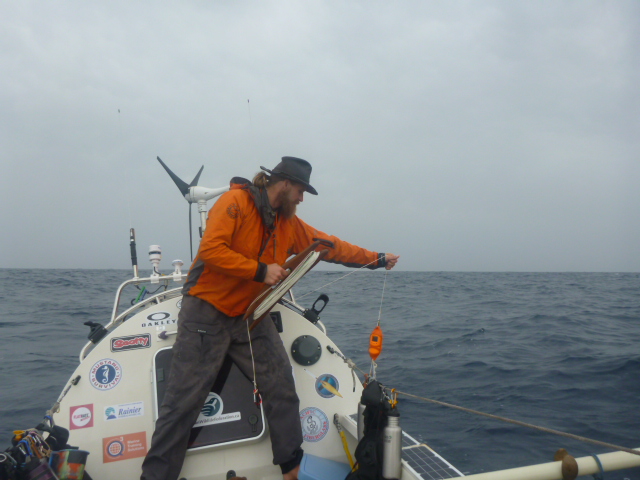 Dropping the CTD while on anchor from the makeshift spool. A broken oar handle would become our next makeshift spool for fishing line.
We spent the morning, cooking, rigging fishing line out of the broken oar handle, shrinking video (that we will send when we can string together a few sunny days), and put together the last spare oar. I spent four hours with my tool box figuring out how to gain enough leverage on a rocking rowboat to spread the heads of the thick bronze oar locks. I finally figured out I could thread two nuts to a 3/8 screw cut to size to fit between the bolts and then use some vice grips and pliers to unscrew the nuts off the screw and slowly bend the oarlock open. This would have taken maybe an hour on land. Two hours into it I was not sure if it would even work. Then one got done, two a bit faster, three, and like so many projects that last one seemed to take forever. About an hour later we were rowing. Just praying for some favorable weather, any weather that will let us keep moving to Miami.
Day 31 – Dark Times
By Pat Fleming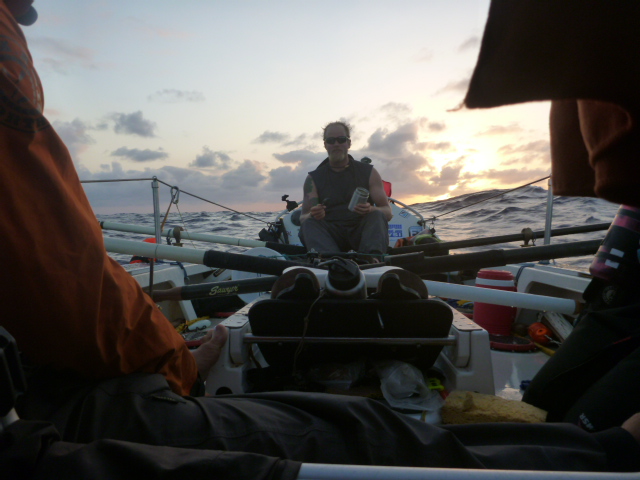 Sun setting on the 30th day, doom about to overtake our electrical system the next morning.
It was the beginning of another day on the JRH. By that, I mean it was the middle of a four-hour row shift and I felt on the verge of collapse in my seat while waiting to cry, fall off my seat, or slam my shin with the oar. It's hard to tell when one day starts or another ends, but we'll start there.
Slowly, the odd energy boost I get around first-light started to kick in and I was belting out a mash up of Sublime, Venga Boys, Beach Boys, and Cyndi Lauper. I say mash-up not because I'm gaining adept DJ lyricism out here but because I don't really remember more than a handful of lyrics from any of the songs and my sleepless mind wanders fairly quickly. As the sun came up, I was hopeful for another day, and two hours or so of hard sleep. Little did I know what was to come that morning.
Shifts came and went that morning relatively calmly. Naked men (Jordan & Markus) cleaned 10-20 pounds of sea beasts off the hull of our boat with a paint scraper and cutting board as I steered the boat and Adam attempted to fix our Airmar weather station.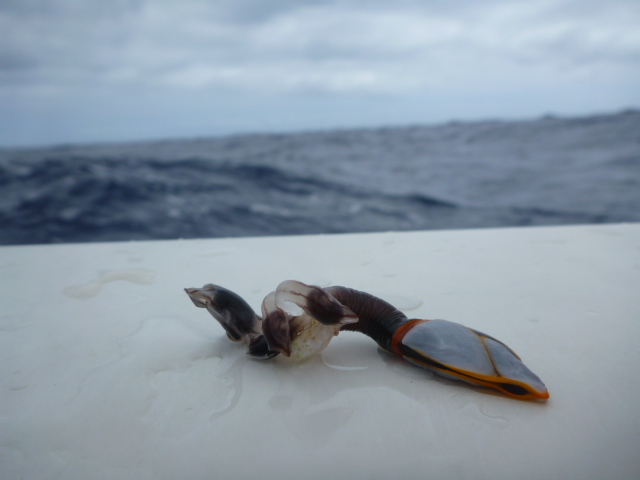 We pulled about 500 of these from the hull of the boat.
"Hey – done with the Airmar. Want me to start working on the wind turbine?"
"Do you know what you need to do to it?"
"Not at all!"
"Well, just let me deal with it on my off shift then."
Great. I finally had a good opportunity to have a useful impact on boat life and shore up our power supply. It had been relatively low compared to what we had expected since the start of the trip. We had one working battery out of three, so any boost in power generation would be good. You know, more iPod charges and email time.
Adam turn off the power.
Got it.
Okay, disconnect one wire, reattach firmly to other.
Done.
Reconnect power.
Done.
Blade is turning in a power generating fashion. Looking good…
Sparks in the breaker box! Turn it off, turn it off, turn it off!
Done.
Okay, fiddle with wires. Better connection, no fuses blown on the first go round.
Reconnect power.
Now Adam's got sparks in the battery compartment!
Off, turn it off!
All is black. No power. No battery sensor readout. It just got dark.
Not because it was the middle of the night. In fact, it was quite sunny and blazingly hot in the cabin. It's dark because all the little blinking lights went out. We're 1,000 nautical miles from our start point and in an attempt to make more power I'm pretty sure we've fried it all.
At this point you'd expect some panic, maybe some crying (we seem to cry over less out here), but luckily it was lunch time and all thoughts were preoccupied with refueling the rowing engine. A delicious mix of broccoli beef stir fry, southwest chicken, and shepherds pie later…
Refueled.
Quick disparaging remarks about how long the four-hour row shift will be without the iPod – the sound of oars in the water is only Zen for so long, especially when drown out by snoring from the cabin, plus, the four-hour row shift always gets disparaging remarks.
Call Dan Heyl. Get the info on replacing fuses on the battery terminals.
Set up a splash guard – a sleep sheet made of hi-tech "cotton" material – over the battery compartment and go to town.
Batt 1 back online.
Batt 2 back online.
Both at full charge too.
Now, not only are we back at power but the double strength battery bank that had been dead weight up until now is showing full charge giving us 200 more amps of power – only 1.2 something gigawatts more til we can travel back in time!
Moral of the story: luckily I broke the heck out of something so that with Dan Heyl's tutelage we could not only fix the problem but come out with more power and a flying fish wind sock that looks suspiciously like a wind turbine.
Oh yeah, we're making three knots right now too, gents. Just another day, and still eight hours 'til the four-hour row shift.
Day 38 – What We Eat
By Adam Kreek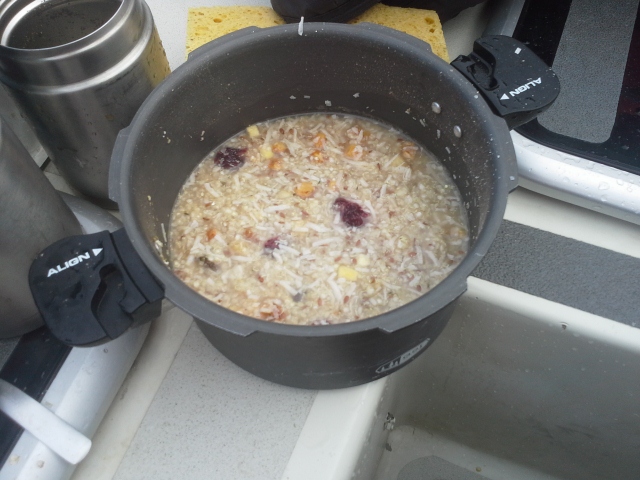 Mmmmm, breakfast!
The first two questions people ask us are:
1) "Are you crazy?"
2) "Where do you go to the bathroom?"
The third? "So what the heck do you guys eat out there?!"
Our menu took us two months of planning to allocate proper nutrition and caloric intake for this Atlantic journey. Here's what's cookin' …
The majority of our food sundries were generously provided by Lifestyle Markets in Victoria, BC. This company specializes in local, organic and healthy foods.
Breakfast: Consists of quick oats or flaked quinoa mixed with sulphur-free dried pineapple, cranberries, apples, raisins and mangoes. We mix in some cacao nibs and organic coconut flakes. To add caloric density we will also add coconut oil to the oatmeal.
Lunch: Consists of an array of Backpackers Pantry freeze-dried meals. My favorite flavors are the Pad Thai, Macaroni and Beef, Southwest Chicken, and astronaut ice cream.
Dinner: We have been eating a lot of de la Estancia polenta, mixed with freeze dried vegetables and cheese. We will also have instant rice and bean flakes mixed with freeze dried vegetables, and canned wild salmon. Both meals are generously spiced with chili flakes, pepper, and/or garlic powder. We also mix in a healthy portion of olive oil for flavor and caloric density.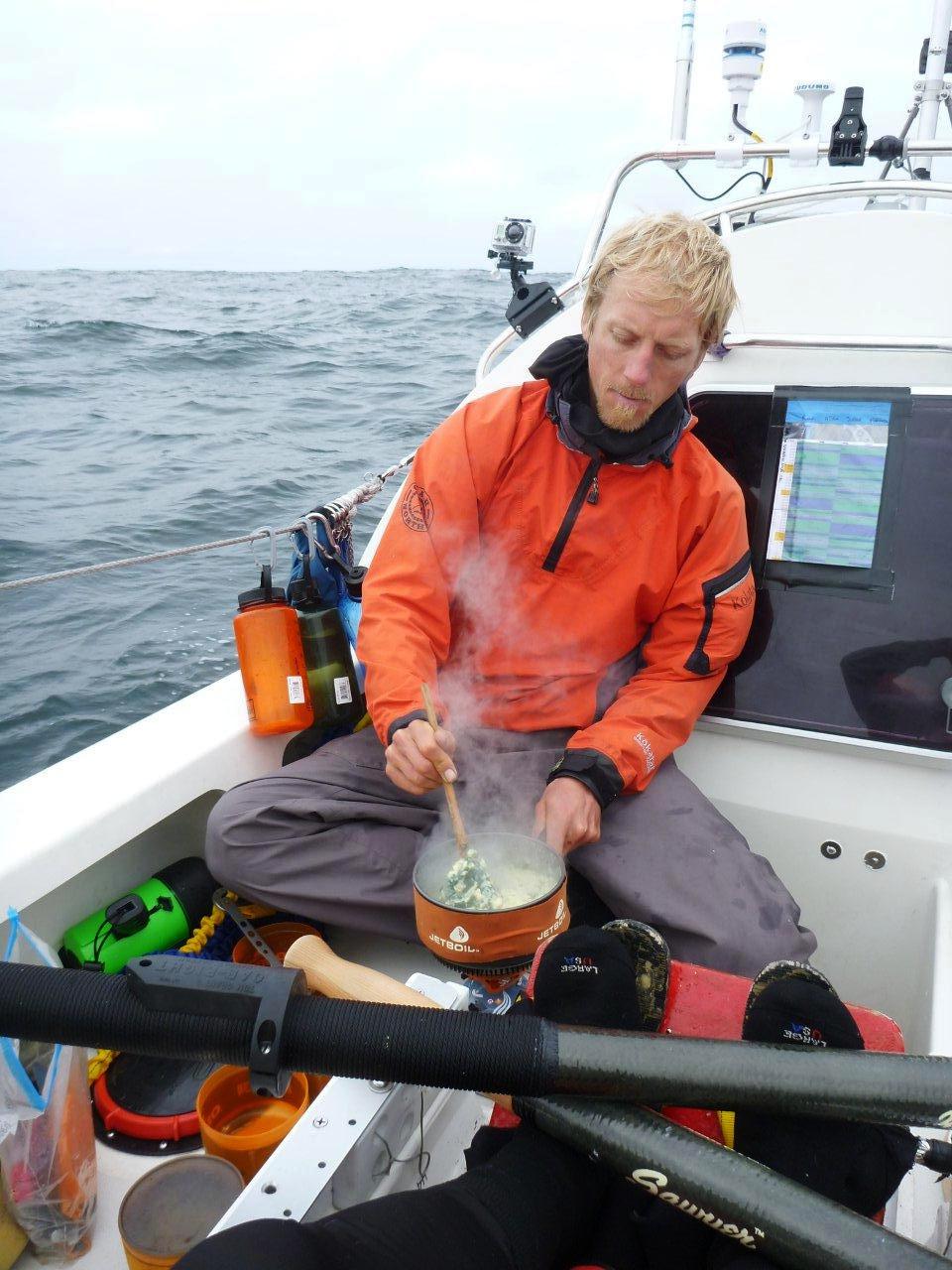 Markus using Jetboil stove to cook grub
Snacks: Consist of various e.frutti gummies, Primal Pacs beef jerkey, and The Edge Food Energy Bars.
Drink: We are also drinking a lot of tea on this vessel. Our favorites are the JagaSilk powdered Maccha, and the powdered London Fog. We are also eating/drinking ground hemp and maccha powder. We mix it as a warm drink, add it to our oatmeal or dinner dishes for texture, substance and health effects. It has a high protein content and good fats which make it a great superfood.
Vitamins/Supplements: Our diet is supplemented with Vitamins from Natural Factors. We have Omega-3 fish oils, vitamin ester C, ultimate antioxidant, acidipholous and bifidus, and a multi-vitamin.
Wanna know what's exactly on board? Here is our complete list of food supplies in spreadsheet form (.pdf).
Day 62 – Whales!!!
By Jordan Hanssen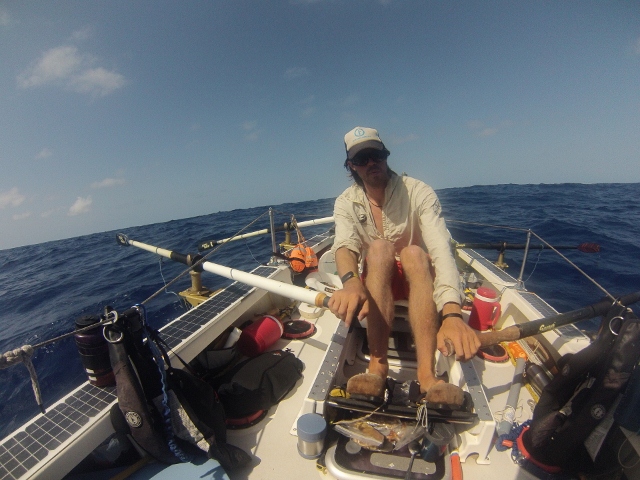 The shape had hardly time to register in my mind.
When it did it was halfway into the water, and the MASSIVE splash seemed huge even from a half-mile away. It was a humpback, by our best guess… bubble net feeding, circling around the plankton that makes this massive mammal's food, and making a net of bubbles before diving down and shooting up into the center of the undisturbed water and eating tens of thousands of the tiny animals that sustain the world's largest animal.
A moment later we felt that thump of the literal tons of whales landing. We were in the middle of nowhere and we were the only humans to see this.
A pair of pilot whales also showed up for a visit. Can you hear them?
Humpbacks!
Over the next few days whales continued to surface around us, too quickly and too infrequently to take pictures and not with the same kind of drama. Then one appeared just fifty feet away. It was close enough to stop rowing and pull out the camera. Pat asked me if I saw it. I replied, "no, just two dorados swimming… wait… that's a whale and those are its flippers!" It was just under the boat. By this time Markus was up and I put on the leash and goggles and dove in. There was lots of phytoplankton on the surface, and looking up it created a strange ceiling. I saw it, swimming away, huge and just at the surface. It swam away!
I held myself under the bottom of the boat, hoping for more. Left…. right… bow…. stern…. below! One hundred fifty feet – the whole whale filled my vision. It moved so slow, and yet its locomotion so powerful and quick. Beneath its massive body was the abyss, and all of it made me feel small.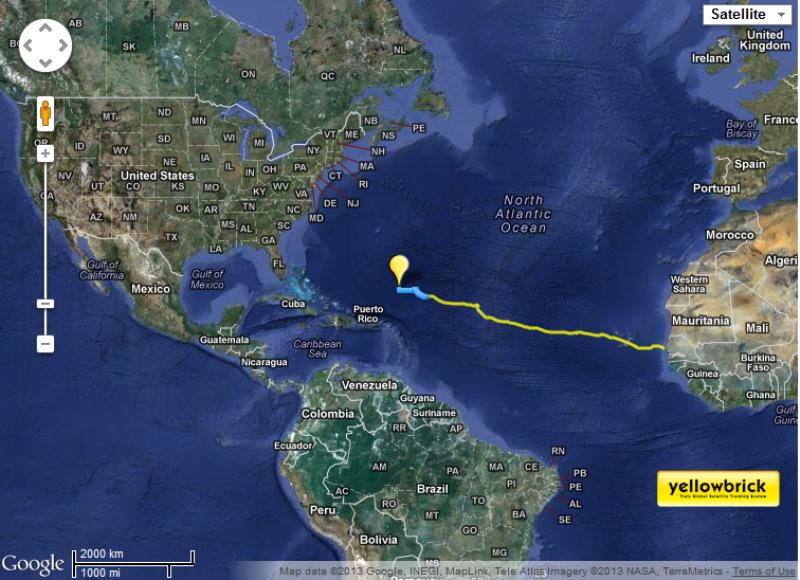 Visit O.A.R. Northwest for more on the trip and to check the boat's current location. If all goes well, they'll make landfall in Miami on April 20th.