Tahoe's Legendary Clarity Faces a New Threat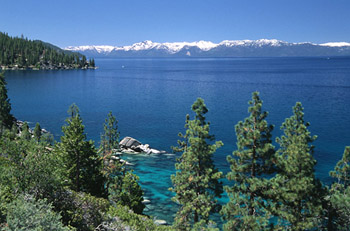 There's no question one of the highlights of our Reno
location is its proximity to Lake Tahoe. The highest alpine lake of its size in
the States, it's also one of the clearest, with an average underwater visibility
of about 70 feet. This stunning clarity
muddies in comparison to the 120 feet it boasted when scientists
first started taking measurements back in the 60s. Those familiar with Tahoe
know its name to be synonymous with crystalline waters the great lapis expanse
of its surface as it reflects the skies that so often stretch cloudless above it.
The lake's water quality is the cornerstone upon which
many communities depend. The tourist community would no doubt stop visiting if the lake's singularly clear
character became compromised. The community of year-round residents depends on the pure water not only for the
tourism economy it supports, it drinks from them, too. And while tourists and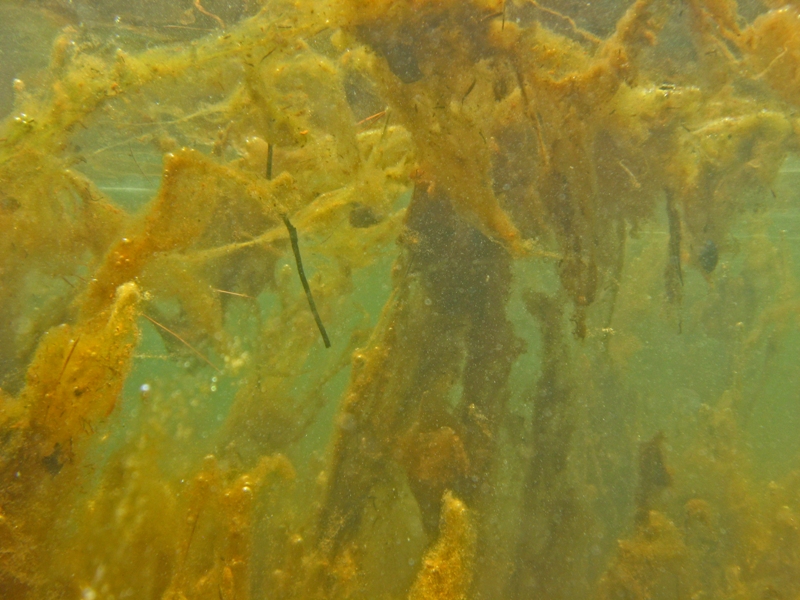 residents alike could theoretically move elsewhere, the unique assemblage of underwater
life that have adapted to this austere aquatic environment have few options if the
balance of Tahoe's waters is tipped.
Some recent and unsettling news from our friends at the
Tahoe Divers Conservancy suggests that is exactly what's happening. Hit the
jump for pictures of their recent findings and to read an excerpt that puts
these images into perspective.
[Top – Tahoe as seen from its eastern shore. Photo: David Smoyer. Bottom – An up-close look at one of Tahoe's newest residents. Photo: Tahoe Divers' Conservancy collection.]
Here's an excerpt of the announcement from Tahoe Divers' Conservancy/Alpengroup website. The full text can be found here, along with full details for taking action:
When we are asked by tourists, "What do you see under
there?" the most common response by divers with the
Tahoe Divers' Conservancy
is
"not much." Swimming among beautiful waves of granite boulders the size of
houses, bright reflections of light from mica studded sandy lake bottom and a
generally stark but surreal crystal environment. We often describe diving in
the Lake Tahoe as Zen Diving.
In Tahoe we use diving as instrument of discovery, a
mental discipline by which one attempts to get beyond the conditioned,
"thinking" mind into a deeper state of relaxation or awareness. It is a
psychophysical practice which leads to a greater focus and a more relaxed and
peaceful frame of mind.
But now the underwater world of Lake Tahoe is
disturbingly full of strange, new life. In just a few years, the vast sandy
near-shore that for centuries covered the bottom of Lake Tahoe has disappeared
under a carpet of invasive plants. The change is not merely cosmetic. Invasive
species are upending the ecology of Lake Tahoe, shifting distribution of
species and starving familiar fish of their usual food supply.
Eurasian watermilfoil, Curlyleaf Pondweed and the Asian
Clam are all found in Lake Tahoe now.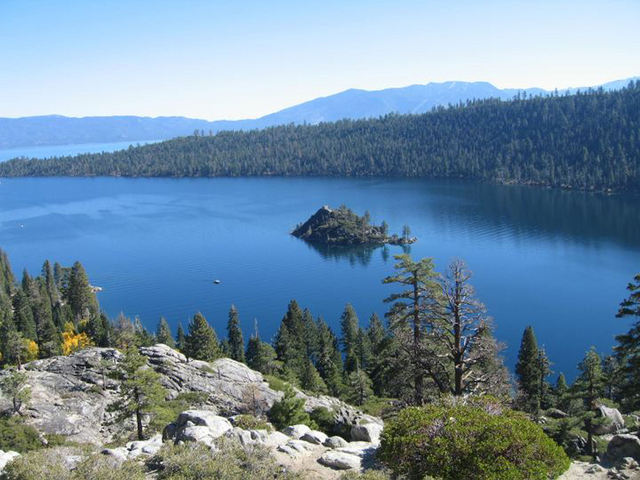 And it is not just invasive plants. Scores of Brown
Bullhead Catfish were found in Emerald Bay. Once confined to the Tahoe
Keys and Taylor Marsh, non-native fish are propagating throughout Lake
Tahoe. Signs of the shift are hard to ignore now. Mats of dead, smelly
plants are already washing ashore on Lake Tahoe's  beautiful beaches,
castoffs of a vast underwater expanse.
Phil Caterino,
Executive Director of the Tahoe Divers' Conservancy (one of only three Divers' Conservancies in North America) recently tried to explain the dire consequences of the
aquatic invasive species problem in Lake Tahoe to the Governing Board [of the Tahoe Regional Planning Agency. His point:] that divers have recently found strong evidence of an algae bloom caused by years
of growth of Eurasian Watermilfoil in Emerald Bay.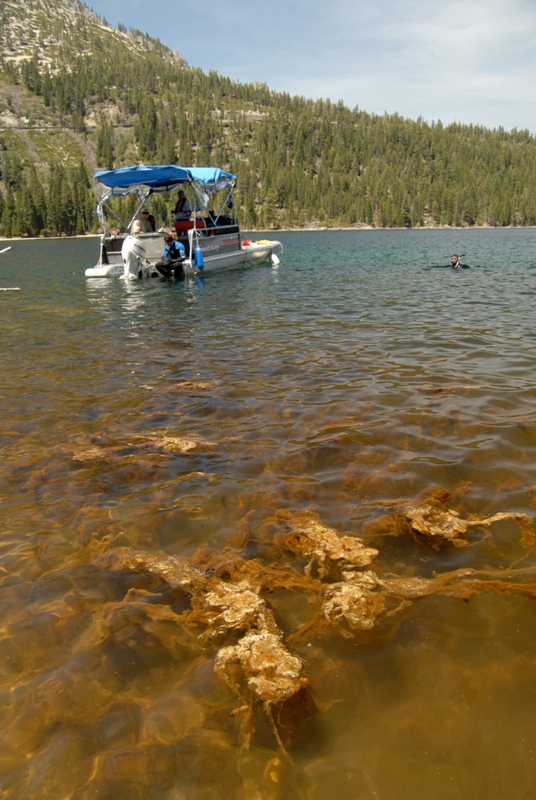 In the divers' survey this month they also found Curlyleaf
Pondweed for the first time in Emerald Bay. Now there are more Catfish seen
than trout in [Emerald] Bay and this latest bloom is seen by many in the diving
community as the beginning of the end of Lake Tahoe as we know it.
Let the TRPA know that this issue is important to you and
immediate action is needed to implement a program for containment of aquatic
invasive species is an ongoing year around program.
[Divers try to make sense of never-before-seen growth in the crystalline waters of Lake Tahoe's Emerald Bay. Photo courtesy TDC]
Tahoe's natural lake bed, photo taken prior to establishment of invasive species: