Remembering Kenny Harbaugh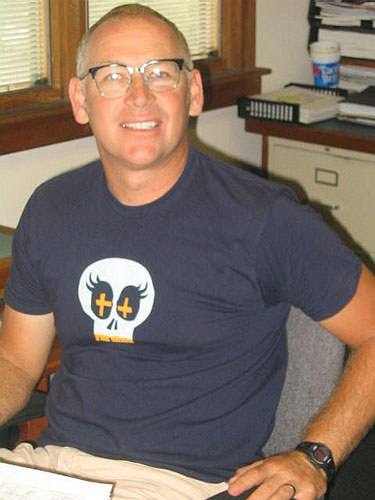 We are deeply saddened to report that our good friend and longtime Patagonia colleague Kenny Harbaugh passed away last week while backcountry touring in British Columbia. Ken was on an inspiration trip with some of our ski ambassadors and members of the snow sports design/development team.
It's impossible to capture all Kenny meant to us. He touched our lives through his knowledge of textiles, music, cycling, surfing and so many other ways. He had a contagious sense of humor and true zest for life. We all miss him.
As we continue to absorb this loss, and send his family our deepest condolences, we also look to ways we can honor Ken and the contributions he made to our lives. Some of his cycling teammates and friends have started collecting memories on their team blog and we'd like to encourage anyone on The Cleanest Line that knew Kenny to share your remembrances in the comments section.
Co-workers, vendors, the cycling community and friends both inside and outside the company have also expressed an overwhelming desire to help Kenny's family. Personal contributions can be made payable to "The Ken Harbaugh Memorial Fund" and mailed to:
Patagonia, Inc.
Ken Harbaugh Memorial Fund
Attn: Ray Netzley
259 W. Santa Clara Street
Ventura, CA 93001
Please feel free to spread the word about this Fund. It will benefit Kenny's family directly. Thank you.
Update: The memorial service is scheduled for 5:00 p.m. on Friday, December 21 at Welch-Ryce-Haider Funeral Chapel in Goleta, CA. Please continue reading for details on the service and some photos from the memorial bike ride Patagonia employees did on Wednesday.
[Ken Harbaugh 1960-2007. Photo: Patagonia]
The memorial service is open to everyone and will be held at:
Welch-Ryce-Haider Funeral Chapel
450 Ward Drive
Goleta, CA 93111
(805) 965-5145
Visitation will be from 3:00-5:00 p.m. on Friday, December 21st, and at 5:00 p.m. there will be a blessing and time for sharing remembrances. The family has requested that the service be simple, peaceful and happy. A table will be provided to place special remembrances and photographs for the family. Although the family mentioned with a smile that "Kenny wasn't much for flowers", you are welcome to send flowers to the funeral chapel. I think Kenny's family would appreciate it. Attire for the service is "come as you are". It will be closed casket, but the family wants you to know that Kenny will be wearing a t-shirt, comfortable shorts and flip flops. The family also said that if you choose to come in biking spandex, you need to look better than Kenny did!
Photos from the Memorial Bike Ride
On Wednesday, December 19, Patagonia Ventura employees gathered outside the office to hear a heart-felt eulogy from CEO Casey Sheahan, observe a moment of silence and take a bike ride to honor our friend Ken. Riders of all levels participated, many making the entire loop around Lake Casitas.