From a Wheelchair to the Sharp End – Story of the First Ever Paraplegic Lead Climb
Dave Campbell
/
June 26, 2013
/
7 Min Read
/
Climbing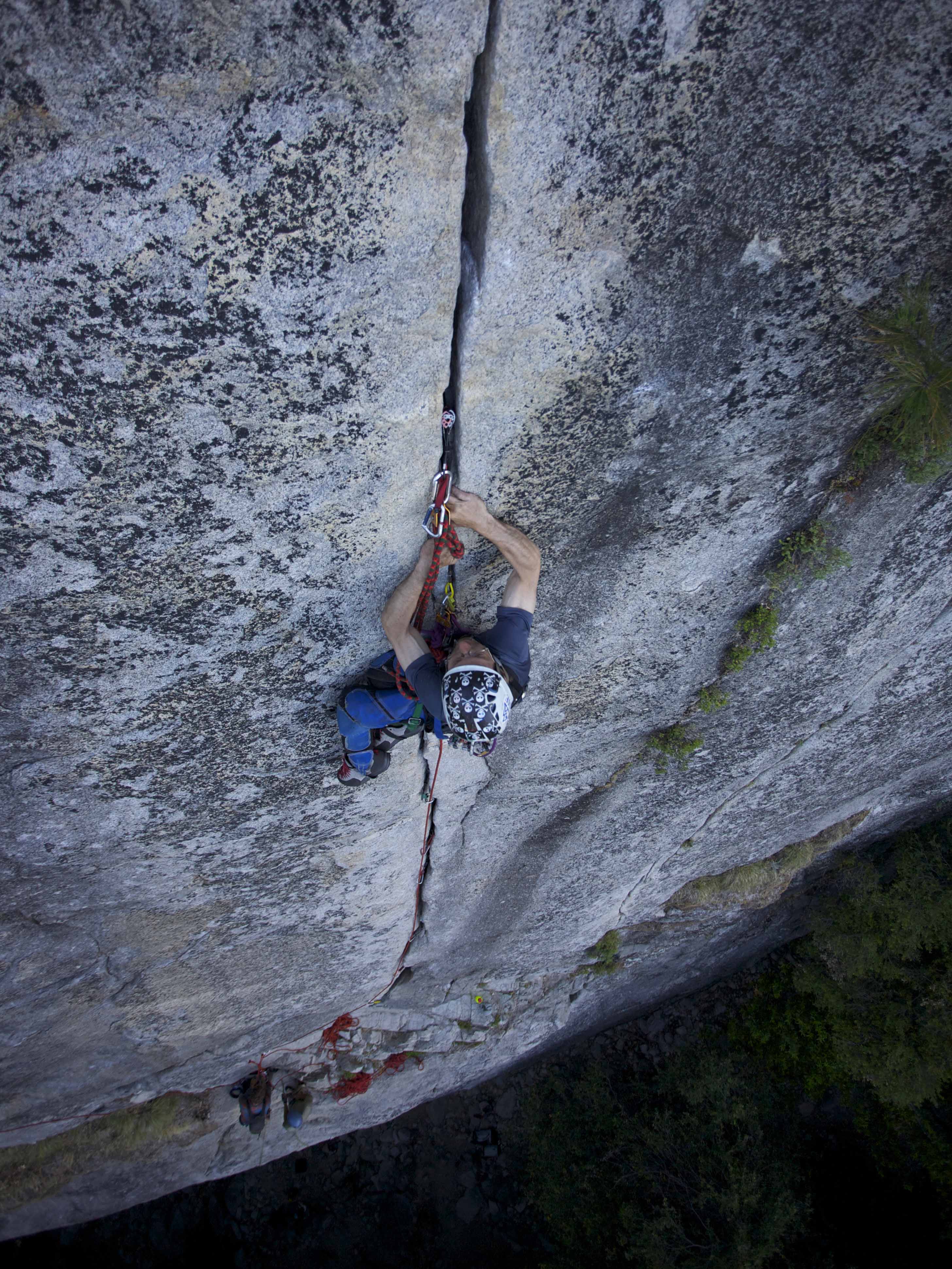 Take a moment and imagine yourself in Yosemite. You are climbing up a steep rock face, above the trees, with Half Dome behind you, but you do not have the security of a rope that can pull you taut from above if you get tired or slip. Instead, you are lead climbing. Somewhere down below a friend is feeding you rope – you are tied in at the waist – and every ten feet or so, as you move upwards, you are obligated to wedge man-made devices into openings where the rock is fractured so you can clip your rope into them as a safety measure. You're putting your life on the line, trusting that the rope will eventually come tight on the most recent one of these devices if you fall.
Climbers refer to the procedure of lead climbing as being on the sharp end of the rope because of the inherent dangers involved and the accelerated focus that is required. And while advanced climbers constantly dream about being in this Yosemite scenario, I think it is fair to say that much of the rest of the population would find themselves in a nightmare.
Now picture yourself in this exact scenario – whether you are an experienced climber or novice – except that you are paralyzed from the waist down. This is where most of our imaginations trail off… but this spring in Yosemite Valley, paraplegic climber Sean O'Neill made this his reality by becoming the first "sit climber" to lead climb.
Paraplegics have made major climbing achievements over the years. Sean, for example, has ascended the 3,000-foot face of El Capitan on multiple occasions. Though, until this season, all paraplegic climbers have relied on non-disabled partners to lead climb all of the sections of their route, and the disabled climber has, historically, always come up each section of the wall afterwards by means of ascending safety ropes fixed in place, using a sliding clamp and pull-up bar system. A 3,000-foot vertical face essentially means the daunting task of 3,000 pull-ups, spread over the course of an exposure-filled week.
Only a select number of paralyzed people take on such monolithic challenges, and perhaps the best thing about those who perpetually push limits is their unyielding resistance to the concept of boundaries. Sean O'Neill's new way of breaking through is lead climbing and it completely flips the existing adaptive climbing paradigm on its head.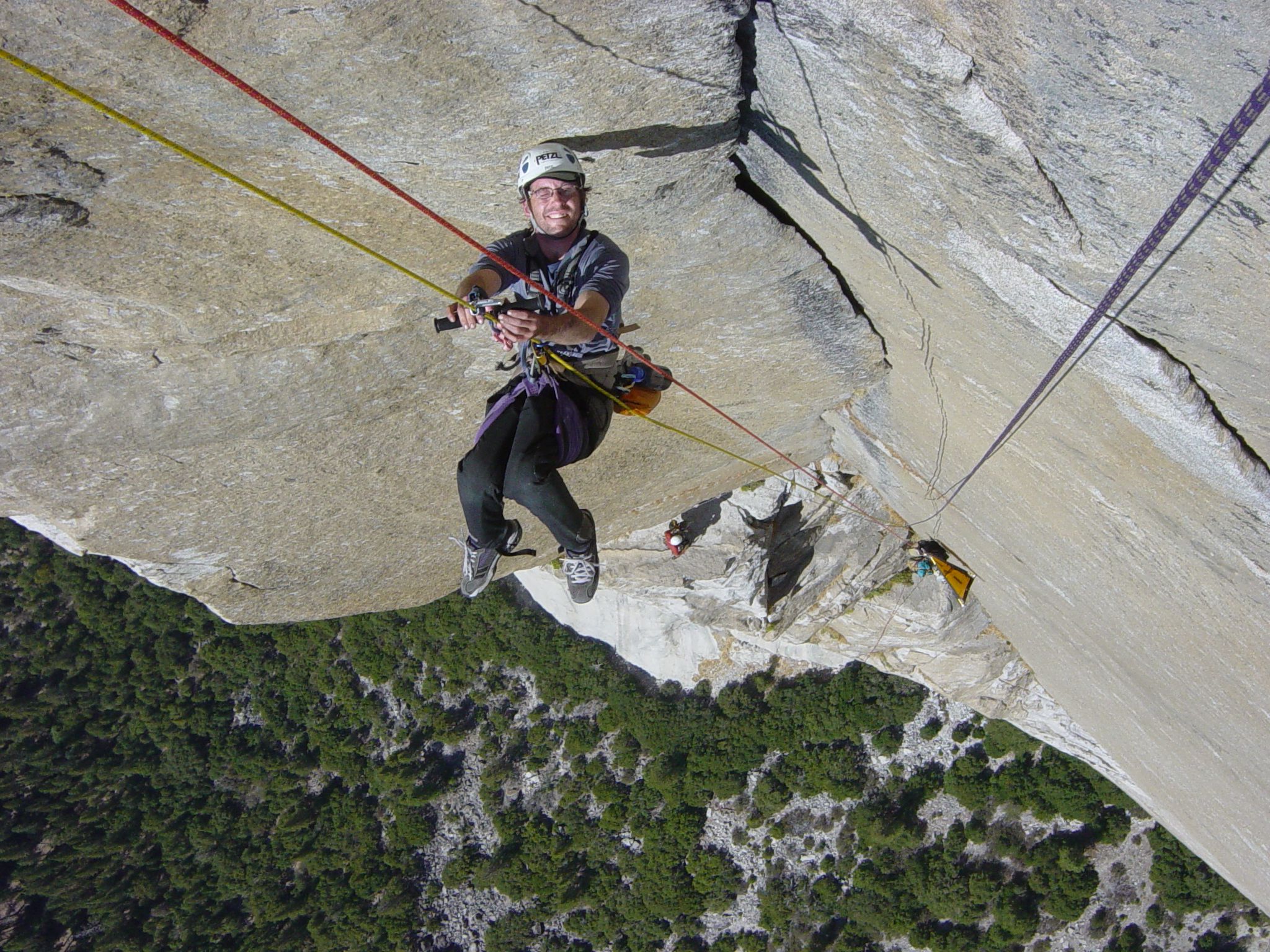 Sean using the conventional paraplegic climbing system on El Capitan.
©Ammon McNeely
I became involved in the paraplegic lead-climbing project last autumn. Sean and his brother Timmy came through Ventura after a failed attempt of the face of Half Dome and we went out for Indian food to discuss their ordeal. Over dinner Sean told me about something else that happened during the trip. They visited an obscure practice wall, where he put away the clamp and pull-up bar system, and began ascending the actual rock itself by plugging and pulling on the devices that climbers stuff into cracks for protection. A safety rope kept him snug from above and he was using a rudimentary ratchet system to yard himself from one piece up to the next (i.e. a strand of rope & Grigri). Upward progress was thus very slow going.
I listened intently and realized that Sean might have a fighting chance if he were to use a system with mechanical advantage. I thought of the pulley systems that we use to rescue climbers out of crevasses while mountaineering and visualized Sean using more compact versions so that he too could multiply force exerted as a method for reducing physical strain.
I returned to my desk on Monday, drew some diagrams and emailed a friend at Petzl who promptly sponsored all the components. The gear arrived and I rigged two isolated 3-to-1 pulley system tentacles, as we now call them, and then went to an indoor climbing gym with Ammon McNeely to test things out. We sat in rigid rope access work seats, to simulate being paralyzed, and were able to lead climb relatively quickly. Then I took the system outside. I was able to climb a 70-foot crack with my legs braced and we knew it was time to invite Sean back out west. Our original plan was to climb El Capitan, but two days before Sean arrived, Ammon sustained serious BASE-jumping injuries, so we decided to stick with dialing in the sit climbing lead system.
Trips with Sean require a climber who can play the role of Incredible Hulk because someone needs to carry him on their back from the wheelchair accessible trail to the base of the cliff. Sam Macke drove out from Jackson and championed this role while also teaching Sean a great deal about lead climbing. On May 31st, Sean was ready to tie-in and climb from the ground up. We chose the second pitch of Jamcrack because it's an ultra-aesthetic natural line, splitting through a dramatic setting to the right of Yosemite Falls, and thus a good match for Sean's efforts.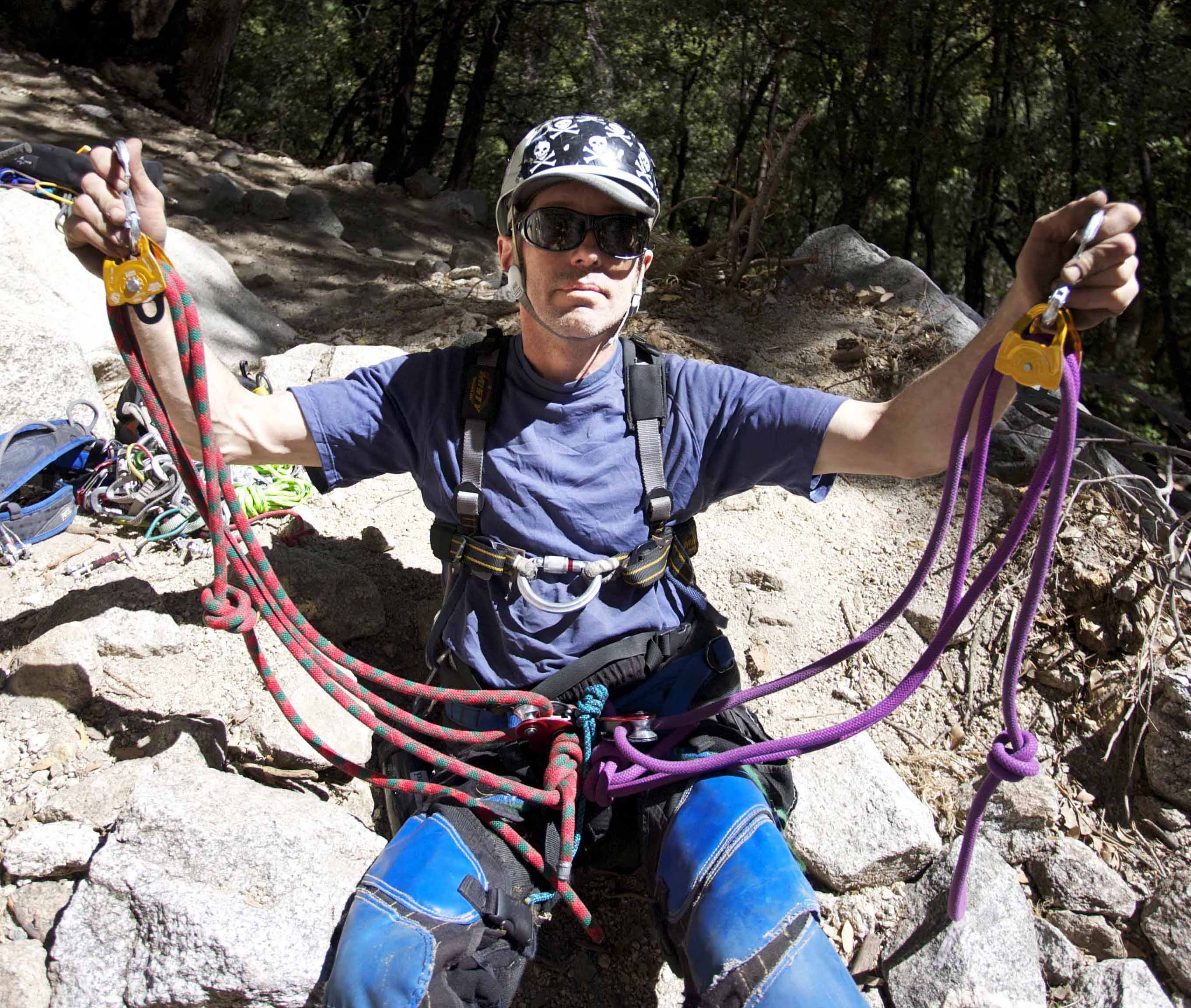 Sean and the lead climbing tentacle system. ©Dave N. Campbell
Sean bravely set off into the unknown, up Jamcrack, on the sharp end. As the sun beat down on him, the exposure set in. He dumped a quart of water down his back to cool off but after an intense and violent struggle he buckled and had to be lowered back down to the ground. Sean lay on his side below the wall, with eyes locked shut. In all of his years of climbing, many times in higher and crazier places, he had never experienced such intensity.
Timmy and I spoke in depth before the trip and my mind kept returning to a particular set of his words, "No one knows what will happen if Sean takes a lead fall; no one has ever done anything like this."
As Sean lay in silence, I spent a solid hour questioning the implications and rationale behind our wild project. Then without notice, he sat up, ate a Larabar and set his site on an alternative crack climb to the left of Jamcrack. Sean set out lead climbing again, though this time he was in the shade and made a better point of pacing himself – one could almost use the word graceful. Before long he reached the anchor and history was made. We celebrated with pizza and then passed out in the dirt.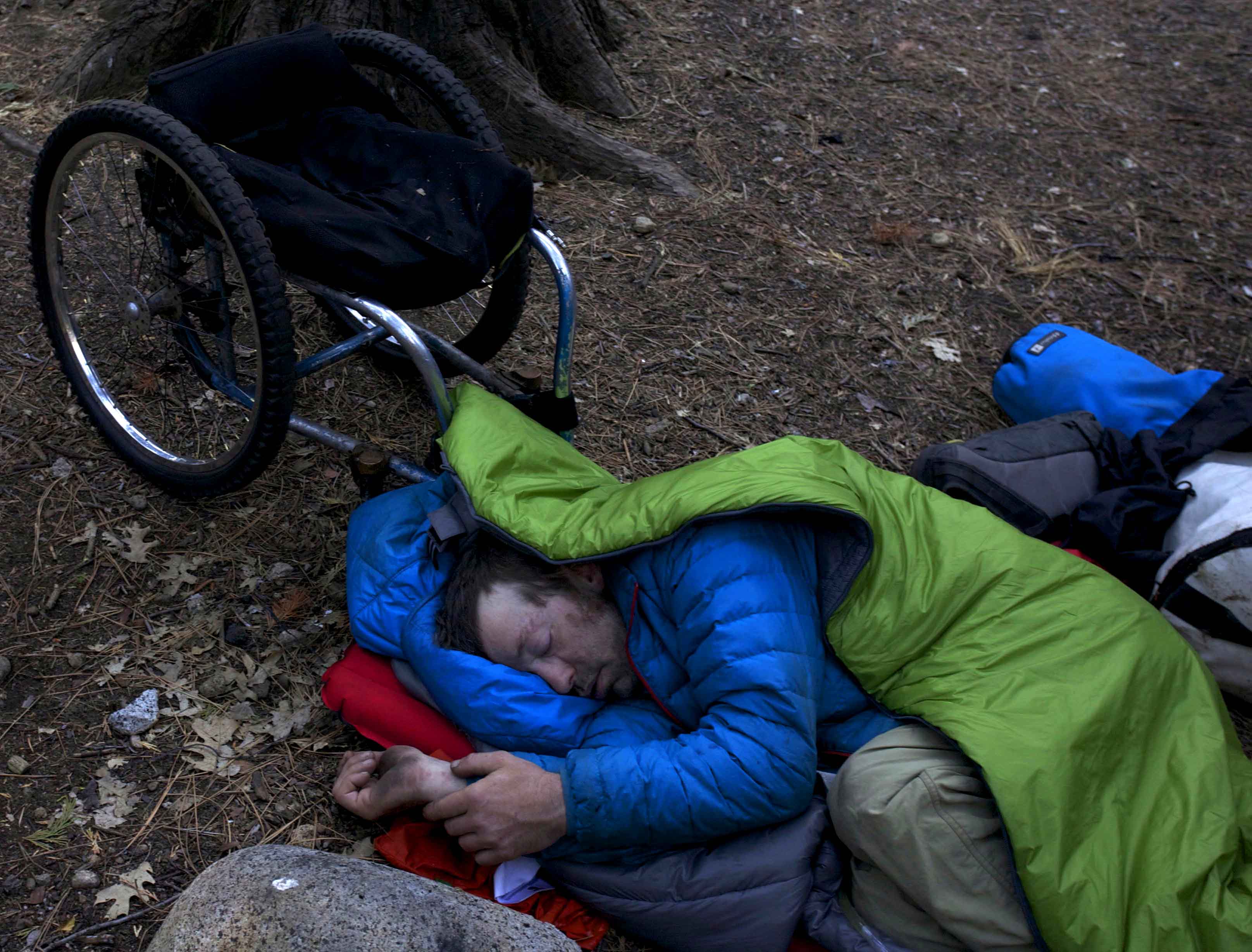 ©Dave N. Campbell
Something else happened during Sean's first lead climb and I did not understand the significance until some time later. Two climbers from California's Central Valley were passing underneath him while he was lead climbing and they did not initially realize that he's paraplegic, even after exchanging words with our crew. Consciously or not, they first saw him as a human, then as a climber, then may have even made note of the clothing he was wearing, and after that saw that he was not using his legs. All too often we first see someone's disabilities and then try our best to relate to them on the common grounds that we do share. During the first ever paraplegic lead climb it seems Sean was successful in more ways than just delivering a rope up a section of a rock wall.
Sean spent the following week practicing the lead system on the LaConte Boulder while I cranked through some work in Reno. I drove back down for our last weekend together and we agreed to meet at 4:00am in Camp 4, ready for a final round on the Jamcrack. Sean was packed and ready to charge when I arrived and we were able to ascend the first pitch while it was still dark. The valley floor below was still as Sean tied in, and he began lead climbing as the first rays of morning light illuminated Half Dome. The sun came over the adjacent wall as he reached the midway point and scattered its golden light over his progress. Sean finished the route and in doing so proved that he and other paraplegic climbers are capable of doing their share of lead climbing on major routes like those on El Capitan.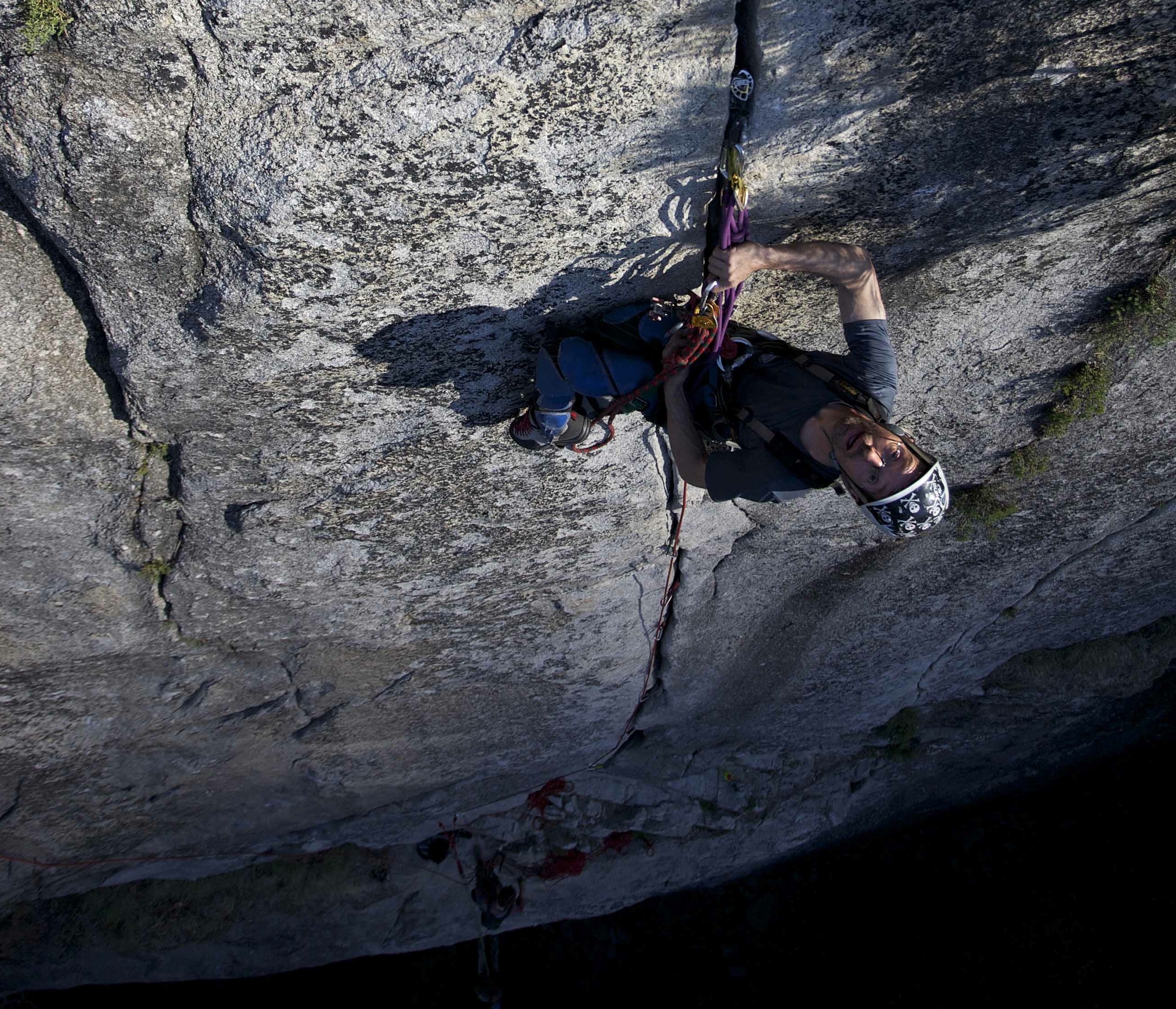 Sean at the gates of dawn. ©Dave N. Campbell
The night before Sean flew home to Maine, we swung by a convenience store on our way to Ammon's place. Sean wanted to buy a few things and I've learned that he does not want or need my help with trivial tasks, so I was able to sit back and observe our surroundings. Glancing from person to person and eye to eye, I saw the people around us and realized that we all have our weaknesses, our strengths, our physical capabilities and our disabilities. On that day in the city, however, I could see only one person with the ability – or better yet, lacking the disability – to lead climb on the walls of Yosemite – Sean O'Neill.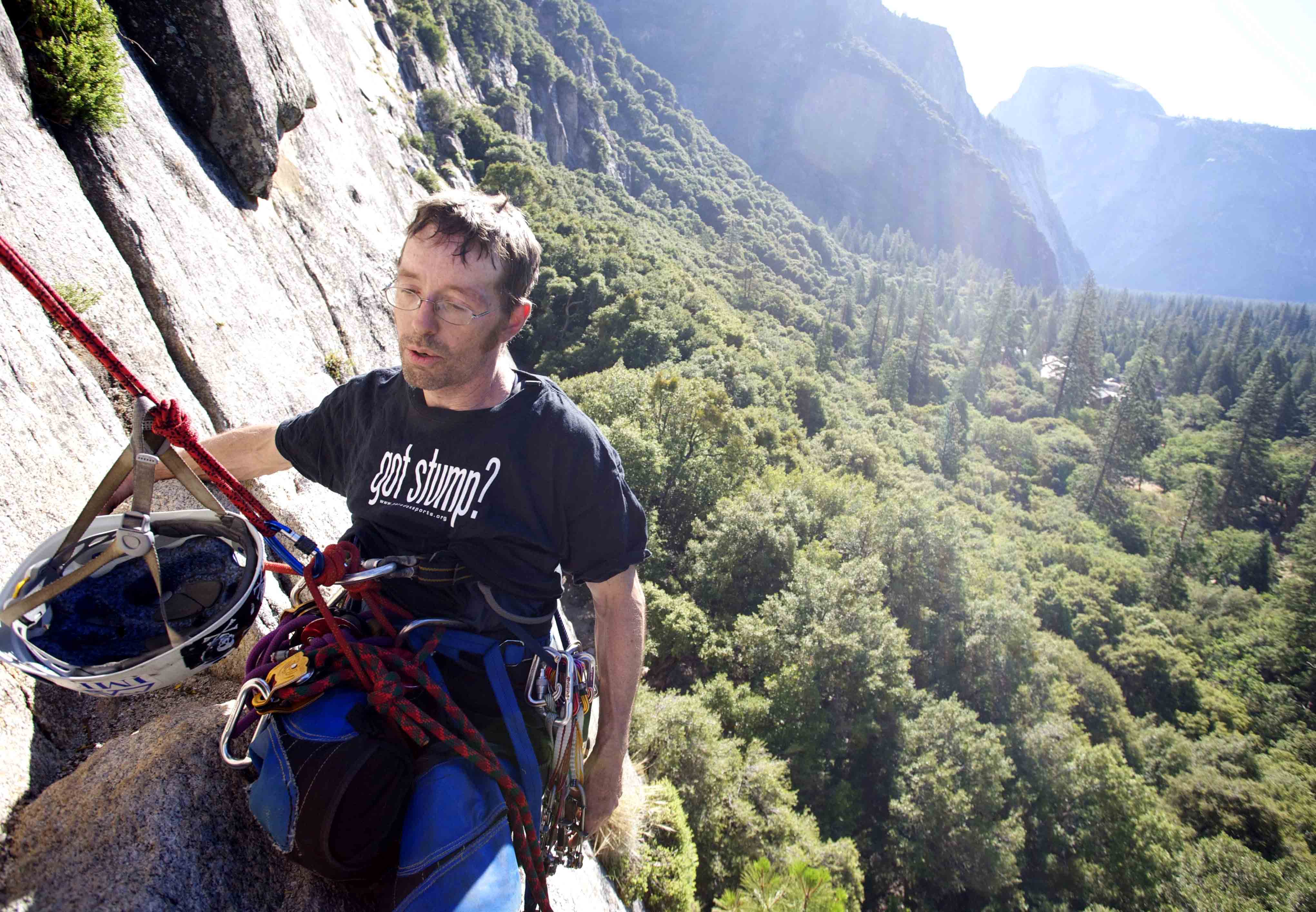 ©Dave N. Campbell