Listen to "Go West" Dirtbag Diaries Podcast Episode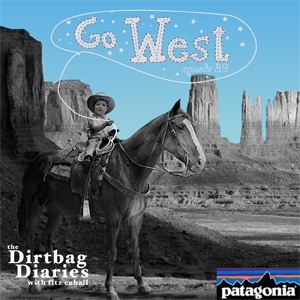 You see, in this world there are two kinds of people, my friend. Those who've never heard of the Dirtbag Diaries, and those who listen. You listen. Here's Fitz Cahall to tell you about the good, the bad and the ugly in today's podcast:
"There aren't so many real cowboys left in America, just a lot of folks who dress like them," writes Brendan Leonard. Maybe the cowboy is gone, but the tradition of going West to reinvent oneself has remained a part of our culture. Where does that desire come from? Is it a part of the American Psyche? In Brendan's case, it came from his father's passion for the West. In small-town Iowa, the only way Brendan and his dad, Joe, could foster the dream of red rock and sage was by watching westerns. Lots of westerns. Today, Brendan presents a story about mountain people and the dreams parents instill in their children. Go West.

Listen to "Go West"
(mp3 – right-click to download – contains some expletives)
For more on this podcast, visit the Dirtbag Diaries. You can subscribe to the show via iTunes and RSS, or connect with like-minded listeners on Facebook and Twitter. 
Fitz and his partner Brian are also helping us with a new video series, Tracing the Edge, which profiles three Patagonia ambassadors: Gerry Lopez, Krissy Moehl and Colin Haley. To see the trailer and the first three episodes, step into the Tin Shed.