Unstuck in Baffin Island's Stewart Valley
Nico Favresse
/
January 12, 2018
/
4 Min Read
/
Climbing
Pain pulses in my right foot to the rhythm of my heartbeats. I know something's wrong, but the only option is to ignore it. The swelling presses against my shoe, but I'm afraid if I take it off, I'll never get it back on. Still, I feel like I can't complain. My foot is still functional. I realize that when I slipped off the wet chimney on the previous pitch and landed on a ledge 5 meters below, I could have hurt myself much more seriously.
To my left, I see the enormous granite walls of the Stewart Valley. Deeper inside the chimney the rock turns from frost-covered to compact ice, filling the void and preventing us from going any further inside. I've been here for 30 minutes and nothing has happened. The spot on the rope is still at eye level. Only the sounds above me seem to be changing. An incisive crescendo.
"Stay positive," I think to myself. But it doesn't work. Reality quickly replaces my pathetic affirmations. We are completely stuck in what is probably one of the most remote places on earth. No one even knows where we are. We've been in this pocket of Baffin Island for almost two months, and a boat is supposed to pick us up when the sea ice melts, but that could be anywhere from later this week to anytime this month.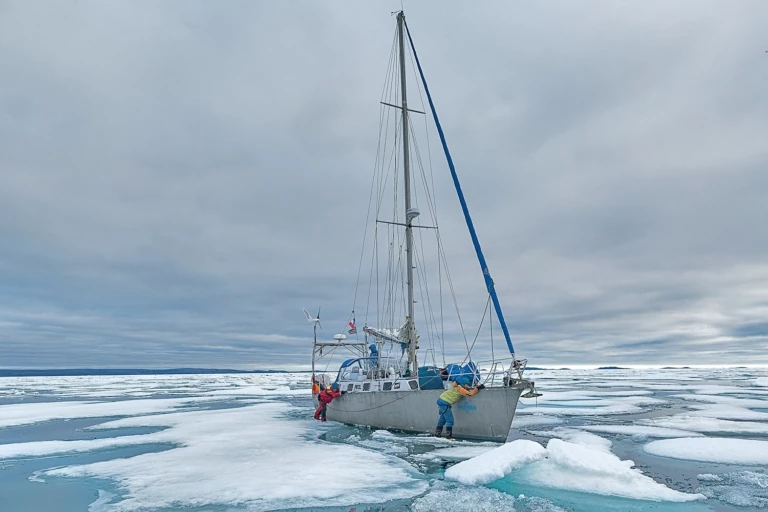 This climb is notably different from any route we've been on before. Dark, wet and mossy, it feels more like caving. It's relentlessly slow and strenuous, with nothing but wide cracks that we squeeze our entire bodies into with very few opportunities for protection.
Right now, Sean is wedged in one of these cracks, and from the movements of the rope hanging above I can tell that he's stuck. When he started the pitch the chimney became very narrow, and he'd had to choose between committing to very insecure moves with no protection along the face or trying to squeeze his body up a tight crack just wide enough to fit in order to get to an opening about 20 meters higher. He chose the second option but became impossibly wedged between the narrow walls, only half a meter from where he would have exited the chimney.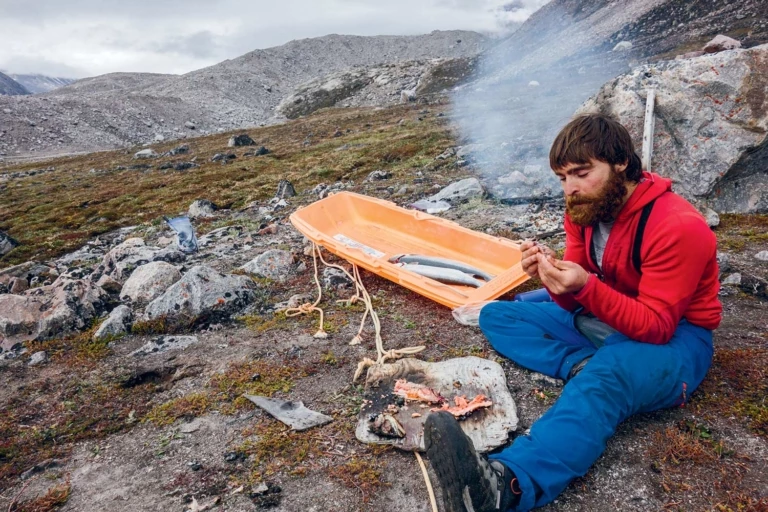 I consider the options, but there's nothing I can do. Even with rescuers and fixed ropes, I can't think of a way to free Sean. I remember reading about climbers getting their knees stuck in cracks and using olive oil to free them, but this would probably just sink Sean deeper. And anyway, where the hell am I going to get olive oil up here?
I feel completely useless.
It's a moment of desperation that sends me back to our original approach to Stewart Valley over the sea ice on skis. The landscape was so beautiful that I remember thinking, "If we have to die, this is at least worth dying for."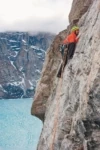 I can hear Sean's breathing accelerating as he gets increasingly desperate. The only way to extricate him would be for him to retreat from his position exactly the way he got in.
Suddenly the rope starts to move back toward the inside of the chimney, and 15 minutes later Sean is liberated. Without hesitation, he works his way around the outside of the narrows, committing delicate moves without any protection.
Finally, we are back on track.
This story first appeared in the January 2018 Patagonia Catalog.