The "Great Outdoors Giveaway" Is Not a Gear Sale – Take Action to Protect American Public Lands
Stacy Corless
/
August 2, 2011
/
3 Min Read
/
Activism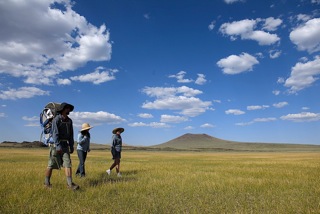 Perhaps you've seen the phrase "Great Outdoors Giveaway" in the news or your inbox recently. Hopefully, you didn't interpret it as an opportunity to get free outdoor gear.
The Great Outdoors Giveaway is, according to former Interior Secretary Bruce Babbitt, "the most radical, overreaching attempt to dismantle the architecture of our public land laws that has been proposed in my lifetime" and it's unfolding with the same complexity and lack of vision that characterized the debate over the debt ceiling in D.C.
Editor's note: Today we'll hear from Stacy Corless, Executive Director of Friends of the Inyo, and Nancy Hall, Executive Director of Friends of Gold Butte, about a complicated political issue that is threatening to further deplete America's vanishing wilderness. Read on and then take action after the jump.
[Hikers walk in the Bodie Hills region of California, an area that could be opened up to gold mining in the Great outdoors Giveaway. Photo: John Dittli, with permission]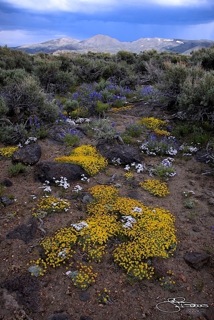 As the leaders of two groups that work to protect some of the wild gems you may never get to, but still want to see protected, we need your help! We're struggling to explain the rapid pace of assaults on our wild places and public spaces. There are complex parliamentary budgetary maneuvers, policy attacks through riders attached beyond the sunlight of public transparency, and funding attacks on critical regulatory agencies.
[The Bodie Hills could be ripped up by a gold mine under new legislation in Congress. Photo: John Dittli, with permission]
Sometimes, though, the assault is straightforward. So it is with Rep. Kevin McCarthy (CA-22) and his "Wilderness and Roadless Area Release Act of 2011." This legislation would remove protections from 60 million acres of Bureau of Land Management Wilderness Study Areas and Forest Service Roadless Areas. These are some of our best lands for hunting and fishing, climbing, trail running and other outdoor pursuits. They're also important for clean air and water.
These millions of acres and hundreds of places are not abstractions. The Bodie Hills in California's Eastern Sierra are under a constant threat of gold mining operations in an area known for its wildflowers, sweeping vistas and threatened sage grouse populations. In Nevada, the Great Outdoors Giveaway threatens a profoundly important area of cultural resources called Gold Butte. As with the wildlife and scenery of the Bodie Hills region, the protection of Gold Butte's petroglyphs, bighorn sheep and important tribal cultural significance won't be debated in Congress.

So, we need your help to shine a light in this dark corner. Please take action for the Bodie Hills and make your voice heard for Gold Butte. Then share this post and the links it contains on Facebook and Twitter with the hashtag #greatoutdoorsgiveaway. The Cleanest Line would also like to add an action alert being hosted by our friends at The Conservation Alliance and Trout Unlimited. Take Action – oppose the Wilderness & Roadless Area Release Act (mentioned above).
Thanks for your activism and for not giving in to the Great Outdoors Giveaway.
Stacy Corless
Executive Director, Friends of the Inyo
Nancy Hall
Executive Director, Friends of Gold Butte
—————————————————————————
For more background info and to see the state-by-state impacts of the Great Outdoors Giveaway, visit greatoutdoorsgiveaway.org.