How We Turn Scraps into New Gear
What if we could wear our garbage?
That's the idea behind ReCrafted, our line of clothing made from the scraps of used garments collected at our Worn Wear facility in Reno. It's premium, Patagonia, upcycled. A second life for products that might not otherwise get one.
ReCrafted was created by Kourtney Morgan—the designer behind some of Patagonia's most iconic gear—and has come to life at Suay, a sewing shop in Los Angeles that's owned by Lindsay Rose Medoff. "Lindsay and I both had a passion for doing something that mattered," says Morgan. It's another small step toward a zero-waste world.
Medoff has been working on remade products for 18 years, though she took a break to farm in New Mexico in between. She attributes her love of cutting up fabrics to her punk rock youth, and her passion for repurposed clothing to a love of thrift stores she discovered in seventh grade. "Worn-in or used or cared for has always been at the heart of how I felt like I exist in this world," she says.
The ReCrafted process looks something like this: Through Patagonia's Worn Wear program, customers send back old or damaged clothes, many of which get repaired and sent back. If they're deemed too damaged to work with, they get baled and stored. These pieces are then sent to Suay, which is tucked away on a quiet dead-end street on the bank of the Los Angeles River.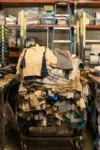 The Worn Wear team first sorts these damaged items at Patagonia's warehouse by material and product type, and then bales are sent to Suay for additional sorting and to begin the deconstruction process. "Usually there are two bales on a pallet that have to be lifted up and down off a truck. They're wrapped in plastic with metal twine, and when you pop them open, what seemingly looks like something manageable becomes like five times that size," Medoff says. From there she and her team start the creative process of how these garments can be reconstructed. Could this be a pocket? Then it goes in the pocket box. Could this be the back of a sleeve? Things get sorted by denim, cotton and down products. Things get sorted by color. Every piece is also made on site at Suay. Master seamstresses and cutters, who have worked in the garment industry for years, create over 10,000 individual pieces of clothing specifically for the ReCrafted line (they also sew thousands of other products from discarded fabrics). "[It's] an answer to a question, and the questions was, 'What are we doing with all the product that we're taking back that isn't recyclable, that isn't resalable, that isn't repairable," says Morgan.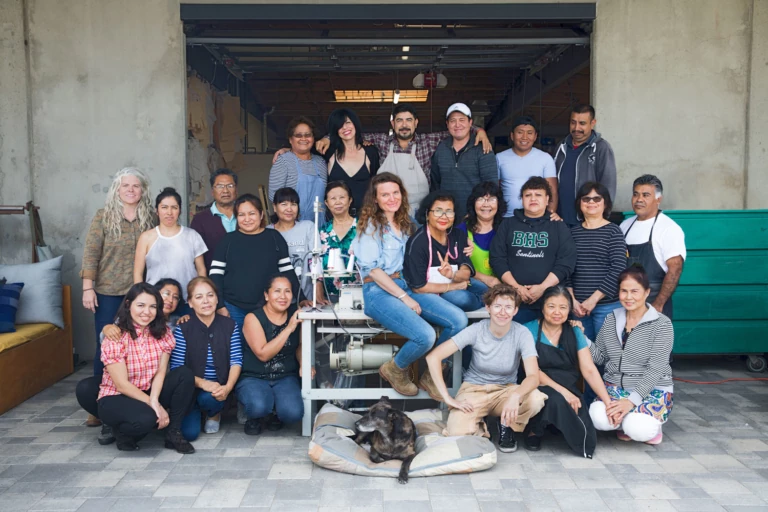 Both women are optimistic about the possibilities of remade clothing. "In my 18 years of experience, I've never seen this done before," Medoff says. "I would say that it's impossible to do and that we're actually doing the impossible." Fifty-three million metric tons of fiber are produced for clothing annually, but less than 13 percent is recycled; 73 percent is landfilled or incinerated. If you consider that there might be enough fabric on Earth right now to dress the whole world, ReCrafted clothing really is a radical act. That's certainly how they see it. "You're asking people to create a new habit of what their voice is when they're spending their dollars out in the world. And what they're putting on their bodies. You're asking people to do something that's different," says Medoff. For Morgan, the product line gives her hope.
It's a quiet revolution, but when clothes, like food before it, represent the values we stand for, then what you wear really is revolutionary. As Medoff puts it, "It evokes a sense of belonging to change."
ReCrafted styles will be available November 13th at wornwear.com. Be sure to sign up for Worn Wear emails to be notified when ReCrafted items are available.