Product Testing: Backpacking with the New Capilene® 4
Old School
/
December 6, 2010
/
3 Min Read
/
Design
We test our gear on a variety of levels. Our Athletes & Ambassadors are responsible for putting the latest designs and fabrics through the paces before we'll add a new product to our lineup. But just because something reaches our shelves doesn't mean testing is over. Once a new item shows up in our catalogs, our Customer Service staff gets busy ground-truthing the latest offerings. They know the questions our customers will be asking, and turn that attention to our gear.
___________________________________________________________
Field Report: Backpacking into the Ionian Basin.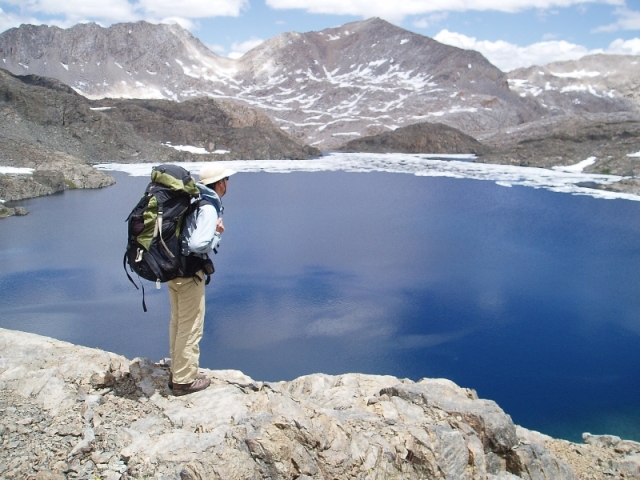 Conditions: Rain, then Sierra sun.
Product Tested: Capilene 3 Midweight Crew
This season we've revised our Capilene® Midweight Baselayer, long our most popular cold weather Capilene. It's now made from Polartec® Power Dry® 5.4-oz polyester, a double-knit fabric with 65% recycled content. The bi-component fabric matches an absorbent inner layer with an outer layer designed to spread moisture quickly, and the new fabric also has improved stretch and durability. But the first thing users of the new Capilene® 3 might notice is the feel; it is much softer against the skin than the old stuff. And it doesn't just feel better, the new fabric dries 130% faster and wicks 38% better as well. Along with the new fabric, it gets new seaming and fit, making what we think has always been the best baselayer on the market even better.
So, you might be saying, "It all sounds good, but what does this mean for the person in the field? Are these changes really noticeable?" Good question, questions we have asked ourselves. Our products have always been tested by our Ambassadors and product testers. These folks no doubt give outstanding insights but most are elite athletes, a far cry from the rest of us. So some of us Reno folks are giving our only slightly biased field reports on some of the new fall gear. We may not have a fabric lab but we have lots of mountains. Like most of you, we're not pros, but still love to get out there…
[Finally, Old School takes in the Ionian Basin. Photo:Sally Loomis]
* * *
Lying just to the west of the Evolution region is the Ionian Basin. It has a reputation for being rocky, stark and untrammeled, much like the hundred or so other high-altitude basins throughout the Sierra. Unlike these other basins, the Ionian has remained, for me, repeatedly out of reach. After four failed attempts to visit it, I began to think there was a force field keeping me out. Of course this made me want to go even more.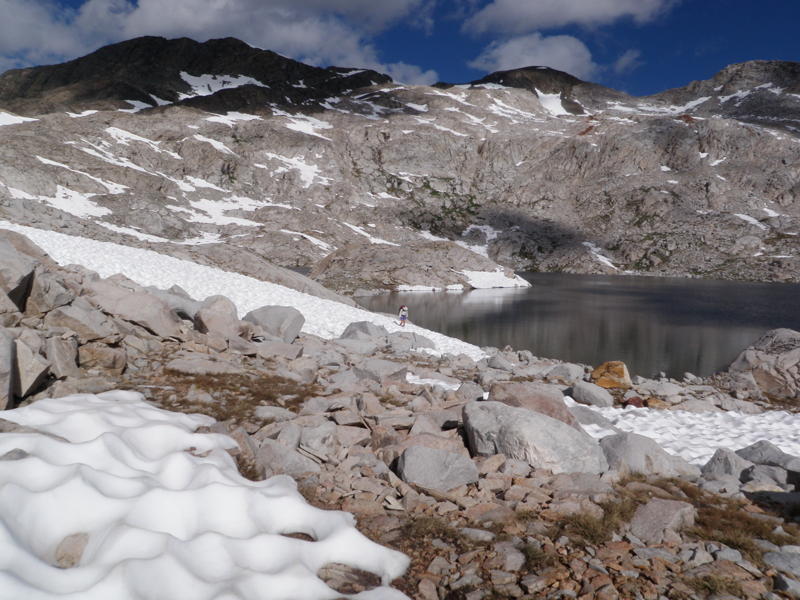 This time our route out was much easier; we followed an inlet creek to the south and climbed out over Black Giant Pass. Two miles of bolder hopping dropped us back to the Muir Trail just south of Muir Pass. From there, it was still another three days of spectacular hiking down Le Conte Canyon, up over Bishop Pass and then back to the car at South Lake. Hmmm, I wonder how hard Enchanted Gorge really is…
[Above, left – Ken crossing Evolution Creek. Above, middle – Looking for camp on Martha Lake. Photos: Sally Loomis. Left – Leaving the Ionian Basin. Photo: Ken La Russa]