Steve House and Cory Richards, Makalu 2009: Greetings from 24,300 Feet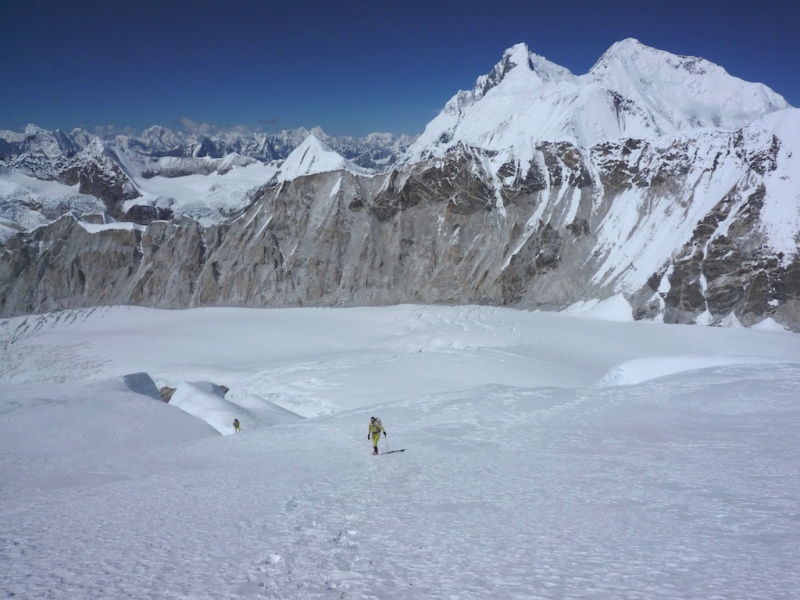 Today Steve House makes good on his promise to call from camp 2 on the normal route of Makalu. From the first few heavy breaths to his attempt at simply walking 10 feet, this call will give you a pretty good sense of what it's like to be at 24,300 feet, in top physical shape, without supplemental oxygen.

Listen to Steve House – Makalu, May 21, 2009
(mp3 – 5:38 – right-click to download)
In 2007, Steve, Marko and Vince brought us along to the summit of K7 West with their video camera. To put things in perspective, the summit of K7 West is 22,447 feet (6842m) – almost 2,000 feet lower than the elevation Steve called from today and a good 5,000 feet lower than the summit of Makalu at 27,762 feet (8,462m).
[View from above camp 2 during the 2008 Makalu expedition. That's Everest (29,029 ft) on the right. Photo: Steve House]
Previous posts from the trip:
Makalu Again
Getting Acclimated
High Altitude Pulmonary Edema
Back to Normal