A Day with Kite-boarding 4 Cancer
Jessica Salcido
/
August 26, 2015
/
6 Min Read
/
Kitesurfing
By Jessica Salcido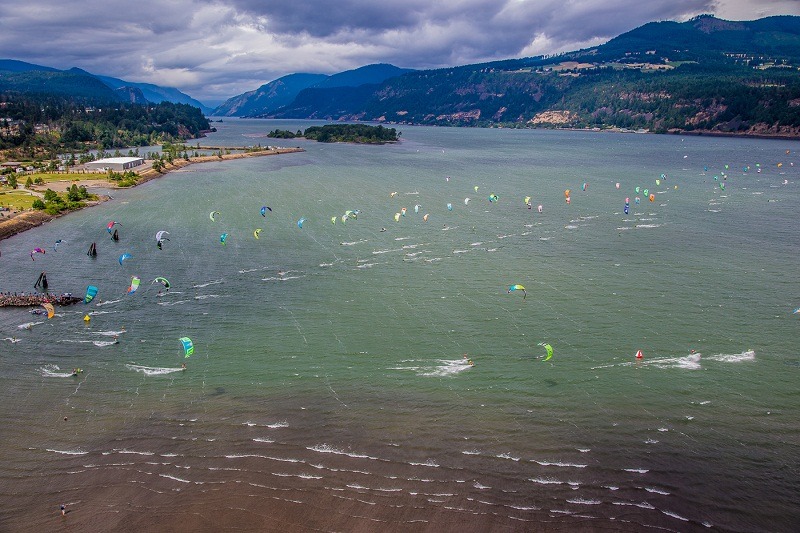 For the past few years, a small group of kiters here at Patagonia have participated in Kiteboarding 4 Cancer, a spectacularly beautiful kite race in Hood River, Oregon designed to raise money for the survivor-focused nonprofit, Athletes 4 Cancer.
Cancer has impacted all of our lives—we've loved and cared for friends, family, co-workers and acquaintances battling the disease. We know about the treatments, the medications, the prognoses. For survivors, however, life after cancer looks quite a bit different from the lives they put on hold. When treatment concludes survivors must bravely discover their new "normal" in a world where others can't possibly relate to their unique situations. Often, with little traditional medical support, they must navigate an entirely new physical and emotional landscape, complete with physical challenges, changes in appearance and a lingering uncertainty about the future.
That's where Athletes 4 Cancer (A4C) steps in. This nonprofit is dedicated to sending cancer survivors to outdoor adventure camps. More than just another cancer support group, Athletes 4 Cancer's Camp Koru utilizes the transformational power of nature and the spirit of determination required by outdoor sports to restore and rebuild lives after cancer.
Above: Aerial view of the colorful chaos. Hood River, Oregon. Photo: Richard Hallman
During the 3-6 day camps, which are run by fellow survivors, participants engage in surfing, stand-up paddling, canoeing, kayaking and snowboarding, all with the help of professional instructors. Thanks to fundraising events like Kiteboarding 4 Cancer (KB4C), camp is free for participants and outdoor activities are customized to accommodate any physical limitations the participants may have.
By taking on the challenge of learning a new sport in a restorative outdoor setting and sharing the journey with peer survivors, camp participants are empowered to find healing and inspiration. One participant commented, "I would not be the person I am today without this program. I am living again because of A4C." Another participant: "Camp was such a wonderful rebuilding for me. It put a foundation under my feet that I haven't felt since my diagnosis."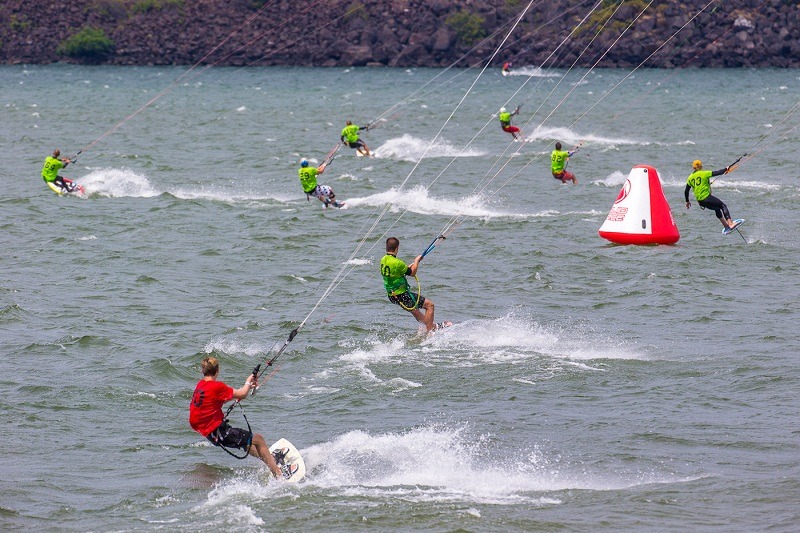 A stacked pack of riders tack upwind on various kiteboarding implements. Photo: Richard Hallman
This year, finally confident in my kiting skills, I decided to go all in and fundraise my tail off for the annual Kiteboarding 4 Cancer event in Hood River, Oregon. We created a team of women to complete the relay race and raise $3,000, a somewhat lofty goal that would send two survivors to camp. Through generous donations from family and friends (thank you!), we were able to surpass our goal by a long shot, raising more than $4,000—enough to cover almost three campers! We graciously accepted our second place fundraising finish behind the aptly named all-survivor team, Two Ballers and Two Lymphomas.
The KB4C fundraising event itself is the equivalent of a kiteboarding marathon, a six-hour endurance race through a series of buoys in the Columbia River. With both individual and team divisions, the race is meant to push even the most competent kiteboarders both physically and mentally. Race participants must contend with the Columbia River Gorge's notoriously gusty wind, barge traffic, a sketchy kite-launching area and the very real and dangerous chance of tangling kites with any of the 180 participants.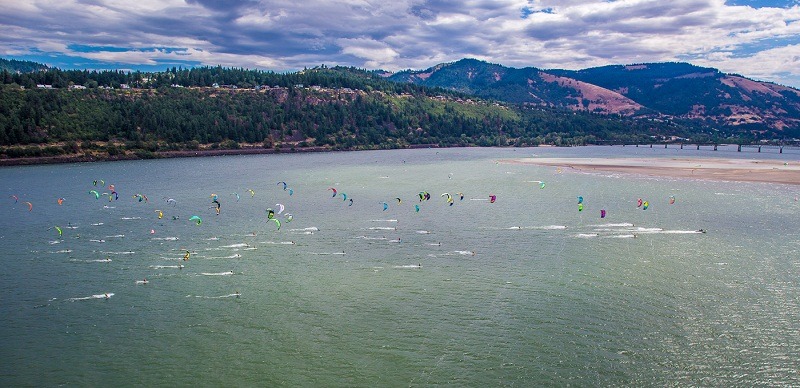 Riders race to catch up with the start boat on lap number one. Photo: Richard Hallman
Because we entered the team relay division, we took turns riding the two-mile course in about one-hour increments before handing off our team jersey to the next lady rider. Jill, our Canadian teammate with nerves of steel, bravely volunteered to take on the first leg of the race for our team.
As I watched the first hour of the race, my stomach churned. The wind picked up, professional kiteboarders tangled with other kiters, kites fell from the sky onto the grass around us and we could see equipment floating riderless through the Columbia River. The safety jet skis, tasked with rescuing fallen racers, were at full capacity. It was kite mayhem.
This didn't bode well for me as I was next in line to take the team baton. I wasn't used to Columbia River's gusty wind. I've only ever ridden with a handful of other kiters at home, and I was at a disadvantage with my strapless surfboard in the changing wind conditions.
I took a moment, gave myself a thorough pep talk, chugged some coconut water and put on the team jersey for my leg of the relay. With my pep talk complete and my favorite Notorious B.I.G. song on repeat in my head, I was erroneously convinced that I would round buoy after buoy without incident. I couldn't have been more wrong.
My kite launch coincided with a serious gust and the bottoms of my bare feet slid over the river rock until I regained control of the kite. That alone would have sidelined most. Later, while rounding the inside buoy, my kite tangled with another kite and slammed onto the water a few feet from some spectators. Luckily for everyone, I was able to untangle and relaunch the kite before it dragged me through the crowd and the scaffolding of the event tower. I also thoroughly entertained friends and teammates when the gusty wind flung me from my strapless surfboard multiple times and I went skidding on my stomach, boardless, through the course. My Patagonia wetsuit shorts remained firmly in place though, saving me at least some additional embarrassment.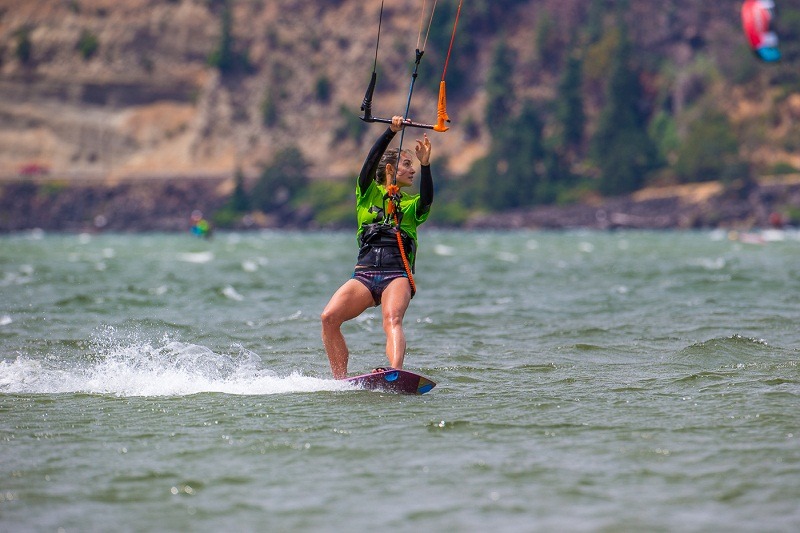 After swapping out the strapless surfboard and quickly relearning how to ride a twin tip, the author rounds an inside buoy. Photo: Richard Hallman
During those moments, I wanted to quit. Dragging myself through the course with dozens of kites barreling toward my abandoned board, I couldn't help but think about finishing early and going in to have a charity beer—the beer was donated by a local brewery, so you could consider it drinking for a cause. There wasn't really any consequence for abandoning the last hour or so of the race. We would be able to finally give our weary legs and empty stomachs a break so why not end a little early?
Then I reminded myself how, in the face of the big C, the survivors we were racing for didn't quit. They overcame adversity and uncertainty about the future, and went on to thrive in their lives. My issues during the race—fear, bruised feet and a tangled kite—were a drop in the bucket compared to what each survivor dealt with on a daily basis. So, to honor the friends and family we've lost, those currently battling the disease and the survivors at Camp Koru, our team rallied and decided to push through to the finish.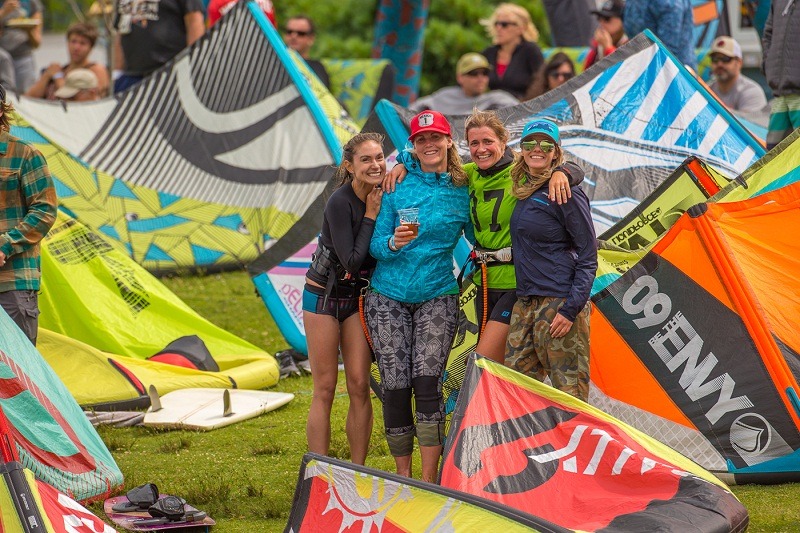 Team Patagonia Ladies properly celebrating the finish with some thirst-quenching charity beer. Photo: Richard Hallman
Sunset in the Hood with the stoked race crew. Photo: Richard Hallman
We finished the full six hours when the horn sounded at 5:30 pm. Our legs quivered from exhaustion, our arms were sore, our faces sunburnt and we were famished, but we were smiling. We toasted our beer-for-a-cause and listened, inspired, to survivors speak about their experiences at Camp Koru.
Kiting never felt so good.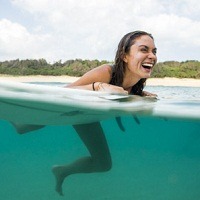 Jessica Salcido works in Patagonia's marketing department when the surf is flat and the wind isn't blowing. Follow her on Instagram at @psychoballet.