Inspired by Nature – The 2013 Patagonia Tools for Grassroots Activists Conference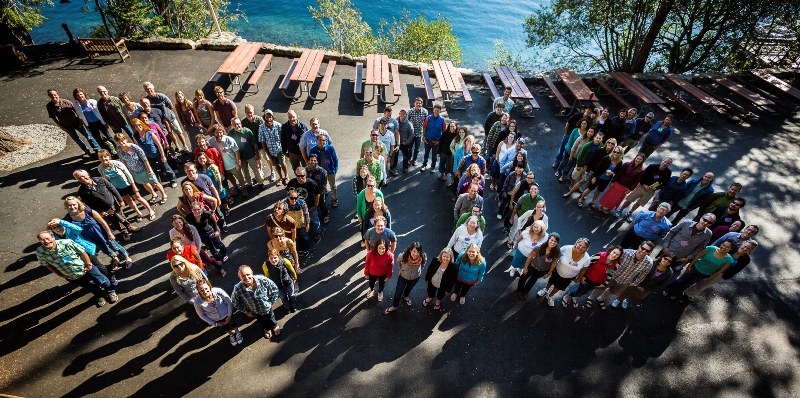 They flew in from rural Alaska, from Albuquerque, South Boston and Traverse City, Michigan, where they work to stop dams, preserve native forest, create urban farms and develop regional water-management plans. Coming together at Fallen Leaf Lake (near Lake Tahoe, Calif.), Sept. 11-15, for Patagonia's Tools for Grassroots Activists conference, some 74 environmental activists from distant corners of the country and everywhere in between took a break from their often solitary, usually underpaid nonprofit existences to try to become more effective advocates for the natural world.
The Tools conference is a skills training organized by Patagonia's environmental department and led this year by 15 experts from government, communications, fundraising and environmental nonprofits. Patagonia convenes the gathering every two years with the help of staff at Stanford Sierra Camp. This was our 13th Tools conference, and going by participants' comments, among the best.
Bill McKibben, author and founder of 350.org, got the conference started with his keynote speech. Describing the daunting and disheartening issue of climate change, he told how his group was trying to build a global movement to solve the climate crisis by breaking the world's dependence on fossil fuels. Bill clicked through images of climate-change demonstrations his group had helped to encourage all over the world. They were quirky, creative and staged in some rather surprising places – Yemen, Somalia, Afghanistan and the Maldives, among them. Places where you'd think hunger, women's rights and education would trump the issue of climate change. But to some, the harrowing global nature of this rapidly unfolding threat is not an abstraction.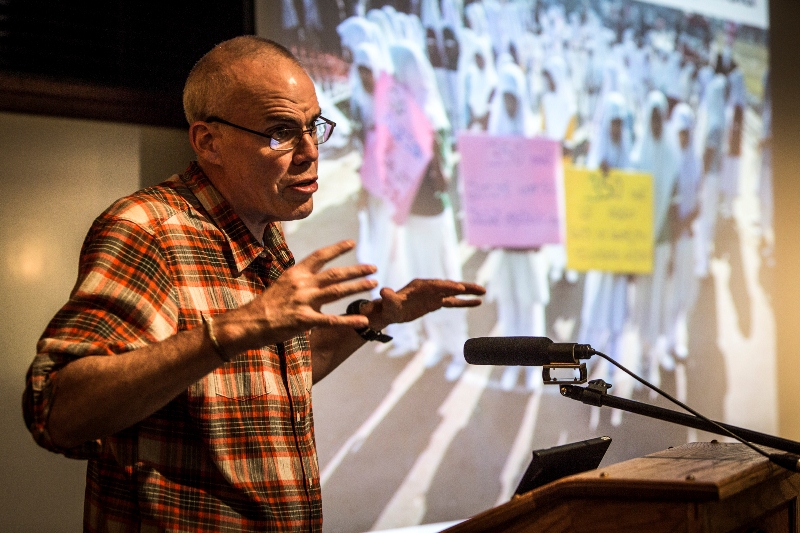 Tools participants spent the next four days at presentations and workshops. Kristen Grimm of Spitfire Strategies showed activists how to do a better job of framing their issues and getting out their messages. Brian O'Donnell from Conservation Lands Foundation focused on campaign strategy. Carrie Sandstedt of The Pew Charitable Trusts talked about building campaign momentum. And Diane Brown from The Non-Profit Assistance Group demonstrated creative ways to raise funds. There were also presentations on using social media and Google technology tools, lobbying government officials and working with business to promote environmental aims.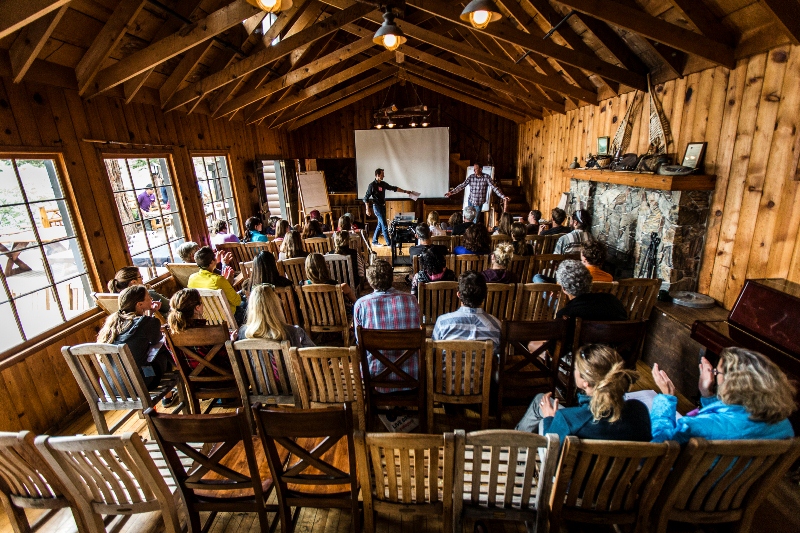 It wasn't just activists who profited from the trainings. Patagonia employees, 33 in all, from all over the company also took part in the conference. Chiarra Cappellina came from our office in Italy (see her report below), Etsuko Nakanishi from Japan, and others from Patagonia stores in Chicago, Seattle and San Francisco. There were folks from our headquarters in Ventura and our distribution center in Reno, as well. Presenters, activists and employees shared cabins, conversations and meals. We enjoyed films from the Wild & Scenic Film Festival on Tour, contra danced to a six-piece band and a caller in funny shoes, enjoyed a few beverages and jumped, ever so briefly, into the chilly alpine waters of Fallen Leaf Lake.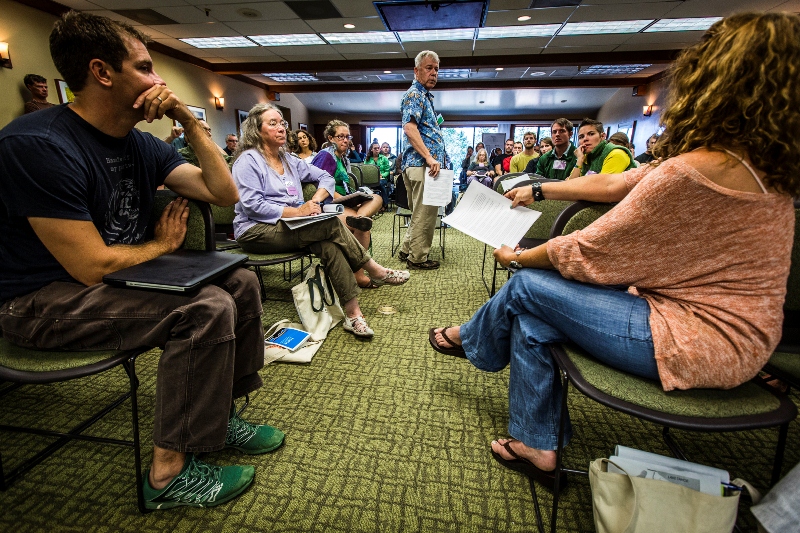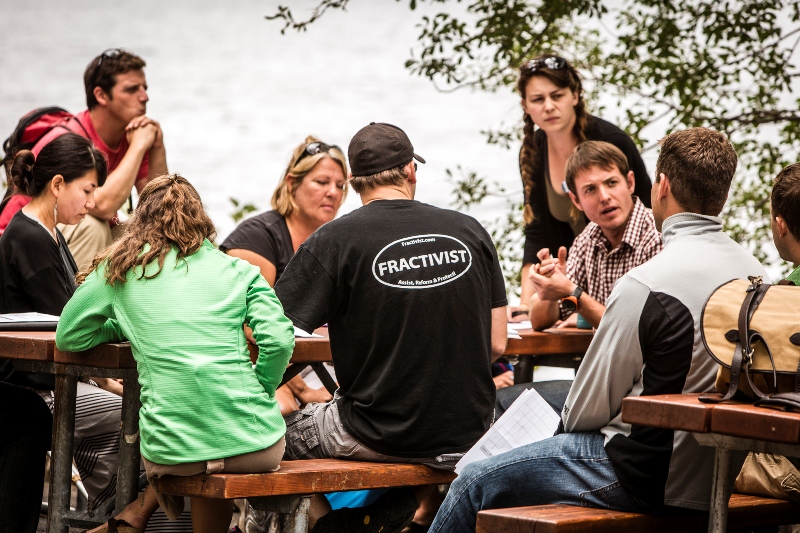 On the final day of the conference, while still at the camp waiting for a ride to the Reno airport to catch a plane back to Anchorage, Rick Leo of Coalition for Susitna Dam Alternatives wrote this kind note of thanks.
"I'm on the dining room deck surrounded by copper cumuli and Jeffery pine. The lake is serene. Cathedral Peak looms. Laughter lifts from the walkway below. It seems appropriate to write a thank you note to all of you – as a team and as individuals – while still here, this last evening. This way you might, now as you read, be transported back to the power and magic of the conference. The workshops were valuable, of course, but of even greater benefit were the ad hoc conversations with Tim and Kai and Diane and John and Carrie and Kristen and Karin and Brent discussing my specific issue in depth across the days subsequent to their presentations. Yet perhaps the greatest and certainly the most unexpected worth of the conference were not the interactions with the Professional Presenters but with the other activists like myself. Do you screen for articulate intelligence? Perspective is necessary to see ourselves and our work afresh, and boy did everyone bring something clarifying to the table. So yes, thank you. Deep bows. Great job. May your tribes increase." –Rick
Traveling from Italy to attend TOOLS, a report from Patagonia Europe's Chiara Cappellina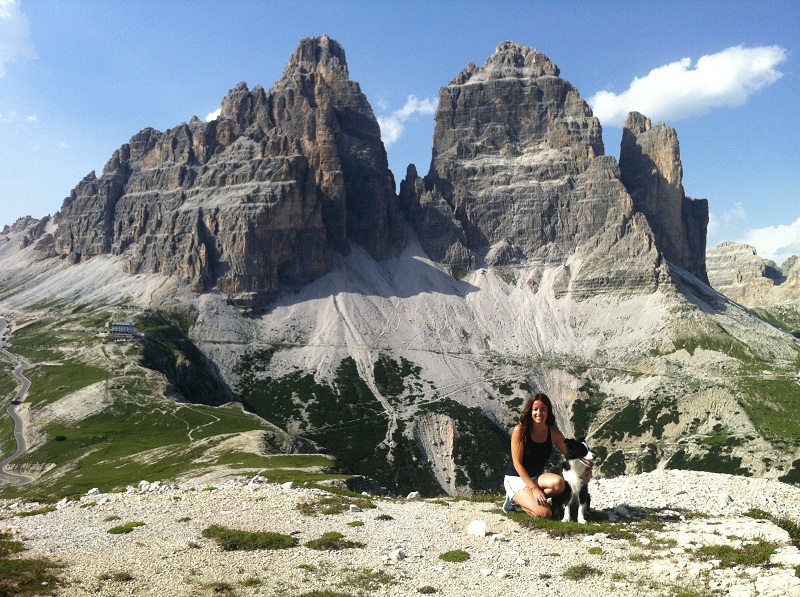 I wasn't sure what to expect at my first TOOLS for Grassroots Activists Conference, but I knew I wanted to absorb everything and walk away having met and having heard the stories of people with experience working on past campaigns, and those with visions of workable solutions for the future. I learned so much. Three key things struck me at TOOLS:
The increasing knowledge around issues the environment is facing, from climate change to fracking and oil pipelines
The exposure to new ways of presenting data and discussing issues, like Google technology tools and various social media techniques
The ability to network with other activists and communicators from different countries, cultivating professional alliances and sharing experiences. Oftentimes, this resulted in discussing approaches to the pressures and challenges we face as activists.
A number of times I noted that the same environmental crises discussed at the conference, in the United States, also exist in my country. Impacts from gas pipelines and fracking concern Italy, although they play a minor role in comparison to the US. Local citizens' associations and activists have recently opposed the construction of the Trans Adriatic Pipeline in Italy, the new pipeline project which will bring natural gas from Azerbaijan to Southern Italy. While it's still unclear if fracking is being carried out in Italy, oil companies are becoming increasingly interested in the possible reserves of shale gas in the Po River Valley. An Italy-based movement has called on the Italian government, which is appraising the shale gas as a future energy for the country, to evaluate the environmental dangers of methane extraction.
Italian activism has obtained some major successes in the past, including the campaign against nuclear power crowned by the 1987 moratorium on nuclear power production. And, more recently, the Italian agriculture ministry has imposed a ban of Monsanto's MON810 maize (corn), one of two genetically modified organisms (GMO) permitted in Europe. Farming and environmental associations and activists in Italy have been strongly opposed to GMO seeds for many years, even leading to publicly condemned actions of vandalism such as crushing of GMO crops. However, major Italian-based environmental groups regularly engage in non-violent methods to call attention to environmental problems including lobbying, awareness campaigns and protesting, and they have offered an important forum for the discussion of significant environmental campaigns.
No campaign is perfect. But each can be effective if clearly communicated. At TOOLS I was surprised to discover that the future direction environmental activism may take, could be the same as in my home country: to rethink the way we communicate about environmental issues in a way that has the necessary impact, without desperate or disrespectful attempts. I realized that large-scale issues such as global warming and climate change are requiring new and innovative strategies to challenge them, and that we need to learn how to better express the complexity of those problems while also making the options accessible to a greater majority. The hope is to inspire a willingness to change. This can be done with the help of modern technologies but especially by empowering people to do it themselves, and like Bill McKibben says, "…creating something large enough to matter."
Attending the TOOLS for Grassroots Activists conference was about being a part of a greater network of people who are all passionate about environment. It inspired and challenged me to do more and to help those who are leading the way. Knowing how to get our message out in a values-wise way creates a win-win to share with the people we work alongside. Like the conference, it becomes a tool that can help our grantees and the groups we are supporting locally in the fight to maintain a healthy and sustainable environment to live in.
Chiara Cappellina
Patagonia Milan
A Letter from John Sterling, Executive Director of The Conservation Alliance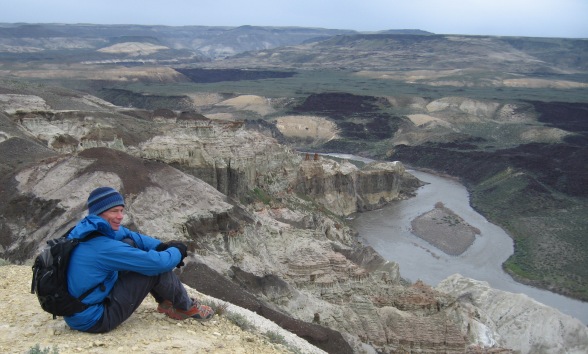 Inspired. That's how I feel after spending four days at the Patagonia Tools for Grassroots Activists Conference, known to participants as simply "Tools." The conference is boot camp for activists, providing training in communications, fundraising, campaign strategy, lobbying, and other essential skills necessary to winning protection for our special wild places.
Patagonia convenes Tools every other year at an idyllic camp on Fallen Leaf Lake near Lake Tahoe. Participants are drawn from the pool of organizations Patagonia funds. It is an amazing collection of activists from grassroots organizations working to protect Wilderness and rivers, halt destructive energy development, protect wild species, and engage citizens on global warming.
It is rare to spend time with a room full of such passionate and committed people. With two colleagues, I conducted a training on how conservation organizations can work more effectively with the business community. We demonstrated that most businesses share conservation values, and are good allies and spokespeople for their causes. We also shared economic data that shows that protected wild lands play a key role in economic growth. Communities surrounded by protected lands have stronger economies than those with no protected lands. Quality of life and outdoor recreation are important economic drivers.
Patagonia does a brilliant job with Tools. They bring together people who often work in isolation, and show them that there is a great community of activists working on similar issues. The respect that flows between the participants and the hosts is palpable. After the conference, another 75 people are better equipped to take on the important challenge of protecting and preserving our mountains, deserts, forests, and waterways. Nice work, Patagonia!
John Sterling
Executive Director, The Conservation Alliance
2013 Tools Participants
Chuck Swift, 4M Consutlting.LLC
Cindy Lowry, Alabama Rivers
Steve Barker, Alaska Wilderness League
Devin Dotson, American Rivers
Noah Richards, Buffalo Field Campaign
Kai Anderson, Cassidy & Associates
Ramsay Adams, Catskill Mountain Keeper
Marcia Litsinger, Churchill Butte Organics
Daniel Smitherman, Citizens for the Wyoming Range
Richard Leo, Coalition For Susitna Dam Alternatives
Theresa Labriola, Columbia Riverkeeper
Cassondra Schindler, Conservation Alliance
Rebecca Strelitz, Conservation Colorado
Justinn Overton, Coosa Riverkeeper
Scott Skokos, Dakota Resource Council
Patrick Higgins, Eel River Recovery Project
Sabrina Bowman, Environmental Defense Canada
Andrea Marie Roy, Erie Rising
Elizabeth Rosan Kirkwood, FLOW
Jennifer Fairbrother, Forest Service Employees for Environmental Ethics
Shane Davis, Fractivist.com
Katie Sanchez, Friends of Nevada Wilderness
Autumn Bahlman, Friends of the Inyo
Beth Kampschror, Friends of the Missouri Breaks Monument
Phillip Pierce, Friends of the Urban Forest
Ellen Stein, Great Old Broads for Wilderness
Princess Lucaj, Gwich'in Steering Committee
Laura Yale, High Country Citizens Alliance
Aaron Clark, IMBA
Elsa Calvillo, MESA
Bartshe Miller, Mono Lake Committee
Peter Tronquet, Native Fish Society
Beth Wallace, Natural Wildlife Federation
Andrea LaMoreaux, New Hampshire Lakes Association
Dylan Rose Schneider, Noetic Insititute
Kristen Van Hoesen, Office of Resource Efficiency
Andrea J. Serrano, OLE
Rob Klavins, Oregon Wild
Kaye Fissinger, Our Health Our Future Our Longmong
Tom Flynn, Outdoor Alliance
Suzanne Little, Pew Charitable Trust
Chris Steinkamp, Protect our Winters
Becki Chall, Public Laboratory for Open Technology and Science
Anders Gustafson, Renewable Resources Foundation & Coalition
James Q Martin, Rios Libres
Danielle Katz, Rivers for Change
Robyn Janssen, Rogue Riverkeeper
Sara Camp Schremmer, Salmonid Restoration Federation
Megan Baehrens, San Diego Coastkeeper
Nick Mucha, Save the Waves Coalition
Ashley Orgain, Seventh Generation
Tara Stone, Sierra Buttes Trail Stewardship
Ori Chafe, Sierra Streams Institute
Phoebe Flemming, South Boston Grows
Caleb Dardick, South Yuba River Citizens League
Martin Swinehart, The Nature Conservancy
Amelia Potvin, The Plenty Project
Jessica Berry, The Western Hardrock Watershed Team
Zane Kessler, Thompson Divide Coalition
Lucas Henry, Tulane Law School
Allison Parks, Tulane Law School
Carol Kunze, Tuleyome Inc.
Karyn Bryant, Tuolumne River Trust
Ross Popenoe, Turtle Conservancy
Melinda Barnes, Turtle Island Restoration Network
Rachel Morris, VC Cool
Richard Popchak, Ventana Wilderness Alliance
Jason Weiner, Ventura Coastkeeper
Tom Uniack, Washington Wild
Allie Kosela, Waterkeeper
Jonathan Stumpf, Wild Steelhead Coalition
Will Rousch, Wilderness Workshop
Matt Wagner, World Wildlife Fund
Terri Pratt, Yadkin Riverkeeper
2013 Tools Speakers

Allyse Heartwell, 350.org
Bill McKibben, 350.org
Bill Stephens, Bill Stephens Productions
Kai Anderson, Cassidy & Associates
John Sterling, Conservation Alliance
Brian O'Donnell, Conservation Lands Foundation
Tanya Birch, Google
Karin Tuxen-Bettman, Google
Peter Birch, Google
Ben Alexander, Headwaters Economics
Brent Fenty, Oregon Natural Desert Association
Casey Sheahan, Patagonia
Diane French, Patagonia
Jim Little, Patagonia
Vincent Stanley, Patagonia
Tim Mahoney, Pew Charitable Trust
Carrie Sandstedt, Pew Charitable Trust
Kristen Grimm, Spitfire Strategies
Melinda Booth, SYRCL/Wild & Scenic Film Festival
Diane Brown, The Non-Profit Assistance Group