Good Things Happening at Alpinist
/
September 7, 2007
3 Min Read
/
Climbing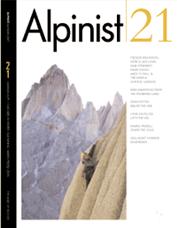 If you followed the link we posted recently for more information on Steve House's climbing trip, you might have noticed some changes over at Alpinist Magazine's Web site, www.alpinist.com.
The current issue of the magazine, Alpinist 21, has been redesigned and is printed on 100% recycled paper through an Earth Ink partnership with Patagonia – proving to all the naysayers that you can produce an archival-quality magazine using recycled paper. Issue 21 also contains an article on the very first Chouinard Equipment catalog from 1972, the long lost relative of today's Patagonia catalog. Be sure and pick up Issue 21 at a newsstand or climbing shop near you.
The digital version of Alpinist has also received some major upgrades that are sure to keep climbers glued to their computers more than they might prefer. One of the grooviest features is the Readers' Blog, where anyone who signs up for an account can submit their own stories and photos – the best entries will get posted online. (Full list of new features at Alpinist.com after the jump.)
By finding harmony between their magazine and Web site, Alpinist is giving climbers the best of both worlds. If you've been on the fence, maybe now's a good time to pull the trigger and treat yourself to a subscription.
From our friends at Alpinist:
Have you seen Alpinist.com lately? From breaking news on our NewsWire climbing reports to streaming video on Alpinist TV, to our web-exclusive Weekly Features and our Readers' Blogs that you can post yourself, to reports from Patagonia, the Access Fund, The American Alpine Club and the American Mountain Guides Association, the new Alpinist.com has everything you need to get your climbing fix, every single day.

New Elements

We're interactive! Comment on NewsWire articles and blog posts, or submit your own funny, artistic, serious (and none of the above) text and photos to our Readers' Blog.

Mountain Standards: We've redeveloped our Mountain Standards gear-review blog to have a new look, new set of panelists, and a new 5-star rating system. You'll find multiple new reviews posted every week.

Weekly Feature: This web-exclusive multimedia companion to Alpinist Magazine is updated every week with in-depth climbing stories accompanied by exclusive photographs and videos.

Wallpaper: Extraordinary high-res climbing images available for download. The best photographers in the industry work with Alpinist to put together a stunning new shot or two every week. Read about your favorite photographers on our Photographer of the Month page.

Microsites: Frequently updated blurbs from Patagonia's The Cleanest Line blog, the Access Fund, The American Alpine Club and the American Mountain Guides Association.

All that in addition to our established departments: NewsWire (the definitive source for alpine news from around the world), Alpinist TV (high-resolution adventure lifestyle videos), and The Climbing Life (Alpinist's award-winning monthly email transmission). You can also sign-up to receive this transmission and NewsWire Focus, alpine news emailed to you once each week.
[With thanks to Erik and Christian]