A Conversation with Ben Keller, Director of "BlueGreen" Surf Film
As The Present prepares to head east, we'd like to share news about a different kind of surf film. Ben Keller of Dubious Honor Productions, and friend of Patagonia's El Pescador, is about to take his award-winning film BlueGreen on a 14-show west-coast tour starting this Friday, April 10, in Seattle, Washington. A new surfboard will be raffled off at each screening and proceeds will benefit local Surfrider chapters.
I say "different" because BlueGreen isn't about the gnarliest waves or the latest boat trip to Indo. It's a film that explores the connection between human beings and the ocean through stories from various ambassadors of surfing. In Ben's own words:
Blue green is a surf film, yes. But it is more than that. It is an exploration of our ties to the ocean – beyond the obvious. The film talks with [Patagonia ambassadors] Keith Malloy and Liz Clark, who have two very unique takes on the subject, as well as 11 others, and looks at the subject from different points of view: from the scientific to the evolutionary, the philosophical to the religious, the technological to the blue-collar. Of course, if you are going to expound upon the human connection to the ocean, you can't really avoid an environmental message. You bump right up against it. So the film explores that as well, from how the surf industry affects it to what we as people need to consider.
Hit the jump for some pictures and stories from the making of the film, the full tour schedule and information on purchasing the BlueGreen DVD.
More from Ben Keller, director and producer of BlueGreen:
Liz [Clark] and Keith [Malloy] are both inspirational. Keith says in the film, "I would rather see somebody try to make a difference in some tiny way, than to just say, 'screw it,' because I think we can [make a difference]." Both see the ocean as connecting the human race and thus see the need to try to nurture that connection and protect it. That's a super strong message. I had made a film previous to this one called 'Ishmael' which is a documentary about winter surfing in New England, and what makes these folks surf huge, freezing cold breaks. I picked up on a stream of thought while making that one: maybe there was something more to the attraction than just the best wave riding season in New England; maybe there was something deeper, something that really attracted people to the ocean or drew them to it in some way. So I decided to try to flush that out further in BlueGreen.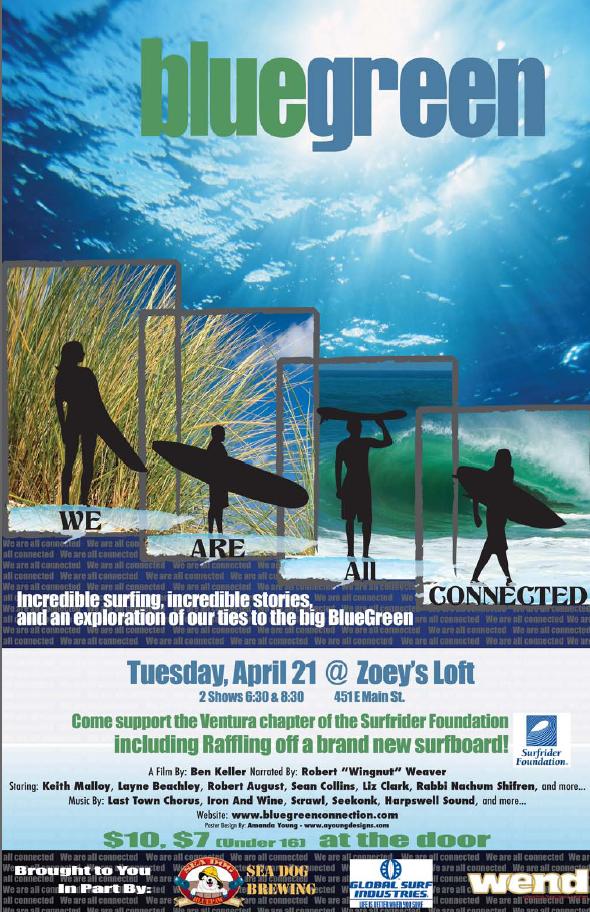 [Handbill for the April 21st screening at Zoey's in Ventura]