Backyard Adventures: A Mid-Atlantic Surf Hunt in DelMarVa
/
January 29, 2009
8 Min Read
/
Surfing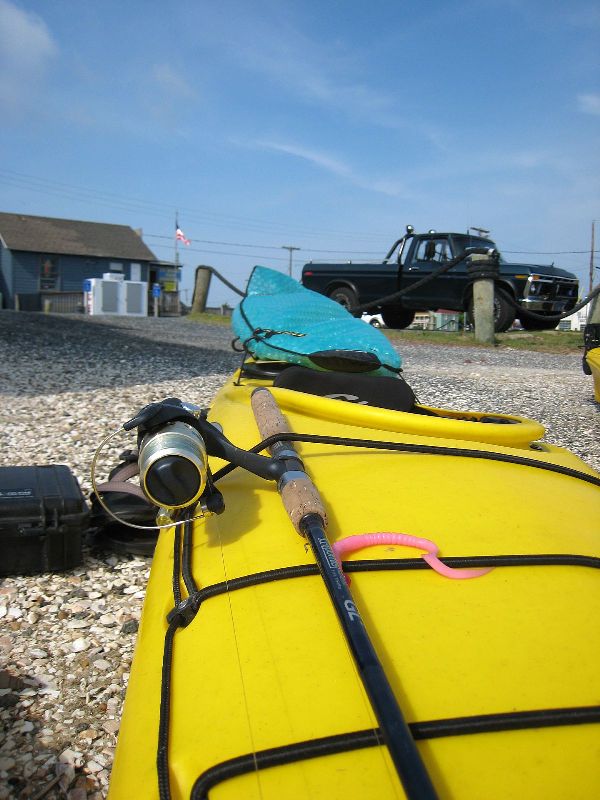 From the frosty summits of Rocky Mountain National Park, to the sultry sea of the eastern shore, our Backyard Adventurers are taking us on a grand tour of some of some true surprises. Grab a brew, pull up a chair, and enjoy as Mark Carter takes us along on his hunt for secret mid-Atlantic surf:

The DelMarVa Peninsula is not high on the list ofadventure in manyfolks' minds. People often skirt the area on interstates heading to New England or south toward warmer waters, but DelMarVahas a few secret spots if you're willing to look forthem. There are 18 essentially uninhabited islands along the southern coastof the peninsula and numerous inlets offer huge potential foruncrowded and perfect waves. Allyou need is a keen sense for swell forecasting, some paddle power, and a fair bit of patience. If you explore these spots enough, you're bound to score. NOTE: Although this trip described proved unfruitful in the way of waves, onemember of the party recently reaped the benefits of our earlier reconand enjoyed a little pre-Christmas gift this December in the way of fun waves withonly three guys out.


Remember what Bilbo used to say: "It's a dangerousbusiness, Frodo, going out your door. You step onto the road, and if you don'tkeep your feet, there's no knowing where you might be swept off to."

The Coast Guard vessel motored up along side of ourkayaks; the young coastie said "You know there are severe thunderstormstoday?"

"Yeah, we know."

Tidal currents, firm headwinds, potentially infectiousinsects, and three venturesome friends in surfboard-laden kayaks were the mainingredients needed for some Delmarva-based adventure gumbo.

There are 18 barrier islands ranging 60 miles from theMaryland/Virginia border to the tip of Cape Charles where the Chesapeake Bay meetsthe Atlantic Ocean. The plan was simple: Strapsurfboards to the kayaks, stuff camping gear in the dry hatches, and paddle outto one of these islands in search of potential surf.

[All photos courtesy, Tom Ferebee collection]

I drove south from Delawarewith my friend Paul to the tiny fishing village of Wacheaprague,Virginia. Here we linked up with my friend Tom from Virginia Beach. We referenced the charts anddiscussed the impending "severe" weather. As long as we could make itout to the island before the weather set in; we concluded we'd be fine.

.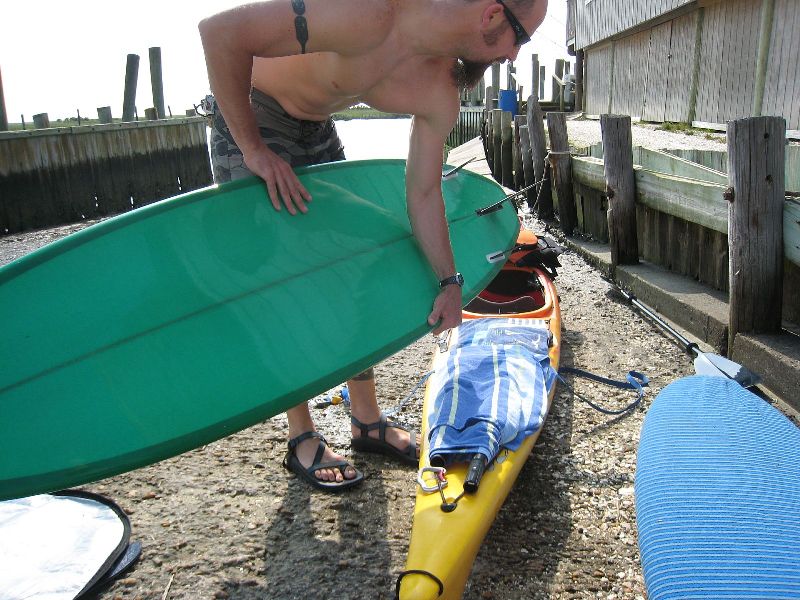 So, we commenced to stuff our kayaks like Thanksgivingturkeys. Tent, sleeping bags, headlamps, stove, grub, H2O, bug repellent,sunscreen, wetsuits, first aid gear, etc. We knew we'd encounter some"conditions" out there, so we wanted to be ready.
The paddle out went smooth for the most part. Theoutgoing tide pushed our yaks out nicely until the channel widened intonumerous bays. There we had to earn our stripes and fight some firm headwinds.Needless to say, we made it out to the inlet between Cedar and Parramore Islands in good time. Our destinationwas Parramore, the southern of the two islands.
We recognized the need to find shelter sooner than latersince there were potentially menacing clouds to the west. We worked against anoutgoing current and skirted the westward boundary of the island seeking asmall waterway called Clubhouse Gut. The chart depicted a trail or path ofsorts near the head of the gut, and we felt this was our best option to moveinto the interior of the island for some refuge.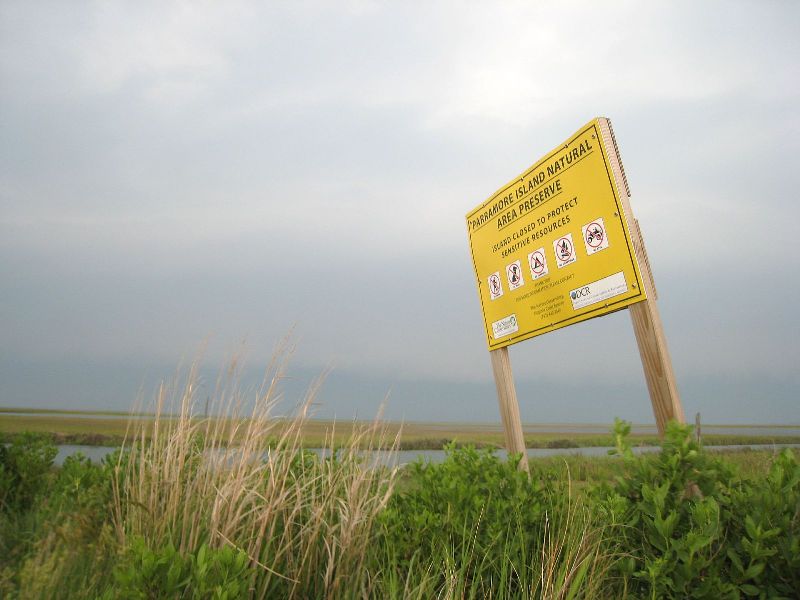 The gut led us to an old dock. The tide was almost deadlow, which placed us about 8 feet below the top of the dock, thus forcing us tohoist our kayaks up a muddy bank to the path. An expeditious 1/4 mile carry tothe edge of the woods was next, due to the discovery of a "no trespassing,no camping, no fires, no hiking, no anything" sign that was on the dock.It was too late to attempt to return to the mainland, and we did not thinkanyone would question our decision to find a safe spot to weather the storm.
Upon taking a mere step into the wooded area, our bodieswere beset with mosquitoes. Our quasi-pasty white skin turned blotchy as thefear of West Nile virus and other exoticinsect-transmitted diseases coursed through our bodies.
We were seekers of surf, so we decided to make a run downthe path and reap our bounty. This proved to be a near fatal experience due toblood loss from the swarms and swarms and swarms and swarms of skeeters.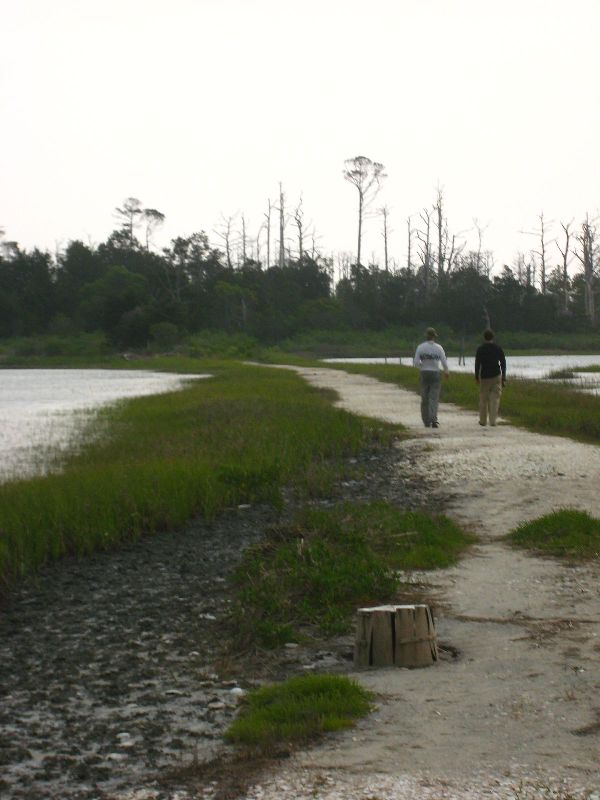 The island also proved to be larger than we imagined aswe ran for at least a solid 1/2 mile or more before arriving at the beach. Thebeach was amazing. It was without development, without "enhancement"from man, and without litter or cigarette butts. My friend Paul commented thatthe beach looked like Indo with its bleached and weathered trees scatteredabout or barely standing on eroded-away roots.
We had the majority of the afternoon to explore thebeach, nap (as Tom enjoyed), and witness the slow migration eastward of stormyweather.
Aside from the continuous skirmishes with mosquitoes andthe abundance of ticks invading our bodies, our main concern was for theweather and at what time to dine. The path had led to the ocean (whichunfortunately did not afford a surf opportunity this time); however itoriginated next to an uninhabited old home. This home would be our sanctuary,our shelter from the storm.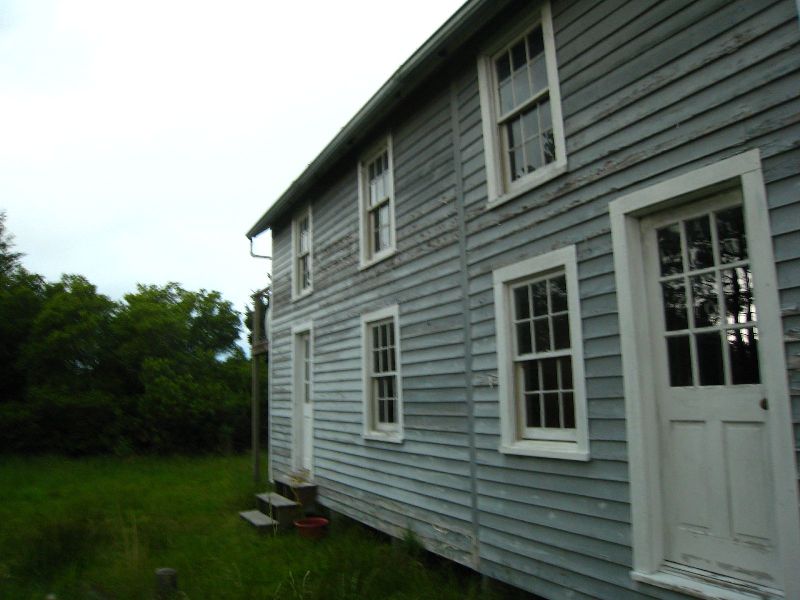 "Most of the time it was probably real bad being stuckdown in a dungeon. But some days, when there was a bad storm outside, you'dlook out your little window and think, "Boy, I'm glad I'm not out inthat." — Jack Handy
Some folks may feel like Jack Handy about an impendingstorm; others may almost find a solace in the elemental experience ofnature, even in the stings of mosquitoes.
Scratch, slap, spray (eucalyptus spray thatis)…scratch, slap; spray…scratch, slap, spray. This sequence of activitywas rapidly becoming our new routine as clouds billowed to the east.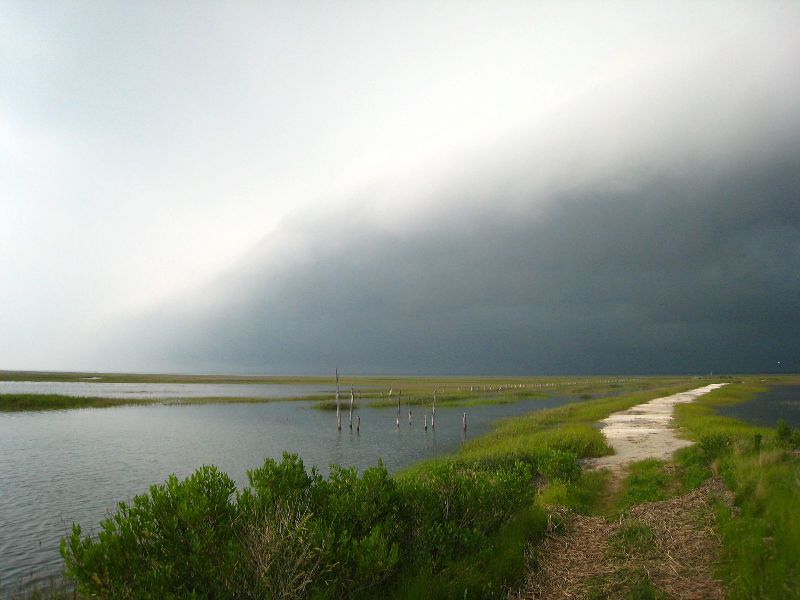 Approximately 5:45 p.m. EST, we could feel the gradualinhalation of the clouds and knew the storm would be upon us soon, sonourishment became the priority. Our menu for the evening consisted of Kashibruschetta crackers topped with pesto from a tube, babybel cheese, spaghettiwith tomato/basil sauce, and a Stone Brewing's Ruination IPA.
We enjoyed our delicious meal marsh-side as the windpicked up and the sky darkened to an ominous level. I strolled out the pathleading towards the bay. The breeze not only brought with it imminent winds andrains but also relief from the unrelenting bugs.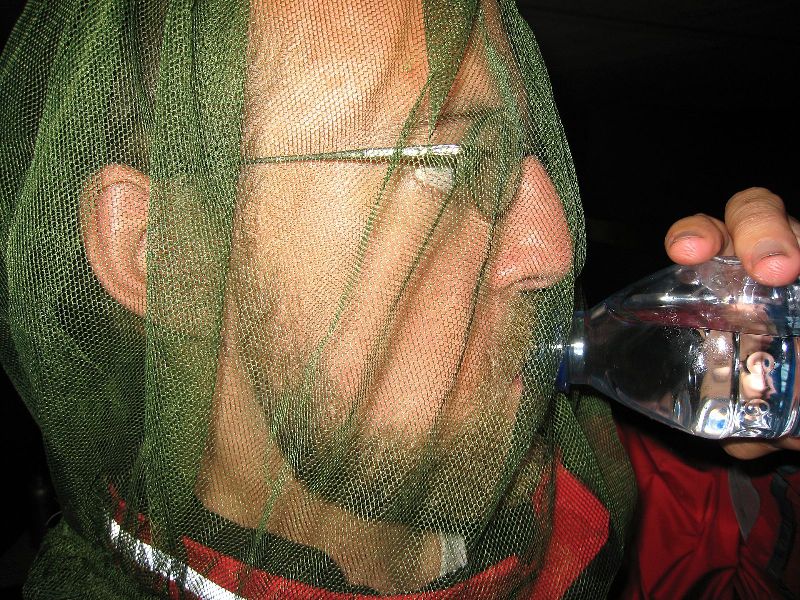 We figured this would be a significant storm, yet briefin nature and then the night would create a planetarium of sorts in this darkDelmarva nook. About 6:45/7:00 p.m., we heard the distant thunder gainingvolume and shortly after the first rain drops hit.
We had prepped our camp. Tent anchored. Surfboards in the"chateau." Kayak hatches on. Headlamps at the ready. Now, we couldenjoy the show. Tom and Paul brought cameras and went paparazzi.

We decided as the heart of this first storm was over usto take shelter in the old cabin. There were some loud cracks and some goodbooms, but it wasn't too bad. We briefly entertained the idea of darting to thebeach for a quick surf as the sun even poked through a bit.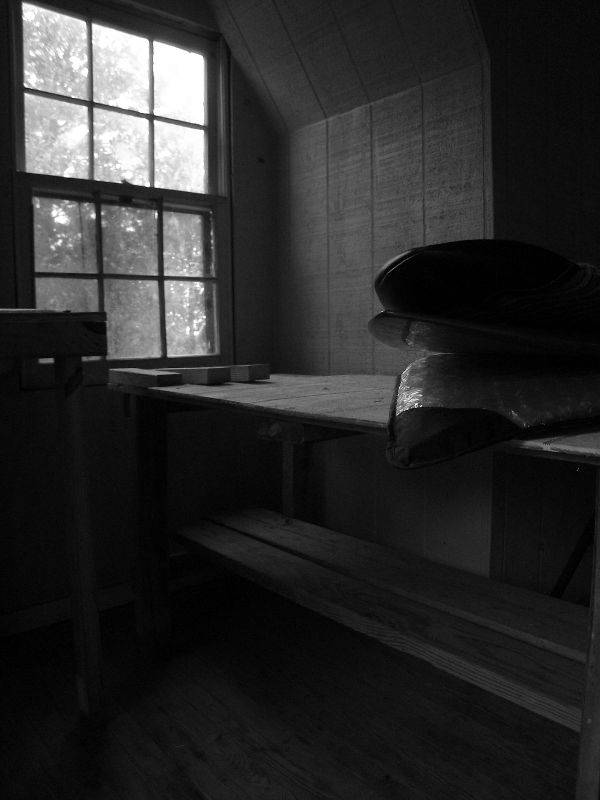 Then the thunder rumbles began again. It was aboutdusk…the sky was getting dark and we were losing light fairly quickly, so weopted to stay put.
We crawled into our bags round 9:00 p.m. Paul crashed.Tom seemed to follow suit shortly. I drifted in and out, but around 10:15 p.m.,the artillery fire set in. I could hear the thunder miles away inching towardsour location.
The storm was a train moving closerand closer, which made me think of one thing….tornado. The sound alsoresembled artillery fire. I felt as if I was sitting in a fox hole and thebad guys were "walking" their shells onto my position. The situationwas extremely eerie, but absolutely fascinating.I've never encountered suchcalmness in the immediate air around me, and such unruliness in such close proximity. It was surreal, but I was digging it.
As the storm moved almost directly overhead, the PinkFloyd concert began. Lightning flashes illuminated the island. It was like wewere on the inside of one of those electricity spheres looking out as arcspermeated in all directions.
We hunkered down in the tent for about 15 minutes, andthen Paul and I made break for the cabin with our sleeping bags. Tom stalledfor a bit in the tent, however he shortly joined us.
From the cabin's doorway we watched the sky light up, andnumerous strikes hit the island. The intensity of the storm was unsettling;however I got past that as it raged on.
One thing that did dwell in my subconscious a bit, that Imust admit was partially due to the isolation and the darkness of the islandbut more likely a result of my imagination. As I gazed out the windows into thestorm from the rustic old structure, I kept seeing an image of a flash oflightning, and then a crazed stranger standing outside of the window lookingin.
Finally around 1:00 a.m., we crawled back into our bagsin the refuge of our little tent, and we drifted off to the hum of skeeterspeering in through the mesh.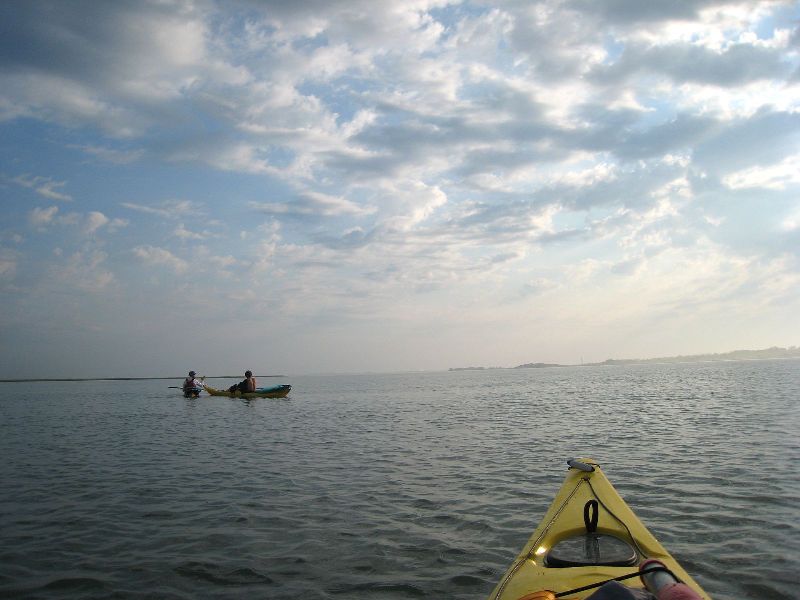 The next morning provided us with glassy waterconditions, a slight off shore wind and mostly blue skies. We broke camp in themost efficient manner to avoid being Sunday morning skeeter brunch and beganthe paddle for the main land.
Shelter comes in many forms; a sturdy cabin, the light ofa headlamp, a good friend. In many ways, a trip like this provides one shelterfrom the daily storms of life.
Bio: Mark Carter is a sea kayak guide based out of the first town in the first state, Lewes, Delaware. When not paddling, he can be found preparing for his hobby of ultra-marathoning by doing "Delaware Hill Training" (i.e. pushing his two toddlers in a baby jogger around town), volunteering with the DE Chapter of the Surfrider foundation, or seeking out backyard "secret spots" via paddle power. [Ed note: Mr. Carter also confesses a fondness for Dogfish Head brews, which this editor can heartily and fondly recommend.]