Whiskey on the Rocks: Being an Alpine Guinea Pig in Scotland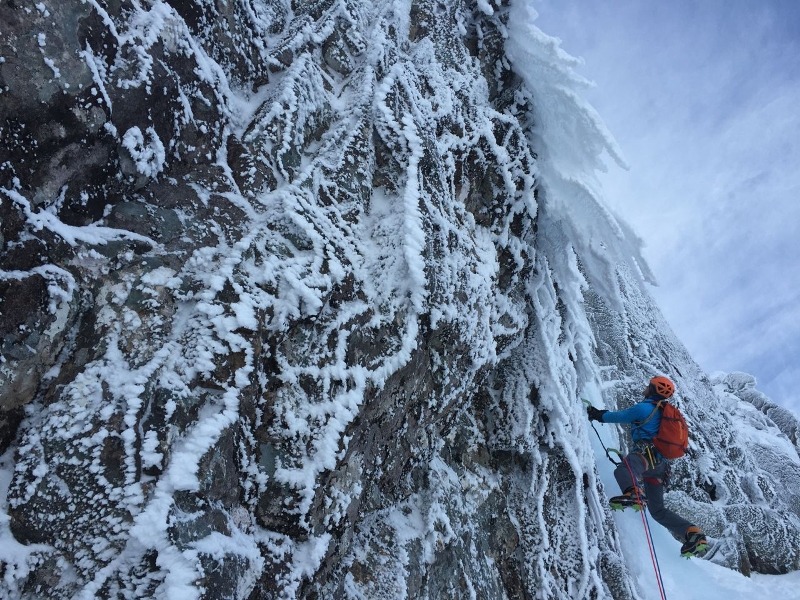 "It starts as rain or snow falling on Scotland's highest mountain—Ben Nevis. Either as rain or melting snow it percolates the thin layer of peat soil until it reaches the granite rock and unable to penetrate it, runs under the surface until emerging in Coire Leish or Coire na Ciste. The outflows from these two mountain lochans, located well over 3000' above sea level, make their way spilling over the blue and pink granite rocks of the mountain's rugged north face until they join together as the Alt a Mhullin continuing on in the valley between Ben Nevis and Carn Mor Dearg." —Ben Nevis Distillery
These poetic words adorn a bottle of gold-medal whiskey from the oldest legal distillery in Scotland, Ben Nevis—the source of distinguished single malts and the mountain crucible of British alpinism. This is where generations of alpinists, whether in wool knickers or Gore-Tex, developed mountain equipment and cut their teeth for expeditions to the great ranges of the world. It's a place renowned for terribly stormy weather and long approaches to "short" climbs. It's a place that honors style and demands an honest Scot's prudence to climb routes only in "full" wintry conditions. It's where Yvon Chouinard visited over 40 years earlier to test himself on Scotland's hardest routes and compare the performance his own curved-pick Chouinard Zero ice tool with the angled-pick design of his Scottish contemporary, Hamish MacInnes. And it's where Walker Ferguson, responsible for field testing all of Patagonia's most technical products, has brought us to be guinea pigs with our own latest prototypes.
Our group of four had been waxing on in sunny Ventura about how these various new midlayer and shell concepts we'd developed would function, but that was all in theory. Not until we actually experienced these prototypes first-hand would we understand the reality of how they perform, and be able to make choices that ultimately result in a product of the best quality.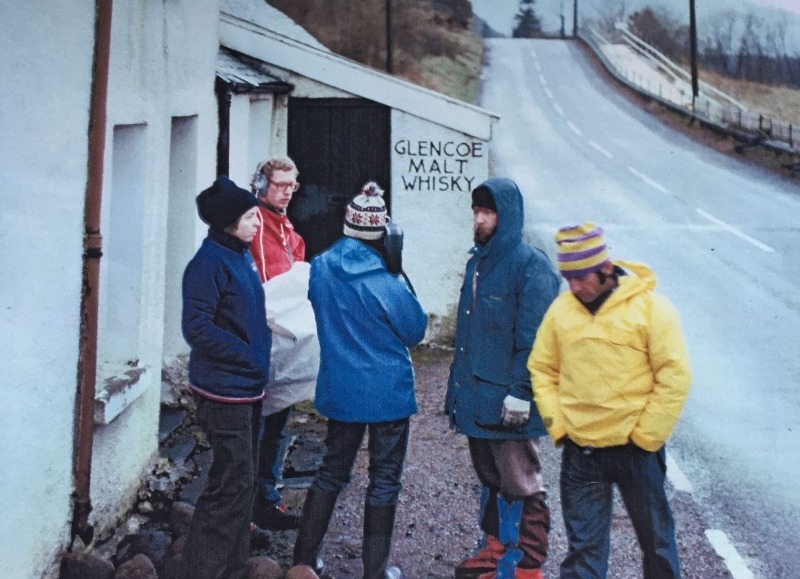 Shared by Ian Nicholson, a photo of Yvon Chouinard during a visit to Glencoe about 1970. Photo: Ian Nicholson Archive
For the record, being an alpine guinea pig is no picnic. Fatigue, suffering and discomfort are a given. Mix in a dose of jetlag and the unsavory Scottish cuisine and all that is left is the whiskey and the camaraderie, both appreciated and good for morale.
We were greeted on arrival with blowing snow and a four-hour white-knuckled drive through the night. We then climbed five consecutive days, up before the sun and descending in the dark, regardless of the weather. We faced persistent gale-force winds, climbing and navigating in whiteout conditions, and battling spindrift and rime ice. We purposefully overdressed, then underdressed, to experience a product's critical tipping points. We got hot and wet from sweat, then cold at rest, then climbed on as a means to crank up our body heat and dry out our layers. Wet snow melted on our shells, then froze up when temps quickly dropped, entombing us in Gore-Tex carapaces. We used down parkas in conditions unsuitable for down parkas. We experienced painful blisters on our feet, nauseating rewarming sensations at belays—the screaming barfies—and a tired misstep on a river crossing that sent one of our team into the drink.
But that's alpinism, and that's why we love it. Existing in places we aren't meant to exist. Being self-reliant by carrying only what is necessary. Sharing those experiences with great friends. Ending the day at the Clachaig Inn (a local climbers' watering hole Yvon recommended) to rap out on our experiences in various prototypes over a pint and a whiskey and some haggis, a traditional Scottish dish that makes a hot dog look like fillet.  Despite typically "full" conditions on most days, we had several moments with blue skies and stunning views, seeing Scotland at its brightest.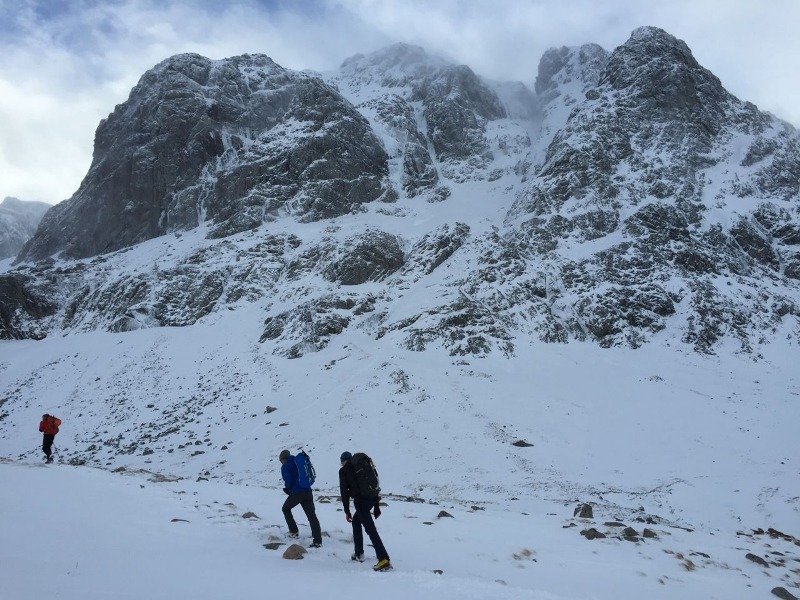 Walker Ferguson and Casey Shaw approaching below the Carn Dearg summit of Ben Nevis. The routes Shield Direct and Gemini ascend the headwall and intermittent ice flows of the left-most wall then continue along easier ridgelines to the summit. Photo: Kristo Torgersen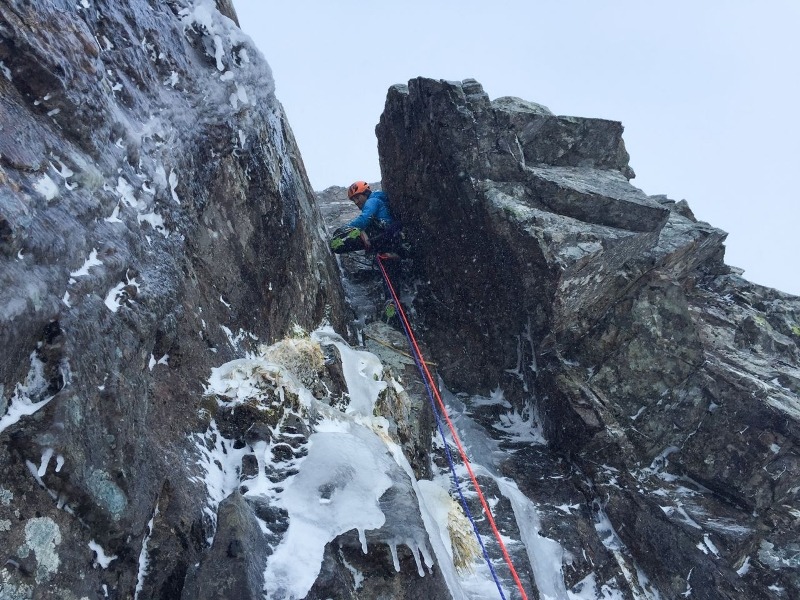 Jon Bracey navigates a mixed chimney below the steep headwall of Shield Direct on the Carn Dearg, Ben Nevis. Photo: Kristo Torgersen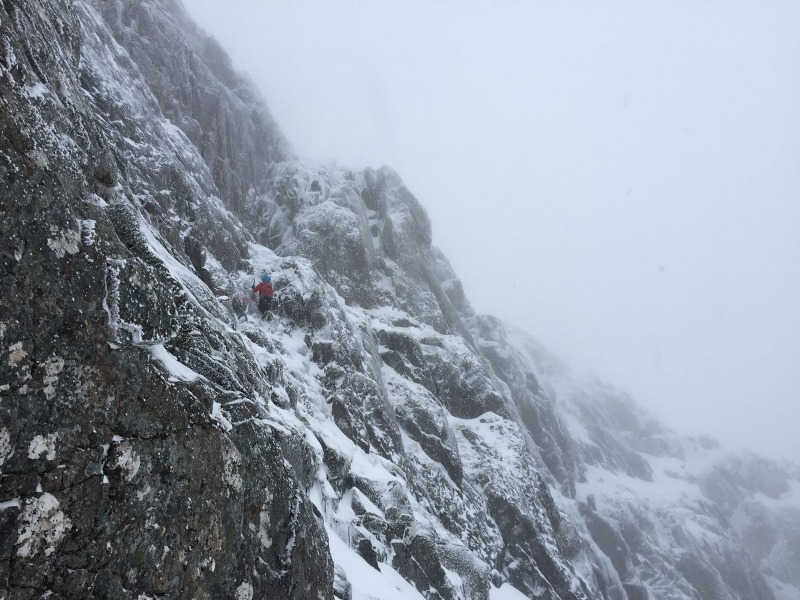 Wet conditions begin to freeze up as cold blowing air settles over the final pitches of the Shield Direct, Ben Nevis. Photo: Kristo Torgersen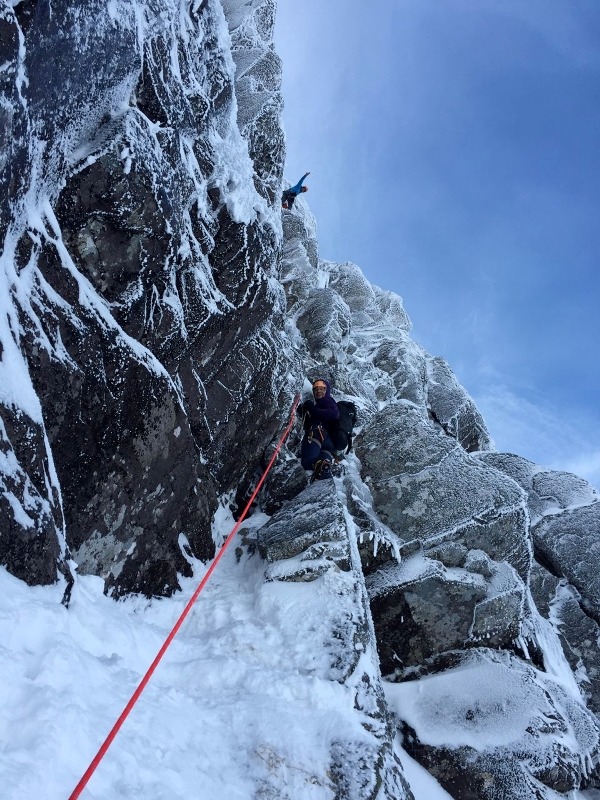 Casey Shaw in his element with Jon Bracey at the hanging belay atop pitch 4 of Gemini, Ben Nevis. Photo: Kristo Torgersen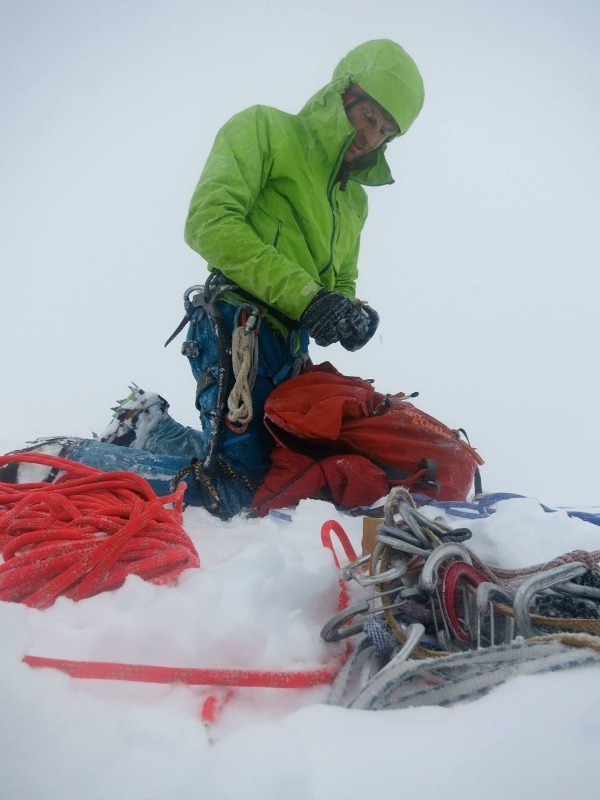 Kristo Torgersen collects an icy veneer on the Ben Nevis sub summit, Carn Dearg. Photo: Jon Bracey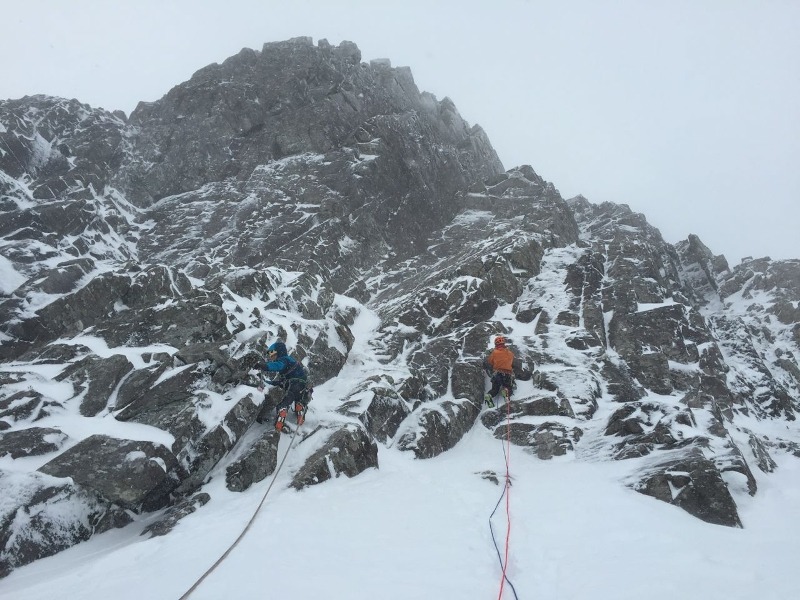 Strong winds and blowing snow keep things interesting as the Jons lead off on Scabbard Chimney and Spectre at Stob Coire nan Lochan. Photo: Kristo Torgersen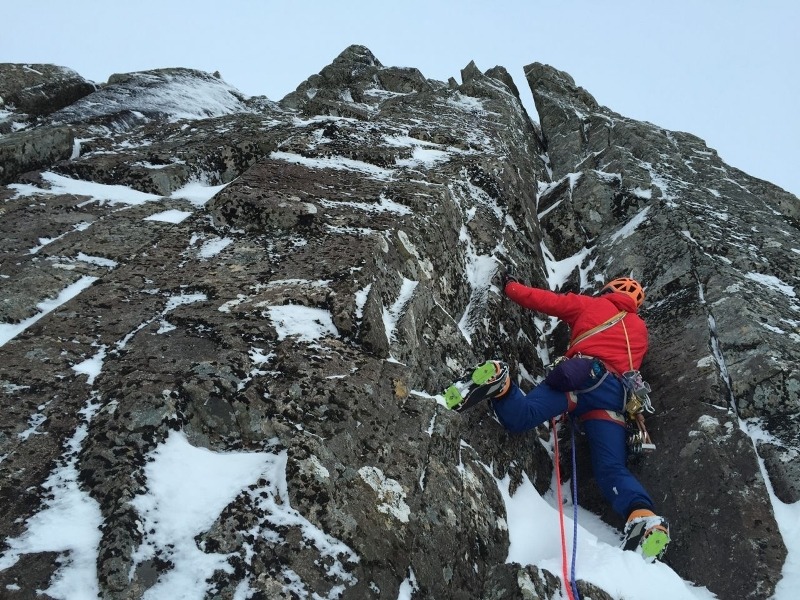 Jon Bracey makes delicate moves on the steep mixed terrain of Tilt at Stob Coire nan Lochan. Photo: Kristo Torgersen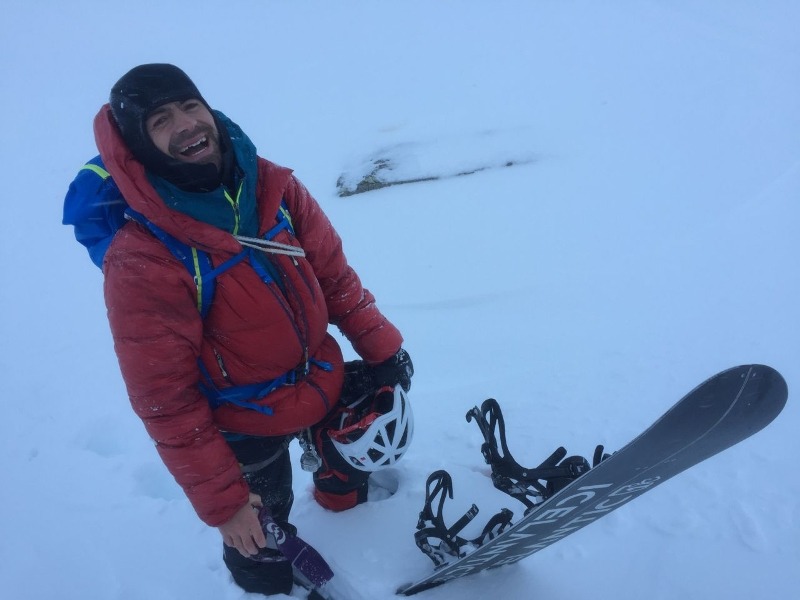 Christian Regester stoked to put a day on the splitboard and find a steep coulior descent at Stob Coire nan Lochan. Photo: Kristo Torgersen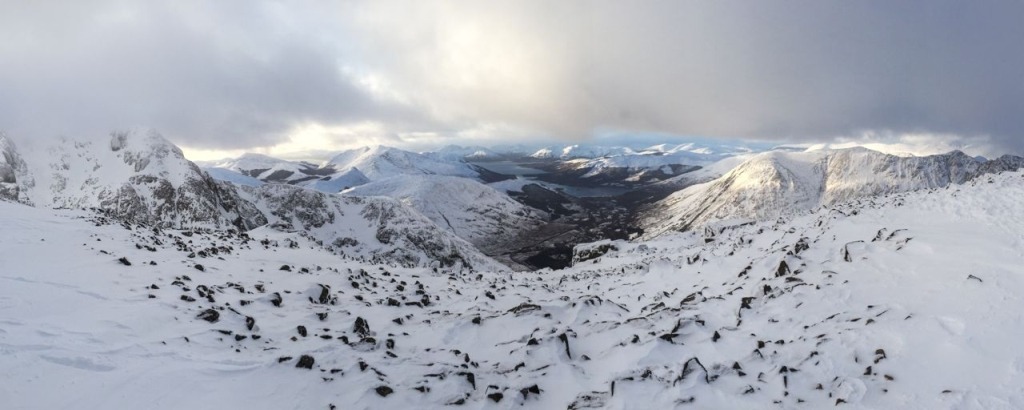 Stunning views from the summit of Stob Coire nan Lochan looking out across the Atlantic inlet of Glencoe, Scotland. Photo: Kristo Torgersen
Before traveling home, we made a house call on Yvon's old friend, Hamish MacInnes. Yvon the blacksmith and Hamish the engineer met in 1970, exploring a respect for one another's innovative ice tool designs that eventually led to several expeditions together, including a National Geographic trip to Bolivia to find some of the oldest living people on earth.
Hamish is an icon of British alpinism and has lead a storied life including several Everest expeditions (one with Chris Bonington), Himalayan yeti hunts, climbing tepuys in Venezuela, advising Hollywood on climbing films, engineering a stretcher for mountain rescue and authoring more than 30 books. His home displayed artifacts from a lifetime of travels, and over the course of the afternoon he shared stories, showed us about his hometown of Glencoe, and introduced us to his friends. Hamish has a quick wit and keen sense of humor and has not lost his taste for the Quixotic. When he told us he had traveled to South America to search for Inca gold, we knew by the light in his eye that the gold was merely an excuse for the search.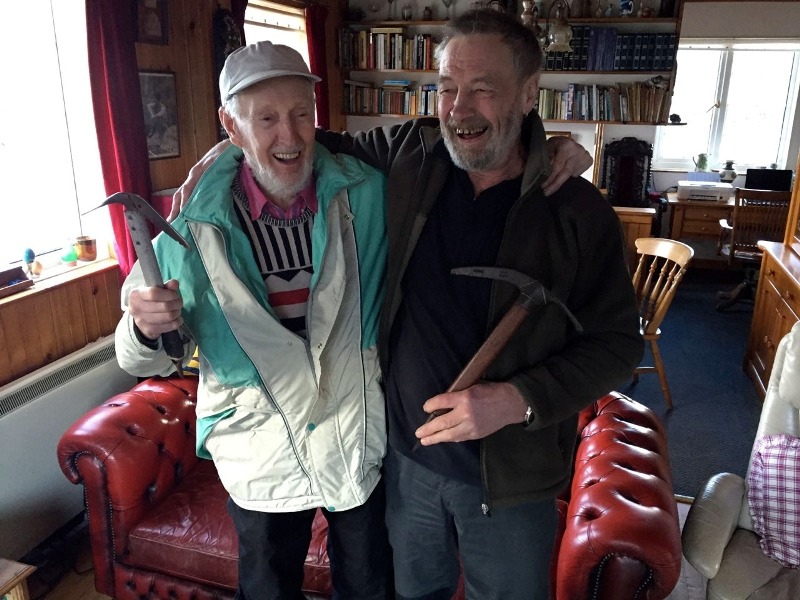 Boys and their toys, blokes and their pokes. Hamish McInnes (left) at the home of Ian Nicholson (right), showing off their innovative axe designs from the late '60s and early '70s. Photo: Kristo Torgersen
There is a confidence that comes with knowledge, and this testing trip proved fruitful in testing our theories against reality. Some were validated, while others left us asking new questions. We returned to Ventura to make changes to our in-season designs and line plan, and penciled new products into future seasons, affording ourselves more time to develop and test additional prototypes. Scotland has been a testing ground for alpine equipment since the late 1800s and proved an invaluable experience for our team.
I look back now and can't help but think, perhaps we drank Ben Nevis whiskey from the very ice floes that sparked the innovation for Hamish's Terrordactyl ice axe 50 years prior, and in our quest to better understand and develop our own alpine prototypes, perhaps we swung our modern ice tools into the cask-aged libations of a future generation of climbers? Or maybe the whiskey's just gone to my head.