Weeknights on the Bowery: A Fundraising Event
Jeff DiNunzio
/
December 9, 2013
/
5 Min Read
/
Surfing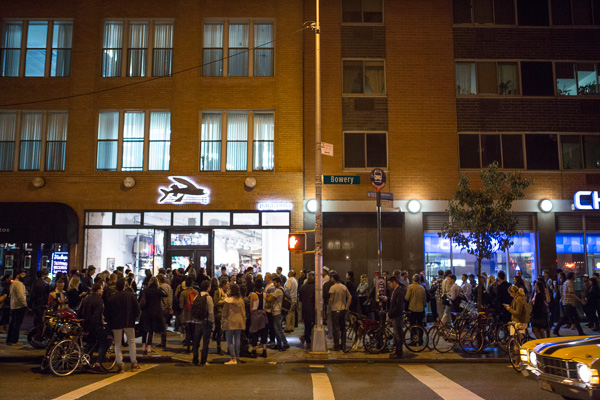 October 15 was an idyllic autumn evening in the Northeast, cool and clear at the intersection of Bowery and Bleecker. As the sun set, amps and guitars and drum kits and crates of audio gear rolled through the front doors of the old CBGB gallery, awakening the musical spirits still lingering in the iconic venue.
Throwing shindigs to launch a new Patagonia store in New York City has almost become a ritual. Hell, I've been to three in the last two years – one for each Tin Shed location in fall 2011 and just across town at the Meatpacking district last February. The bash on Bowery, however, stood to be the wildest so far.
The store was slated to open in time for the 2012 holiday season, but the aftermath of Hurricane Sandy combined with renovation complications pushed it back by nearly a year. "Because this store was so delayed, we wanted to skip product launches and film premieres and just have a party – an opportunity to celebrate the store and just hang out with everyone from the surf community that we met and worked with over the year it took to get the shop open," NY district manager Joy Lewis told me. Much of the staff consists of longtime Patagonia employees who served as the faces of the company during that time, surfing when waves came and volunteering in the hurricane recovery after waves went. So when the doors unlocked on September 24th of this year, we were ready. Store intrigue grew over those months. When the party went down two weeks later, we realized just how much.
Landing on the details was easy, says Joy and store manager DL Tashjian, who tapped their networks to put things together. Food and drink came from Roberta's Pizza and Sixpoint Brewery – both Brooklyn-based suppliers. Of course, given CBGB's history, music was a crucial element. "We wanted a DJ spinning all vinyl since the space was previously a record shop," Joy explained. DJ Tram – an old friend of DL's – spun all night, except during the surprise 45-minute set played by the band Real Estate.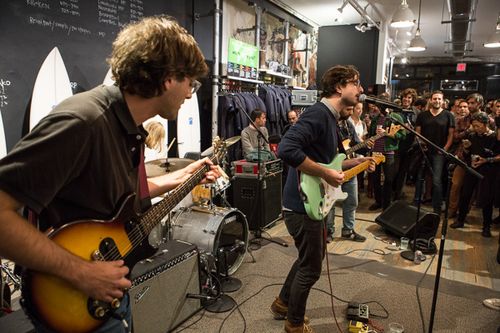 To keep with Patagonia's philanthropic ethos, we held a silent auction that benefitted the on-going hurricane recovery efforts by Waves For Water, the relief organization founded by former pro surfer Jon Rose. A handful of the company's ambassadors graced us with auction items. "We let [them] know about the benefit and asked for donations," Joy said. "The support was incredible. A signed Gerry Lopez photo, surf lessons with Mary Osborne, a Fark with artwork by Kim Diggs that was painted during the party, a railing off of Liz Clark's boat Swell…" All told, over $4,000 was raised for Waves For Water.
The event, of course, suffered setbacks. Word of the party, which drew some 700 people, spread rapidly in the preceding weeks. So much so that several hundred more guests were turned away at the door. Understandably, our maxed capacity bred resentment that seeped out through social media outlets. "It was a major bummer to have to turn people away; it doesn't feel super Patagonia," Joy admitted. "But we had to make sure it didn't get out of control."
Inside, currents of familiar faces from all around New York and New Jersey drifted in every direction. Every so often, Chris or Dan Malloy would emerge from a circle of questions about their next project. And floating unassumingly through the crowd, amid rows of FCD surfboards and residual CBGB-era décor, was Dan Ross, the former World Championship Tour competitor who's as svelte as he is talented on a surfboard.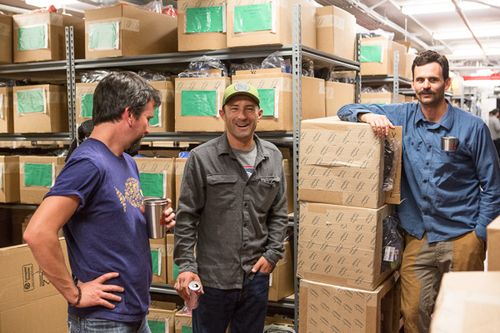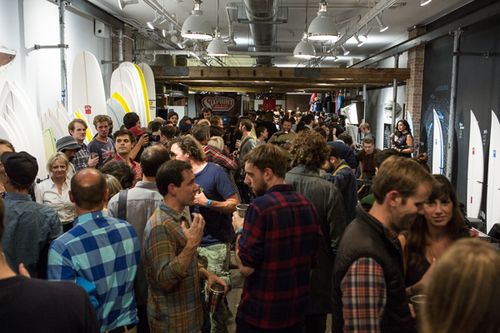 The seventh keg kicked around 11 o'clock. Thanks were given, hands were shaken, farewells sent. "You know who your friends are when the beer runs out!" one company exec joked. The store, shockingly, suffered little abuse given the night's fun factor.
"Are you coming Thursday?" we asked everyone heading for the door. For almost 200, the answer was yes. Friends and surfers and seekers of discomfort, Dan Malloy, Kanoa Zimmerman, and Kellen Keene, capped the week with a screening of Slow Is Fast – a new book and short film documenting their 58-day bicycling trip along a chunk of California's Central Coast. The project highlights the mechanics of multiple family farms – friends of the cyclists who maintain an agrarian existence – seasoned with a few token surf clips and striking landscape shots of what much of California used to look like.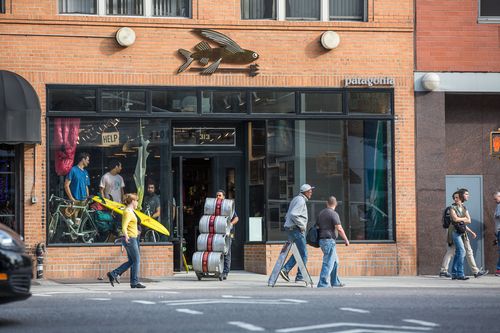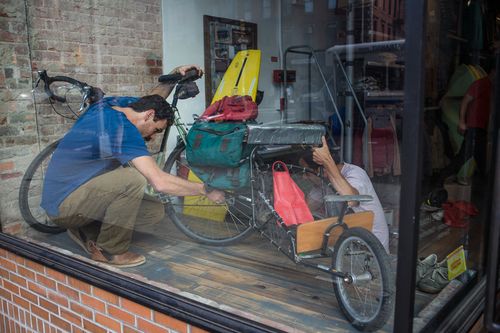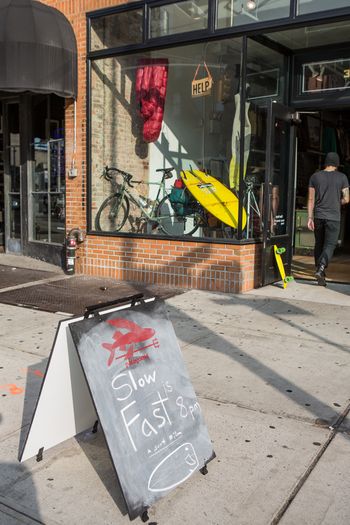 "The best part of the trip for me," Dan explained, "is watching these beautiful little family farms. To see what they're doing is one of the most interesting, creative ventures. They have a beautiful farm stand and art gallery. It's not this kitschy thing; they sell a sh*tload of produce!"
The crew spent the bulk of a Thursday night signing books and trading stories with folks whose appreciation for self-propelled travel is bolstered by the difficulty and expense of traveling by car in New York City. Good Water Farms from Long Island and Harlem Grown, two relevant local outfits bent on establishing sustainable community farming, were on hand to promote their missions.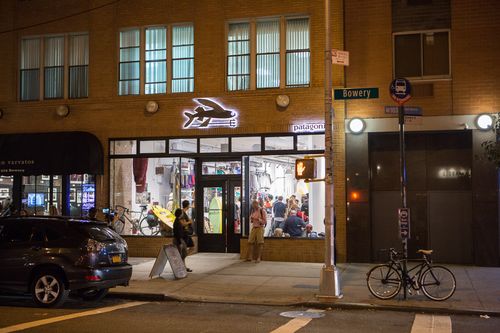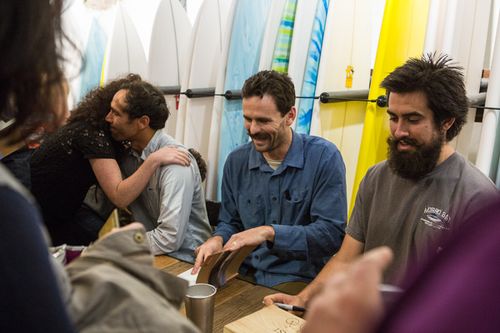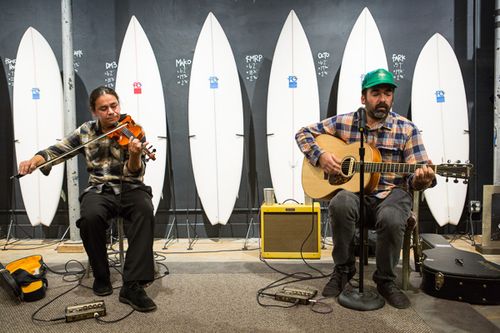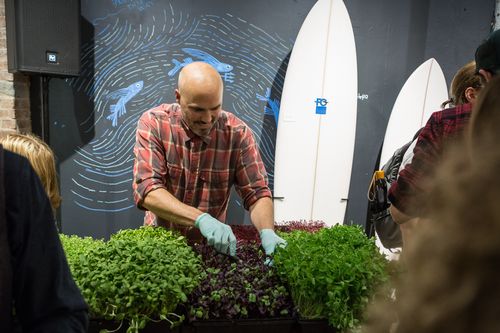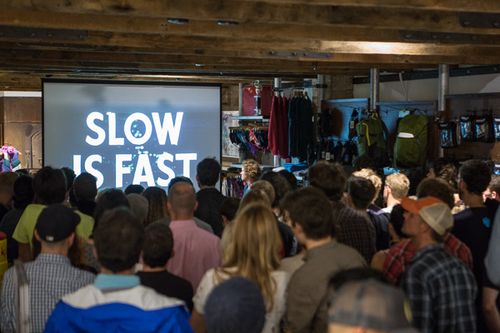 By Friday morning, it was hard to believe the week was over. We'd been touting the two opening events for weeks, and they'd passed in a flash. As the store returned to its original setup that afternoon, friends we'd met over the previous few days came by to rehash the festivities. And that's when it hit us: after nearly a year's worth of anticipation, we were, as so many passersby remarked, finally open.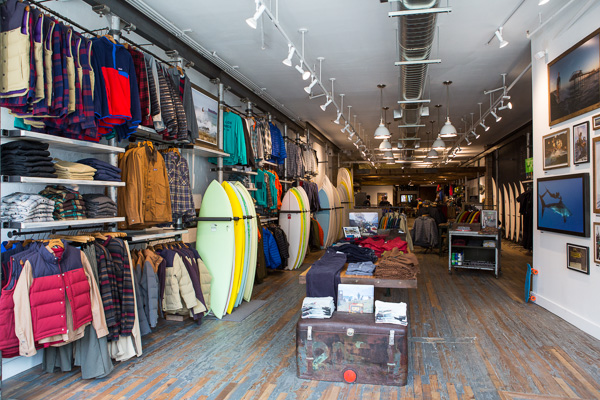 Jeff Johnson resides in Santa Barbara, California where he works full-time for Patagonia Inc. as a staff photographer, writer, and assists with product development.
Patagonia Bowery is located at 313 Bowery in New York City.