Unusual Suspects: Finding a Backup Climbing Partner
My springtime objective (okay, to be perfectly honest, it has been a dream of mine for a long time) of free climbing Zion's Moonlight Buttress was quickly unraveling. My partner, Nellie, had spent the previous night projectile vomiting in a rental van. Puke everywhere—in her shoes, on her pack and on the rope.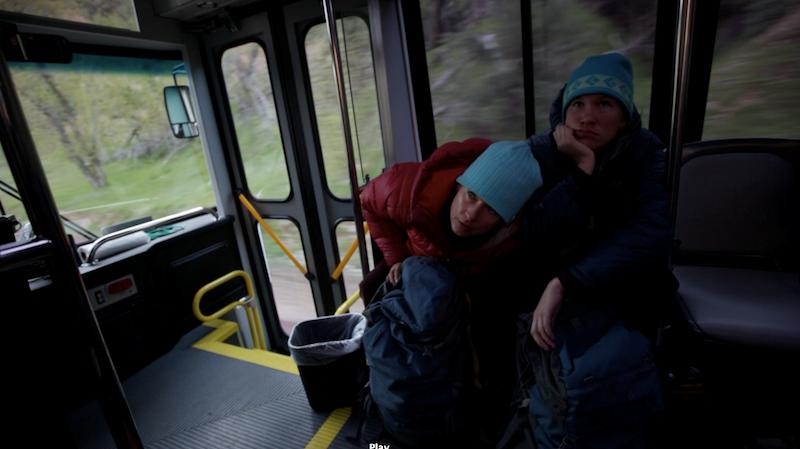 As Nellie shivered and sweated in her sleeping bag, cursing the runny eggs she had eaten the previous morning, her boyfriend, Cedar, suggested I try James as an alternative partner.
"James?" I grumbled. All these years I had envisioned doing the route with a girlfriend, or at the very least with my husband as he hauled ice water, nori rolls and summit beers behind me. I didn't even really know James. All I really knew about him was that everyone called him "Big Fall James" because of his miraculous survival from a 200-foot free-soloing fall in Joshua Tree.
"Where is he now?" I hadn't seen him since early Thursday morning.
"I think he went back to Vegas to get his car and do laundry."
"What kind of car does he have?" I feel you can tell a lot about a person by the car they drive—if their ride is a junk show, you can assume they are, too. It's basic police profiling.
"A Saturn station wagon." Definitely not a good sign, but I was desperate.
I texted James at 1pm on Friday, "Do u wan clim MB tomrw?"
Seconds later my phone chirped, "ok. Packing be there at 5". I guess laundry could wait.
James arrived at camp as promised at 5. He was wearing a tight neon pink threadbare T-shirt that had iron-on black block lettering that read, "University of Yosemite". I took a look inside James' Saturn (which he lived in, by the way) and it appeared he was on his way to the Salvation Army for a drop-off. Some of the items strewn about included an old Snoopy t-shirt (screen printed with "I'm kinda a big deal") fashioned into a bag, which he had stuffed with clothes (or maybe his laundry?), a paper Trader Joe's grocery bag that was torn and spilling its contents of cereal, potato chips and dried mangos, and a suspicious looking plastic bin that upon closer inspection I surmised was his bathroom kit on account of the multiple toothbrushes and Costco-sized Trojan box.
I also noticed that the interior dome light dangled from exposed wires. "How do you like my chandelier?" James humorously offered up.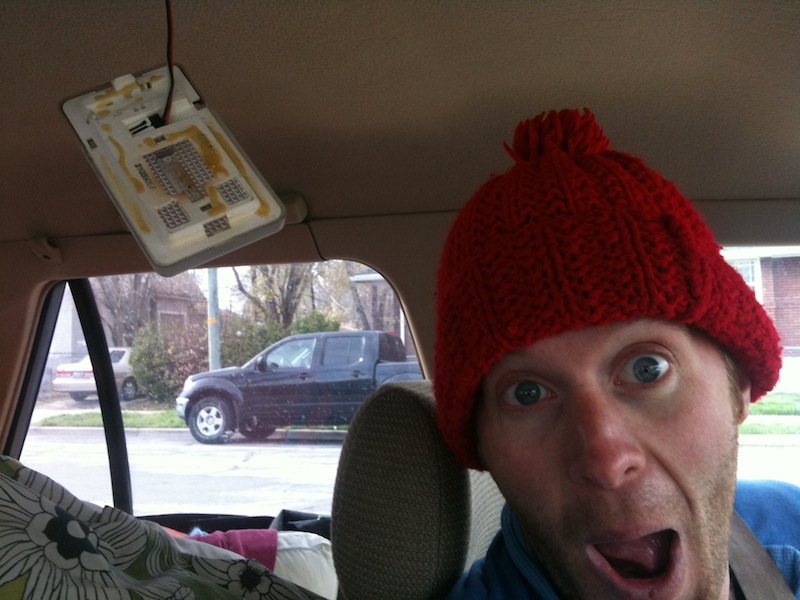 Saturn chandelier. Photo: Brittany Griffith
James' Saturn, a dusty, hammered relic with 175,000-plus miles and a missing passenger side mirror, was definitely a far cry from my Gypsy Van.
I did a quick scan of his climbing gear. Junk show. "We'll use all my gear," I said immediately.
Injuries from his 200 footer has left James with a unique gait—slow but still kinda spasmodic, like a cross between Quasimodo and a super model strutting down the runway—and as we hiked to the base of the climb the next morning, my doubts on our success were high. So was the river crossing—which James didn't really want to do, and he balked a couple of times on the bank. I led the way, stripped to my underwear, which I think ultimately got him across.
Moonlight Buttress starts with four pitches of moderate climbing, and then is stacked with six pitches of 5.12 lead to the summit. After we cruised up the easy climbing and the first 5.12 pitch, James set off on the notorious crux layback section.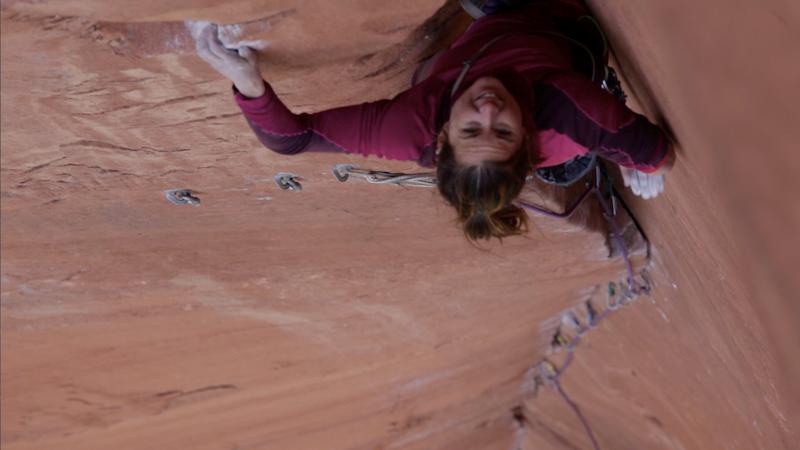 Brittany grimaces on a prior unsuccessful attempt at the crux pitch. Photo: Cedar Wright
After placing two cams in the first 40 feet, he began sketching—heavily… the rope was behind his leg and he had a cam crammed in his mouth. I heard a muffled Man Scream, sounding somewhat like a donkey in heat, and then he pitched off. James landed upside down, a few feet from my head, with the cam still in his mouth, his lips now bloody. I lowered him the few remaining feet to the anchor.
I stayed silent for a while, letting us both recompose. James sagged in his harness, his gaze fixed above.
"It's moved into the sun now." He said flatly. We both knew what this meant: warm rock = less friction = more effort required to hold on.
James, however, was game. He pulled the rope, tied back in, took a swig of water from the pack and headed back into the layback. That's when I realized that James wanted it as bad as I did, and that's all that mattered. We could do this.
He triumphantly reached the next anchor without falling, and I followed cleanly. Next, I grappled with a slot, twisting and contorting my small fingers to wedge into the deep crack, and at the top of the pitch I heaved my body up onto an ample ledge.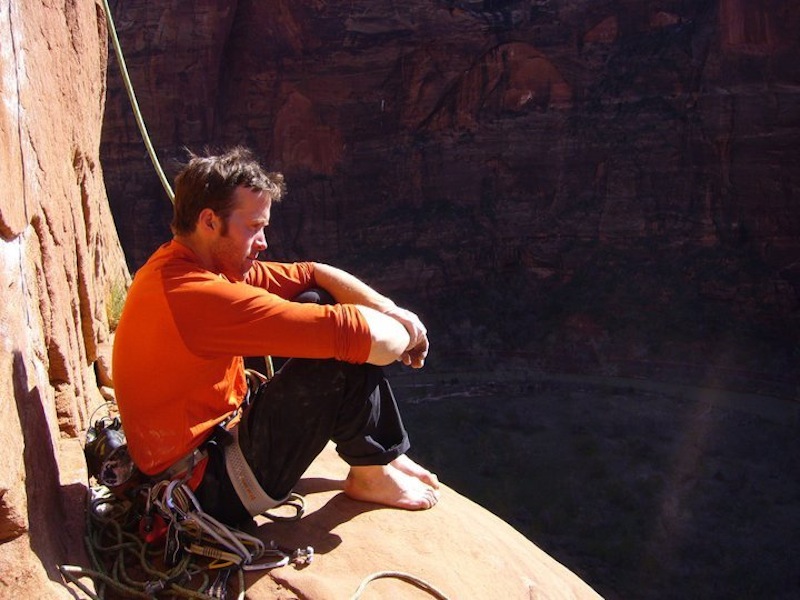 James patiently waits for the shade and contemplates how turkeys mate.
We were half way there, three of the six 5.12s dispatched. We had four hours of decent light left, so we decided to take a good rest on the comfy ledge. I lasted about seven minutes before I started to get antsy and anxious. Idleness has never been my strong suit.
James, sensing my impatience, kept me distracted by asking me questions about growing up in Iowa, my numerous stepdads and about my garden. I asked him some questions, too, and here's what I found out.
Last week he had been to a wedding in Vegas and wore his "black khakis." I argued that khakis were khaki and therefore couldn't be black. He said he'd look it up on the Internet.
He had seen the movie Hanna, most of Scream 4 and the last 15 minutes of Source Code the day before.
James has an identical twin!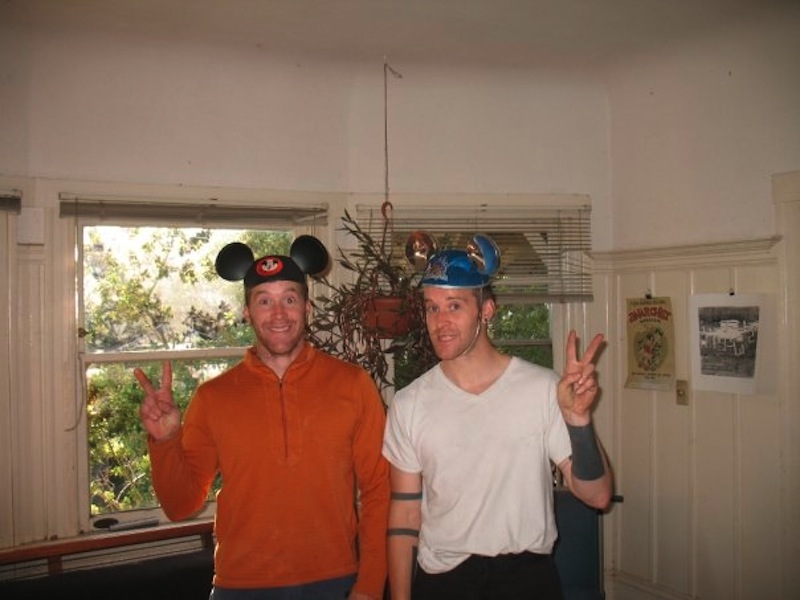 OMG there are two of you!
After nearly an hour on the ledge, we continued climbing, freeing every pitch and swapping leads, which gave James the last pitch (which was actually a link-up of the last two pitches, making for one giant 180-foot pitch). As he left the belay, I could tell he was nervous. Free this last pitch and we'd be done, a free ascent of Moonlight.
"You got it, James." I tried to sound cavalier, but I was nervous, too.
James finessed the tricky 5.12 crack/face and entered the final 5.10 bulge. He thrust in his last piece of gear and aggressively tackled the last steep bit of sandstone that guarded the summit. One of his legs dangled and the other was behind the rope—again. I could sense him panicking. Despite the fact that there was a real danger of him getting hurt if he fell this time, I believe he was more concerned about not doing the route. I was more concerned about his skull and that he had already used up his one "Get Out Of Death Free Card" on his Joshua Tree fall.
He stomped his dangling foot up on the rock and tried to stand up to a handhold but came up short.
"Faaawk…" he cussed. Oh shit, this was serious.
"James… we don't fall here." I sternly encouraged.
He quickly regrouped, refocused and punched through to the summit. Yes! I flew up the pitch after him. I couldn't wait to see him and give him a great big hug. I was so happy for him. I guess I should have been feeling a sense of accomplishment for myself, but oddly I didn't.
In the end, when I think back on free climbing Moonlight, I probably won't remember the things I thought I would remember: the sequence of powerful crux locks, which cam went where, or when the route goes into the shade. I'll remember how common culture, aspiration and stoke are what's vital in successful partnerships—and the look of pure terror on James' face as he went down in the raging Virgin River on our return crossing…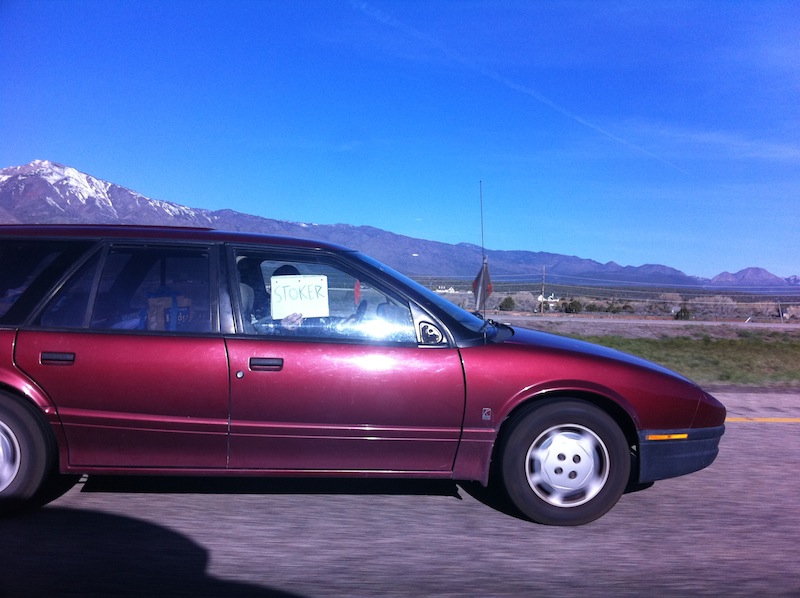 James, northbound and super stoker on the I-15 after freeing Moonlight Buttress. Kids, don't try this while driving your mom's Prius.