Tread Lightly
Emmeline Wang
/
July 13, 2021
/
6 Min Read
/
Climbing
Finding the intersection of identity, stewardship and rock climbing.
All photos by Drew Smith 
As a daughter of immigrant parents and a self-identifying LGBTQIA+ Asian-American rock climber, I often feel like a stranger in this land. The spaces I have the privilege to recreate on are not mine—and that's exactly how I feel they should be treated. As a minority in society, especially in the outdoor space, this paradigm of treating belongings and areas better than how I found them traces back to my childhood and life experiences. Though I feel this way about the beautiful outdoors, a lingering worry for my personal safety creeps into my shoulders when traveling to the places I go to climb.
My mom loved to share stories of her upbringing and reflect on how her parents fled China during the Communist era. Her recollections of her struggles to assimilate after immigrating to a foreign country always left a deep impression on me. During much of her childhood, she was the only Chinese student in her junior-high-school classes and neighborhood. She knew barely any English yet did everything she could to fit in with her community and often experienced some type of loss in translation. But she learned the value of being on your best behavior at all times, ultimately passing that mindset down to my sister and me. For me, this manifests in upholding a standard of excellence in every aspect of my life and in every moment of practice—at school and friends' houses, and in team sports, the workplace or the outdoors. Staying away from trouble and minding my own business became a natural habit and climbing continually helps me cultivate exactly that. But as I see more and more people participating in outdoor recreation, I wonder whether I'm also contributing to the problem of human impact on the places I recreate. And I wonder if, as an Asian-American woman, I'm putting myself in potential danger each time I head outside.
On a chilly, optimal climbing weekend, my partner Joanne and I took a road trip to St. George, Utah—the place that gets me the most psyched on climbing. It's a spot I consider home. When I'm in natural environments, I find that time passes effortlessly. Southern Utah has become a place of solace and self-discovery for me. Yet, it's also a place where I feel I must keep my guard up and stay aware of my surroundings. While passing through more conservative parts of the state, I continually wonder how an obvious minority like myself will fit in. From the looks and glances we get, it's obvious my partner and I stick out. Recent events surrounding extreme racism and violence toward my own population and people trigger an intense and visceral feeling of wariness that manifests into a deep and crippling anxiety. While the outdoors has always been a place of comfort, familiar places are also environments where I worry about my and my partner's well-being.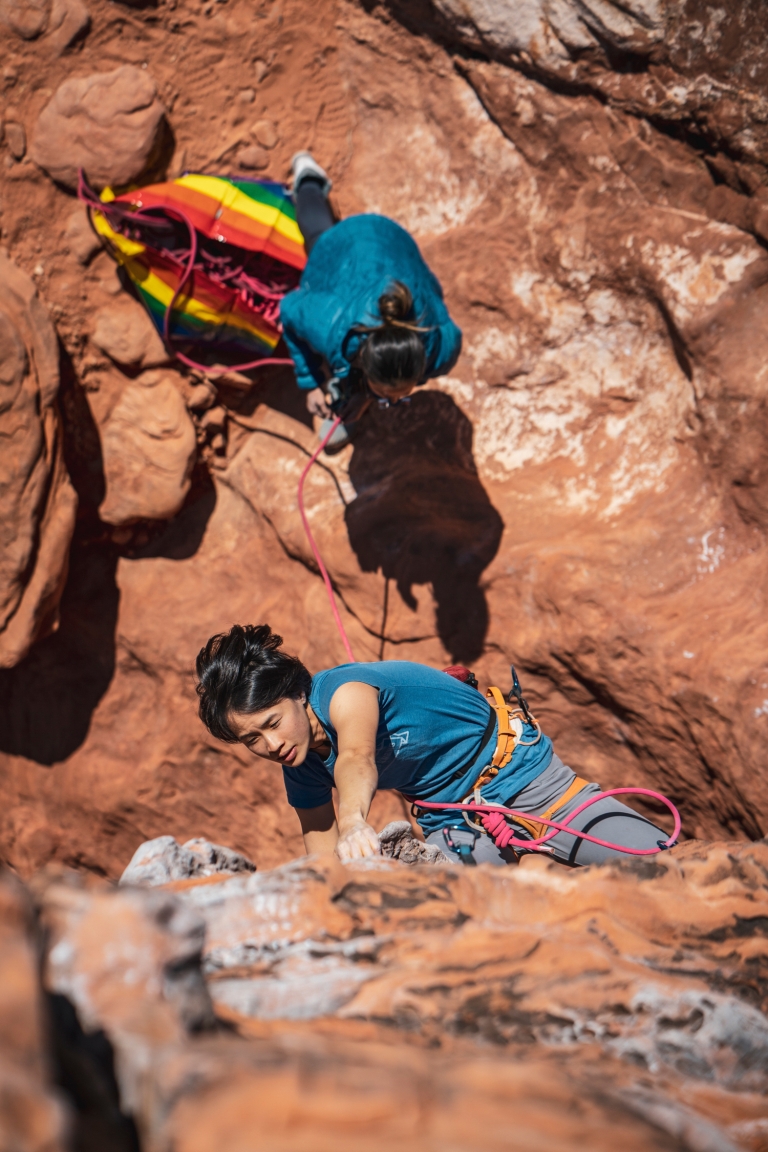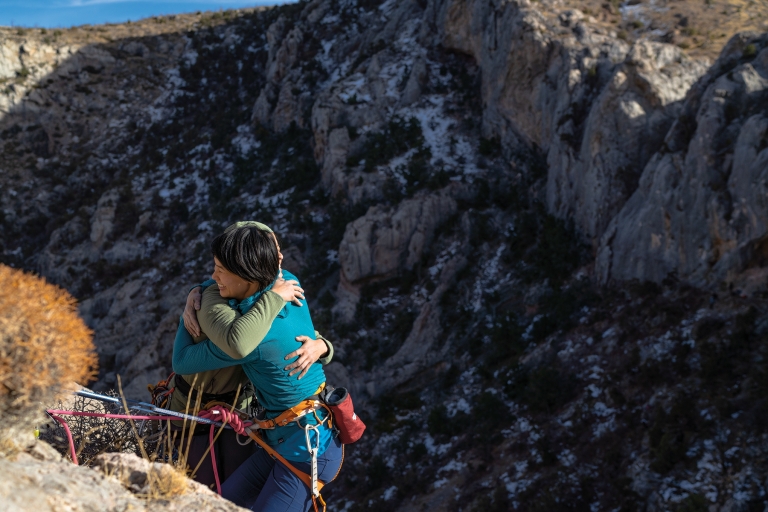 It feels like it's part of my Asian heritage to work toward a goal without recognition, but I've also come to realize that this is not an effective tool in rallying people at a grassroots level. If preserving the lands we love is of the utmost importance, staying silent and working as individuals is not an option. There are a multitude of systemic injustices, acts of violence and events that engender fear inside me as an Asian-American woman, but if stewardship stands at the forefront of immediate priorities, it's time to stand up.
Utah's diverse landscapes and its richness in natural resources are the main reasons why it is such a popular destination for outdoor recreation. But that popularity is also the source of continued pressure on how much these lands can handle. One of the examples I've seen a lot of is the degradation of fragile desert soils as climbers shortcut approaches or simply bypass clear signs pointing out environmental-protection areas. As climbing grows, it comes with a new group of users who often lack awareness. For instance, delicate cyanobacteria, which is a main part of biological soil crust, is fundamental in holding the desert together, and impacted soil can take up to 50 years to grow back, or it might never fully recover. I've encountered situations where climbers blatantly and knowingly disregard a proper code of conduct while recreating. I've seen folks fail to clean up their own waste after doing their business. My mind screams, yet I fail to speak up. Why does my mind tell me to stand up for what's right, but I hold back my words and actions? Going back to my childhood and cultural roots, I ask myself how a white, cisgender individual would respond to a minority standing up for our lands. The traumas my community continues to experience begin to creep in, clouding my mind with fear of backlash, and I instead stay quiet to avoid any confrontation.
As Joanne and I arrived at our first climbing destination of the day, I admired and soaked in the scenery for at least 10 minutes: the beautiful red, opaque sandstone towered over us like a miniature amphitheater. The sun cast rays of glimmering light on the textured walls. We put our harnesses on in this intimate setting, and I tied in on the other side. As I prepared to attempt a resend of Banana Dance, the jittery feelings of excitement when seeing a beautiful line rushed over me. As soon as my feet touched the starting foothold, the sequence was clear: hit the jug, cross the hands over to a shelf on the left, throw a right heel hook on that same shelf to stick the next move. The movement was pure.
Yet despite the gratitude and excitement we both felt, I continued to see signs of climbers disregarding these lands. St. George is a winter destination for climbers from all around the country, and I witnessed, among other things, individuals camping near crags where it is clearly prohibited. It dawned on me that this place that I love so much could be restricted to climbers in the future. Climbing is becoming a mainstream activity, but its growth hasn't kept up with the important education around stewardship and protection of the places where we climb. This is an important ethos to foster. All of us climb for various reasons, but I believe that most who stick with the sport do so because of what it provides.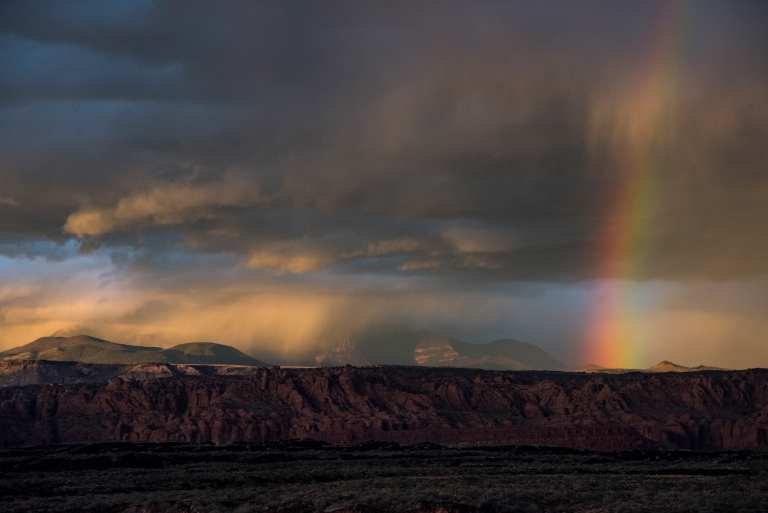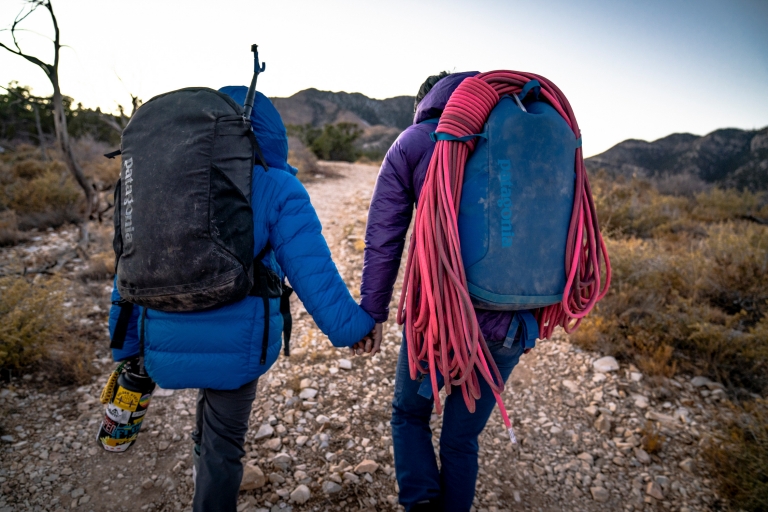 As a daughter of an immigrant, a member of the LGBTQIA+ community, a minority in the outdoor space and someone who cares deeply for our environment, I know that immediate change won't happen overnight. Educating, restoring and inspiring the collective climbing community to act is a process, just as it is for the brand-new climber to discover the deep intricacies and wonders of the sport. True evolution comes through that process. Witnessing and being part of the change we want to see in the lands we all love is empowering—as empowering as the priceless feeling of being accepted and embraced by my family and friends who see my identity as a source of strength and uniqueness.
Growing up in a first generation Asian-American household, I've come to know that supporting a child takes a collective; tending and caring for our lands should be exactly the same. With all of the unfathomable events that continue to happen in our society around racial violence and inequity, the outdoors cannot continue being an environment that only caters to a homogenous group. It's my hope that we all find ways to support our passion for the outdoors by being on our best behavior, standing up for those whose voices are not highlighted and keeping each other accountable with our actions. In other words, we need to get involved with local communities, support larger organizations that actively fight to protect climbing areas and stand up for these places when we witness misconduct.
I will always love climbing for the endless opportunities it has given me to intimately connect with nature and with people—and the ways in which it teaches me what self-love and discovery mean. Let's enrich the lands we love by leaving them better than when we arrived.