Product Testing Fun with the Freightliner Luggage
/
October 2, 2007
2 Min Read
/
Design
Our infamous Freightliner is currently in the works for a revision.  Over years of long term use, we unfortunately do see some Freightliner products returned for hardware failure such as retractable handle and wheel failure. These occasional failures are good for us in hindsight because it pushes us to make our products better.
The luggage team is in the process of testing and creating a more bomber Freightliner with focus on hardware integrity and long term durability.  Our current Freightliner offering does last a long time but we believe our hardware can last even longer.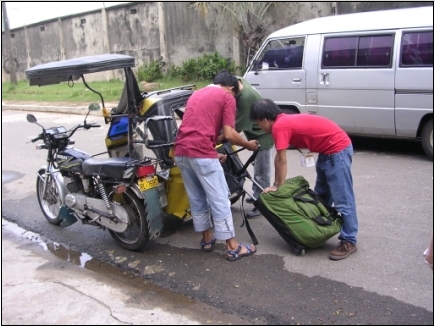 (Location: Philippine Islands. The New Freightliner gets prepped for the ride behind a side car. Photo: Chad Peterson)
Quality comes first.  With that said, we do extensive lab and field
testing to assure that our products meet or exceed our set Quality
standards.  This sometimes includes conducting a little field testing
on the spot when redesigning and redeveloping luggage at our factory.
Some images came my way showing our luggage designer, Glen Morden,
filling a new prototype Freightliner with over 60 lbs of brick and
tying it to the back of a side car while driving down the busy streets
in the Philippines.
This test is a bit on the extreme side, but it will occasionally reveal
long term vibration and durability issues that we can address on the
spot while working with our factory relationships.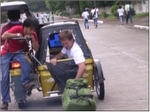 (Glen, assuring our bag is living up to the test.)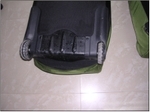 (Notice the prototype wheel failure after the fun ride.  We
continually redevelop wheel assemblies and conduct multiple tests until
we can assure they pass all of our Quality requirements.)
One may argue that this isn't a legitimate field test, but what the hay, it at least shows some creativity.
Let our "Quality" and "Luggage" teams know if you have any feedback for the Freightliner by commenting on this post.
[All photos courtesy of Patagonia luggage developer, Chad Peterson]