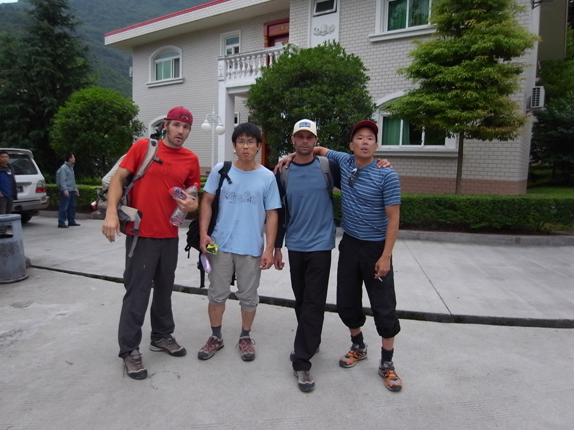 It's been a little over two months since we lost our dear friend Jonny Copp and needless to say the healing continues. Pete Takeda, a close friend and climbing partner of Jonny's — and the author of An Eye at the Top of the World which recounts their attempt on Nanda Devi — sent in the following story and photos. Pete was one of the six members of the American team that went over to China and recovered Jonny and Wade's bodies from the avalanche debris on Mount Edgar.
[Recovery team (L to R): Nick Martino, Steve Su, Eric DeCaria and Pete Takeda. All photos courtesy of Pete Takeda]
Jonny was a friend to more people than I'll meet in a lifetime. He's dead now. He and I faced death together before and based on that alone I'd say we were brothers-in-arms. But we were also climbers to the core. We'd paid our dues and made others suffer for our passion. We'd said farewell to girlfriends, been dumped by girlfriends, passed on career jobs, and cobbled together a living based on a mix of photography, writing, and weird one-off jobs to supplement the odd (and well-below poverty line) sponsorship check.

For a while I lived with Jonny in a condo out of which we worked. That time was a short chapter in our lives, but to me, it was as memorable and vivid as any era I ever experienced. A year earlier we'd had a near death adventure in the Indian Himalayas — buried in multiple avalanches in a crevasse with Chuck Bird and Sarah Thompson. I wrote about the experience in a book called An Eye at the Top of the World. Jonny's pictures illustrated the book.
The experience gave us a bond, which, despite its intensity, we never talked about. The unspoken sentiment was, "Why bother rehashing something we knew we'd face again?" Sure enough, Jonny got caught in an avalanche in the San Juan's the next spring, prompting me to point out, "If we keep this up, we'll be going to the other's funeral within a few years." We laughed it off — not from denial or morbidity — but from the acceptance that we'd be going to the mountains as long as we lived.

In the condo, I lived in the two-bedroom basement. Jonny had a regal upstairs bedroom. Mine was freezing in winter because we never turned on the heat — out of principle. When the pipes froze in winter we wore our expedition jackets. Jonny's room was a bit warmer, but in summer the hot air collected, furnace-like and the joke was on him. But he endured with humor and frequent trips to the Diamond.

Jonny and I formed a company called Sacred Mountain Media. Our motto was something along the lines of "doing cool shit for money." We did plenty of cool shit, but we never made anything, though for four years our still unfulfilled mutual pact was, "One day, we're gonna make hundreds…"

We never made those hundreds, but Jonny had several more successful ventures. In 2005, Jonny and his childhood bro Mark Reiner started the Adventure Film Festival. The event series promoted activism through adventure, emphasizing environmental and social issues. Thus, for a while, we had a third tenant, Mark, working out of the living room. Adventure Film morphed from a Boulder-only event into an international festival ranging from Chamonix to South America, and dozens of showing across the US.

I can't and won't enumerate Jonny's climbing achievements because it wouldn't do the man justice. I've been lucky enough to know a bunch of good climbers and a few of the greats. Jonny was one of the greats. When I saw him off to China, it was one of those passing encounters in our shared office space — this one in downtown Boulder. He was a man in the full prime of his powers. We shared the usual platitudes. I felt bad because I'd spent virtually no time with Jonny in the proceeding months. We were both on parallel courses, doing our own thing and trying to find our way through a world without giving up our passion for climbing. I was breaking into the major film world and he was globetrotting for Adventure Film — and climbing.

When we spoke, he was off to China and scheduled to return immediately prior to my departure to Pakistan. There was a good chance we'd miss each other as we passed in and out of Boulder. My last words to him were, "Good luck — try not to get killed." He paused and laughed, "Yeah — YOU try not to get killed." Those were our last words. The next time I saw him was in China, he was dead, lying in a gully below Mount Edgar.

This is just tiny slice of Jonny's life, but it's the slice I know. Those of you with a Jonny story to tell — almost all of you — should tell it here.

–Pete Takeda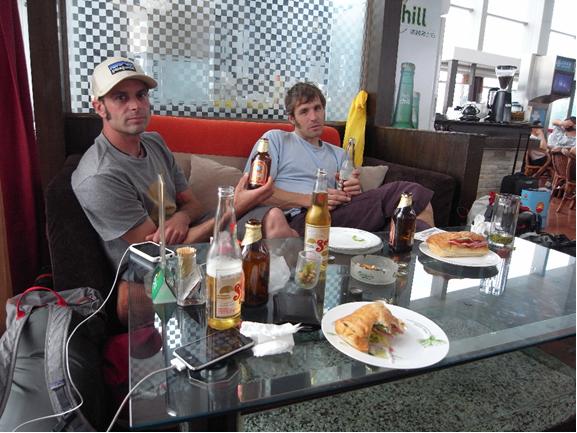 Eric DeCaria and Nick Martino at the Chengdu airport … waiting after a canceled flight.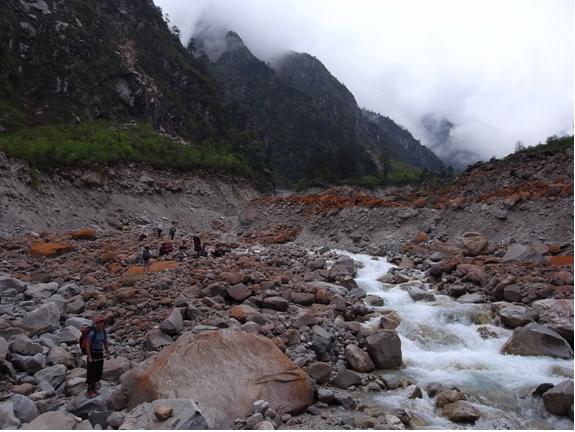 Approach to Edgar Basecamp, Western Sichuan Mountains.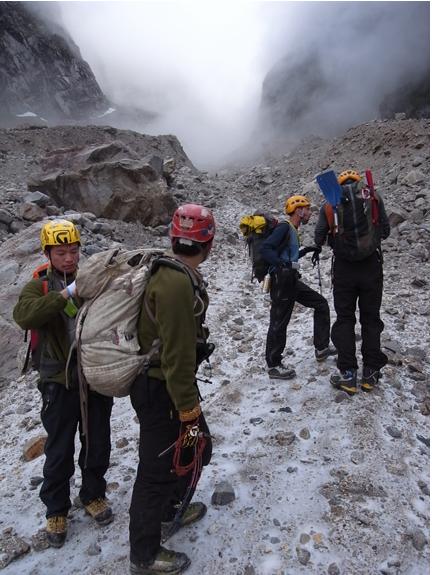 Climbers heading up to debris field.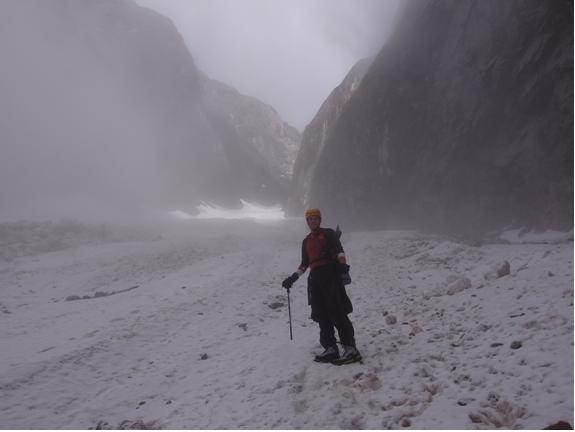 Nick Martino searching for Micah Dash in avalanche debris.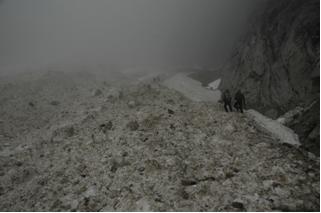 Searchers in avalanche debris.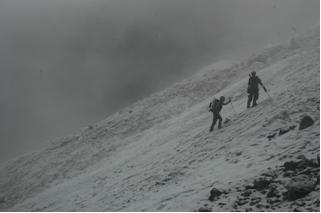 Searchers in avalanche debris.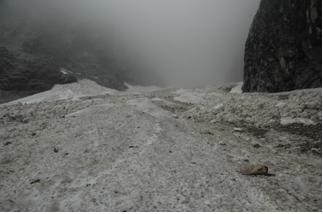 Avalanche debris looking up gully.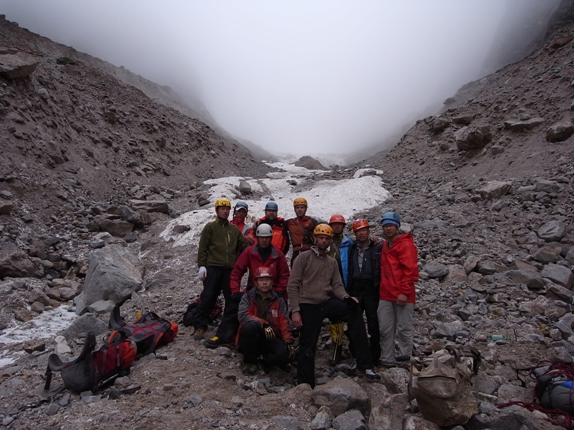 Chinese and American climbers at base of avalanche debris, Mount Edgar.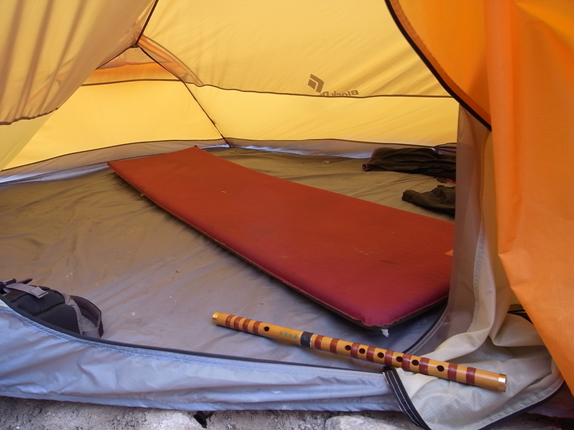 Jonny's tent and flute at Mount Edgar Basecamp.