How to Take Care of Your Waterproof Shell
Old School
/
August 15, 2008
/
7 Min Read
/
Design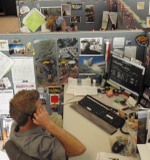 Our Customer Service Representatives (CSRs) are our front line of communication with Patagonia fanatics far and wide. The crew here at our Call Center in Reno, NV are at it seven days a week, taking orders, helping with returns, and most importantly, answering the astonishing range of questions our customers fire at us. Like flocks of swirling swallows or shimmering schools of tropical fish, our customers swoop in with mysteriously synchronized concerns and questions on a regular basis, prompting the need for ready answers. Times like these, nothing would be more handy than magically beaming knowledge out into the ether. Our very own Old School is here to do just that. He's stepped back from the front lines to answer some of these popular questions, straight from the trenches.
_________________________________________________________________________
One of the most common questions we get here is "How do I take care of my shell?" Normally, we get this question after a customer has worn their jacket in the rain and they find that it is getting soaked on the outside (in outdoor-speak, "wetting-out").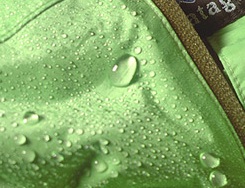 Modern waterproof/breathable shells most often used layered construction, consisting of an outer face fabric (what you see), a waterproof barrier stuck to (aka "laminated") inside of it, and a coating or fabric lining on the inside. On the surface of all this is a chemical treatment called "Durable Water Repellent" or more commonly, DWR. This is the stuff that makes water bead up and roll right off your shell. Keeping the water beading off your shell is not just cosmetic, it also keeps your shell breathing at its optimum level. We receive a number of returns from folks who claim their jackets are leaking. Most often, the outer fabric of the jacket is wetting-out and perspiration is condensing on the interior of their shell instead of passing through the membrane like it would if the DWR was working properly.
Unfortunately DWR doesn't last forever so it does need care and maintenance to keep it working properly.
There is a common misconception that washing your shell ruins the DWR when, more often than not, the real culprit is not washing it. Whenever someone calls about their jacket wetting out, my first question is always "When was the last time you washed it?" The answer almost always: "Never."
For a more detailed look at some of the history and technology of Waterproof/Breathable fabrics see my previous post here. Keep reading to learn more about proper shell care and maintenance.
Care
DWR is easily contaminated by dirt, body oils, sunscreens or smoke.There are many good reasons to not wear your $400 shell while sitting in front of a campfire but one of the best (besides the flying embers) is that wood smoke can contaminate your DWR and cause your shell to wet out prematurely. Smoke particles clinging to your shell are extremely hydrophilic (water loving), and your DWR is hydrophobic. It doesn't take much smoke to overcome your DWR; even a night in a smoky bar can be hazardous to its health. Plain old dirt is the other leading culprit in your DWR's demise, especially in high abrasion areas like under pack straps where dirt gets ground into the fabric.
The good news is that contamination isn't fatal for your DWR and it can be nursed back to health simply by washing your shell. This leads to the next question, "What do I wash it with?"
Our fabric lab test-washes all our fabrics with the country's most popular detergent, regular Tide® (no bleach!). If you want to wash your shell right now, go ahead and use any mild powdered detergent and it will come out fine. Be aware that commercial detergents contain lots of additives designed to whiten and brighten your laundry, but these don't do anything positive for your shell. More importantly, since they don't rinse out completely they leave a residue that can contaminate your DWR.
Like Mick Jagger, I'm not too concerned about "how white my shirt can be" so I always wash my shells in a product like Nikwax® Tech Wash or Atsko's Sport Wash®. Both of these products are designed to rinse out residue-free, leaving your shell (and your DWR) squeaky clean and ready to go. Well almost ready to go.

Many folks are reluctant to machine dry their shells, fearing they'll return to find an expensive mass of melted plastic tumbling around in their dryer. While commercial dryers can reach temperatures dangerous for shells, most home dryers are safe at the medium (permanent press) setting. Drying your shell on medium heat for at least a half hour is an essential part of reactivating the water repellent properties of your DWR and will make your shell perform like new. [*Ed Note: It is important to test your dryer's individual temperature settings first, as it could be unsuitable for this use. Test-drying an insignificant synthetic (polyester or nylon) item first is a good way to do this.]
Ironing with a warm iron is another method to rejuvenate your DWR. Most every iron is capable of getting hot enough to melt your jacket so be really careful if you choose this method. Medium heat should be OK but be conservative. I haven't ironed anything but skis in years so it will come as no surprise to anyone who knows me that I have yet to try this particular method.
Feeding
Patagonia's DWRs are designed to be at least 80% effective after 20 washings. For most of us that's at least a couple years' worth of washings. But just like you need to change the oil in your car, at some point you'll need to reapply DWR to your jacket. There are a number of good DWR treatments on the market, with NikWax® being among the most popular. I've also had good results from Grangers® and have heard good things about ReviveX® as well. Generally these products come in two forms, wash-in or spray-on. Both work well with the wash-in being the easiest. If your jacket is insulated or has a hanging mesh liner you'll probably want to go with the spray-on. Wash-in treatments will wash into your jacket's liner and prevent it from being able to absorb any moisture, so it won't be able to wick.
Spray-on treatments are more of a pain to apply, but this does allow you to put the product just where you want it, and keep it away from where you don't. Both treatments work best if applied to the garment(s) right after washing. If you're using a wash-in treatment, just leave it in the washer and start the load. Follow the instructions on the bottle and don't try to treat too many garments at once, two is generally best.
If you're using the spray-on, apply carefully while the garment is still wet. Blot up anything that doesn't soak in, as it can leave little white spots that are near impossible to remove once dry. After either treatment, toss your shell in the dryer for at least a half an hour on medium heat. Your shell will be as close to good-as-new as you can get. If you're not treating a Patagonia product you might want to check with the manufacturer to make sure these recommendations go along with what they advise; in general these treatments should work with any high quality shell.
Extended Care . . . Keeping it Healthy
Back in the early days of waterproof/breathable shells, when even factory-applied DWR meant "Doesn't Work Really," I used what I called the Two-Jacket System. I always had two jackets; one, a used and abused jacket which I wore most days, and a newer jacket that I saved for those infamously wet Tahoe snow days.
After working here for over 10 years I have amassed quite a collection of shells. With the new DWRs lasting much longer than they did 20 years ago it might surprise folks that I still employ a variation of this two-jacket system. Now the "two" represents something different. One jacket is a newish hard shell for those "white rain" days when nothing but a waterproof jacket will keep you dry. But now I do most of my skiing (and everything else outside) in a variety of soft shells. These are so much more breathable and comfortable on most every other kind of day. Patagonia soft shells do not have a waterproof barrier, allowing them to be highly breathable while the DWR and fabric construction itself provides water resistance. For example I generally ski resorts in a Stash Jacket from a couple years ago, and in the backcountry, I will most often opt for a Ready Mix jacket (the new Ascensionist Jacket is its replacement).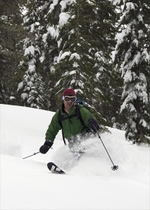 Whatever jacket or jackets you choose to use though, just like changing your oil, a little bit of shell maintenance goes a long way in protecting your investment. The best way to preserve and extend the life of your DWR, and your jacket, is to keep it clean and keep it away from contaminants. Shell care really is easy and fun. Well OK, not so fun, but it does pay big dividends in outdoor comfort and performance. And it's way easier than changing your oil.