San Diego 100 Race Report: Course Record Run
Two weekends ago, I had the ridiculously good fortune to watch Patagonia Ultra Runner Jeff Browning put on a display of trail running zen mastery at the San Diego 100. One could not ask for a better experience and the fact that so many friends had gathered for the event made it all the sweeter. Patagonia runners Krissy Moehl, Luke Nelson, Roch Horton, and Ty Draney joined Jeff and the other 150 souls brave enough to toe the line for 100 miles of dessert scrub, buff pine forests, intense heat, dust, wind, poisonous snakes, technical down hills and endless grueling climbs that make this a five-star, class-A event. A special thank you is definitely due to Scott Mills, the Race Director, and the dedicated crew of San Diego Rats who know how to put on a great old-school race that should definitely be on every serious runner's list. Read on to hear the story of Jeff's record-breaking journey in his own words. I guarantee you'll be inspired. –George Plomarity, Patagonia Grassroots Sales and Marketing Rep
Where do I start. Wow. What a day. I truly had "one of those days" where it all clicked. I'm SO pumped to have PR'd on a technical course for 100 miles. I can't say enough about the race itself. Super-well organized, well-stocked, well-marked and hot and technical. Fun course.
The Course
The course is held 40 miles inland in the mountains east of San Diego. There is 15,800 feet of elevation gain. The course is known for being pretty technical, exposed (no trees) and windy. June is usually hot, typically in the 80s and windy on the ridge, and 90s in the canyons. The hardest part is that, after mile 15, you NEVER, ever have shade until 72 miles into the race. The course starts and finishes at Al Bahr Campground on Sunset Highway and does a loop SW and then connects to the PCT (Pacific Crest Trail) and runs north hovering on a ridgeline between 4,500 and 6,000 feet overlooking the Anza Borrego desert to the east. The course then heads west and down into Noble Canyon (the hot part of the course) for a figure eight loop and back up Green Valley to the ridgeline and the PCT. Then a northern loop along the shore of Lake Cuyamaca, over Stonewall Peak and then down the drainage paralleling Hwy 79 as it descends toward San Diego, then back up to gain the ridge (at mile 51/80) and take the PCT back 20 miles south to finish at Al Bahr.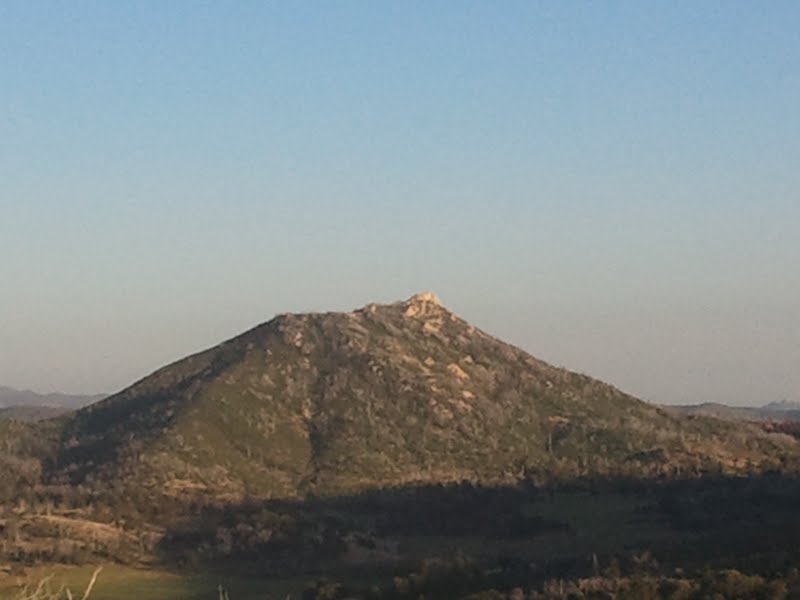 Stonewall Peak at mile 60ish of the course. We went up and over this bad boy. Photo: Jeff Browning Collection
Crew in the House
My buddy and Patagonia team rep, George, and his finacé, Steph (a gifted photographer), were my crew. They did a great job. Steph got to geek out on photo opps and George got me through key checkpoints like a well-oiled machine. He was so ON IT. Going into evening, I was quite a bit up on the course record and some of the stations hadn't gotten word yet. George was paramount in filling them in, getting them to fire up some broth and have it ready in hand when I arrived, ready to chug. Nice because I was SO over bananas and orange wedges at that point (a good focused crew is paramount when you're trying to grab time everywhere you can).
The Race
We assembled for the 7am start at Al Bahr Campground on Saturday morning. My Patagonia teammates Luke Nelson and Roch Horton were running (and Krissy Moehl was pacing). The main contenders were Luke Nelson who ran a sub 20 at Wasatch last year (but showed up with a head cold… bummer); Adam Hewey, a solid 100-mile runner and probably who I was most worried about – the dude's a closer in 100s, 19:05 at Cascade Crest 100 last year (3rd fastest time on that course) – and I heard he was super fit; as well as Dan Olmstead from Eugene. Plus a few other dark horses (Fabrice Hardel and Tim Long).
After a few quick reminders from RD Scott Mills, we were off and running at 7am sharp.  Luke and I settled into 3rd and 4th place respectively, little bit of chatting at a relaxed pace. I don't like to go out like a shot in a 100 miler, so I was content to cruise for a few miles, let everything warm up and relax.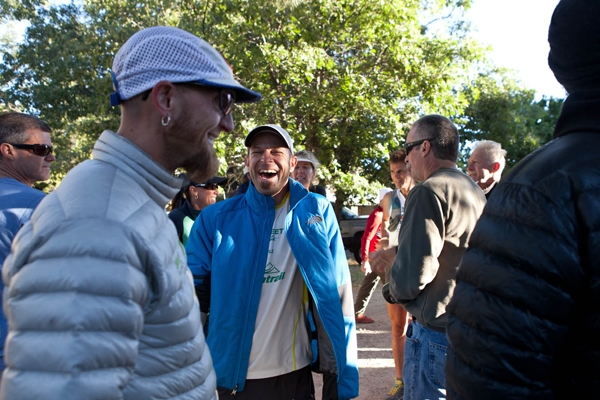 A few laughs before the start with Adam Hewey. Photo: Stephanie Helguera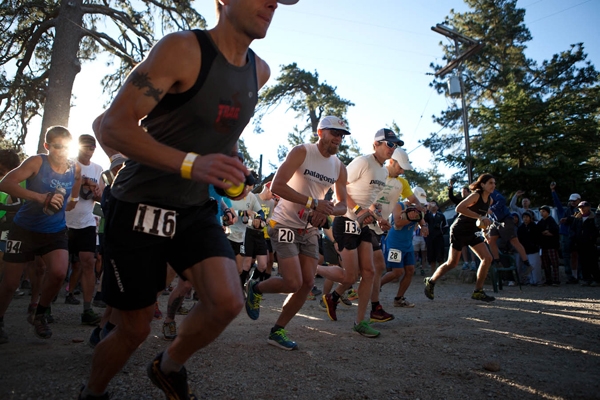 The start at Al Bahr Campground, 7am sharp. L to R: Tim Long (foreground, end up in 3rd place in 19:01), Jeff Browning (aka, me), Luke Nelson, Adam Hewey (looking at watch, 2nd place under the old course record too in 17:54), Fabrice Hardel (long hair in black). Photo: Stephanie Helguera
The first few miles are mellow, buff singletrack trail and we were just cruising along. After a couple of miles I passed Tim Long and moved up to 2nd and was running behind Fabrice Hardel. About four miles in we were rolling through a rocky singletrack section in some Pines and Fabrice was running very carefully on the technical sections and I felt like I was right on him. So, I decided it was time to pick my own line and jumped around him. I really enjoy the technical stuff and immediately opened up a good gap without even really trying.
I just concentrated on not racing and just staying relaxed and cruising and soon arrived at Meadows aid at 7.2 miles a little slower than Bowman's CR pace last year. I knew Rod, Yassine and Dylan, namely Yassine, had gone out hot last year, so I wasn't too concerned. Side note: I did figure the win was going to take a CR time and was willing to give it a shot and had Dylan's splits on me for reference.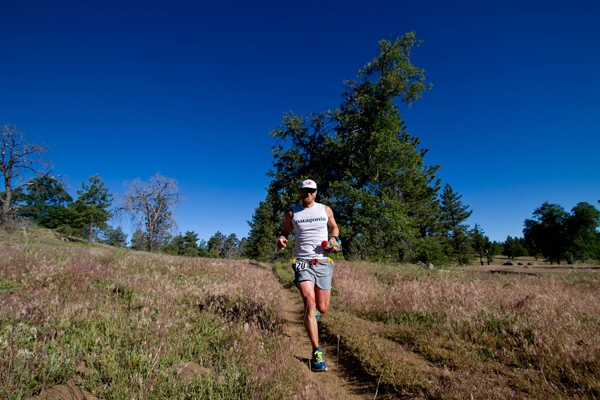 Approaching Meadows Aid Station at mile 7. Photo: Stephanie Helguera
I swapped my single water bottle for two bottles with George and headed to the short out-and-back section. I hit the split in the trail just as the other guys (Tim Long, Fabrice, Nelson and Hewey) were coming in, about 2 minutes back. Little did I know this would be the last I would see anyone the rest of the race.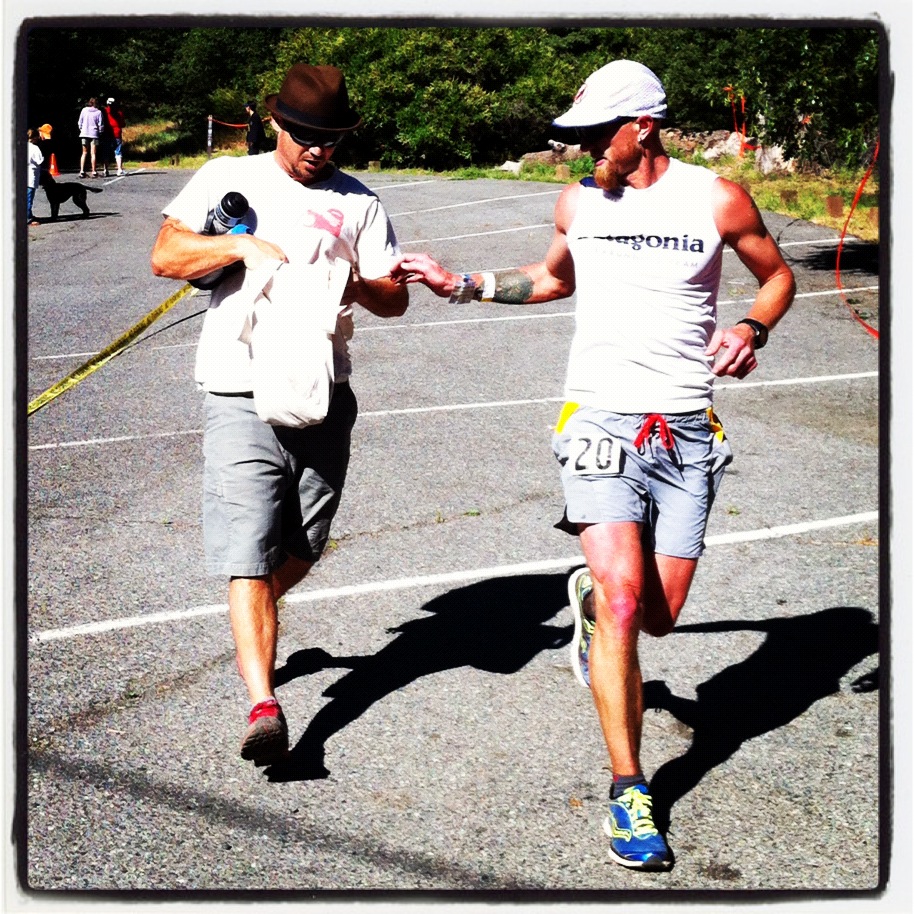 Rooster Aid Station, mile 13.8, crewin' in style. George, gettin' me the goods on the drive-by. Photo: Krissy Moehl
After Meadows, I kept running comfortably, letting the miles roll by and soon cruised into Rooster and got there right on CR splits. I got in and out with some banana and more water and was soon turning onto the Pacific Crest Trail (PCT), heading north. The heat was starting to hit here, because you start moving out of the tree cover and into the exposed shrubs that make up a majority of the upper course. I just kept plugging away and was soon through both Todd's Cabin and Penny Pines a few minutes slower than CR pace.
Heading down from Penny Pines into Noble Canyon, I took it easy and stopped at the few small stream crossings and dipped my hat. On the lower section of this descent, it's really technical and I ran up on some downhill mountain bikers all decked out in full-faced helmets. We leapfrogged a couple of times and finally I dropped them and soon arrived at Pine Creek aid (mile 30) and was really feeling the heat.
I had been talking race strategy with my training buddy Rod Bien (2nd here last year) and he told me this section sucked and was hot and advised me to go easy so I would have legs for the eight-mile climb up to Pioneer Mail. I did just that. I took it slow and steady on this loop back to Pine Creek 2 (mile 36). I was about nine minutes slower than the record splits at 36. This was okay, because I knew the leaders last year struggled on this climb and I felt pretty good leaving Pine Creek. So, I got what I needed: fruit, chugged two glasses of Gatorade, ice and water in my bottles and got moving up the single lane paved road for the eight-mile grinder.
After a few miles the pavement ends and rolls down a little into a small basin on dirt road, then climbs again before hitting a water only aid station. I had already drained my two 24-ounce bottles and was ready for water. I refilled and the dude manning the station had popsicles. They were tasty. I had a melting popsicle and within 50 meters turned onto the trail that continues to climb. This section is mostly south facing to gain the ridge at Pioneer Mail aid (44.1) to pick up the PCT again. It was hot.
And, by the time I was nearing Pioneer, I was rationing my remaining water and having a bit of a low spot, but I got to Pioneer a few minutes under CR splits. George was there to make me drink a 20-oz. bottle of water and eat while I was at the aid station. Got new bottles and was off on the PCT to Sunrise 7.2 miles away.
The next section on the PCT to Sunrise was a little rough for me, but beautiful. You are traversing the ridge on it's eastern side, just below the top and looking off into the Anza Borrego desert to the east, thousands of feet below. Awesome views into a dry wasteland. Very stark and beautiful. It was super windy too. Had to be 40+ mph gusts and just hot, sunny, no shade and wind burn to top it off. This was a challenging section for me mentally. I had no idea how far back 2nd was, I wasn't halfway yet and was getting sunburned with no hope of shade for hours and hours. Buck up, Bronco, quit feeling sorry for yourself. Sometimes half the battle of a 100 miler is staying mentally in your "happy place" even when your conditions are pure fodder. Good life lesson.
I got into Sunrise (mile 51) around 2:56pm, 13 minutes up on course record pace, and was told by George that Adam Hewey came into Pioneer (the last aid station) seven minutes back and was looking good and was in and out. Dang, Hewey. He's a good closer and I knew he was due for a good one. He's a 100 mile runner that has been under the radar because his insanely fast 19:05 at Cascade Crest 100 last year was overshadowed by Rod Bien's course record run. I knew he'd be a player.
Hewey. That got me motivated. I got moving over to Stonewall Mine looking over my shoulder with a little fire in my step. This section again was a hard section mentally. It drops down into a open, dry, yellow grass meadow near Lake Cuyamaca. You're running on flat, dry, sandy trail and double track dirt road where horses have been and it's soft, sandy, choppy and hot and you run into the afternoon blazing sun. Plus, I was pushing the pace to put some time into Hewey.
A couple of miles out of Sunrise, I went to take a salt pill and it went down sideways and got stuck and I gagged and threw up. Not a ton, but a chunk of orange pulp from the last aid station. Whatever, I didn't need that fiber anyway. I waited a minute or two, took another salt, took a gel and then seemed to be fine. Phew. I kept on the pedal through this section and got into Stonewall Mine 30 minutes up on the CR, around 4:04pm and George and Steph were lounging in their vehicle. They were surprised to see me, as I'd gained another 17 minutes on the record there. They got me in and out and I was on my way to climb up and over Stonewall Peak.
This section I started feeling really good, as I started to get some shady sections along the lake, then more shade on the northside climb up Stonewall and when I hit the summit, I bombed down the 1,000-foot descent to Paso Picacho aid, arriving at 5:05pm, gaining another five minutes on the record. I was also told by George that Hewey came into Stonewall 20 minutes back and looked worked and immediately sat down. I was stoked. I felt good, I was gaining time on the record at every checkpoint and putting time on 2nd. I grabbed my lightweight single headlamp in case I didn't make it back to Sunrise before dark (where my good lights were in my drop bag). I told George I was going to push to get to Sunrise at mile 80 before dark. With a fist bump to G-man, I was off to make it up the three mile gradual climb, before you finally get a five mile rolling, technical downhill to Sweetwater Aid. This was almost all in the shade and was a welcome change from the exposed sun I'd been dealing with ALL day.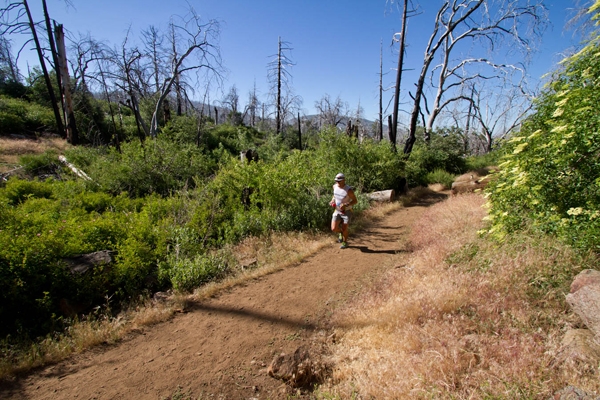 Leaving Paso Picacho at mile 65. Photo: Stephanie Helguera
I really felt good here. It was my kind of technical, narrow, rocky singletrack descent and the music was good on my iPod. I just got in a rhythm here and flowed. Before I knew it, I arrived into Sweetwater (mile 72) at 6:23pm — almost an hour faster than CR splits. This was a pretty minimal aid station but they had rice balls (salted white sticky rice). Man oh man were those tasty (whoever you are that made those, thank you). I ate two, chugged some more Gatorade and got moving again to beat the sunset to Sunrise aid at mile 80.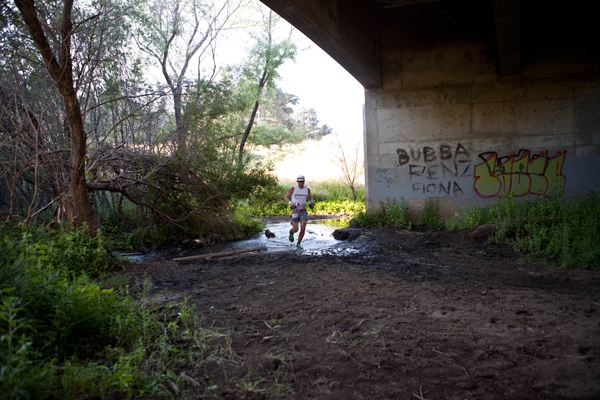 Coming into Sweetwater at mile 72. Photo: Stephanie Helguera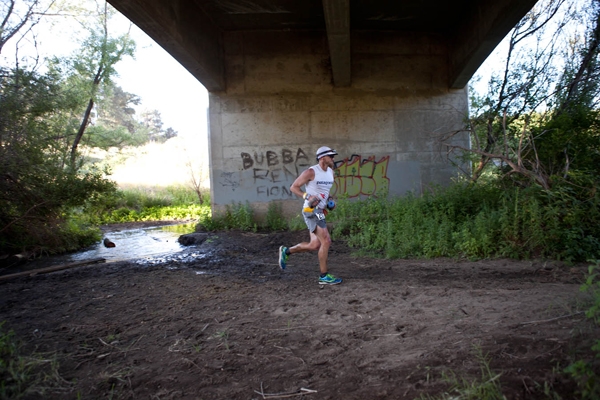 The bridge and creek coming into Sweetwater Aid Station. Photo: Stephanie Helguera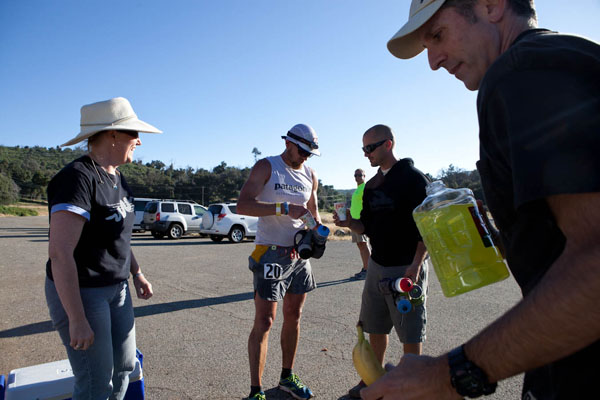 Chowing rice balls at Sweetwater aid station. George giving me the stats… split compare to the record, where Hewey is. Like I said, he's the man. Photo by Stephanie Helguera
I was a little slow starting on this section, but once I got out of the sandy lower sections and onto the old dirt road, I started motoring again. I ran 85% of this climb, with only an occasional short hike break. It was nice and cool and I just concentrated on a good rhythm and soon was merging onto the trail section of the course that shares the exit and approach to Sunrise aid. Here I started meeting people just leaving mile 51 and I was almost to 80. I have to say, I did feel for them, but they gave me some good juice. It was nice to see people. I'd been solo all day. Lots of cheers and a couple of, "Hey, you're going the wrong way!"… uh, nope. Sorry, not doing that loop again. I'm starting to smell the barn and a sub-17 finish y'all. Giddyup.
I got into Sunrise at 7:52pm, still a full hour ahead of CR splits with a little daylight left. The wind was still whipping up on the ridge and with the sun setting, it was getting cool. I changed out of my Patagonia Cap 1 sleeveless jersey and into long sleeve Cap 1, my favorite lightweight Patagonia merino wool gloves, dialed in my superfly Black Diamond light set up (thanks Rocho) and with George keeping me eating during all this, I chugged some chicken noodle soup and got moving. As I checked out, the aid station staff was like, "Whoa, wait, wait, wrong way," and George set them straight… "No, he's the leader, he's heading back!" Giddyup, George.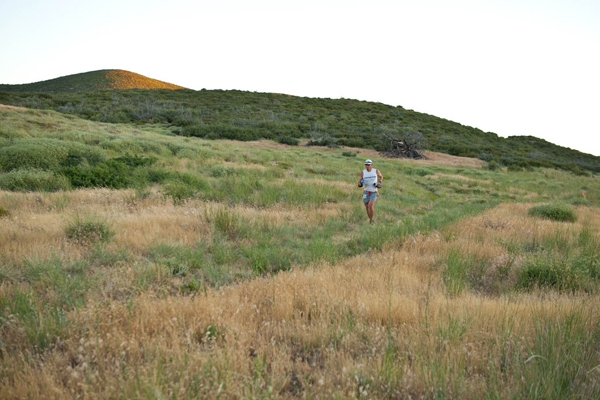 Arriving into Sunrise Aid Station, mile 80 at dusk. Photo: Stephanie Helguera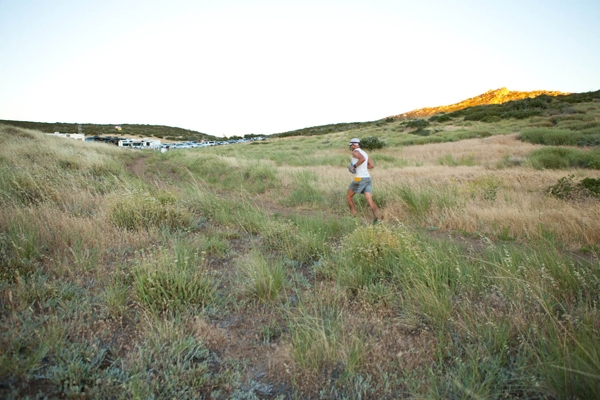 Sunrise Aid Station ahead at mile 80. Last rays of the day hitting the rocky outcropping in the distance. Photo: Stephanie Helguera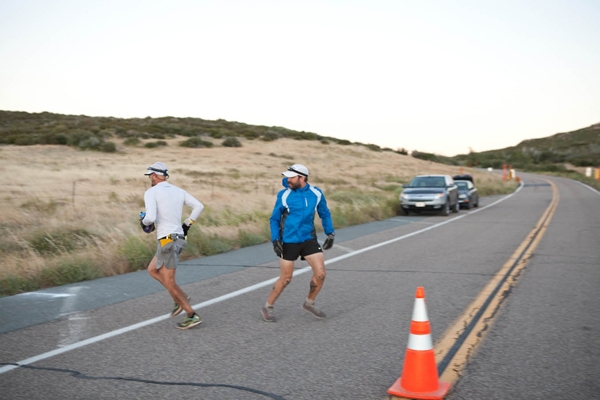 Leaving Sunrise Aid at mile 80 with Allen Skytta at road crossing (one of the Seattle ultra homies). He gave me big hug and shouted, "Man, you're crushing it!" Photo: Stephanie Helguera
Here's where I was thinking I needed to bust a move and get as far toward Pioneer Mail aid (7.2 miles away) as I could before I had to turn on lights. So, that became my near-term goal. I was able to get about 25 minutes out of Sunrise before I had to flip on my lights. This was paramount in grabbing more time, because I came into Pioneer at mile 87 at 8:52pm — over an hour and a half faster than the record. From there, I was just being conservative and careful so as not to eat it on the technical PCT in the dark and just keep moving, running 90% of the climbs with a few short hike breaks here and there. The remaining 13 miles were pretty uneventful, just relentless forward motion to get done so I could sit down. The last 20 miles of a hundred are usually just moving forward, eating, drinking, taking salt — repeat. When I got to the last aid station at 96, I knew I had sub 17 locked up and was then just seeing how low I could get the record.
I was so psyched to get into that last section through the campground and see the finish line. Teammates Luke Nelson (who dropped in the 60s due to his cold) and Ty Draney (who was there to pace him) greeted me at the finish, as well as Scott Mills the Race Director, Glenn Tachiyama and George and Steph. I was so psyched. Definitely my best 100 mile performance to date and a PR for that distance as well. Awesome, awesome day.
Big Thanks
Special thanks first and foremost to the Big Man Upstairs for keeping my path safe out there, my lovely wife and kids — without their support and love none of it would be possible — y'all are so lovely. And of course all my peeps: Patagonia… special thanks to Michelle for the last minute customization to the Strider Pro Shorts (look for them in Spring '13… pockets, baby, pockets), Ultraspire for the hydration handhelds, Rudy Project glasses, Black Diamond for the awesome lights, First Endurance, Teague Hatfield and all the peeps at FootZone, my awesome crew George and Steph, the race staff and volunteers. Giddyup.

Tired but happy at the finish line with a new course record of 16:38:59. Photo: Stephanie Helguera