Product Testing: Baby Capilene
/
October 25, 2007
4 Min Read
/
Design
We test our gear on a variety of levels. Our athletes and ambassadors are responsible for putting the latest designs and fabrics through the paces before we'll add a new product to our lineup. But just because something reaches our shelves doesn't mean testing is over. Once a new item shows up in our catalogs, our Customer Service staff gets busy ground-truthing the latest offerings. They know the questions our customers will be asking, and turn that attention to our gear.
___________________________________________________________________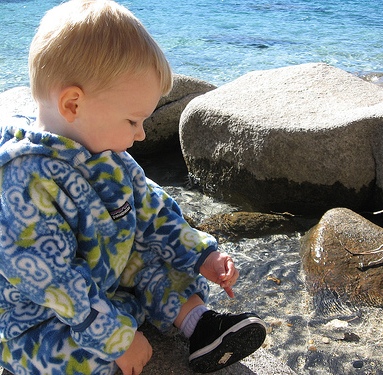 Product Report – Baby Capilene® 10/9/07
Hiking @ Lake Tahoe, NV (yep, Nevada baby)
Tested by: Michelle, Patagonia Mail Order Customer Service
I decided to take on a challenge to get some quality outdoor time with my son, Zachary, who's nearly two. The challenge was that I'd be by myself with him in his Kelty pack with one of my dogs. As any mother knows, any time you go out with your baby it requires an entire separate set of equipment.
With Zachary in his Kelty that didn't leave me much cargo room. I also thought this was the perfect time of year to experiment with a bit of layering. The climate up in Tahoe right now is perfect; I knew we'd be pretty chilly in the morning but that it would warm up quite rapidly as we approached the afternoon hours.
Clothing was pretty easy. I put Zachary in a Capilene 3 set and then just put a Baby Synchilla Bunting over that. I also brought along an extra set of fleecy pants in case the bunting became to warm. For myself I wore a Cap 1 T-shirt with a Micro D Fleece over it, with some stand up pants and my Huckleberries.
Packing all of our stuff was definitely challenging. Against all instinct, I decided to purchase a
bagel sandwich and my cell phone. I was able to strap my digital camera case through its belt loop. Diapers, etc., went in the small pocket on the back of his Kelty.
So, looking as cool as can be we set out for a nice hike along the east shore trail starting at Chimney Beach working our way South. We had a great day, and as we enjoyed a nice break at one of the beaches Zachary decided to go in the lake while still wearing shoes, socks and the bunting. Luckily at that point it had really begun to warm up, probably around 60 degrees or so, so I let him cruise in his onesie, which turned out to be perfect wear. I had already taken off my fleece, and I was impressed with it considering how lightweight and thin it is, once I had started moving it really kept me warm. I threw the bunting on a rock hoping it would be dry by the time we resumed our hike. The Synchilla did dry fairly quickly, but the lycra trim around the ankles were still totally soaked as well as the Synchilla around it. So thankfully I did have that spare pair of pants. I ended up tying the bunting around a loop on the back of the Kelty.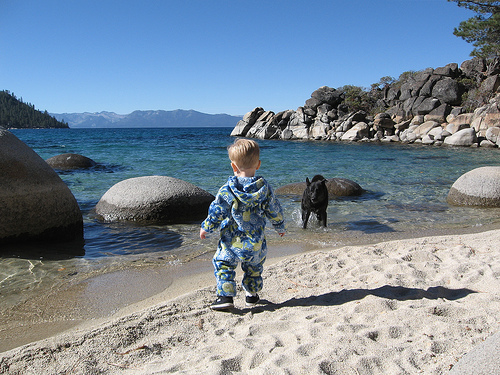 Hiking back up to the parking lot was pretty rough. I started sweating like mad with the 35 pounds of unstable human on my back and it's pretty steep with lots of stairs getting back up to the parking lot. I got high five's from a group of older locals who were out on a day hike that I could actually accomplish such a feat. The most rewarding part of the day however was hearing my son put his words into practical use where he could name all of these things we've been teaching him: ducks, trees, water, boats, but the best was hearing him whisper the names of all the people he loves in my ear as I gazed at a beautiful lake in the midst of season change.