Remembering Pete Absolon of NOLS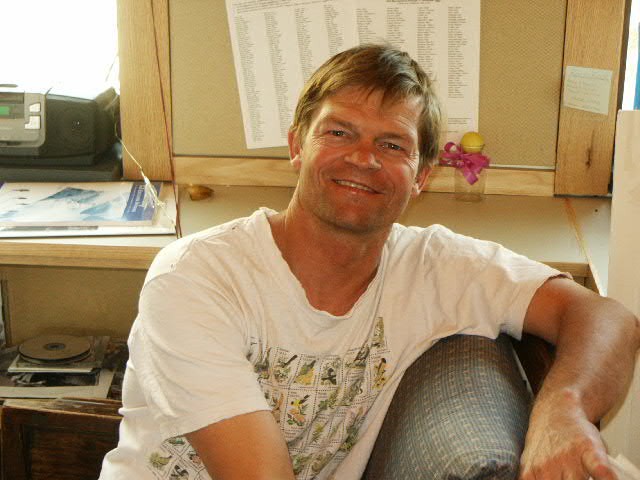 It is with great sadness that we learned recently of the death of a true friend of the climbing community. Pete Absolon of the National Outdoor Leadership School passed away this weekend in a climbing accident in the Wind River Range of Wyoming.
It's hard to find the right words at time like this.  We wish for our friends in the NOLS community, and more importantly for Pete's family, to know that our thoughts are with you in this time of deep sadness. 
Please keep reading for some words of fond remembrance from a friend within the NOLS community . . .
___________________________________________________
It is with a very heavy heart that I report the tragic loss of Pete Absolon, our NOLS Rocky Mountain director. Pete died Saturday in an accident at the Leg Lake Cirque in the Wind River Range. He was climbing with a friend for the weekend when he was struck by a rock that had been thrown by a group of hikers above. The hikers were unaware that there were climbers below. They hiked around and met Steve after they realized what happened. It is my understanding that Pete was killed instantly.
Pete was a close friend to many of us. He was a passionate and enthusiastic guy who loved NOLS and loved life. He had a great sense of humor and a quick and sometimes mischievous grin.
Pete became a NOLS field instructor in 1990. He was a dedicated teacher who thrilled in the achievements of his students.
In his various in-town capacities with NOLS—admission officer; program supervisor, assistant NOLS Rocky Mountain director, associate human resources director and NOLS Rocky Mountain director—Pete could be counted on to work tirelessly, without complaint. He was a patient man and one who always accepted full responsibility. He was "stand-up" guy. He let you know what was on his mind and he was careful listener constantly striving to be the best he could be.
Pete was also a dedicated family man. He leaves behind his wife Molly and their daughter Avery. Molly also has had a long history with NOLS. She has instructed for the school and also served as a member of the publications department during the 1990s. Molly, Avery and all of Pete's family are in our thoughts and prayers.
Many friends are posting rememberances at: http://www.supertopo.com/climbing/thread.html?topic_id=432518 
Memorial Service
The memorial service to celebrate Pete's life will be this Sunday, August 19th, at 3pm at CWC/Sinks Canyon Center (SCC) in Lander.
This is a community event. You can support the service in the following ways:
Food: Please bring a main dish, salad or dessert to share.
Flowers: Avery has asked that there be lots of flowers at the service. If possible, please bring some, either from your garden at home, if you have one, or from elsewhere.
Thoughts about Pete: Quotations from friends and family will be posted at the service and put into a book for Molly and Avery. If you'd like to share a thought (one or two sentences is great), please email it to jen_lamb@nols.edu.
Photographs: If you have a photo of Pete you'd like to share, please bring it to the service. Photos will be collected on the lower level of the SCC and posted along with the quotes mentioned above.
Transportation: Parking is tight at SCC. NOLS Rocky Mountain will provide shuttle buses from Sinks Canyon Road. Please follow signs to parking and bus stops and consider leaving a little extra time to get to the service.
Bruce Palmer