Long Treks on Skate Decks Morocco: Episode 4 – The Lost Peak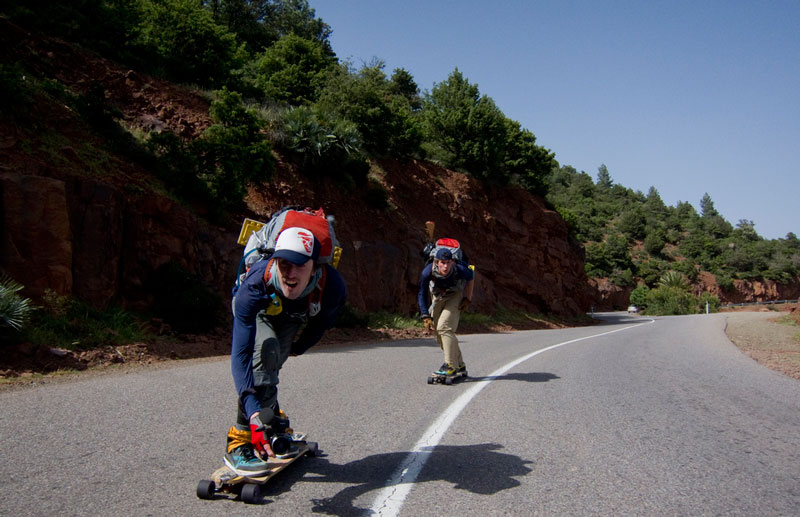 Back in July, we shared the trailer for a unique video series our friends at Loaded Boards were working on: three guys skateboarding 2000 kilometers across Morocco. They're four episodes into the series now and it's time to get you caught up (we've been sharing them regularly on our Facebook page).
Here's Adam Colton, co-founder of Loaded Boards, and one of the guys from the trip:
We are finally in the Atlas Mtns and loving it. Our terrible trio goes from being lost in the souks of Marrakech to combing the High Atlas mountains in search of the Lost Peak "Tizi n'tischka".
In this episode, enjoy the sights, sounds, and smells (scratch and sniff) of Marrakech. Weave and wind the twisted streets past riads, merchants, and snake charmers. Clean off the grime of the city, then be whisked away to mysterious countryside inhabited by Argan trees and the Imazighen peoples. Then top it off with a slow climb, and rapid descent, of the highest mountain pass of the entire trip — an elevation of 2290 meters (7,513 feet).
Viewer beware! Aaron is shown playing some native music, Paul begins to learn to speak a little Tamazight and Adam battles frog monsters in the night.
To see episodes 1-3, push on over to the LongTreks Morocco playlist on YouTube.
Enjoy your weekend, everybody. Hope all of you on the left coast have been getting some waves the last few days.
(Top) Paul Kent and Aaron Enevoldsen stoked on some decent pavement for the descent. Photo: Adam Colton