Long Live the Absolutely Disgusting, Glorious Indoor Climbing Gym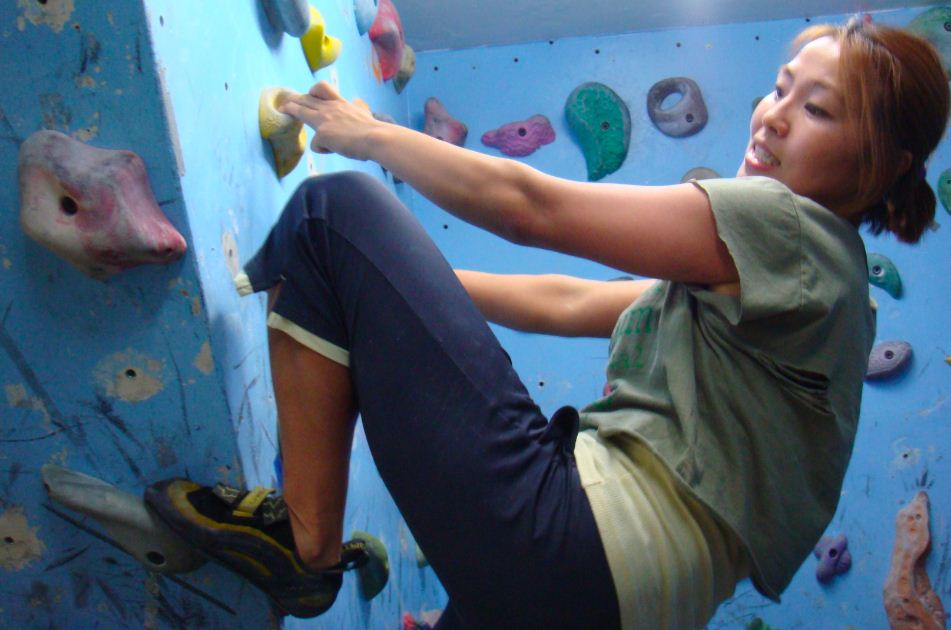 I am a climber, and at the risk of offending the enthusiasts of other outdoor pursuits, I'd argue that climbing is among the dirtiest, in the literal sense. Routes and problems are conceived and sent above cleared patches of dirt, moves grunted out through gritty clouds of chalk dust. Meals or snacks, if there are any, are consumed swiftly with scabbed fingers and raw palms, and airing out sweaty, grubby feet is a frequent – even necessary – occurrence.
Surfing has pristine, crystalline waves looping on the horizon. Sea kayaking and canoeing have sleek keels constantly licked by the water. Paragliding and base jumping and other aerial endeavors have vast expanses of clouds and open sky.
Climbing has gravel. And dust. And a lot of rocks.
Indoor rock climbing gyms, at least up until recent times, used to be equally grimy – dingy hole-in-the-wall vaults meant primarily for biding time until winter thawed and the natural walls of the Great Outdoors were accessible once again.
My first real indoor gym – meaning the one where I was comfortable being a veritable gym rat, and where all the staff felt like my extended, long-lost family – shared its space with a gymnastics club. It was located in the mysterious darkness of some Midwestern back roads, with flexible-at-best hours of operation and no next-door restaurants or shops to speak of. To my knowledge, no official climbing competitions were ever held there, and paying the monthly membership fee meant simply passing 20 bucks to whichever employee wasn't busy working up a route himself.
But don't get me wrong – it was a great indoor climbing gym, teeming with stories and characters old and young. I learned how to grind out hard boulder problems there; I was taught how balance, technique and finesse would trump power and brute force most of the time. And most importantly, I always left the gym tired and with my forearms pumped, but never wishing for cleaner gym mats, fancier accouterments, or larger restrooms.
At the end of the day, gravity is the same no matter how fancy a gym is.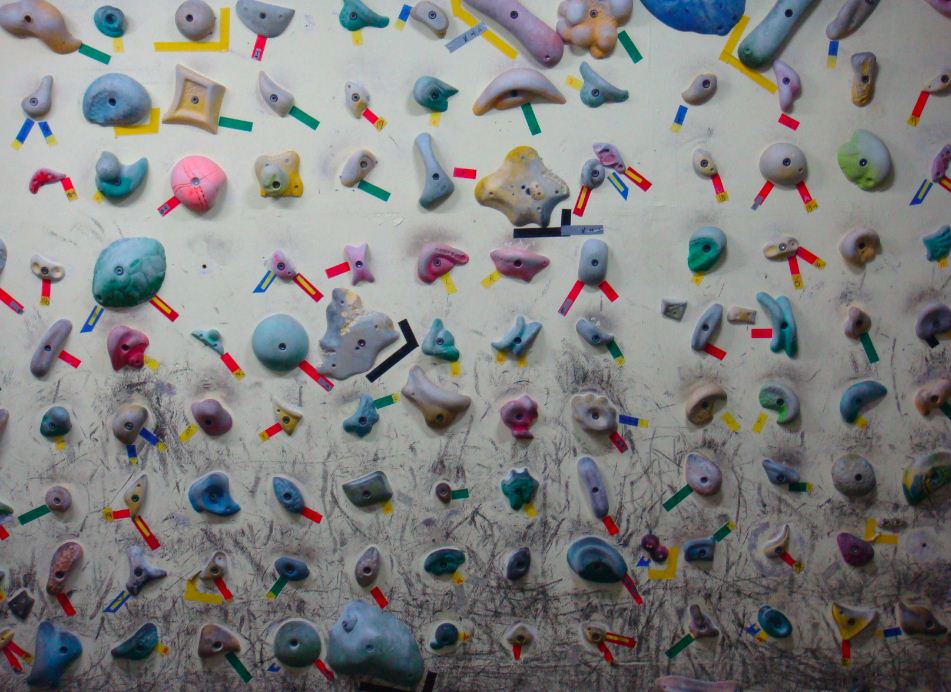 An image that is iconic and stirring to climbers of any generation: A smattering of holds, smoothed and scuffed up after years of use and thousands of attempted climbs. Photo: John Burgman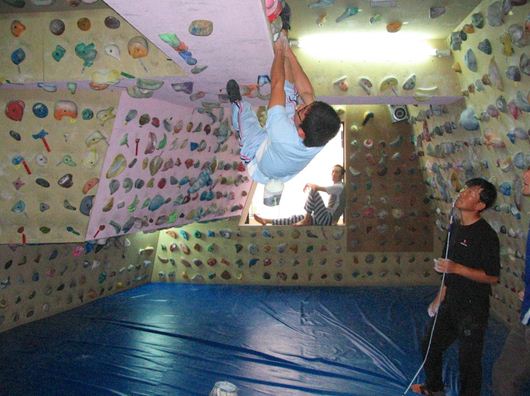 The ceilings of some small, old climbing gyms are barely higher than the height of an average person. But that never stopped climbers from creating endless routes and bouldering problems. Photo: Dan Kojetin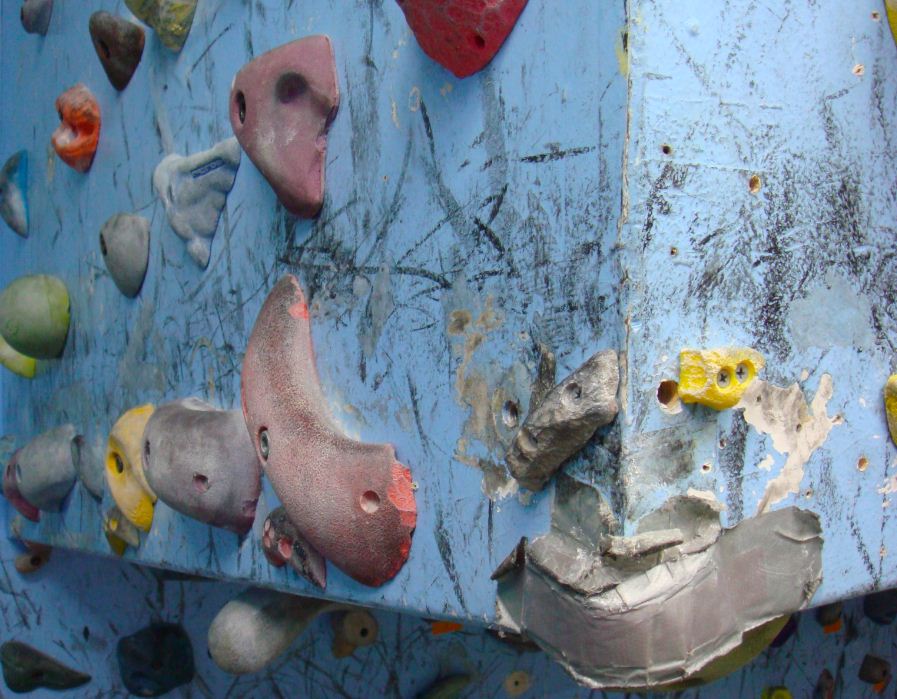 No old climbing gym would be complete without a little duct tape on the walls. Photo: John Burgman
The trend now is leaning the other way. It seems in the past year, I have read at least a dozen articles or blogs about the rise of indoor climbing and, subsequently, the evolution of indoor climbing spots moving toward swankier mega-gyms. One magazine recently ran a piece with the tag: "Indoor climbing could soon replace spin class as the urban professional's sport of choice." The same article detailed how newer, larger gyms "are a far cry from the urban training dungeons that sprang up in the nineties." Brooklyn Boulders, the 18,000-square-foot marvel in New York City, was the article's linchpin. And a few months ago, I read an announcement that a "state-of-the-art" gym will soon be unveiled in Chicago.
So what exactly are these newer gyms boasting? Sheer size, for one thing; more than 20,000 square feet is common. But they also feature fitness centers with cardio and weight training equipment, yoga studios, indoor lounges and outdoor patios, and of course, enormous gear shops. There's also the clientele – thousands of new climbers entering through the doors each year.
One particular magazine article I read recently profiled a forthcoming gym in Somerville, Massachusetts, and said the place will possess "areas for entrepreneurs, students, and businesses to flourish and get to know one another, not to mention access to the Internet and a glass enclosure with a fire place. Developers also have plans to include spots inside the complex for a rotating selection of pop-up style retailers to sell their products."
New indoor climbing gyms, it seems, are being dreamed of, proposed, and constructed in cities at a rate and to a degree indicating the onset of some type of Second Golden Age of Climbing. Perhaps it's too early to tell for sure, but it's also worth noting that many parks, malls, fitness gyms, and university health clubs constructed now also include at least some semblance of a climbing wall, and have for years.
I'm certainly not against this boom, and I realize aesthetics tend to naturally progress toward slickness, bigness, and variety. I was excited when I first read all these articles, and I will be first in line to check out some of these fancy gymopolises the next time I am in New York or Chicago or Somerville. At its core, such abundance of gyms means easy climbing access to a larger percentage of the population, and it would be selfish and short-sighted of any rock climber not to want future generations finding solace and fitness on the walls. And all the nice trimmings of these new gyms – larger spaces, nicer facilities – means newbies are likely to be less intimidated by the climbing clique, or turned off by the grunge.
Ultimately, more climbers indoors will lead to more climbers outdoors, which hopefully will lead to more stewards of wilderness conservation, more voices for prudent mountain and forest protection and maintenance.
But part of me also wonders if something will be lost in the grand evolution, snuffed out in the growth and development of the indoor gym entity. Climbing gyms have long embraced their grit and grime because being so rough around the edges translated well to actually being outdoors, hiking through the canyons, sleeping in the woods. Roughing it. And like being outdoors, the heart of the gym has always been the camaraderie, rather than the flair.
I'm not urging everyone to read this and go out and strike up a conversation with the resident old-timer at his local gym, or search out the most dilapidated, rickety shed of a rock gym and hop on the wobbly walls there. But I like appreciating the moment at hand as well, before gloss overtakes the grit. I think it's reasonable to think long and hard about what might be lost as indoor rock climbing gyms advance from being essentially devotee meeting houses to more exercise-oriented hotspots. Tales on the mats – whether factual or peppered with stretched truths and exaggerations – will likely become more truncated (the mats themselves might become more crowded), familiar faces in the gym fewer and farther between, a sense of community and identity at a given gym slowly fading away.
So it's just worth pausing to appreciate such threads of the climbing fabric while we still have them, that's all.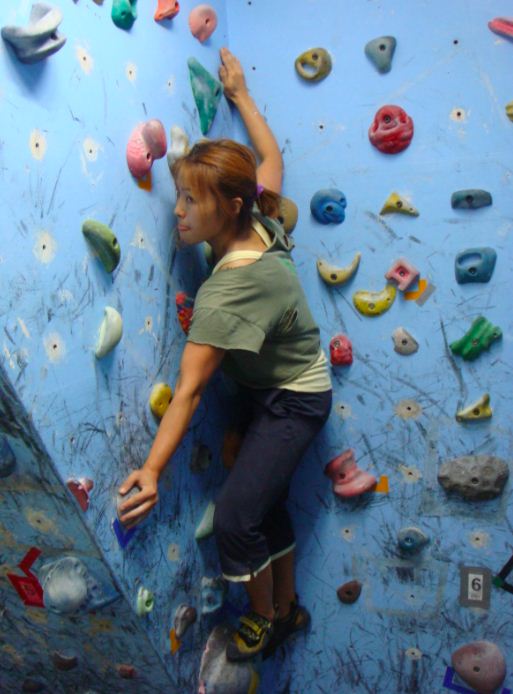 Thankfully, gravity is the same no matter how fancy a gym is. Photo: John Burgman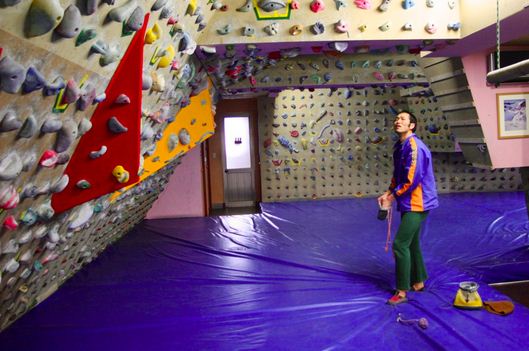 In a big, fancy gym or a cozy cavern of holds, taking a deep breath and a step back before your next attempt can make all the difference. Photo: Dan Kojetin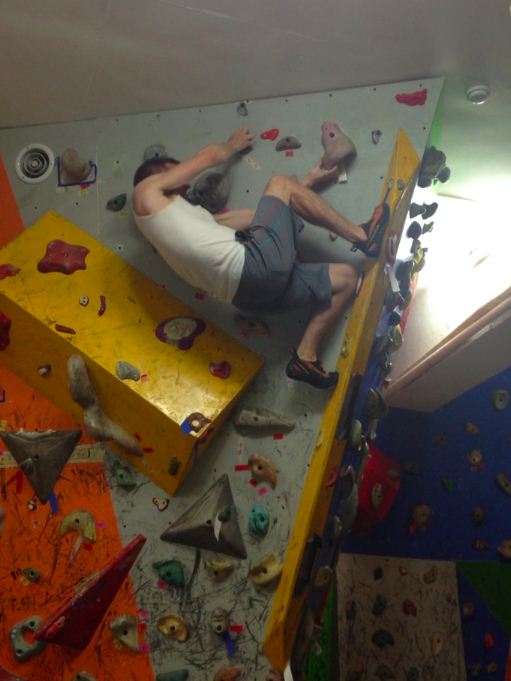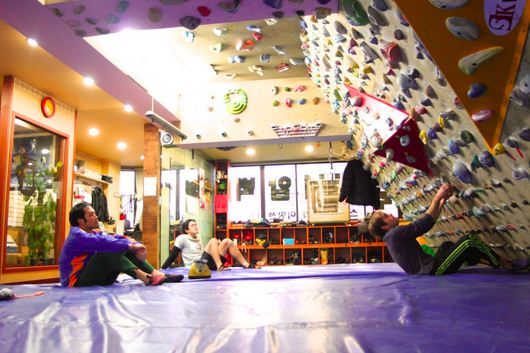 I suppose these are the same nostalgic feelings people have always had about their special climbing honey holes, just amplified and adjusted to a new urban landscape.
I currently live in Seoul, South Korea. My go-to indoor gym is a no-frills bouldering facility within walking distance from my apartment. I have become good friends with the owner.
If I want a somewhat swankier gym – one for sport climbs, for example – there's another gym that is located on the other end of the city. There's a retail store on the first floor, a table-and-chairs lounge on the second floor with free weights and a flatscreen TV. It's the gym where most of South Korea's top rock climbers train on a frequent basis, and it's certainly impressive.
But oftentimes I'll get my climbing fix by going to my little nearby gym early in the morning. I'll have the place practically to myself, and I'll shoot the breeze with the employees for an hour or so before attempting a handful of bouldering problems. At night, the place fills up – students from the nearby university, office workers, kids and older climbers congregate ritualistically below the gym's main overhang. But if I happen to be there in the evenings too, I'll partake in creating a route on the overhang with everyone else. We'll discuss the holds, visualize the geometry, chalk up, and rouse each other as we make our respective attempts, fail, and attempt again.
The best part of the experience, perhaps, is that we know we'll all see each other again the following day at the gym – same time, same place. The addictive nature of bouldering on the old overhang will keep us coming back time and again, sore muscles and all, no frills to speak of – one big, happy, dirtbag family under one roof. No fancy accouterments needed.