Mālama Honua: Hōkūle'a's Voyage of Hope
Nainoa Thompson
/
28.03.2017
/
3 Min. Lesezeit
/
Gemeinschaft
Part 4, Right Direction
Since Hōkūleʻa was launched in 1975, we've seen that this magical vessel has the power to connect, inspire and transform communities and people. Carried upon her decks, Pacific peoples have revived the art and science of celestial navigation, wayfinding and deep-ocean voyaging that lay dormant for 600 years. Voyaging aboard Hōkūleʻa for the past four decades has taught us to look to the past to strengthen our future; to bring the technology, wisdom and values of our ancestors into the present; and to call upon them to help us navigate to a brighter destination for our Island Earth.
Just as Hōkūleʻa was a beacon of hope born from the struggles of the 1970s, we embarked on this first-ever Worldwide Voyage to help shine the light of hope on over 100 communities that are taking action to solve the greatest environmental and social issues of these challenging times.
Sailing around the world, we've found that people everywhere are more alike than different. Our values, traditions, histories and legacies are human values, traditions, histories and legacies—we're one global family. And yet people all over the world are suffering. When we pause to do the math—graphing the degradation of our oceans and other limited resources with the rise in human population—we're faced with the stark realization that it's not going to work. People, land, oceans, air—all are suffering under the stresses of our current lifestyles. Many of the choices we unknowingly make are impacting the quality of life of our global family and the planet we share.
On Hōkūleʻa, we make thousands of observations every day to tell us if we're moving in the right direction. What if all of us, in our everyday lives, employed the tools of wayfinding to inform our decisions? What if with every bite of food we consumed, every piece of trash we threw away, every dollar or cent we spent, we thought with intention about what we were supporting? What if we became active investors—defenders and protectors, even—in our future and the future of those around us?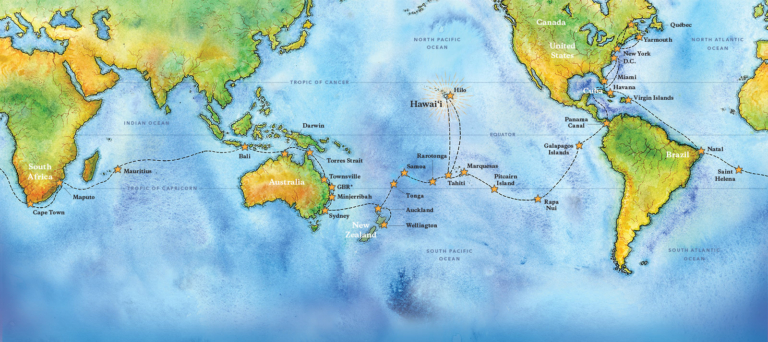 In the course of the Mālama Honua voyage, we've witnessed people from every walk of life taking action to make our world healthier and safer for future generations. We've stopped in a hundred ports and met thousands of people, but we know this is only a thin thread we have been able to weave through these precious flowers—stories of hope—in the few parts of the world we've been blessed to travel. We can only imagine the thousands of stories and journeys being created by millions of people every day, people united by a common culture—not a culture defined by race, geography, language or economy, but one defined by the values of kindness and compassion. Millions of strangers united by a common heartbeat are creating a movement to care for Earth and her people. From within this movement emerges the starlight we need to follow to find a better destination for our Island Earth.
Every act of kindness of any person, in any community around the world, is an act to better the entire earth. Join us as we celebrate and honor those who came before us—and protect those who will walk in our footsteps—by taking action of your own today.

NOW AVAILABLE
Mālama Honua: Hōkūleʻa – A Voyage of Hope
This beautiful hardcover book chronicles Hōkūleʻa's epic mission to nurture worldwide sustainability. Interwoven with descriptions of Hōkūleʻa's experiences in port are the voices of the master navigators and crew members, who guide the ship along the ocean's trackless path, and the local pioneers—scientists, teachers, and children touched by Hōkūleʻa—who work tirelessly to weather the many environmental challenges of our modern lives. 320 pages, with full-color photographs throughout.