Backyard Adventures: Ice Climbing in Rocky Mountain National Park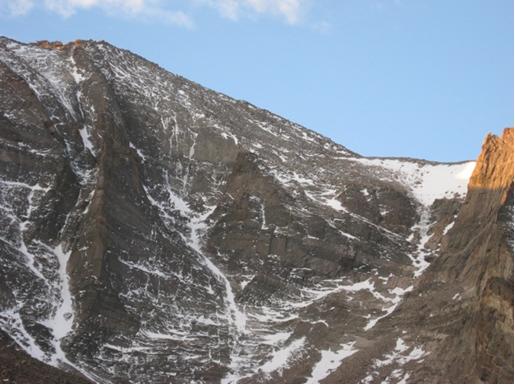 Gather 'round the virtual campfire friends. It's time for another Backyard Adventure from The Cleanest Line masses. This time, reader Doug Shepherd has a story to share about ice climbing near his home in Colorado:
I have been climbing in Rocky Mountain National Park since I moved to Colorado five years ago, slowly gaining the confidence and familiarity that come with climbing in my backyard. Over that time I have learned the history, forged amazing bonds, experienced more failures than successes and developed an infatuation with climbing ice.
[The North Face of Mt. Meeker. All photos courtesy of the Doug Shepherd collection]
The ice climbs in the Park can be fickle and intimidating. Almost as intimidating is the tradition of amazing locals constantly pushing the boundaries, generation after generation. Earlier this fall, a line formed on the north face of Mt. Meeker that I had never seen before. I had heard rumors of climbs in this area, but never seen anything myself and wondered if this was another "hardman" line. I called a friend and we had a leisurely start on the Longs Peak trail, anxious to see what the mountain had in store for us.
Encouraged by the beautiful day and prospect of good ice, we quickly broke trail up the approach gully to the bottom of the climb and were stoked to find a continuous yet thin line of ice. I was anxious to climb and my friend was skeptical of the ice, so I lucked out and got to lead all day.
The first pitch was fairly thin and brittle, but the smile on my face just kept getting bigger as I picked my way up the ice.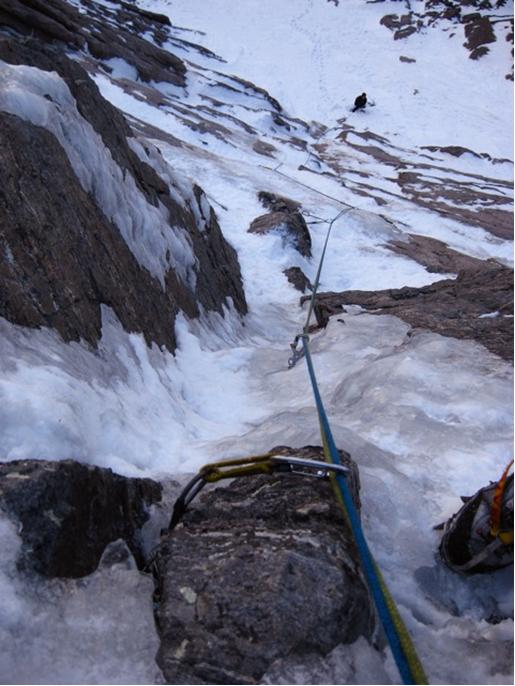 [Grinning the whole way up the first pitch.]
The next section of ice looked thicker and again my friend handed off the lead to me. Who was I to protest? After an amazing runnel section, I reached an extremely thin curtain and realized that I just didn't have it in me to commit to the (at most) two-inch-thick smear. I was crushed. I traversed off the line and set an anchor, brooding the whole time my partner was following the awesome runnel. I was already promising myself to find someone stronger to come back with so I could finish the line.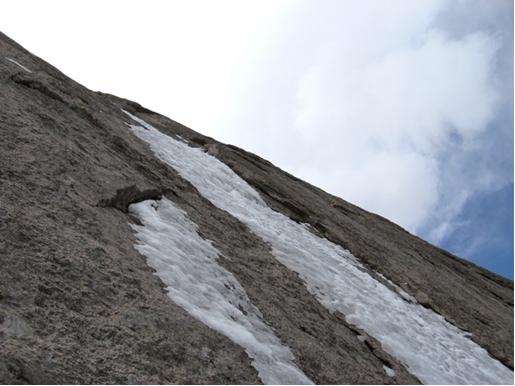 [True motivation: unclimbed terrain.]
All week my failure gnawed at me. I didn't know what to do and couldn't find anyone to head up with. Out of the two amazing Estes Park climbers I know well enough to go climbing with, one was out of town and the other was going up to climb the line with another mutual friend. I was supposed to get out at the end of the week with a visiting climber, so I figured I would just haul him up to the Park and see how things went.
It is always fun introducing your favorite local area to a visitor. And it is even better when you can take them up a line that hasn't formed for a decade! After a decidedly late alpine start, we arrived back at the base of my now larger-than-life nemesis. I handed off the first pitch and sat contemplating the thin curtain waiting for me above. When the rope came tight I was fired up to tackle the challenge ahead.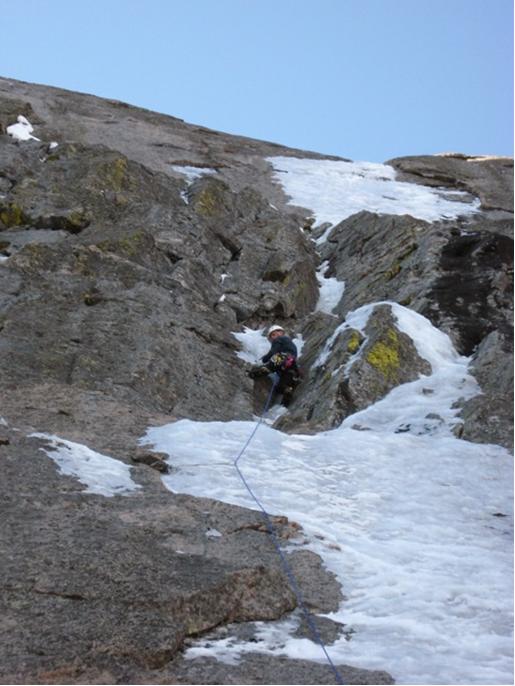 [Sharing the wealth on the first pitch.]
Following the first pitch in a mix of anxiety and excitement, I gave myself the first screaming barfies of the year and then it was my turn on the sharp end. I looked at the rope looping over to the rappel anchor from the week before (running through nothing) and set off. After what seemed like an eternity, I finally managed to get a piece of gear in and started to breathe a little easier. Some extremely thin moves over an overlap and an awkward mantle led to thicker ice and a real crack, with real gear. All of the stress I had been ignoring suddenly left my body and I let out a scream and started babbling about how amazing the pitch was.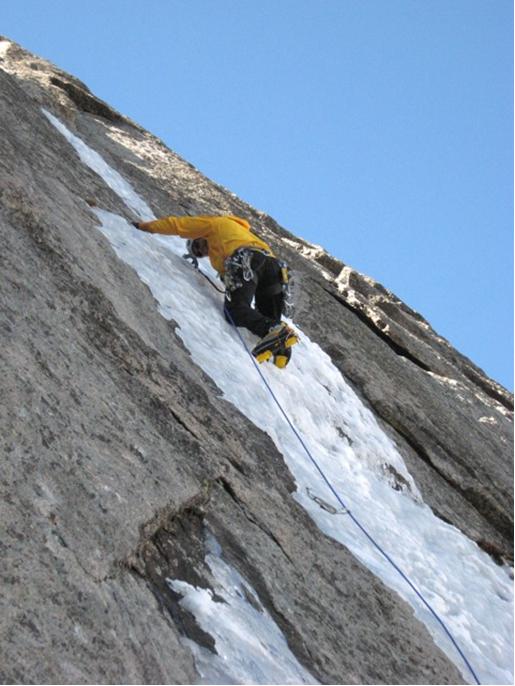 [At the overlap on the second pitch with the one good piece below me.]
All that remained was an awkward roof/moss crack that my partner dispensed with after clearing out quite a bit of moss and thankfully not finding a dead bird in the crack as I would come to find out another party had!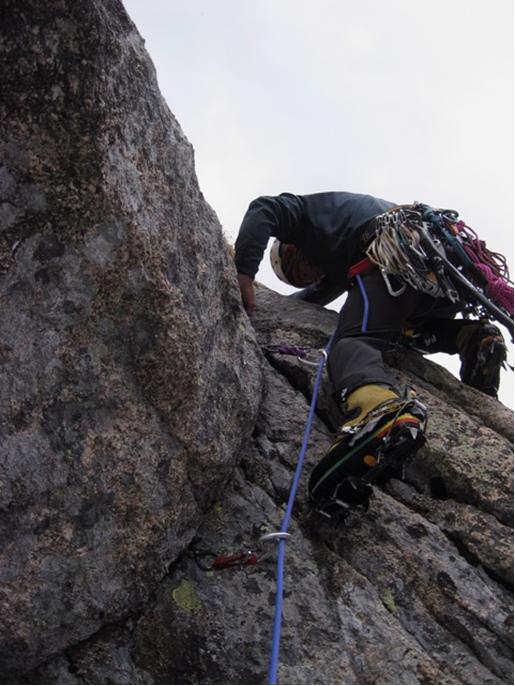 [Finishing out the climb on the "dead bird" pitch.]
After reaching the final belay, I started processing the fact that we had finished the route. We had just bagged one the best alpine routes I have ever done in the Park through luck and perfecting timing. The high that I gained from the route has slowly faded, but the confidence from meeting the challenge on my own has helped me have my best season of ice and mixed climbing so far. But what has stuck with me the most is the fact that Duncan Ferguson did the line 20+ years ago, and as one of those Estes climbers that I admire told me after he climbed the route:
"just awesome. i think we're all still playing catch-up [with Duncan], but no matter, as it was such a great time up there."
That is really what it all comes down to, right? Having a great time in your backyard.
Bio: Doug Shepherd is a physics/chemistry graduate student who splits his free time between climbing and his very understanding wife. As a friend of his put it, "graduate school supports his climbing habit." Doug says he loves living in Colorado and having Rocky Mountain National Park in his backyard, "not just because of the climbing, but mainly because of the amazing relationships I've developed through climbing there."
———————————————————————————————–
Our thanks go out to Doug for sharing his story and photos. Stay tuned for more backyard adventures from Cleanest Line readers like you – we'll be running them on and off for the rest of the month (probably longer).
Previous stories:
The Power of Imagination by Dave Anderson
The Fine Line Between Danger & Adventure by Craig Metzger