For those of you who don't know surfing, Gerry Lopez is an icon of the sport. Since the late sixties, Gerry has made surfers from around the world hoot with hyper fascination as he dazzled them with his tube riding prowess. His flowing, effortless grace in heavy-water situations is revered by surfers worldwide. Famous for his unique style of surfing on the north shore of Oʻahu, he was dubbed "Mr. Pipeline" because of his approach to one of the greatest and most dangerous waves on the planet.
On land, Gerry carries himself not dissimilar to how he surfs. He lives with the comfortable ease of a true yogi, a man at peace with himself and the universe. And on the mat, at age 67, he can still raise himself from a seated lotus position into a handstand, or lay flat on his stomach in a seated split.
Last summer, I was lucky to catch an invite to Gerry's yoga retreat at Uluwatu on Bali's Bukit Peninsula. I have been practicing yoga since I was 12, when my dad told me it makes you surf better. So I was pretty psyched, to say the least, when I heard I was going to the retreat. I usually live out of my backpack or truck when I travel, camping and hoboing to far off places, but this was luxury—five-star huts with a zen vibe and full-on Feng Shui. Watching long, green Indian Ocean lines march toward a tropical shore while practicing yoga with Gerry Lopez was going to be awesome.
Here is what a typical day was like at Gerry's retreat.
Sunrise
Each day I woke up at first light and walked to the cliff for a surf check. The sun would rise behind and to my right, sending golden rays of light across the endless blue corduroy swells. I would sip my morning tea there as other retreaters slowly made their way out to catch the view.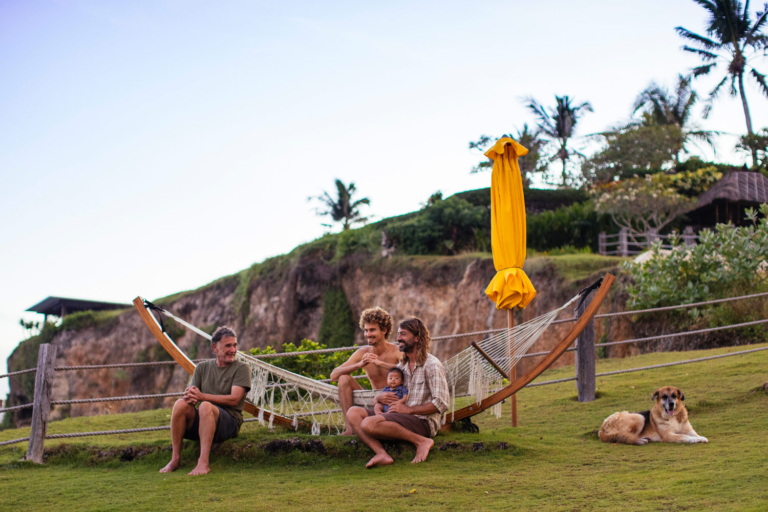 7:30 a.m.
We would all meet at the yoga studio where Gerry, or one of the other teachers, would lead us through an hour-and-a-half practice. We would sweat, smile, laugh, push ourselves to our limits and find deep relaxation. Each class left me feeling amazing, exhausted yet energized at the same time, and with a euphoric sense of peace.
Before the retreat, it had been years since I'd felt any improvement in my practice. But being immersed in the wisdom Gerry and the other great teachers provided, I felt real change. I became stronger and more flexible, my breathing deepened and my mind loosened its grip on the superficial, spastic thoughts it so easily conjures at times.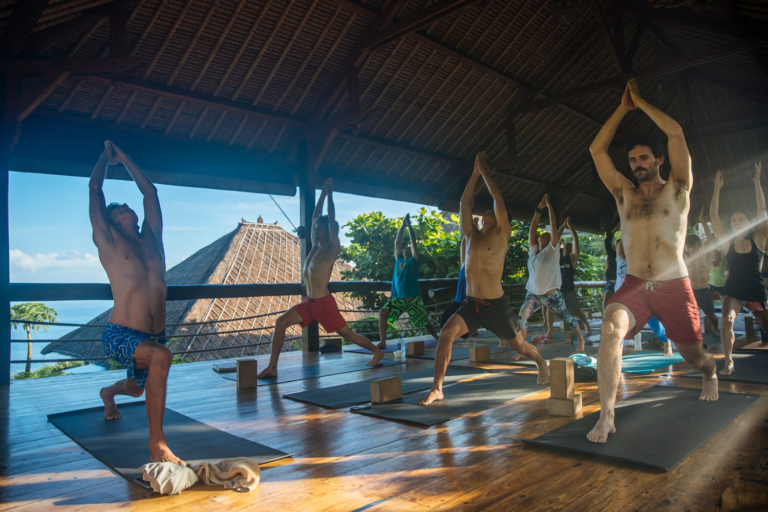 9 a.m.
When yoga ended, we would walk downstairs for breakfast. Myna birds screamed and stands of banana trees bent in the tropical breeze. The air was heavy with rotting mangoes and moped exhaust. Bowls of fresh fruit, granola and yogurt nourished us. We were fed some of the most creative and delicious meals I have ever eaten, and it was all very nutritious. My favorite dish was the shredded jackfruit tacos.
10 a.m.
After breakfast we'd get out for a surf, dive, dip in the pool or head back to the room for a massage. The waves were amazing. Dreamy emerald walls created by huge storms in Antarctica send so much energy toward Bali it has become a mecca for surfers. Gerry first surfed the peninsula in the early seventies and he still picks off solid set waves. Where most his age are reclined in sofas, he was crouching under thick green lips. Watching him and fellow legendary surfer Wayne Lynch, who also attended the retreat, was crazy inspiring to me! Wayne still has the same aggressive, power-based style that he did in his prime. I saw him tear the lip off meaty sections, wrap powerful arcs in the pocket and send water off his rail, high into the air.
The fish were also plentiful. Kimi Werner, who is one of the world's best freedivers, brought a few of us out one day. She was magnificent. With a bottom time of around two minutes, it seemed that no fish in the ocean had a chance against her and her spear. Her flow and ease underwater gave me chills as I imagined the similarities to how Gerry surfs. She would select a couple of nice fish and grill them to perfection to share with all.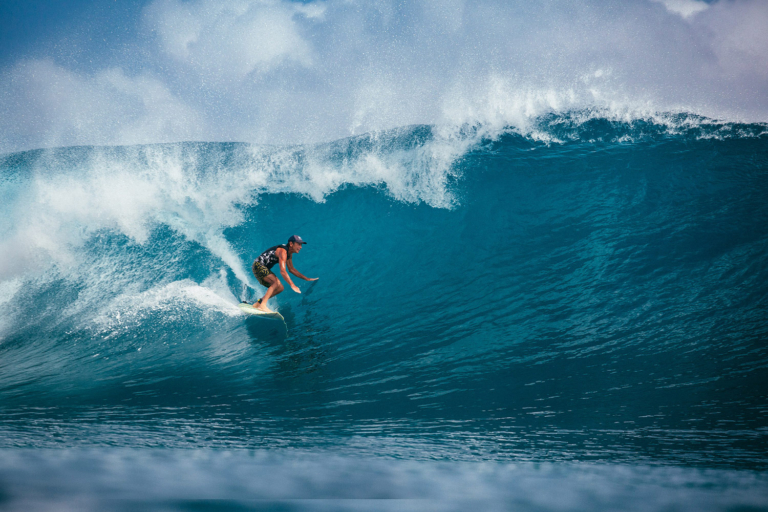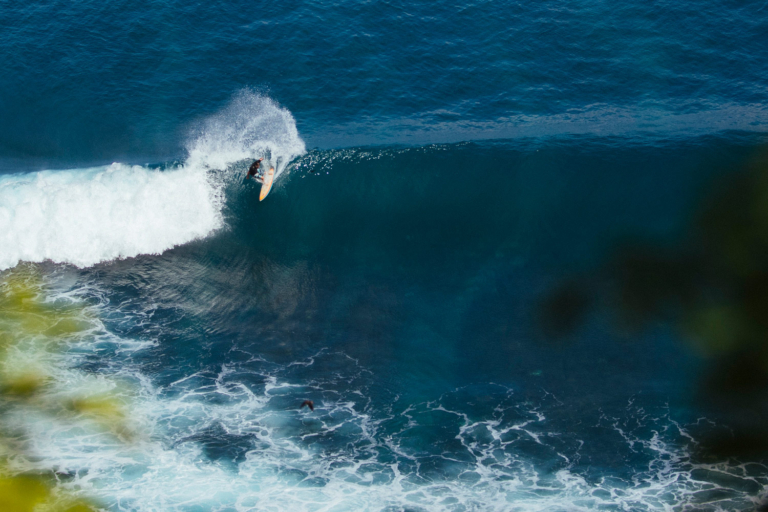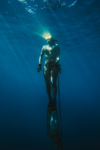 1 p.m.
Lunchtime meant it was back to the dining room for another epic meal. After hanging out and digesting for a bit, we'd hit the water again.
One wave from my trip stands out among all the others. It was peak low tide and most waves were washing through. Every now and then one would double up and hit the reef just right, grinding across sharp coral heads and dangerous ledges. I took off late and sideslipped in, dragging my whole left side in the water. The lip threw out and through the turquoise tunnel all I could see was the face of the wave as it bent down the line. The wave spat behind me and accelerated my board as I held on with my left hand. As the mist cleared, I could see that the barrel was going to continue for a ways. I sat back on my butt and left thigh, positioning myself in the sweet spot for a few more euphoric seconds before finding the doggy door and standing tall with pride.
5:30 p.m.
At 5:30 we would reconvene for the second yoga class of the day.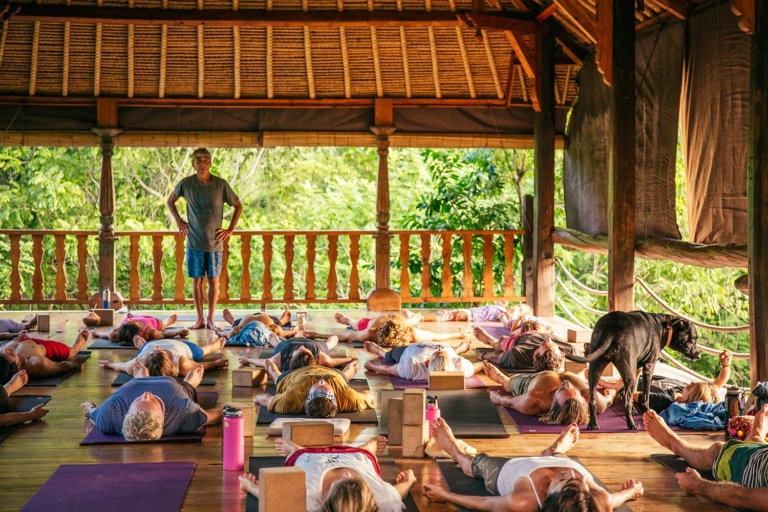 7 p.m.
Dinner time.
8:30 p.m.
Thoroughly spent, we were usually in bed early. Then wake up and repeat!
To anyone who has the opportunity, I highly recommend Gerry's retreat in Uluwatu.
Gerry's next Bali retreat will be in September 2017 and Kimi Werner will be holding a retreat of her own in June. Check the calendar at Uluwatu Surf Villas for details. To learn more about Gerry's first trip to Uluwatu in 1974, and his return 40 years later, check out our new video, The More Things Change.