The Flight of the Farmer
As the proprietor of Cold Antler Farm, a 6.5-acre span of land in Washington County, New York, Jenna Woginrich spends her days with red-tailed hawks.
Beneath an opaque grey sky, Jenna Woginrich holds her breath, left hand aloft and sheathed in a thick leather glove, a chunk of half-frozen rabbit meat she harvested during the previous day's hunt raised in anticipation. It has taken weeks of trust, of careful attention and dedication, to reach this moment. She doesn't take her eyes from the dark silhouette circling overhead. The strike is swift and deft, then the bird, a juvenile red-tailed hawk named Hamish, flies away, leather jesses trailing.
Seconds pass before Hamish glides back to Woginrich, perching on her still out-stretched arm as he tears the rabbit meat apart with his beak. Slowly, she reclaims the dangling jesses in her free hand, her face inches from the sharp talons. As Hamish finishes his meal, Woginrich sighs in contentment. It's moments like these that remind her why she chose the path less traveled, one full of falconry, farming, hard manual work and intrinsic rewards like this one.
But she didn't get there overnight.
Parked in front of a white farmhouse built in the 1860s is an old brown-and-white truck pockmarked with rust, a small rainbow "Pride" sticker on the bumper. Cold Antler Farm is a 6.5-acre span of land patchworked with hills, gullies and forest in Washington County, New York. As the proprietor, Woginrich spends her days raising sheep, pigs, chickens and vegetables and hunting rabbits and other small game with red-tailed hawks. Eighty percent of what the farm produces goes toward her own self-sufficiency, and she keeps the home fires burning—literally—with local wood.
"I come from a very conservative, traditional Catholic family, and I'm, you know, a lesbian farmer-falconer in the forest who works from home," says Woginrich. "I don't think that I decided to farm—it just happens to you. I got hooked onto homesteading after a quick study, producing more of my own food and home goods. It was just the most wonderful buzz to be able to take care of myself in a way that connects me to humanity."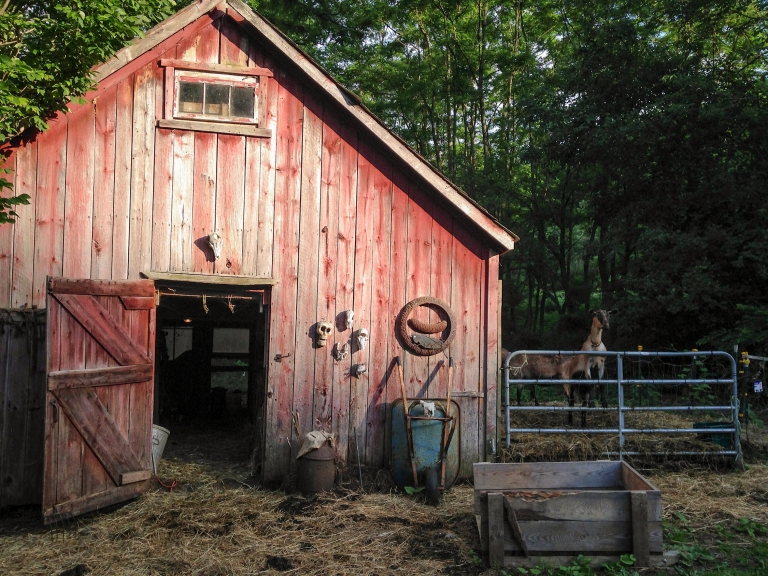 Woginrich spent a good chunk of her formative years working in the corporate world, hopscotching along in graphic-artist jobs that took her from her home state of Pennsylvania to the southern mountains of Tennessee to the Northern Rockies in Idaho. When she was 27, Woginrich came nearly full circle, stumbling upon a rental near Vermont's Green Mountains that allowed her to finally dabble in a slower existence—one for which she had been secretly pining away.
"I got rid of a car payment. I don't have a cell phone," says Woginrich. "When I lived in cities, there was always this undercurrent of understanding that without my current supermarket, I would be in a lot of trouble. But now, I have my own pond, stream and well and access to land where I can grow my own food and graze my own animals. When you live off the land and live closer to home, it connects you to seasonal living in a way that's very rewarding."
Soon after settling into her new home, Woginrich decided to buy starter chicks and seeds from the local feed store. She started spending her nights reading about backyard farming, raising chickens and growing vegetables so she could practice these new skills on a scrap of land that wasn't entirely hers. That tiny taste of self-sufficiency ignited a spark that she needed to feed. Soon, she found herself cultivating her own homegrown farm apprenticeship that she gleaned through a hodgepodge of sources: YouTube videos, message boards, plenty of books and conversations with other local farmers.
And she started documenting her progress through a personal blog and, eventually, in several books and memoirs, gaining a steady stream of both supporters and, unfortunately, trolls. The lines started blurring between her chosen farm life and her internet existence when she started receiving surprise inspections from the local police who had to check in on anonymous tips that her animals were unhealthy or unfed.
"There was a lot of naivete that went into my decision to share my life like that," says Woginrich. "I took a lot of things for granted—I assumed people would understand that there would be mistakes made along the way. There were all kinds of ups and downs with agriculture you would expect."
One day, she posted a picture of her horse lying down in the snow, head up and staring right at her, enjoying the sun on a winter day. Local police arrived at her farm days later along with an animal-control officer to investigate reports that her horse had no shelter and was lying in the snow, sick. Nothing was wrong with the animal. The police apologized for disturbing Woginrich but cautioned her about oversharing on the internet and stated that they couldn't ignore a report—even if the person who supposedly tipped them off was hundreds of miles away.
"I used to invite anyone's comment, anyone's email, anyone's input, but it got to the point where it was burying me in pressure," says Woginrich. "It was bad for me as a writer, but it was worse for me as a farmer. I had to make some really hard boundaries and stop inviting the public in."
To do this, Woginrich took several steps: the first of which was to stop listening to everyone who told her she was doing it wrong. She also realized that no matter what she decided to do, living a life publicly in the social-media spotlight meant being judged from people who thought they knew better—even if they didn't.
"Being a woman, living the life I want to live publicly is enough to piss a lot of people off," says Woginrich, who stopped holding on-farm events and activities, even though they would have ended anyway during the pandemic. "People are already upset that you're a woman, single, living alone, owning a farm, living a life you want, not taking on the role of parent or wife. And when you're gay on top of it … I had to let go of everyone's evaluation of my life besides the people I love and myself."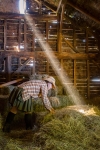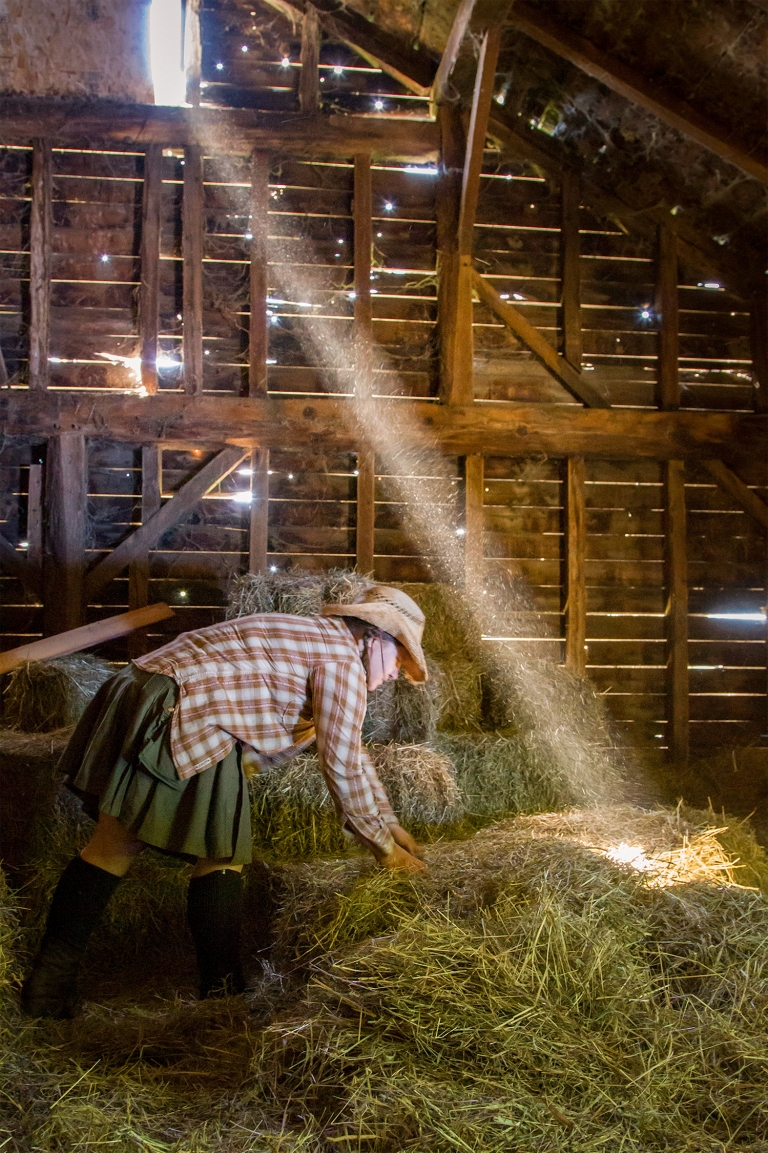 To Woginrich, falconry is another part of her nontraditional life that she wouldn't trade in a million years. She views it as a somewhat forgotten but timeworn tradition that helps produce ethical meat for her table.
"Hunting and farming and rural life have always been pretty closely tied together, especially among homesteader types," says Woginrich. "I've always been a hunter. I was raised by hunters on my father's side of the family; my mother's family were butchers. I've always desired that animal partnership."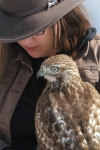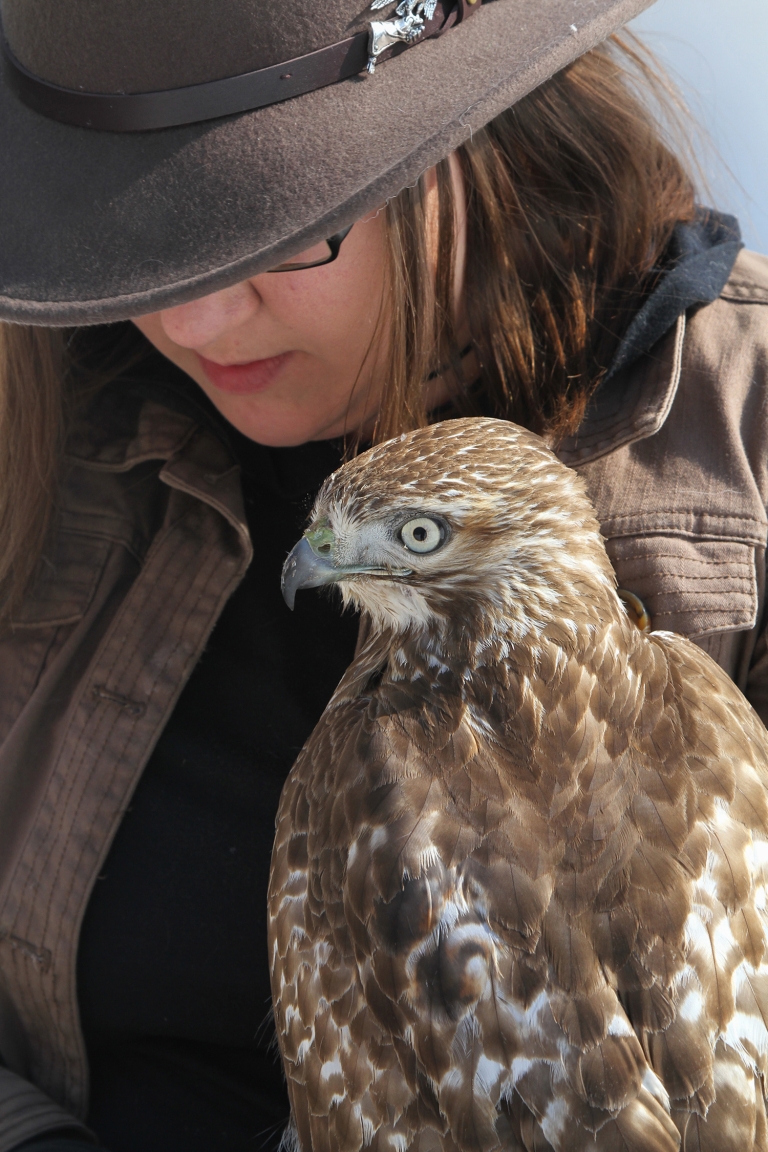 Falconry is not an easy path; it's a lengthy process that includes finding a mentor, passing a rigorous, federally regulated test, building a mews (housing for your hawk) that passes inspection and completing a two-year apprenticeship. It also includes purchasing very specific equipment like leather jesses that act as a hawk "leash," leather anklets for the jesses to attach to, a full-cuff gauntlet (or falconer's glove) and hoods, which birds wear to stay calm. Regardless, when Woginrich decided to trade desk life for farm life, it made perfect sense to her to pursue this other passion.
"I think the same year that I quit my corporate gig, I ended up getting a British Draft pony and taking up falconry," says Woginrich. "I was learning to drive horses and ride at the same time I was learning to work with birds of prey."
Woginrich views working with her hawks, her draft horses and even her two sheepdogs, Friday and Gibson, as a way to create relationships—or partnerships—with animals that go beyond cuddles and caretaking. That means doing as many tasks on the farm with her animals as she can, whether that's herding sheep with sheepdogs, logging or riding with horses, driving a horse cart or hunting with a hawk.
"That's been my biggest drive in both farming and falconry," says Woginrich. "I like the idea of doing difficult tasks, human and animal together. Horses instead of tractors; sheepdogs instead of ATVs."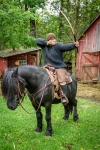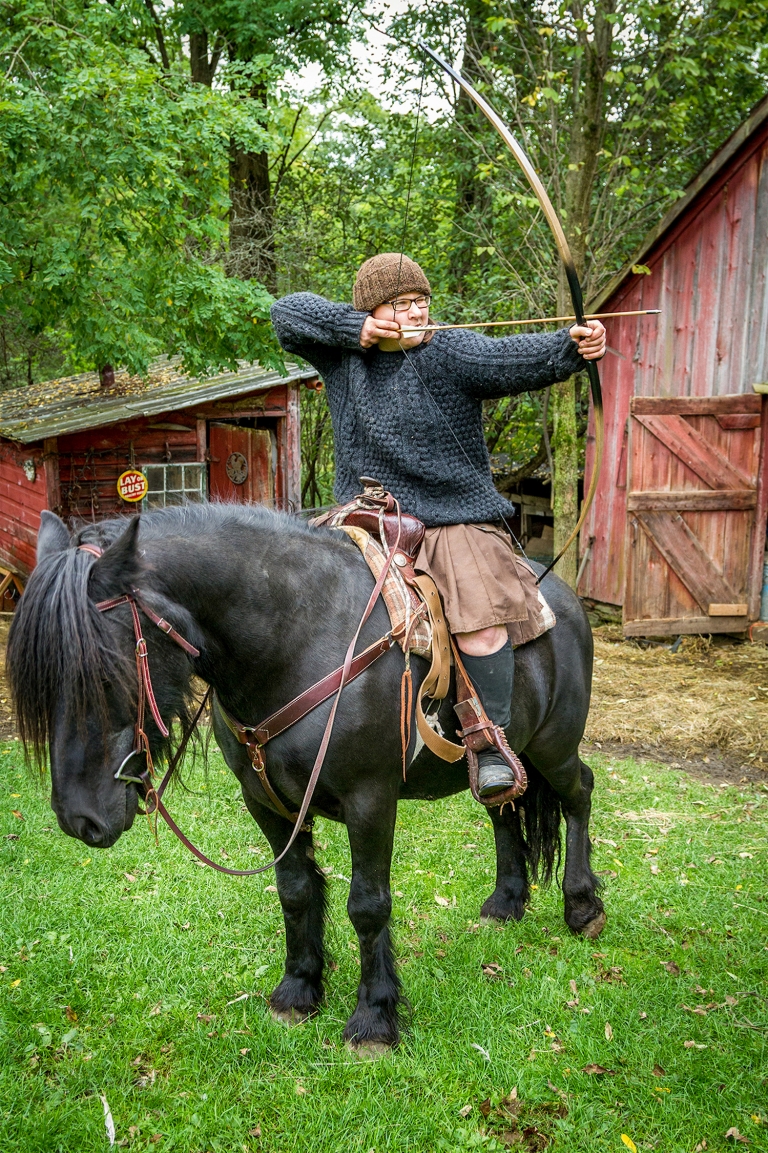 Now, after nearly a decade since she traded her office life for greener pastures, Woginrich has learned the balance of farm chores and freelance. Side gigs like writing articles, selling handmade goat-milk soap and drawing pet portraits and company logos help pay the mortgage and allow her to buy cords of wood to heat her house and bales of hay to keep her sheep, goats and two horses—a Fell pony named Merlin and a Belgian/Paint cross Draft horse named Mabel—well fed. She rounds out the rest of her simple existence with food and fiber she grows on her own, though sometimes she barters with a fellow farmer.
"There's actually a lot of bartering in my life now," says Woginrich. "I just did a quarter of a pig for a big hay delivery for the farm. We also trade locally for firewood. There's a huge amount of bartering that happens in rural America when it comes to homesteading."
While she's consciously unplugged for the most part—using an old e-reader to post on Twitter or Instagram—and doesn't own a television or smartphone (she relies on an old rotary clunker hooked up to a landline to talk to friends and neighbors), Woginrich says she can't think of a better life: owning her own house and land where she can grow her own food and graze her own animals surrounded by a friendly farming community that's in her corner. And, after not dating for a long period of time and doing all of the work solo for nearly as many years, she's able to share it all with her new partner-in-crime, Shannon.
It's that homesteading with heart that leaves Woginrich so full, an outcome she's happy to sustain despite the bumps and wrong turns she made along the way.
"I wish I could go back in time and tell the 27-year-old who quit her job against everyone's better judgment to farm full time that it's like this. You'll like where you'll be," says Woginrich.