Rock Climbing Near Bariloche
Jeanne Young and I just returned from a rock climbing trip near Bariloche, Argentina. Beautiful alpine rock climbing. It's a five-hour hike into a lake basin where there is free camping and a hut. We ate dinner (and drank red wine) at the hut each night, camped out on the opposite side of the lake, and climbed 10 days in a row. Not bad. I hope these pics motivate you to get out for some spring climbing of your own.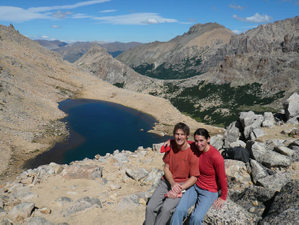 Once we arrived in Bariloche (we flew from Buenes Aires) we stocked up on groceries and camping fuel and then took a bus up to the ski area, Cathedral. A five-hour hike along the ridge gave us fantastic views of the lake country and the glacier-clad Andes to the east.  Finally, the trail brings you in above Laguna Toncek, the heart of the Frey area.
All photos by Steve House and Jeanne Young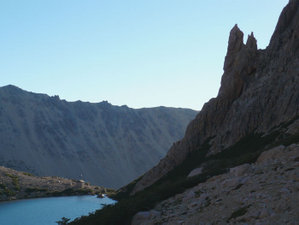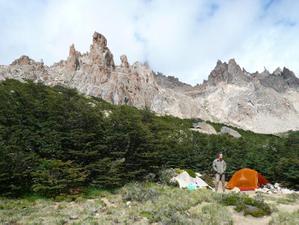 We elected to camp at the south end of the lake, away from the hut. But to save weight on the hike in we decided to get all our dinners prepared for us there. Hard to resist the temptation of pizza and a cheap bottle of Mendoza Malbec every night.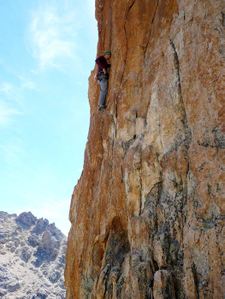 This is what we came for: perfect granite. Here Jeanne climbs a 5.10 pitch on the M2 spire.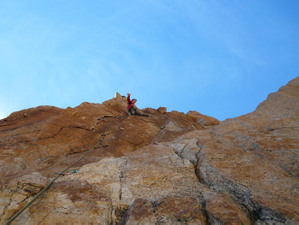 Me leading an 11a on the M2 spire. This was one of the best quality pitches we did the entire trip. Good moves on perfect rock with just enough pro to keep it safe. Most pitches here are protected with a combination of bolts and trad gear. I suspect that this is due to a combination of the discontinuous nature of crack systems and the fact that most of the development was done in the '80s. Though it seems hard for most climbers to remember, the '80s was a time where minimizing your drilling was (and still is) considered important. Plus, all of these bolts had to be hand-drilled which is further motivation for minimizing your drilling.  Jeanne and I only climbed established routes while here.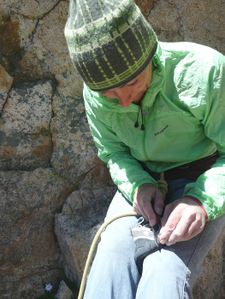 Jeanne brought the wrong shoes! She brought her tight sport-climbing shoes by accident.  Since she only had the one pair, and we were a long way from home, she got out the knife and started slicing. Eventually this provided her with a comfortable fit. And some Frankenstein rock shoes!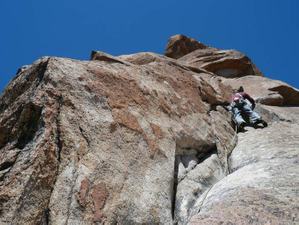 Jeanne leading on the classic "Sifuentes-Weber" route up the center of the Aguja Frey.  This five-pitch 5.9 offered perfect rock, but difficult protection (flared cracks) at the crux.  Really excellent climbing five minutes above the hut.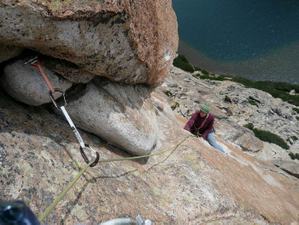 Here is Jeanne following a pitch higher on the "Sifuentes-Weber," Laguna Toncek is below.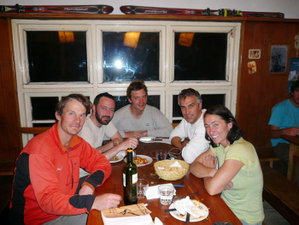 Having dinner at the hut was a great way to meet fellow travelers. Here are a couple guys from NYC and an Argentine to whom we offered a glass of the aforementioned wine.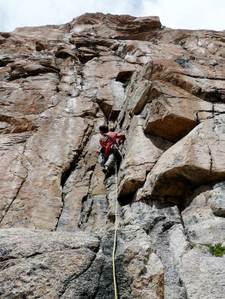 Climbing a route on the Pilares de la Tierra. Fine, featured, steep rock. So nice!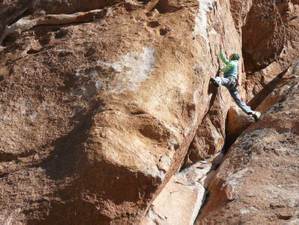 Jeanne climbing a pitch on El Tonto. We were beginning to think that all the climbing was on impeccably perfect granite. This 11a route followed a finger crack out to the nose, pulled a small roof, and then climbed the face above on perfect knobs. Pure joy.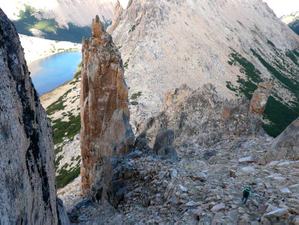 Hiking down past the M2 spire after climbing at El Tonto.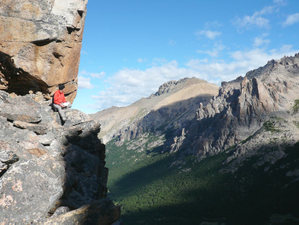 We wanted to go further afield and climb on some of Frey's larger formations. Here I am checking out the guidebook and trying to get oriented to all the climbing.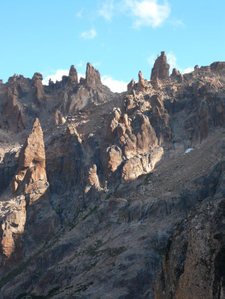 With so much to choose from it is difficult to know where to climb. The Aguja Cac (the spire in the lower-center) and the Muro de los Lamentos (upper right) were two of the features we never got to, but it looked like there was some stellar climbing there.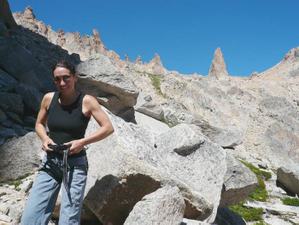 We decided to go for a Michel Piola route on La Banana. Here Jeanne is roping up at the base with the Campanile Esloveno behind her.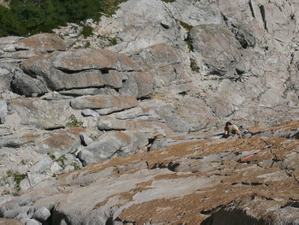 I know Piola's routes from Chamonix, France where the Geneva resident did a lot of development on the granite Chamonix Aiguilles above town. He usually has an eye for a good line. The first pitch of "On Marche sur las Lune" started off with excellent rock, but only 2 bolts for a 165-foot pitch it was a bit run-out, even for me.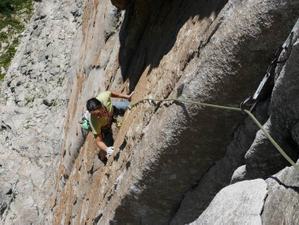 The climbing however, was on perfect granite edges. Above this pitch the route denigrated into a lousy gravelly chimney and we traversed right to another harder but cleaner route on the face. This was a good decision as all the face climbing on this feature was perfect.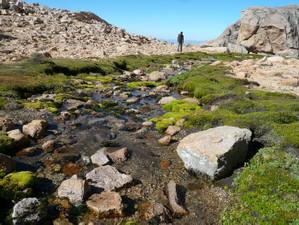 The next thing on our list was to climb the Campanile Esloveno. It's a long walk — it took us three hours from our camp — but we were rewarded by the best route we did on our trip.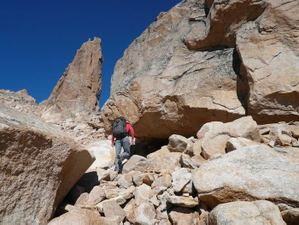 The Campanile is a beautiful spire set right on top of the ridgeline above the valley. The route we climbed, El Mundo que Espera, was five beautiful pitches long.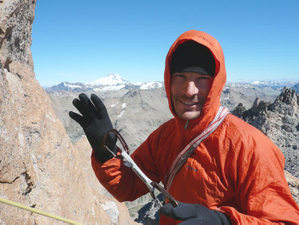 El Mundo que Espera: I was done waiting … it was windy and cold at the base and I was psyched to get started!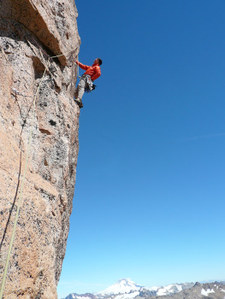 The second pitch followed a steep crack that led up to some fairly committing 5.10+ face climbing a ways above the bolts. I really liked it.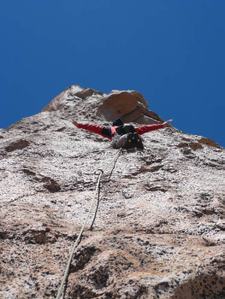 The rock on the Campanile couldn't be more perfect. Lots of climbable features. Superb texture. There were eight bolts in 165 feet with never a move harder than 10c and never a move easier than 10a. Some might find that a little run-out but I found that it was bolted very tastefully.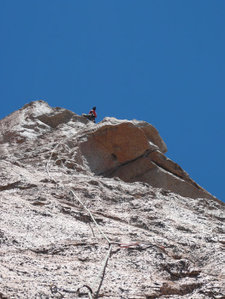 This was a full value pitch and we both agreed it was one of the highest quality pitches of rock climbing either of us had ever done! We appreciated all of the hours it must have taken to put this route up. Also it was nice to think of my friend, Rolando Garibotti, who established the route in 1998.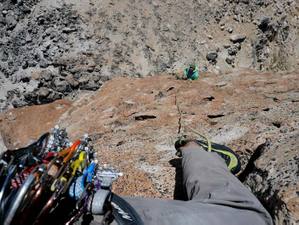 Looking down the penultimate pitch. Look at all those climbable features! Look at that perfect stone! My palms still get sweaty looking at these pictures.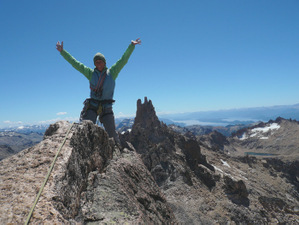 Jeanne was a feeling a bit unsteady on this tiny summit, the wind was gusting pretty hard and there was lots of exposure all around. The spire behind here is the Torre Principal, another peak with perfect (perfect!) rock. Behind you can see some of the lakes stretching back to the snow-capped peaks of the Andes and the Chilean border.
Jeanne and I on the summit. We had only a half day left to climb, which we spent doing a quick two-pitch route on a feature called El Piramidal.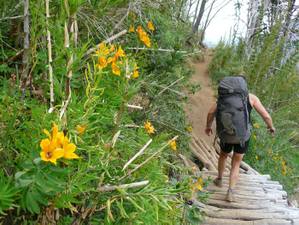 Jeanne hiking out on the very dusty trail and crossing a very rickety bridge.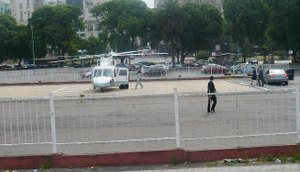 As we traveled through Buenes Aires on a bus we saw this woman leaving a helicopter and Jeanne snapped this photo. The other passengers on the bus informed us that the woman was their new president!