Renewable energy fight in CA spills over into BC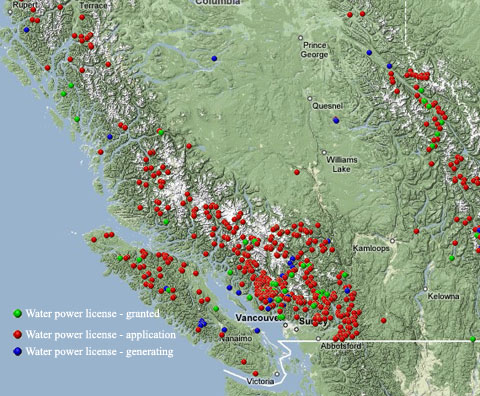 I recently received an email about the proposal by Pacific Gas & Electric, the utility that powers most of Northern California, to amend the renewable energy bill now making its way through California's state legislature. I was surprised to hear it could further accelerate the development of hydropower in the province of British Columbia in Canada.
Environmental groups say PG&E is proposing amendments to the Senate version of the bill (SB 14) in order to import power from B.C. that would not only be cheaper, but would also be classified as "green." When coupled with new state requirements to boost renewable energy, groups say this would further drive the recent "gold rush" for hydropower in the province (check out a map of current and proposed B.C. hydropower projects at http://www.ippwatch.info/w/).
The main two ways PG&E's amendments to SB 14 would do this is by a) increasing the size of hydroprojects considered green and b) making a project eligible if it complies with the regulations of the "governing  jurisdiction."
[Map courtesy Private Power Watch website.]

"This is problematic because California's laws are stronger than BC's," said Director of the California Hydropower Reform Coalition Keith Nakatani. "The current law is that out-of-state power must meet California regulations, so PG&E is trying to circumvent our law."
The good news is that Hydropower Reform Coalition says there's action we can take right now since there's a policy committee hearing on March 3.
They suggest contacting the author of SB 14, Senator Joseph Simitian, to make the following points:
Let them know that you oppose the PG&E amendments described above and understand PG&E has made several false claims:
1.  It isn't true that BC laws are stronger than in California.   
2. It isn't true that there will not be significant environmental impacts from BC hydro developments.
3. It isn't true that Canadian environmental groups do not oppose BC run-of-river hydro development.
Should you choose to call, ask to speak to (or leave a message with) his staffer, Kristin Stauffacher, at 1-916-651-4011.
It will also help to send her an email: kristin.stauffacher@sen.ca.gov.
Interested parties can also call Kellie Smith, Consultant on the Senate Energy, Utilities, and Communications Committee, at 1-916-651-4107, or kellie.smith@sen.ca.gov