Steve House Summits Emperor Face, an 11-Year Dream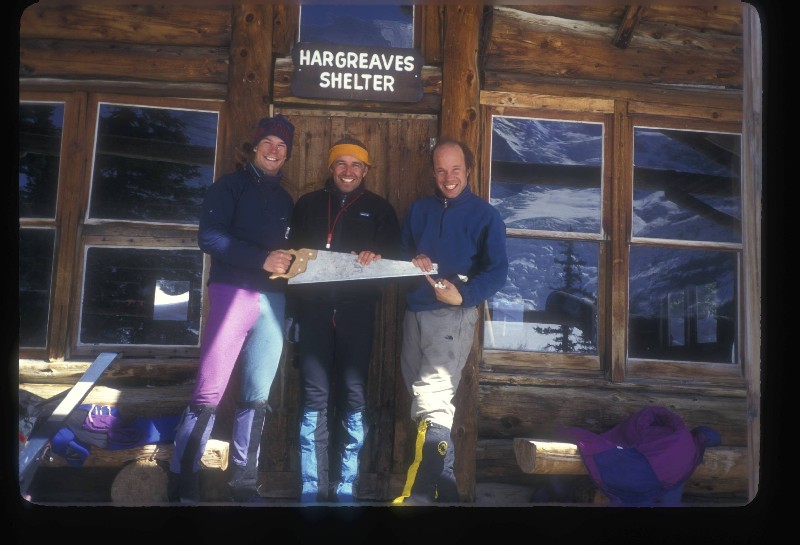 April 1996: We had a hundred acres to plant – Ponderosa Pine, Doug Fir, and Blue Spruce – but the nursery kept claiming that the seedlings were buried underneath persistent snow. I was cooling my heels in LaGrande, Oregon, waiting for the work to begin when the call came. It was Joe Josephson, inviting me to be the third with him and Barry Blanchard for an attempt on Mount Robson's Emperor Face. Thirty-six hours later I showed up with my homemade powerstretch tights (one leg green, one purple), a homemade expedition-weight pullover (that I still have for chores), and a jacket I sewed with $8 worth of fleece bought at a strip mall. We attempted two routes in two weeks. And though unsuccessful, the trip was my rabbit hole into the world of high-end alpinism with climbers who had done it before. After the trip, Barry, already a Patagonia ambassador, culled his closet for unused and forgotten pieces of clothing. I left with a new attitude and a new wardrobe to boot.
[Steve House, Barry Blanchard and Joe Josephson, April 1996. Note the tights on Steve. Photo: Steve House Collection]
May 2007: On Saturday afternoon, at 1 pm on the 26th to be exact, Colin and I stood on the summit of Mount Robson having completed a new route up the Emperor Face. I could barely see twenty feet in front of me…
We had started from our tiny camp at 4:30 am the day before, crossed the bergschrund (a "'schrund" is a crevasse that forms between the moving glacier at the base of the face and the ice on the face, which doesn't move), onto the face at 6:30 and started belaying at seven. Colin led the first block, the first set of pitches. They consisted of long swaths of clean, moderate ice separated by spicy steps of mixed climbing on the sometimes-unstable rock that the Rockies are known for. I followed, helping guide his route-finding from below. He climbed fast and built solid anchors: good attributes in a climbing partner. He led seven pitches, crossing a short, but difficult rock step down low, weaving up an ice gully behind a VW-sized chockstone, picking up a narrow ice seam barely as wide as one boot. As the second, it was my job to clean the gear quickly, get to the belay, get the gear to him ASAP, put him on belay, shout encouragement and make sure he ate and drank a little bit every hour.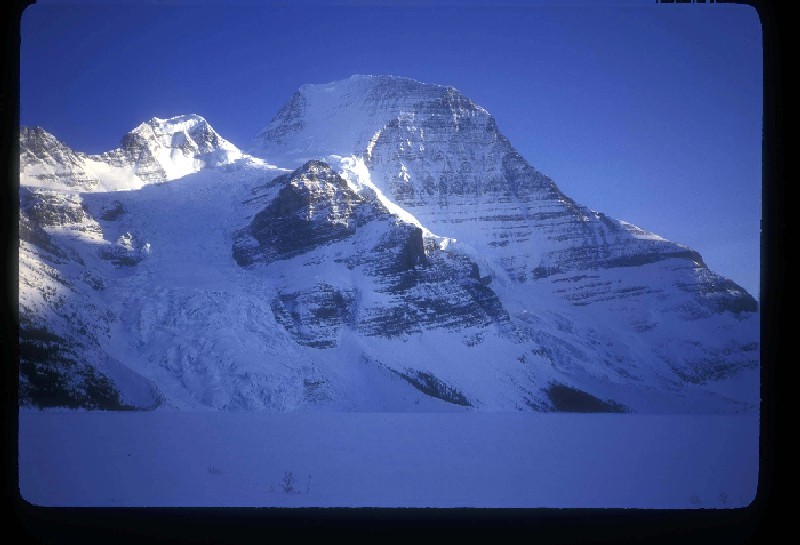 Sometime in the afternoon Colin had completed half the vertical distance of the face and it was time for me to assume the duties of leading. I climbed several pitches, crossing an easy rock band, weaving through compact rock slabs, all the while keeping an eye on the final headwall, which was sure to hold the most difficult climbing. And it did not disappoint – not only the most difficult but the most beautiful pitches came up high. A vertical ice runnel the width of my body led up to a spider-shaped ice field that was thirty feet wide. Another runnel ended just at the point where you could rock-climb six feet right and get into another, equally steep and beautiful strip of ice. And then the headwall itself: Two hard pitches of mixed climbing, steep and pumpy with lots of time on my arms. I was glad I'd been rock climbing so much this spring as I was able to work out stemming rests and get a few shakes in between cruxes. Cruxes consisted of standing on small square-cut edges with one front point and getting my tools wedged into a crack or set onto some hold that I could not see, but could feel and test with the pick of my tool. And then cut loose the feet and get them up onto the next holds.
Photo of Mt. Robson taken from Berg Lake. Photo: Steve House
By the time I finished this pitch we were at the top of the headwall and just a few hundred easier feet of climbing below the ridge. The sun was setting in the northwest as Colin arrived at the belay (it was 10:30 pm, but the days are long that far north). We chopped a ledge in the ice, dressed up in our Puff Pants and DAS Parkas and set ourselves down. Wrapped in a lightweight tarp we took turns holding the small stove to melt enough water for a few drinks and a shared freeze-dried lasagna. We passed the time by taking short naps. I would lean back with Colin's head on my shoulder. We would switch when somebody's butt went numb from sitting – Colin would lean forward, head on crossed arms, and I would lean in, head resting on his back.
By 5 am I'm leading again. And there is nothing like leading a pitch with 3,000 feet of exposure to wake you up; maybe better than a triple-shot extra-hot. Cresting the Emperor Ridge, we descended twenty feet onto the south face of the mountain and began a long traverse to the Wishbone arête. The Wishbone offered less-complex travel than the Emperor and we were disheartened when the summit gargoyles appeared in the cloud above us. Robson's gargoyles are a famous set of rime-ice mushrooms, not unlike the summit-decorations of Cerro Torre, and in winter and spring they can become daunting guardians of the summit. So we did what we could: we roped up and I led off up the crest of these fragile, yet somehow supportive, monsters of ice. Hoping that if one of us was spit off the other would be on the far side of the ridge to arrest the fall.
The summit of Robson means a lot to me. My routes in the Canadian Rockies are some of my proudest and best memories. To pursue the Emperor Face for so long, and then climb such a good route in good style and stand on the summit once and for all, makes it all the sweeter. Though I did see a nice line just to the left…
Summary: The first ascent of the House-Haley route (WI5 M8, 2500m) on Mt. Robson (12,989′), established by Colin Haley and Steve House from May 25-27. Our route is just left of (and shares the same last pitch with) Stump-Logan (VI 5.9 A2, 2500m), the first line that ascended the Emperor Face in 1978.
—————————————————————————————
Editor's note: Mt. Robson is the highest peak in the Canadian Rockies. As Steve hinted, he and Colin reached the summit during a whiteout. Their entire descent, down the Kain Route and the Robson Glacier, was done in whiteout conditions. Visit Patagonia.com for more on Steve House, including stories, photos and gear videos. Colin Haley's account of this climb can be read at Alpinist.com; another summary of this climb is available at Climbing.com.