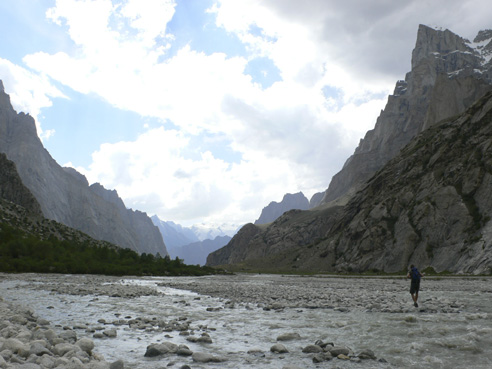 The Fall Alpine catalog just came out – or will be out soon – and has a theme of near-misses. Those climbs where we gave all we had but came up short. Anybody who's thrown themselves to the alpine knows the story, and in the catalog we share some of those specific tales. I wrote the intro essay (inside cover), about mine and Josh Wharton's 2006 failed attempt at the unclimbed north ridge of Shingu Charpa, Pakistan.
I love the theme of failure, and not just because it's my specialty in life, but because I've always admired those unwilling to succumb to irrational fear, willing to try their hardest, willing to try and to fail by fair means, and willing to straight-up admit what they did without rationalizing.
It's a disingenuous cliché, a justification seemingly present after every summit-less climb, that coming home itself defines success. Sure, OK, maybe at some point, but extend the thinking and you'd never leave the couch to begin with. Likewise, defining success merely by the summit oversimplifies everything, because you could get there with a helicopter. Somewhere in between we have route names lavishing self-congratulations for leaving the ground and stopping wherever the climbers got shut down. It goes like this: We could have done it, or, We retreated from the end of the difficulties, or, It was too hard/dangerous/whatever and so we retreated, followed by the obligatory: We reached our personal summit and named our route Steel Balls. Arg.
I suppose that the rationalizations remain unimportant. Maybe trying hard and returning with that feeling somewhere between emptiness and spaciousness is what we're after – yes, I think that's ultimately it. Whether "success" or "failure."
Granted, success feels better than failure, but they're both important, no?
[Josh Wharton in the Nangma Valley, Pakistan. Photo: Kelly Cordes]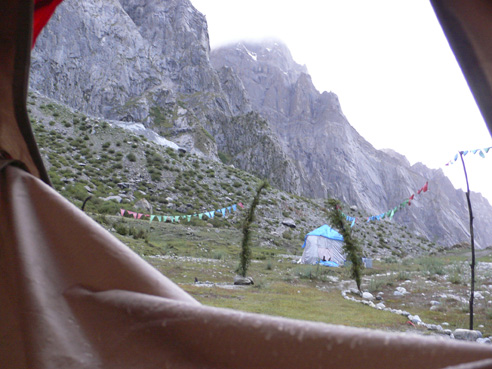 Fatigue so overwhelms me that my fused spine no longer hurts but my fingertips kill, my hands are swollen and I can't sleep. I lie still in my sleeping bag and turn off my music. All I hear now is the rain, pattering off the walls of my tent.
[Top, right: Josh Wharton following pitch 36. Photo: Kelly Cordes. Above, left: Kelly Cordes on pitch 40. Photo: Josh Wharton. Right: Festering in the rain for several weeks in the Nangma Valley. Photo: Kelly Cordes.]