Plotting Change
Andrew O'Reilly
/
August 4, 2021
/
6 Min Read
/
Community
The father and son team behind Life Do Grow farm has focused their life's work on building a sense of community and well-being in an area that has been plagued by poverty, violence and neglect for decades.
All photos by Kriston Jae Bethel
It's a cold, clear January day in North Philadelphia, Pennsylvania, with a gusting wind that cuts right through you and leaves the extremities stinging, but Devon Bailey and his son, 24-year-old Daekweon Walker, pay it no mind. They wear hooded sweatshirts, beaten-up work pants and scuffed boots and work together to move farm equipment into an overflowing storage area. Soon, their neighbors will arrive to pick up produce.
"I've been in touch with this land for a very long time," Bailey says as he looks out at Life Do Grow, an organic farm he helped to build on a 2-acre plot that was once an illegal dump site in one of the most impoverished neighborhoods in one of the most impoverished cities in the United States.
The farm is situated just a few blocks off Broad Street—one of Philadelphia's main arteries. It's hemmed in on one side by the regional rail-line tracks and the back of the city's ubiquitous two-story row homes on the other. In a landscape of grey and faded brick red, the farm, when it's in full bloom, is an explosion of color.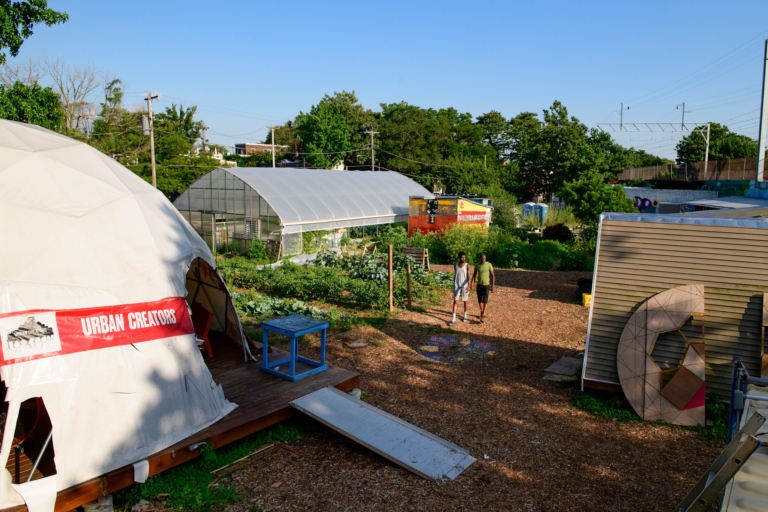 The infrastructure of the plot is equally vibrant with pastel-painted car tires that serve as both a makeshift wall and planters. Sheet-metal fencing and concrete barriers are bathed in colorful murals and graffiti. During the summer growing season, the farm is overflowing with crops, from russet potatoes and wild strawberries to various kinds of greens—all of which are destined for the dinner plates of Bailey's neighbors.
"My thing is to look out for my community first before I look out for anybody else," says Bailey, who cofounded the farm and built all of the site's physical infrastructure. "Nobody sat up here and told us to do that. We saw there was a need for it, and we did it."
Having fresh, healthy and affordable food is something many people struggle with, but the need in Philadelphia, and especially in North Philadelphia, is great. According to an article in The Philadelphia Inquirer from 2020, about 12 percent of people nationwide are food insecure, meaning they lack enough food in a year to lead a healthy life. In Philadelphia, that number jumps to 21 percent, and in North Philadelphia, food insecurity runs as high as 30 percent.
And with the economic havoc brought by the COVID-19 pandemic and unemployment numbers still soaring, more than 40 million people in the United States likely experienced food insecurity in 2020, according to data from Feeding America, a Chicago-based hunger relief nonprofit.
Bailey estimates that without the available produce from Life Do Grow, which distributed more than 65,000 pounds of produce and 24,000 prepared meals contributed by 12th Street Catering in the second half of 2020, residents in his neighborhood, especially many elderly ones, would have to walk up to a half-hour to reach the nearest supermarket.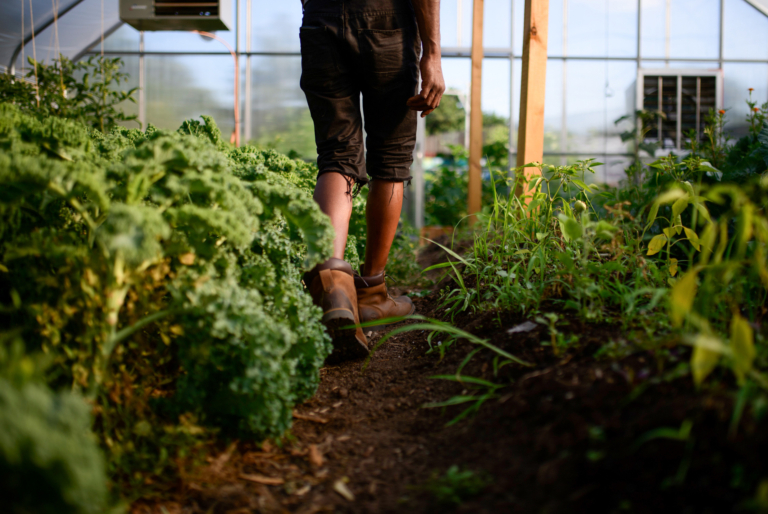 "We've got two main ways we swing things here at the farm," Bailey says. "When we have enough, we sell to the markets, but for the community, you're coming out with a bag or box—if not for free, then for damn near nothing."
"This is really a food justice issue that we're dealing with in places like North Philadelphia," says Hilda Kurtz, a geography professor at the University of Georgia who studies food politics and environmental justice. "The system is really rigged to work against the well-being of people in North Philadelphia."
At 43, Bailey is lean and sinewy with a smattering of grey in his beard and hair. He is both gregarious and exceedingly polite, greeting everyone who walks onto the farm with a smile, directing traffic into the nearby parking lot and inquiring about the emotional state of friends and neighbors who come by to pick up produce. He is also a skilled craftsman whose handiwork on projects ranging from construction and plumbing to aquaponics and greenhouses are on display across the farm. And he is willing to teach anyone those skills if they don't mind a little hard work.
Bailey first learned about the farm in 2010 on a visit to help take care of his grandfather. It was on this trip that he ran into Alex Epstein, the farm's other cofounder, and first heard about the idea for what would later become Life Do Grow.
"For about seven or eight months, my grandpops and I just sat out here and watched them clean up," he says. "It was about eight, nine months later they got things cleaned up, and they started building some steps. And I'm like, 'They don't know what the hell they're doing,' and that is pretty much where I jumped in."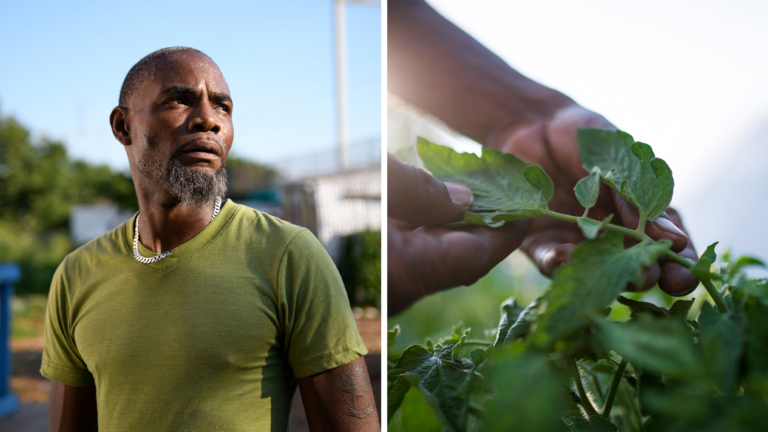 That was around 2010, and Bailey's offer to help build stairs has turned into more than a decade of sweat and toil to turn the former dumping ground into a model for sustainable, urban farming, as well as show a younger generation the joys of getting your hands dirty and helping the local community.
"Whatever skills I could offer them, that was how I pretty much started," Bailey adds. "And we've been rocking and rolling ever since. It's always changing."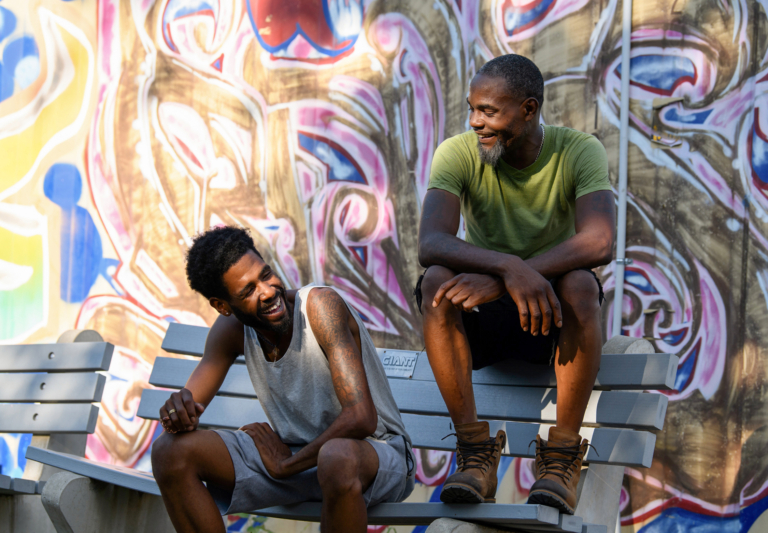 One member of that younger generation who grew up on the farm is Walker, who credits the farm and the work ethic that Bailey learned from his grandfather for helping him stay out of trouble and follow his passions.
"I grew up right here," says Walker, who stands about a head higher than his father and shares his wiry build. "Honestly, my dad fathered me the same way, taught me the same lessons that my grandfather taught him. It was about 'You go out there, you help him.'"
Bailey nods and says, "Now it's time for the new blood, the fresh blood to come in and take over," Bailey said. "It's my job to pass on whatever info, whatever knowledge that I got … I'm the OG around here."
Not only does Walker share his father's intimate knowledge of the land and the crops that grow on it, but also his vision for the future of the farm that includes feeding the community's soul as well as its belly. Along with working on the farm, Walker and his friends run a community store that sells essentials like diapers, hand sanitizer and toilet paper. They also founded the Free Spirit Cloud Company, an arts and entertainment company that provides under-resourced musicians and artists in the area with a place and the tools to record and perform.
Walker takes nothing for granted, and he knows that none of it would be possible if it wasn't for the drive and dedication of those who came before him. Now, as an emerging leader at Life Do Grow, he plans to carry on that tradition and help the farm change other people's lives, just as it changed his.
"First coming here as a kid, I learned a lot of lessons and values that I carry with me now," Walker says. "The farm is a very transformative space. It transforms land, and it transforms the people that come here. It's a very loving space, and we just try to maintain that energy."