Paddling Past The Graveyard
Nathaniel Riverhorse Nakadate
/
February 4, 2020
/
6 Min Read
/
Fly Fishing
An intimate canoe trip through The Boundary Waters with Nathaniel Riverhorse Nakadate.
There are around 100,000 miles of blood vessels within our bodies. I am certain each drop of blood coursing through mine is aflame with the sense of hope and wonder for the journey ahead. After a 22-hour drive from the sugar-sweet Texas coast to the edge of the northern Minnesota woods, a few dry bags, a mahogany paddle and 14 feet of cherry and ash canoe are waiting next to the water. I'm in the Boundary Waters Canoe Area Wilderness to follow the immaculate watershed through lakes, streams, cliffs and forests and to know firsthand the harrowing destruction a proposed sulfide-ore mine would cause.
There are few things more personal and intimate than being intertwined to the hips of a canoe. Far beyond the every-day hum and whir of a static existence, this is where life makes sense to me. I'm a believer in the restorative medicines of wan-derlust and solitude. If anything has unraveled, nature stitches it together again. A simple kick of my boot from the shoreline and gravity is gone. The water holds everything aloft.

Suffer Portage
I am immersed up to the shoulders dragging the canoe through a three-foot wide, impossibly serpentine stream. Life asks us to guide ourselves. There may be a hand or two to hold along the way, but going it alone is how we gain traction on what matters. A quarter-mile from the entrance to the next lake, there are stacks of fallen birch trees haphazardly blocking the slim waterway. A few feet away, the trees begin moving. Moose are not around. There aren't buffalo. It's a bear the size of a farm shed.
A cub pops up. I remind myself to draw breath. This is not good. Sometimes finding grace and facing things head-on is easier than imagined. I keep rolling and let the chips fall where they may. As the last light fades, I realize the bears are giving me a hall pass. The horizon shifts to a dark blood red, morphs into bruised purple and, finally, a soft coal black. Reaching the lake, I clamber over the gunwales, check the maps by headlamp and paddle under a waxing crescent moon.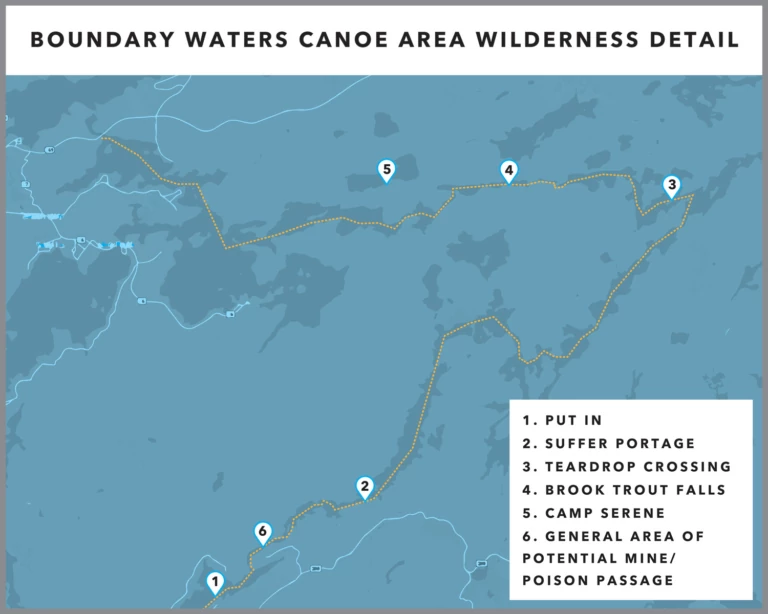 Teardrop Crossing
A few surprised tears make their way from my eyelashes to cheekbones, then down my jawline. There is no sadness, just a buckled-at-the-knees, unbridled joy of being a witness to the raw beauty of the Boundary Waters. I want to bottle this moment and set it adrift, only for it to come back to me on far tougher days and remind me why we are alive.
I reach into the lake from the canoe and splash water across my face. This day is a remarkable gift set on a molasses-slow simmer, and I'm beyond grateful to be here. I have paddled 28 lakes—miles on the map—and finally feel a peaceful rhythm to the solitude. I'm also aware that every part of the watershed I've traversed is under the specter of pollution the mine threatens.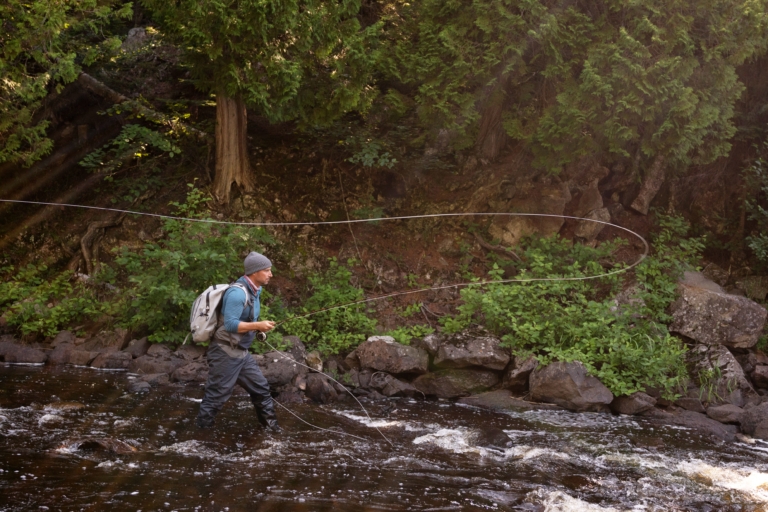 Brook Trout Falls
Humans inevitably seek to love and be loved—to be accepted as the unique, one-off souls we are. As for me, I'm so smitten with fish that chasing them has been a marriage of its own. There is a wicked climb up to the summit of an 800-foot cliff with a resplendent waterfall overlooking the last lake to Canada. I shoulder the canoe and stumble precariously to the canyon below. One of the few grains of wisdom I have learned is that fish will be where water comes together with other water.
I launch at the base of the waterfall and let the six-weight arc a crayfish streamer into the whitewater. A few casts in, the tip of the rod disappears and even I'm caught off guard by the wallop of the take. A stunningly porcine freight train of a wild brookie gives her all, and then some, until she finally swims alongside the canoe before I set her free. It's an impossibly beautiful fish in an impossibly beautiful place.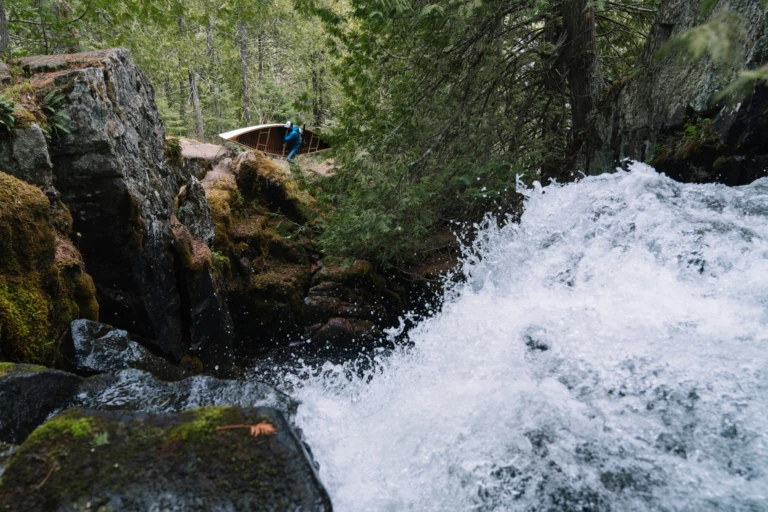 Poison Passage
A Chilean company is about to place a sulfide-ore copper oper- ation at the headwaters of the Boundary Waters—a protected wilderness that contains one-fifth of the freshwater in the entire national forest system. Hardrock metal mining is America's larg- est source of hazardous waste. The ore, sold to countries like Russia and China, would create a few hundred jobs, compared to as many as an estimated 18,000 existing and sustainable jobs related to the area's outdoor recreation. There is also word of a waste storage facility being placed upstream of Lake Superior. There will be no profits here for anyone, just the aftereffects of a lost ecosystem. Goodbye birds, goodbye bears, goodbye pristine waters, goodbye four-pound brook trout.
They have all failed—every mine of this type in history. I've never claimed to have all of the answers, yet some things are just fucking wrong. I am for the working man and woman—for bread on the table and clothing on the back of a child—but let's shoot arrow straight. This is not the place for it.
I believe in us as humans to pull together and do right by nature. A knife through the heart of this protected wilderness that sets in motion a ticking bomb of toxic pollution would be misguided, shameful and nightmarish. In what world would a mine belong here? Not today. Not in a hundred lifetimes. Not ever.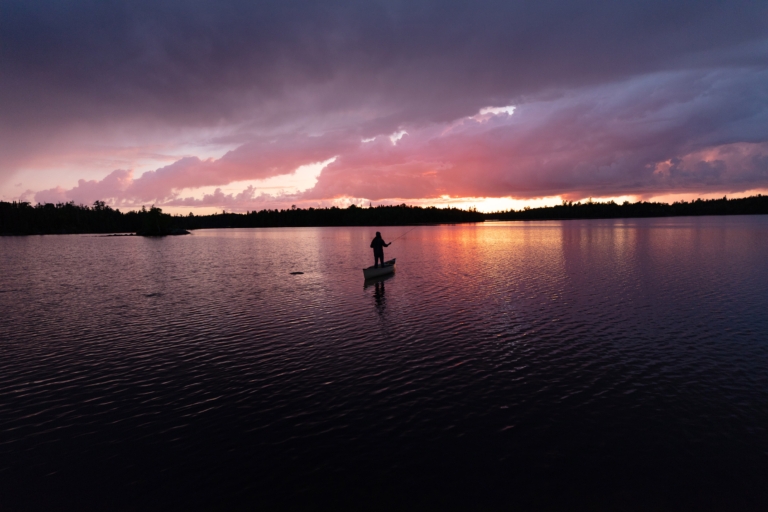 Camp Serene
My coat smells of birch bark and pine campfire smoke. The canoe is resting on the island, and it is late in the day. What I wouldn't give to have a guitar here. I use the paddle and some rope to angle a tarp for basic shelter, and then place a sleeping bag on the grass. Tired, perhaps, but I am high as a kite from the mesmerizing beauty. For this moment, there is nowhere on Earth I would rather be. I lose track of time scribbling into a well-worn journal and finally close my eyes, still writing.