Meet the 13 Youth Climate Activists Challenging a Pipeline
Lisset Fun
/
October 15, 2019
/
7 Min Read
/
Activism
Thirteen youth climate activists are taking to the courts to protect the Mississippi River and the people who depend on it for survival. 
Brent Murcia crosses the lively Mississippi River every day by bridge on his walk to class at the University of Minnesota in Minneapolis. The sunset sometimes paints its gray murky waters a dusty pink, mirroring the clouds, and birds soar overhead. On a good day, Brent might spot a bald eagle gliding by. The river means a lot to the 24-year-old. And for good reason: He relies on it for drinking water. So do another 18 million people.
His appreciation for the river—his dependence on it—is, in part, why the college student is now in court. He's one of 13 youth intervenors challenging the legality of Line 3, a pipeline project that would pump 760,000 barrels of oil sands from the fields of Alberta, Canada, under the longest river in the US, all the way to a terminal near Lake Superior. They're the first group of young people to intervene in a lawsuit over a pipeline project—​and all with the support of Power Shift Network, a national environmental coalition dedicated to mobilizing the collective power of young people. They help bring individuals together to work with membership organizations, effectively developing leadership skills through one-on-one mentorship.
What these youth intervenors want is simple: They want a future.
The intervenors, all younger than 25, are doing what they can to stop climate change, which is a direct result of the extraction, production and consumption of fossil fuels like oil sands, notoriously known as tar sands. Fossil fuels emit greenhouse gases like carbon dioxide and methane, which are the culprits behind the climate crisis.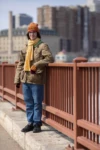 This crisis doesn't affect everyone the same, either. Power Shift Network is trying to stop climate change by involving youth in direct efforts to stop these fossil fuel projects—especially the youth from the communities of color or low-income communities hit first and worst by the climate crisis.
After all, this movement needs representation. According to an independent report, 293 environmental groups surveyed in 2014 saw staff or boards that were no less than 84 percent white. That's despite the fact that nonwhite people care even more than white people. Survey after survey shows this. As far back as 2003, a national study from the University of Michigan found that black people were more likely to eat less meat or drive less—both environmentally friendly behaviors. As recent as 2017, the Yale Program on Climate Change Communication found that more Latinos believe climate change is real than non-Latinos, and they're more worried about it, too.
That's often because they know harmful environments more intimately: Blacks and Hispanics bear a disproportionate burden of air pollution that comes from white communities, according to a study in the journal Proceedings of the National Academy of Sciences, published earlier this year. People of color also are exposed to more pollution from cars, trucks and—you got it—power plants. These power plants (often refining the junk that travels through these oil and gas pipelines) spew dangerous particulate matter that can lodge itself in a person's lungs or heart when inhaled.
And well, this 1,031-mile long pipeline would carry some of the dirtiest fuel in the world. Extracting the oil from Alberta's apocalyptic oil fields requires more energy than other lighter oils, according to the Canadian government. This energy source is also harder on air quality, spewing aerosols into the air where it's mined. Oil sands are serious biz; that's why Power Shift Network is focusing its resources on crude oil pipelines. There's the highly controversial Keystone XL Pipeline, the Trans Mountain Pipeline in Canada and, of course, Line 3.
"Stopping the flow of specifically tar sands oil out of Alberta, Canada, is, to me, one of the most direct and tangible ways to confront the climate crisis at the scale we need to," says Akilah Sanders-Reed, a youth climate intervenor and the oil-free organizer for Power Shift Network.
While Keystone and Trans Mountain would be brand-spanking new, Line 3 would replace a nearly 60-year-old line in need of repair. Here's the issue: The plan is to just abandon the old pipe in the ground, which the environmental impact statement says could potentially contaminate the soil and water as it ages. Plus, the route's changing—and this time, oil would be running beneath the Mississippi River, twice.
So not only would this project exacerbate the current climate crisis by keeping the world tied to greenhouse gas-emitting fossil fuels; it also poses a potential threat to a major waterway—and the homelands of Minnesota's indigenous people.

While the pipeline would avoid cutting through tribal reservations, unlike the existing line that passes through, the new one would still be within 5 miles of the Fond du Lac Reservation and 3 miles of the White Earth Reservation, as the project's environmental impact statement notes. That's still a few miles too close.
Many vocal Native American opponents to the pipeline also worry about their sacred wild rice fields, for which Minnesota is famous. But no one can walk through these fields; they require a boat. Their tall grasses grow out of lakes and are tucked in the north-central—and really wet—part of the state where they attract the hungry beaks of the emerald green-necked mallard and Canadian geese. The Great Lakes tribes, collectively called the Anishinaabe people, eat this rice as a traditional food. Wild rice is a part of their identity and culture.
Youth climate intervenor Nina Berglund would know. The 19-year-old is Northern Cheyenne and Oglala Lakota and grew up eating wild rice in Minnesota.
"They're trying to destroy us because without clean drinking water, you can't survive," she said. "You can't drink water if the oil's in it. We can't eat wild rice if that oil's in it. We can't hunt and fish like we could if there's oil contaminating these lands and the waters."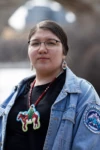 Nina has been an activist since she was 14 and quickly found her place among environmentalists in 2016 during the Native American resistance, led by the Standing Rock Sioux Tribe, to stop the Dakota Access Pipeline in North Dakota.
Now, she's upgraded to challenging the Minnesota Public Utilities Commission for granting Enbridge (the Canadian energy transport company) a key certificate for this pipeline. The legal journey began in July 2017, and it could drag on well past the fall.
The youth themselves handled all their legal writing, witness designations and cross-​examinations. In the courtroom, these young people were not just kids. They were experts.
"We really know the legal record on this inside and out," Brent said. "It's really powerful that a group of high school and college students and recent grads just spent two years going toe-to-toe with the legal muscle of the fossil fuel industry."
As the case moves through the courts, they've hired legal counsel from the University of Minnesota's Environment and Energy Law Clinic to represent them. The coolest part? Their attorneys are no older than 26.
The courts are proving effective in delaying another crude oil pipeline: the Keystone XL Pipeline. A federal district court judge paused it last year due to the State Department's failure to measure its potential impacts on climate change—a Federal law mandate, not an environmental law legal tactic. President Donald Trump, however, issued a presidential permit in March attempting to void the court ruling, and the legality of that will likely wind up back in the courts.
Young people can't afford for things to get worse. That's why Power Shift Network exists. These young people need people to support and guide them. At the end of the day, this fight is a personal one. The youth will have to lead themselves.
That's why they're in the courts—to set an example for their peers and ensure them all a future: a habitable planet with clean air and safe drinking water. They won't take no for an answer.
On Friday, September 27, the Minnesota Pollution Control Agency denied a key water permit to Enbridge's proposed Line 3 pipeline. 
Pledge your resistance
Add your voice to the Line 3 Resistance Pledge and join thousands more who want a clean energy future for Indigenous communities and the Great Lakes region.
Take Action