Steve House, Vince Anderson and Marko Prezelj, Makalu 2008: Trekking, Snakes & Snow Monkeys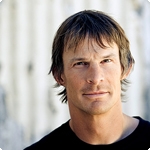 Steve House called last night to give us another update from Nepal. The team has been trekking at altitude for a few days now to help with the acclimatization process.
Listen to Makalu Update 2 (mp3 – 6:43 – right-click to download)
As Steve mentioned in his first call, two friends from Oregon, Ian and Mark, are also on board. They will be climbing the regular route on Makalu while Steve, Vince and Marko will attempt the West face. Next up, the group will head back to Kathmandu for some logistics and then fly to base camp.
Previous posts from the series:
Steve House. Photo: Tim Davis