Steve House, Vince Anderson and Marko Prezelj, Makalu 2008: Happy Birthday Marko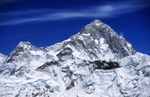 Two Makalu trip updates for you today, one from Steve and one from Vince. First up is Steve House calling in from the sat phone. He might not sound so hot but his illness is getting better:
Listen to Makalu Update 4 (mp3 – 5:35 – right-click to download)
And here's the email Vince Anderson sent yesterday:
10/13/08 – Happy Birthday Marko!

We are resting again today and probably tomorrow. Acclimatization is going well. Yesterday, after spending a night at Camp 2 on the normal route (22,000 ft.), we ascended to Makalu La (24,000 ft.). Steve's cough bothered him enough that he stopped 100 meters shy of the pass. We certainly needed not go all the way to the pass, but it was alluring to go up there and take a look at the other side of the mountain and Tibet. It took us just over 4 hours to ascend the 2,000 ft. to the pass. I felt pretty good up there but kept it in a low gear all the way there.

The views up high were fantastic! Just behind us lay Everest and Lhotse just 12 miles distant. Further off, we could see many other peaks in the Khumbu region and beyond like AMA Dablam and Shishapangma. We've also been blessed with generally very good weather, mostly sunny days and little wind.

While at camp 2, we were able to test out some of our camping options: tent, sleeping bags, stoves, etc. Will continue to test these on our next trip up there in a few days.

Regards,
Vince
If you're just tuning in, check out the previous posts from this trip: 1, 2, 3, 4, 5.