All photos by Austin Siadak
Drew Hulsey holds his phone and types Can fat people climb? into Google. It's a question he's been fixated on for the past week, ever since he and his wife, Sarah, saw Free Solo in theaters. Drew was completely captivated by the sport. But in the movie and in the dozens of videos he watched on YouTube afterward, he didn't see anyone who looked like him. Sitting in his car outside The Crag, a climbing gym near Nashville, Tennessee, he feared that this desire to try it would be a victim of his size. Google was no help. Now, standing at the desk inside, he asks the same question to the person at the counter: "Can I do this? Can, like, big people do this?"
That was 2019. Two years later, and Drew and Sarah are deep in the heart of Kentucky's Red River Gorge, tooling along winding roads in Phannie, their powder-white 'n' striped 1993 Dodge Ram B250. Cliff lines loom, and morning mist collects on her windshield. Drew attempts to lead The Bee's Business, his first 5.8 route, and puts in a valiant effort on his first-ever chimney, a 5.7 aptly named Dragon's Mouth. Sarah shimmies up a slab that shut her down on a previous trip, clipping the chains with a smile. They share beta with other parties at the cliff, find new projects to replace the old ones they ticked off and finish the day with beers back at the car.
They're climbers.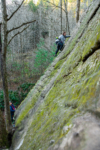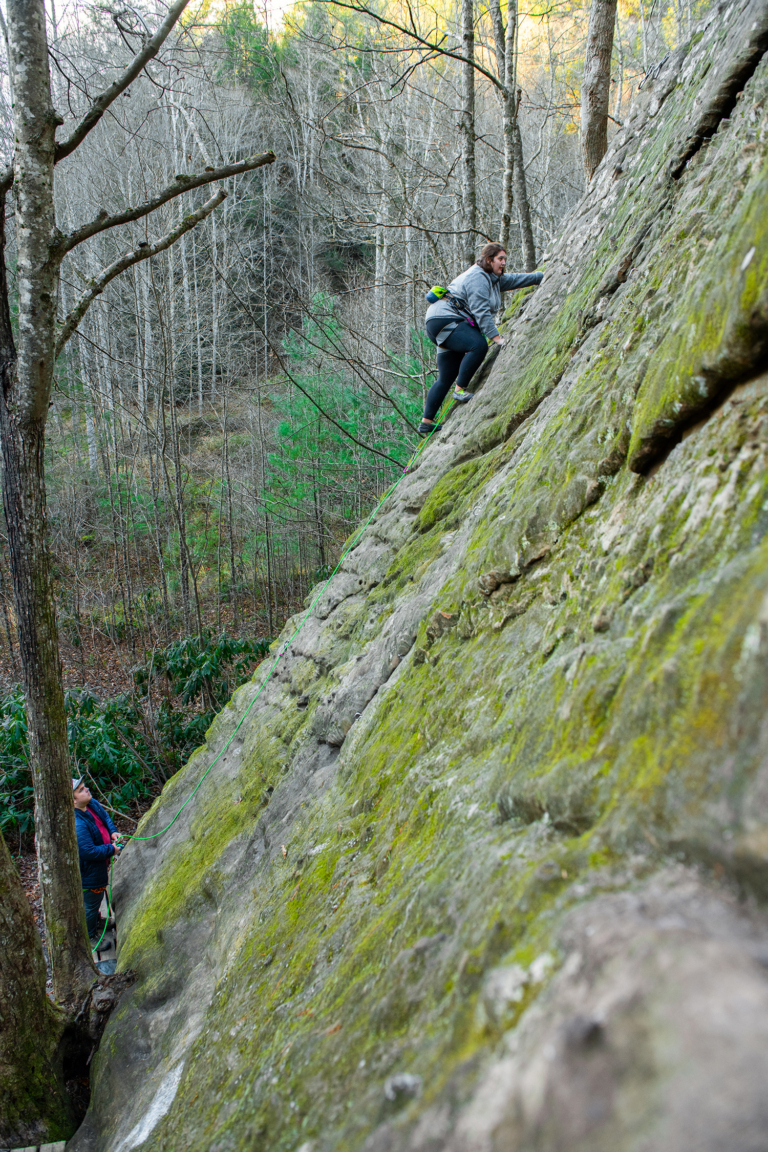 Identities are not immutable; we construct them. Climber carries an image in which body type and excellence are inextricably linked. But this construction is a barrier for many and reinforces a sense of inadequacy tied to image.
Imagine you know hardly anything about climbing. Now, walk into an athletic store plastered with images of ultrafit athletes. Everything you see on the rack is five sizes too small and even the mannequins have six-packs.
"It's not comfortable to say, 'Hey, what harness is going to fit me?'" Sarah says of her own experience. And because her shoe size is a women's 10, she scoops men's shoes off the shelf. For Drew, finding clothes to fit his self-described husky stature also proved challenging. Many outdoor companies, Patagonia included, have limited options for him. "Nothing we saw at the time proved to us that we could do it," Sarah reflects.
Undeterred, they read Sport Climbing from Top Rope to Redpoint and Mountaineering: The Freedom of the Hills, then went to Lowe's and purchased a two-by-four, a couple of eye hooks and two chains. They bungee-corded their makeshift anchor to the TV stand in their living room and practiced cleaning anchors every night. As their confidence grew, they also spent more time with the community at The Crag; acquaintances became friends, and friends taught them skills that helped them safely transition from the gym to rock.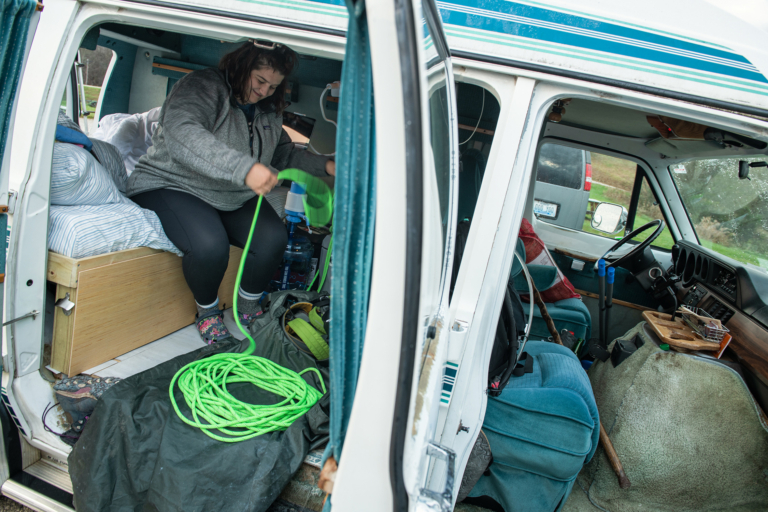 On one of their first days climbing outside together, Drew found himself in a position familiar to almost anyone who has tied into a rope: He was stuck. The moves above felt impossible, and the next bolt was way too far to reach. He just couldn't get any higher. Ashamed and discouraged, he had Sarah lower him down, leaving a brand-new quickdraw behind in the process.
They packed their bags and were on their way home when Drew got a message on Instagram. An acquaintance from the gym had retrieved the quickdraw and wanted to return it. Drew and Sarah were surprised and grateful.
"We were desperately searching for a community," Sarah says. They'd tried bowling, running, weightlifting and church, where they'd both spent a lot of time as kids—nothing clicked. Climbing felt different. It felt like everyone was there to be themselves, and this in turn made the community more accepting of others doing the same. "With climbing, you just show up," Sarah says. "It's never really about climbing," Drew adds. "It's about what surrounds it. The good stuff that happens between the climbing."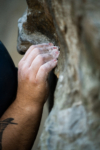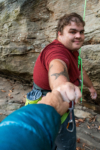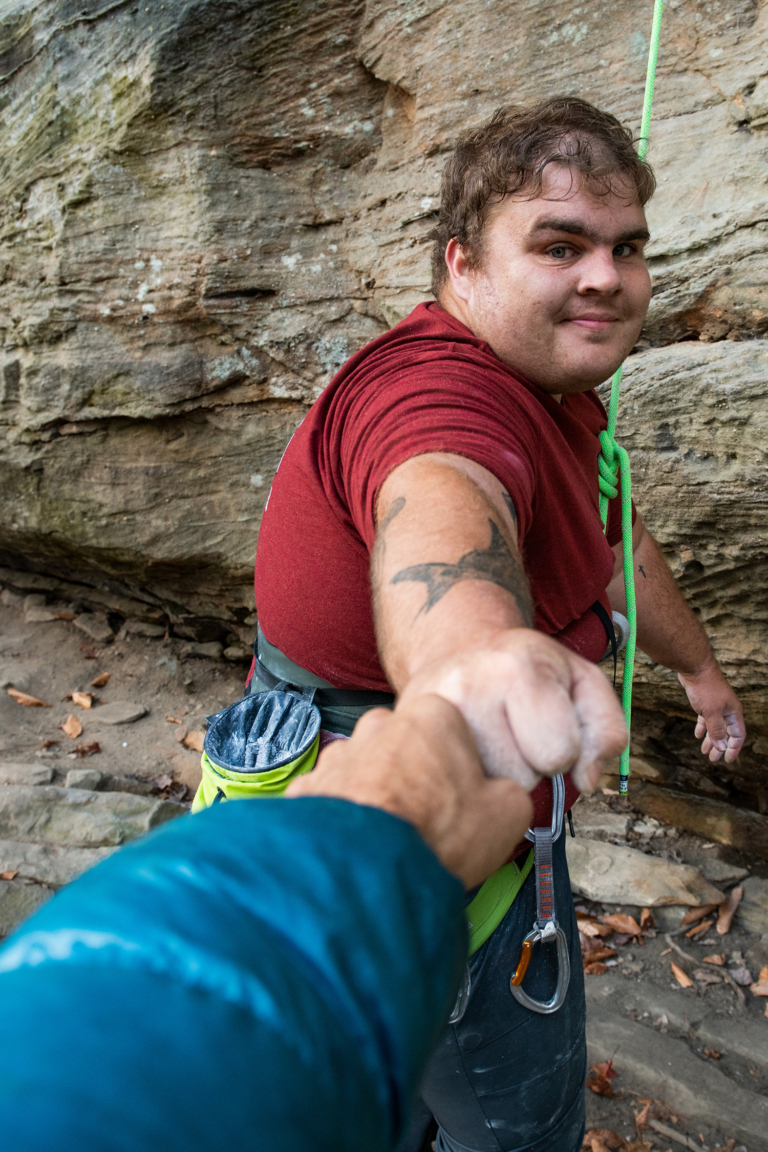 Drew is a social worker, and Sarah is a mental health counselor, careers that can be as draining as they are rewarding. Helping and holding space for others is difficult work. For Drew, when immense anxiety or pressure surfaced, he'd turn to food. In college, Sarah says her doctor advised her to lose weight but didn't give her any resources to help. So she would change her study schedule to spend as much time as she could in a part of the library that didn't allow food. Climbing has given both of them a healthier outlet for working through it all. "The physical shape of our bodies hasn't changed drastically, but our overall mental and physical health has improved," Sarah says. "And we're able to do harder things just in our everyday life."
One of Drew's favorite moments as a new climber happened at Miguel's, a pizzeria and hub for climbers in the Red River Gorge. An experienced climber overheard Drew talking about a route he'd wondered about leading and sprayed him with enthusiasm. "He was just as excited for me to climb a 5.4 as he was for him to climb a 5.12. And that made me feel amazing about myself."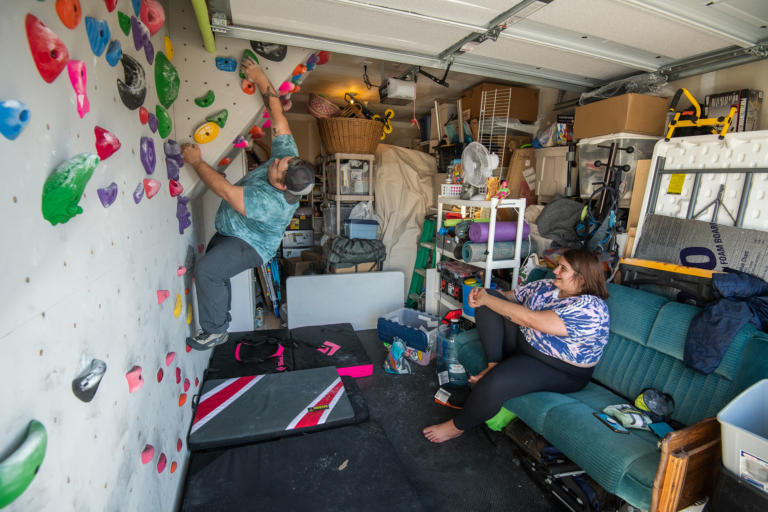 The community that Drew and Sarah found—and are building—extends to the digital world as well. What started out as Drew sharing small videos of failures and successes on Instagram rapidly transformed into a forum of mutual encouragement.
"When one person is open and vulnerable, it gives other people the bravery to share their experiences, too," Sarah says. Since witnessing influential climbers discuss body image and mental health, she's noticing others do the same. She recounts with pride a story of one woman who reached out to her. "Her husband told her she shouldn't climb because of her size, and after seeing my videos, she said, 'I'm doing it. Who cares what he says!'"
People ask them for advice on simple things, such as purchasing a harness or learning the basics about climbing. "Drew and Sarah's online presence opens a lot of doors and makes people feel more comfortable to try something that they never thought they would," says Jordan Holley, a friend and manager at The Crag. "Our climbing community needs that. It needs people pushing the boundary of whom we see as climbers."
Sarah and Drew both still have moments of doubt, especially when they've showed up at a cliff, in a van full of ropes and quickdraws, and people are surprised to hear that they're climbers. But the two are motivated to let others know that it's acceptable to be a climber just for fun, without the constant pressure to climb harder or look a certain way. Says Sarah, "We want to be that voice we didn't have at the beginning."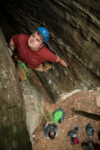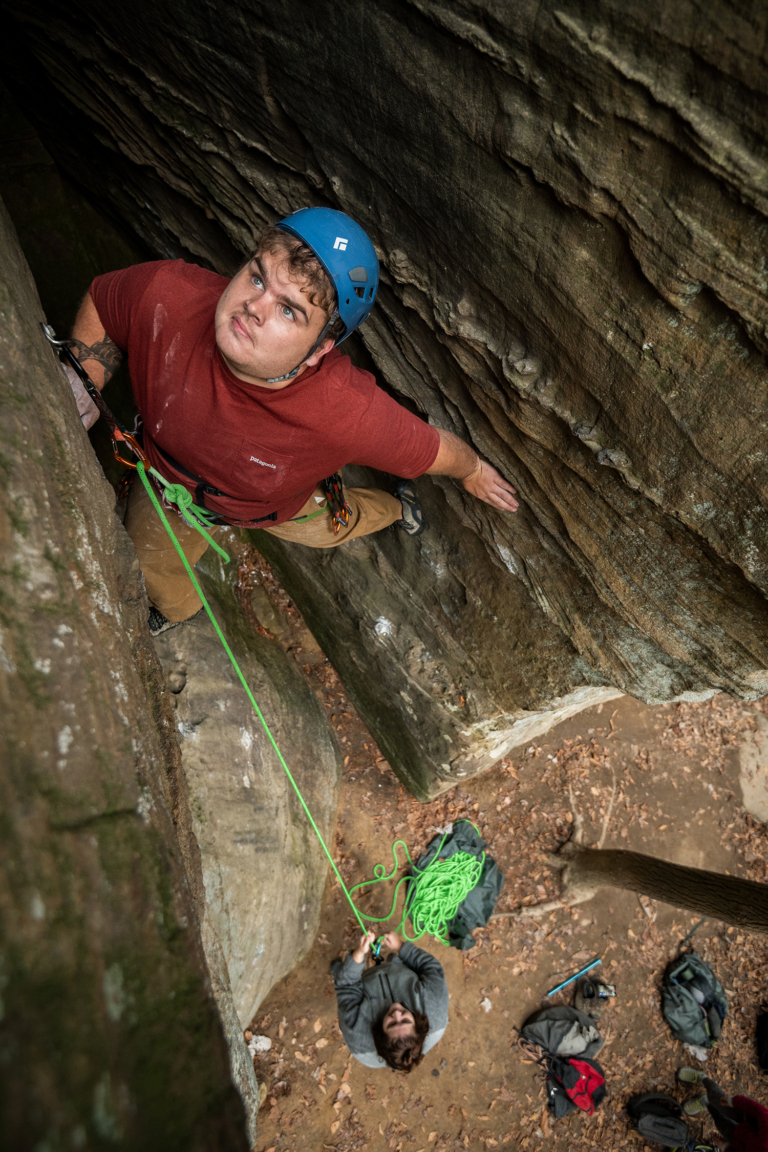 We're grateful to the Cherokee, Chickasaw, and Shawnee peoples who are the traditional stewards of the areas where the photos for this story were taken.