Listen to "Live from 5Point Vol. 5" Dirtbag Diaries Podcast Episode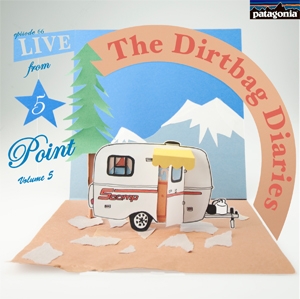 We're back for our third annual Live from 5Point event. The sun was shining, but Steve's Guitars was at capacity. Today we present the first two stories from Kevin Pearce and Chris Davenport. In 2009, Kevin was one of the best snowboarders in the world. On a training run, he had a major accident (his story is chronicled in the film The Crash Reel). Today, he talks about finding happiness after suffering a traumatic brain injury.
Chris' career as a big mountain skier is impressive – numerous first ski descents of peaks, traveled around the world to ski, a two-time world champion. But I've always been impressed by Chris' creativity in the mission he chooses. Today, he talks about the aesthetics of the lines he chooses and what he loves about mountains, especially those close to home.

Listen to "Live from 5Point Vol. 5"
(mp3 – right-click to download)
Visit dirtbagdiaries.com to download the music from "Live from 5Point Vol. 5", listen to The Shorts and pledge your support for the show. You can subscribe to the podcast via iTunes and RSS, or connect with the Dirtbag Diaries community on Facebook and Twitter.
Graphic by Walker Cahall