Explaining the Controversy on Cerro Torre
Late afternoon January 16, Hayden Kennedy and Jason Kruk sat on the summit of Cerro Torre, making a decision.
Backup. For starters, let's be clear: None of us has an inalienable right to summit anything. If you aren't capable of climbing a peak after a manmade path has been removed, nothing has been stolen from you.
"If there is such a thing as spiritual materialism, it is displayed in the urge to possess the mountains rather than to unravel and accept their mysteries," wrote the great Polish climber Voytek Kurtyka.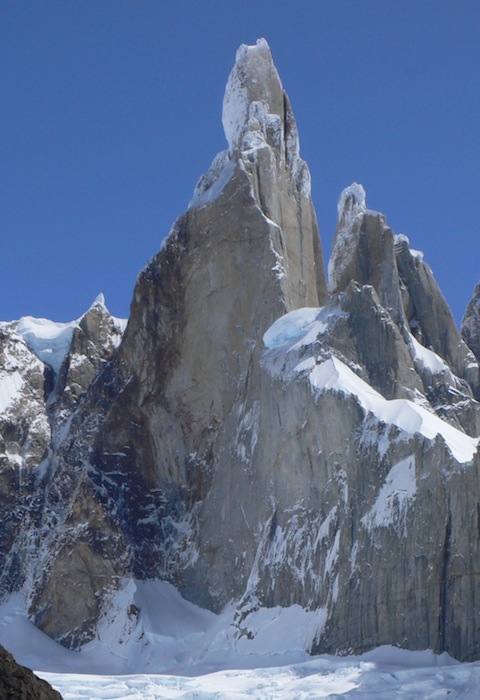 I'm specifically referring to yet another raging controversy on Cerro Torre, the otherworldly Patagonian spire. In my 11 years at the American Alpine Journal (where I'm the senior editor), I've educated myself on Cerro Torre's bizarre and complex history. I also have first-hand knowledge – in 2007, Colin Haley and I climbed a new link-up on the south and west aspects of Cerro Torre, before rappelling down the controversial Compressor Route (which ascends the peak's southeast ridge).
So here's the quick and dirty on the current controversy:
In mid-January, in an incredible 13 hours, Hayden Kennedy and Jason Kruk made the long-sought first "fair means" ascent of Cerro Torre's southeast ridge – not using the infamous bolts of the Compressor Route that are scattered about the line. Everyone lauded their awesome ascent. On their descent, they chopped about 120 of the bolts. Many also praised their bolt-removal, while many disagreed and some completely flipped-out. Since its 1970 installation by Italian climber Cesare Maestri, the Compressor Route has been globally decried as an unsporting example – even for its era – that anything can be overcome with enough hardware and scaffolding. Over a prolonged two-season siege, Maestri used a 300+ pound gas-powered compressor and thousands of feet of fixed ropes to drill some 400 bolts into the rock. He littered bolts near perfectly good cracks and used them deliberately to avoid natural features via extensive bolt ladders. For all his efforts, he retreated 100 feet below the summit, and on his descent began chopping his own bolts to spite future climbers. He wrote that he would: "take out all the bolts and leave the climb as clean as we found it. I'll break them all." But after about 20 bolts, he abandoned the act under pressure from his teammates and incoming weather.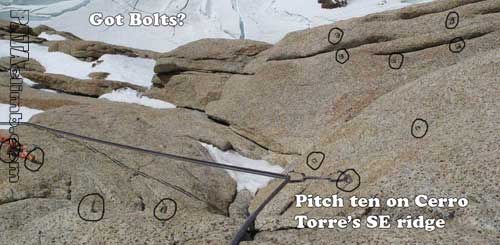 A barrage of bolts on pitch 10 of the Compressor Route. Photo: Rolando Garibotti
Where do I stand on the latest climbing world drama? Sure, remove it. It never belonged in the first place. But honestly, the debate interests me more than whether or not the bolts remained. This issue affects so few people – seasons pass without any route on Cerro Torre seeing an ascent – and in such utterly insignificant ways, that, most of all, the reaction blows my mind. After their climb, back in town an angry mob stormed to Hayden and Jason's rental house, the police got involved, and web forums have been full of nonsensical vitriol. Interestingly, most of the aggro reactions have come from those who have never touched Cerro Torre, and many of those who have most devoted themselves to the area, and made its history, seem to support the removal. Regardless, the degree of the reaction seems to reflect something beyond whether or not some bolts, which can't even be seen from the base of the mountain, remain.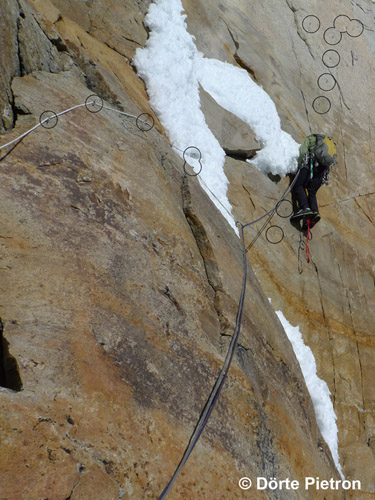 Bolt Ladder on pitch 11 of the Compressor Route.
Photo: Dörte Pietron
A few things to consider:
• Although commerce is another topic, Cerro Torre has never been guided. Nobody is going to lose their livelihood because they can't drag others up the Compressor Route.
• It bears repeating that Maestri's tactics in 1970 were not "of the era," or considered fair in any way. Soon after, the esteemed Mountain magazine ran a cover story, "Cerro Torre: A Mountain Desecrated." Around the same time, Reinhold Messner wrote his seminal article, "The Murder of the Impossible," blasting such siege tactics.
• Bolts have long been accepted, within reason, to protect or link short sections of otherwise un-protectable rock. In a world of shades of grey, where we use accepted aids like sticky rubber, ice tools and stretchy ropes, the Compressor Route was 20 standard deviations from reasonable.
• As climbers, we often regard routes as creations. But comparing permanent installments (such as bolts, anchors, etc) to original creative works, such as literature, film or art, is inaccurate. Cerro Torre was original before it was scarred by man. We all impart some impact where we venture. What separates valued history from vandalism? If one considers Maestri's bolts and compressor (which still hangs on the side of Cerro Torre) a history worth saving, perhaps they belong in a museum, rather than littering the world's most beautiful mountain.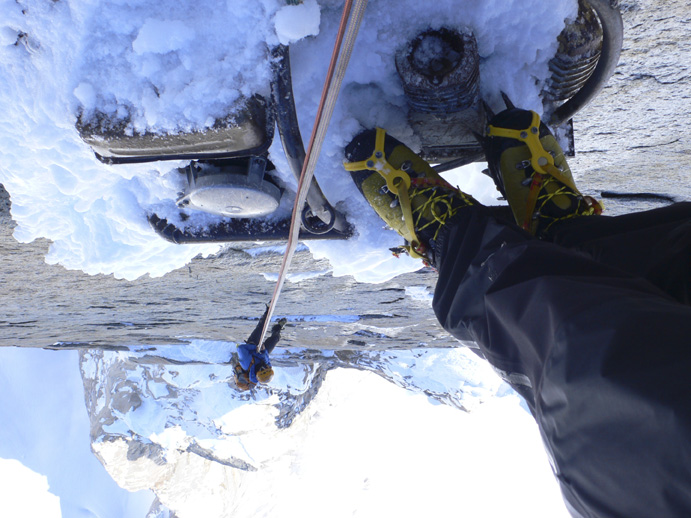 The infamous namesake of the Compressor Route.
Photo: Kelly Cordes
• Climbing has no set rules. There is no democracy, yet our system of self-regulation works surprisingly well. People bicker about minutia but, on the whole, most bolts are tastefully installed, and therefore well accepted. The installers know that if they violate this communal understanding, they'll be subject to scorn and their bolts likely removed. Yet this rarely happens, because few people show such disrespect to such revered peaks as Maestri did to Cerro Torre.
• Does nationality matter? Maestri was Italian, not Argentine, and he acted unilaterally. No system of installation "permission" exists, and year after year climbers from around the globe come to the mountains of Patagonia and make permanent changes to the peaks on their own accord (most do so in small, reasonable ways). Something to consider if we want to hold that, as foreigners, Hayden and Jason had no right to remove the offending bolts. Logic would seemingly dictate that if we allow one, we must allow the other.
• Why should the default setting be to leave a contentious installation, rather than remove it? The latter is far closer to the original, non-controversial state.
• It's just climbing. Actually, I hate it when people use this excuse, because it's often used disingenuously, to justify some aberrant behavior or lack of critical thinking. Still, if you use the "greater cause" argument – there's always a greater cause (people starving in Africa, genocide, torture, etc.) – as justification to not care, then why not throw your garbage out the window? Seriously, what's a Big Mac wrapper when there's genocide happening? It's fine to care about something. The key, regardless of one's views – and it's fine to disagree with the removal – is to maintain some perspective. I think that the hateful, and borderline violent, reactions to Hayden and Jason's removing some metal from an indisputably over-bolted route are insane. Some people need to get a grip.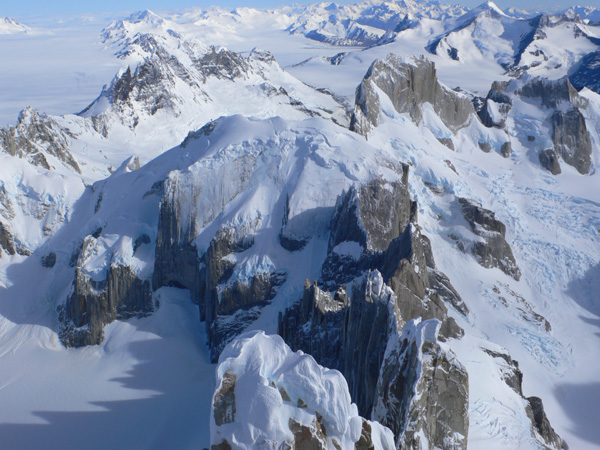 View to the north from high on Cerro Torre. Torre Egger is the peak in the bottom of the frame.
Photo: Kelly Cordes
Cerro Torre is still there. It's just a shade closer to how it has been for an eternity, minus the blip of the Compressor Route. History doesn't stop. If you want to climb Cerro Torre, don't worry. You still can. Only now, you must climb it fairly. Nothing wrong with that.
As with great art, great climbs are not made by consensus. So in a self-regulated world where the participants broadly cite expression, anarchy and freedom as fundamental values – as they have since climbing began – who decides what to do with a controversial line of bolts?
Well, not those sitting on their asses, frothing at their keyboards about how Hayden and Jason were too young to make such a decision, insisting that they should have been consulted first, as if they're owed something and could then grant or deny a has-been-never-was web-forum-climber stamp of approval. No, not them. And not those unable or unwilling to appreciate Cerro Torre on its own terms, or the ignorant who flew into a frenzy over a mountain, now somewhat restored, that they know nothing about. Nor those, like me, who sit from the comforts of home and agree with the removal.
No, the ones who got to decide were the ones with the courage and the skill to unravel and accept the mysteries of Cerro Torre's spectacular southeast ridge.
One afternoon three weeks ago, those two sat talking on Cerro Torre's summit, and Hayden said to Jason, "All of our heroes have been talking about this for 40 years. Let's do it."
That's who.
Same as it ever was, really.
For more information:
Kennedy and Kruk's official statement.
"A Mountain Unveiled" – Rolando Garibotti's definitive piece on the controversy of Cerro Torre's first ascent, from the 2004 AAJ.
"Patagonia's Cerro Torre Gets the Chop: Maestri Unbolted (Photos)" – A well-balanced article on the recent events by climbing author and historian David Roberts, and Kathryn Sall.