Beyond and Back: A Patagonia Employee's Travels by Sprinter Van
Ventura, California
Departure: June 8, 2007
Let me introduce myself.
My name is Jeff though sometimes people call me Tofu.
Yes, I am employed by Patagonia.
I work as a photographer, writer, and assist in the testing and production of Patagonia products.
I am hitting the road in my van for an undetermined amount of time, simply to record what is happening and share it with others.
No, my weird looking ice cream truck is not a delivery van for Patagonia. It's my house. It's a Dodge Sprinter Van made by Mercedes. The Chrysler Corporation now owns Dodge and Mercedes. From what I've been told,
large American courier companies like Fed Ex and UPS have been putting pressure on American car manufacturers to produce a vehicle that gets better gas mileage and is more reliable. So Chrysler, to avoid import tax, ships the unassembled Sprinter Van from Germany to the East coast where it is assembled with a Dodge grill and sold in the United States as a Dodge. It's the best car I've ever owned. It has a diesel engine, gets roughly 25 miles to the gallon, has tons of space, and I look as if I'm some European ice cream man or a baked goods delivery boy. I sometimes call it "The Chick Magnet."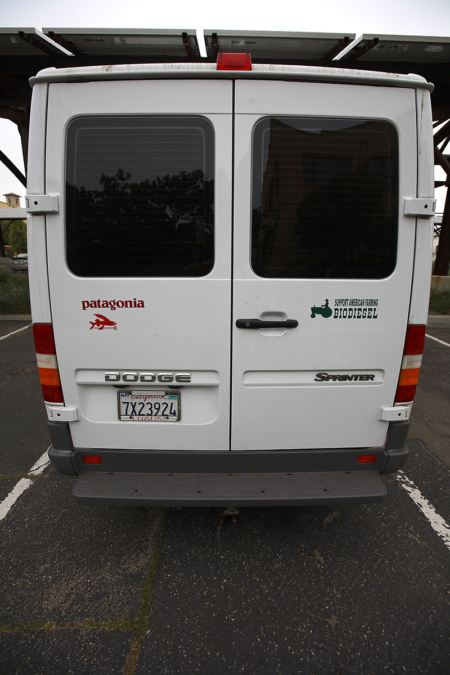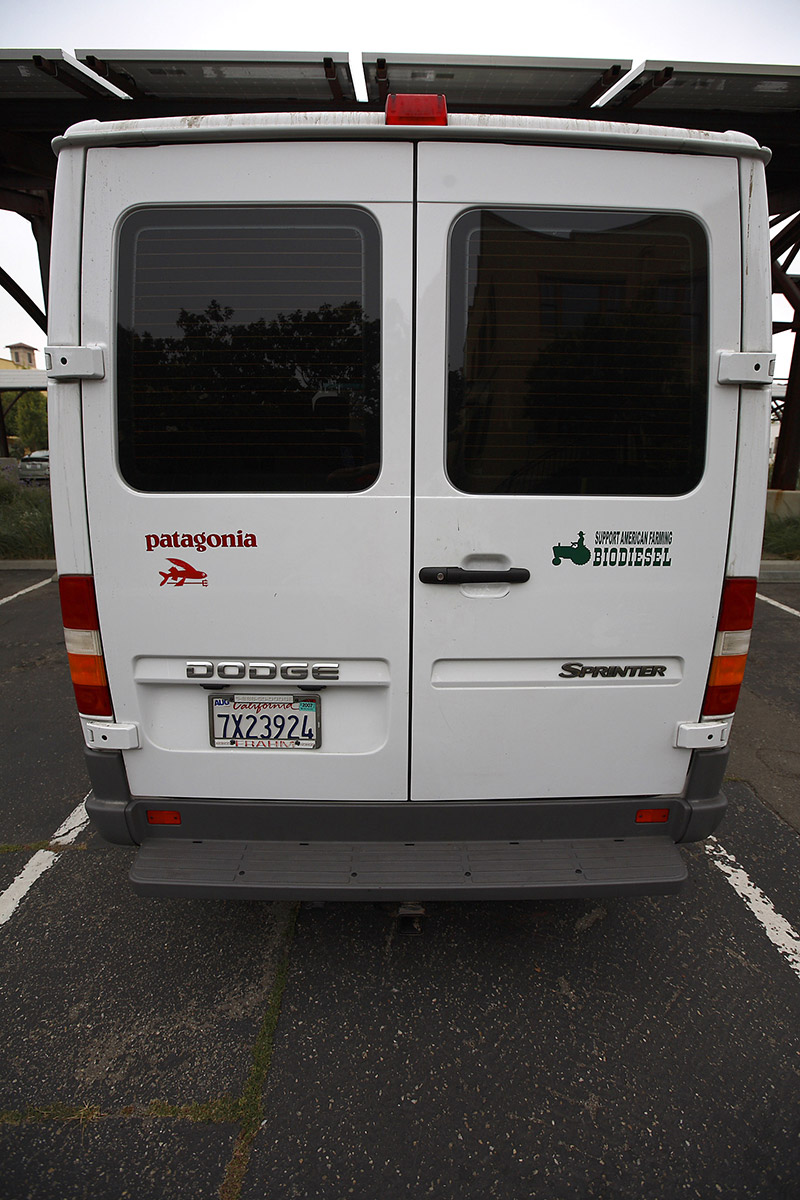 Yes, I run my van on biodiesel wherever I can find it. Not to be confused with pure vegetable oil, biodiesel is only partial vegetable oil and can be used in any diesel without modifying the engine. To run on pure
veggie oil you need to install a alternate veg tank and fuel lines – much more involved. If you would like to see more about this, check out my book, Bend To Baja, on Patagonia's website.
Let me set something straight.
Though I work for Patagonia, this thing here is not a sneaky corporate "blog" for Patagonia. It's a log of my experiences while on the road. If there is ever a mention of Patagonia product here it is because I am very passionate about good product and the experience I have with it.
I'm not a tree-hugger, an environmentalist, an activist, or affiliated with any political party. But I am acutely aware of my surroundings and try to do things for the right reasons. I live as simply as possible and lead an examined life.
Why is this thing called Beyond And Back?
There is no real meaning for this blog as there is no real meaning to the name of this blog except that Beyond And Back sounds cool and its a song by one of my all-time favorite bands, X. Picture Johnny Cash and June Carter doused in whiskey and rolled in the gutters of downtown L.A. Combining rock-a-billy, folk and punk, X crafted some of the most original music in the late '70s early '80s Los Angeles punk movement. I feel they were one of the few bands from that era that were able to evolve and maintain some sort of authenticity – a difficult thing for artists. It is this troubled road to greatness that inspires me most. Stick to your guns. Here is a list of people who have done so.
Charles Bukowski
David Brower
Neil Young
Mark Gonzales
Henry Miller
Miki Dora
Yvon Chouinard
Gandhi
Rodney Mullen
A line in the song "Beyond And Back" has suddenly resonated with me as I set out on this long, open road: "This is no place, this is no place, to be addicted to another place…"
P.S. If you see me out there, feel free to say hello, stop by, maybe have a cup of Joe and a chat. Stay tuned…
[Photos: Jeff Johnson]