Unfinished Business
When it comes to making more responsible jeans, our work is never done. And, of course, we leave the really dirty work to you.
During a video call at the height of the pandemic last fall, Mark Little, who oversees Patagonia's men's sportswear and surf product lines, held up a pair of well-loved jeans and proudly let writer and Sportswear & Kids' Editor Rachel G. Clark know he had worn them nearly every day for two and a half years after the product team designed them in 2015.
Mark: They were my work uniform, my home uniform, my travel uniform. And I think they were washed maybe five times over that span of time.

Rachel: Wait, you only washed them five times?

Mark: Yep.

Rachel: How … umm … I mean, why?

Mark: Due to the characteristics of our new dye, they started out, well, kind of purplish. The team didn't think they could be worn-in and distressed to look like a traditionally dyed pair, so I wanted to prove them wrong.

Rachel: Not even a trip to the freezer?

Mark: Nope. I just hung them up to air-dry in between wears. And they're still pretty clean.

Rachel: Are you sure?

Mark: Well, yes, because my wife hasn't kicked me out of the house.
He smiles and points out the full-of-character light blue ombré hue, several hard-earned holes, plus rips and stains gained from daily use, including his 10-mile bike commutes, long workdays and many travels: sunrises in the Dolomites, walks on the streets of London, a flight to Paris, a hike through the John Muir Wilderness, and dinners in Tokyo and Kyoto. These years of dedication to his own denim's "finishing" process had helped him accomplish a personalized shade he was proud of.
Making denim has been a bumpy journey for Patagonia since we made our first pair of jeans in 1998. We were one of the first brands to make them with organic cotton, and we learned a lot about the environmental and human cost of making denim—from the waste involved in the indigo-dyeing process to the energy-intensive finishing process. But even when we chose a more responsible material in organic over conventional cotton, denim remained a dirty business. So, we dropped our pants (literally, from the line) and went back to work. By 2015, we launched a pair we were really proud of—still made with organic cotton but also Fair Trade Certified™ sewn and dyed with a new, less water- and energy-intensive sulfur-dye process called Advanced Denim.
In traditional denim-making, the yarn is run through a series of baths (or vats), typically 10–15, that are later dumped into waterways, with or without treatment, and then refilled. The new dye process required only one reusable vat and used 79 percent less water and 20 percent less electricity, while producing 25 percent fewer CO₂ emissions compared to conventionally dyed denim. The dye, however, had one big negative performance feature: It produced denim with a purplish hue that might not fade and wear-in like conventionally dyed jeans.
When something more harmful is removed from the process, a new problem is often introduced. It's a balance to weigh the cost of environmental impacts and product quality and longevity. This remains the design team's—and Patagonia's—biggest ongoing challenge. We knew that if we kept making purple pants, people might not dedicate two and a half years of daily wear to transform them into a desired hue, which meant the jeans might not be worn, loved and kept forever. And we knew that when it came to jeans, one of everyone's closet staples, the key to a truly responsible pair was longevity—they needed to look good enough to wear every day and still be durable enough to keep wearing for a lifetime.
After years of testing dyes, we found the answer: A new indigo-dye solution that used waterless foam. It had similar energy and water savings but also resulted in a more traditional blue-jeans color. Rather than running yarn through a series of water-dye baths, the foam dye is applied and sits on top of the fabric, so it goes through without requiring a soak. The result is a perfectly crisp dark blue, ready to be naturally worn-in by the owner with regular wear and occasional washes. And in case you're wondering why we offer only one color, there's thought behind that choice as well.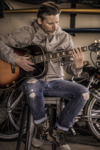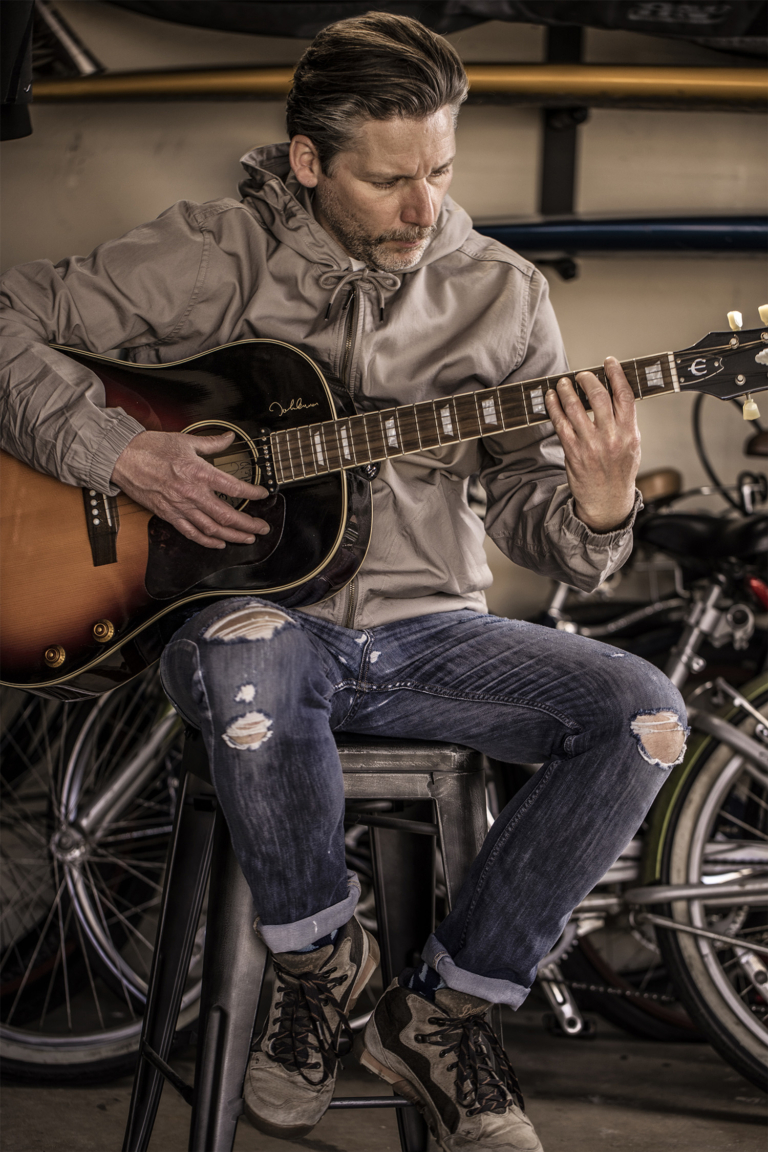 "Most jeans (even light- or medium-blue shades) begin their lives as dark jeans," says Mark. "To get them to look worn-in and used, they wash them in a ton of chemical solutions, stonewash them or intentionally destroy them a little bit." All that "wear" processing is done post-dyeing and results in even more energy and water waste. According to a 2013 report commissioned by the International Solid Waste Association, it's this part of making jeans that is often the most harmful, not only because of its environmental cost but also because of how much it shortens the life span of the jeans. "The finishing process," adds Mark, "is the most damaging part of the whole production cycle. Finish-processes may reduce the strength of the fabric by 50 percent or more, resulting in a much lower technical lifetime."
"Taking part in that finishing process just didn't align with our values. To me, jeans are like a walking diary. If you choose to truly break them in like I did, they mold to you, become a part of you. We want you to 'finish' your own jeans. "
It was and continues to be important to us to skip the damaging finishing process and give that task to the wearer. "Taking part in that finishing process just didn't align with our values. To me, jeans are like a walking diary. If you choose to truly break them in like I did, they mold to you, become a part of you. We want you to 'finish' your own jeans," says Mark.
The next challenge was to rethink materials. We had been using organic cotton since 1998, but we wanted to determine what blend of fibers would lead to the lowest environmental impact and ensure a long-lasting durable fabric.
"If you're looking for the most responsible material in terms of carbon emissions, it's 100 percent recycled cotton," says Sarah Hayes, who leads material development at Patagonia. "But if you want them to last a long time and stay out of the waste stream, recycled cotton alone is not as durable as it is when it's blended with a virgin fiber. So, we weighed the benefits of carbon savings, repurposing cotton scraps and supporting Regenerative Organic agriculture, and went with the option that allowed us to improve as much as we could without sacrificing quality—so people can keep these jeans forever."
According to Sarah, the final material mix we landed on represented the most responsible choices we felt we could make today—78 percent Regenerative Organic Certified Pilot Cotton, 20 percent recycled cotton and 2 percent spandex.
"Our data for a long time indicated that organic or Regenerative Organic cotton paired with recycled cotton is a winning combination in terms of greenhouse gas emissions and water usage," says Stephanie Karba, environmental researcher at Patagonia. "We thought it was the best way to get energy and water savings and still support farming communities. And that's what we set out to do."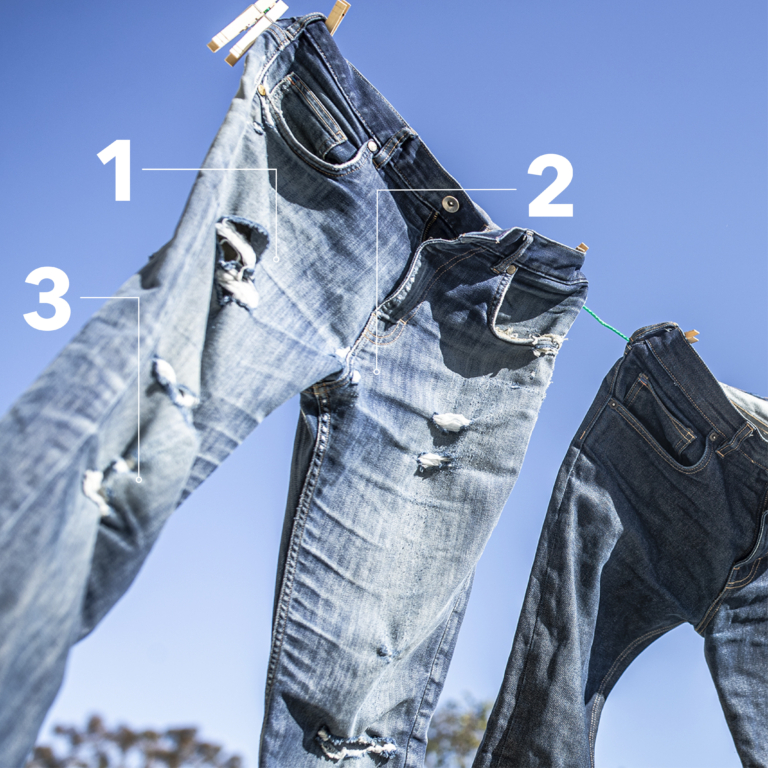 Lastly, there was the problem of impact—how could we possibly improve the way denim is made globally when we're not a key player in the denim industry?
"All we can do is show that it can be done—that we can build jeans with the goal that they never come back to us," says Nicholas Hartley, material developer at Patagonia. "My hope is that in 40 years or more, our jeans are well-worn, with a wallet imprint in the back pocket, and selling on eBay for more than they're worth now because they've gained more character."
Without the pressures that come with the volume most denim brands have, and without the constraints of traditional business models, there is a tangible spirit of excitement and curiosity within the denim-development team, which feels a bit like an adult-designed playground. Undyed denim? Someday. Intercropping Regenerative Organic cotton and indigo? They're working on it. It seems that no consideration is off the table for future tinkering.
"This denim represents as good as we know how to do it at the moment," says Helena Barbour, who leads Patagonia's Life Outdoors business. "And I am an optimist, so I like to think there's even better stuff around the corner."