Kate Rutherford & Mikey Schaefer Establish Washington Route, a New One on Fitz Roy
Kate Rutherford
/
February 17, 2011
/
2 Min Read
/
Climbing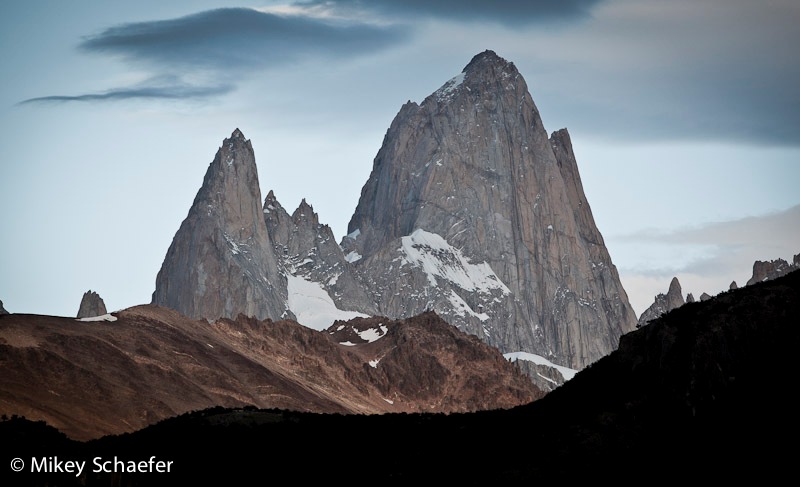 I sat in a cloud of dust; pants dirty, my hand planted in the sewing needles of some patagonian flora. I'd just landed there after my tired muscles failed to correct a small foot slip on the steep gravel. We were headed down from Fitz Roy on this 5th day. I stood and wiped the pinprick of blood from my throbbing finger. There must be poison in those stupid needles. I was listening to a song about a "threadbare Gypsy soul," the singer had a "wild streak in his heart." He had a cowboy hat . . . I had those too; different hat.
Later, on a bus, I'm still thinking about threads and whether my gypsy soul is threadbare. I'm that jittery kind of exhausted; excited and tired to the bone. But I relished it, the fatigue makes me know it is real; the only souvenir I had of our new route. It makes me smile how bare those threads feel. Cerro Fitz Roy was pink in dawn light as I climbed aboard this ride. Our new route was the left sky line, it looked so far away.
– Ed note: We're pleased to share this update from Patagonia Climbing Ambassadors Kate Rutherford and Mikey Schaefer. The two just returned from Patagonia, where they established a new line on Fitz Roy that they're calling the Washington Route. This is fresh news – apologies for the lack of photo captions. Check Kate's personal website and Mikey's blog for more details, and hit the jump to hear the rest of the story and see more photos from the climb.