How Lynn Hill Trains for Mental Endurance
Lynn Hill
/
October 15, 2007
/
4 Min Read
/
Climbing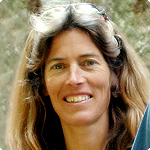 Editor's note: Welcome to The Cleanest Lynn. Besides being one of the most accomplished climbers on the planet Lynn Hill is also one heck of a blogger. So we've handed over the keys to Lynn for a week's worth of her insight. Enjoy.
Many people ask me how I train for climbing. My first answer is, by climbing of course! When I'm interested in preparing for a particular climb, I choose the appropriate kind of climbing as training for my objective. On rare occasions I will do supplemental forms of training when climbing alone is not sufficient. For example, when I free climbed the Nose on El Capitan, I needed to train for a high level of endurance because the Nose route is nearly 3,000 feet long and the most difficult sections of the climb are located over 2,000 feet off the ground.
In order to train for this ascent, I not only climbed as many pitches per day as I could, but I ran at a relatively high level of intensity for at least an hour or an hour-and-a-half daily. I needed to have a lot of stamina, as well as a reasonably high degree of power to be able to free climb the most difficult sections of the climb. Consequently, I needed to combine endurance training with strength training, which can sometimes be a bit tricky since research shows that endurance training can get in the way of strength training. But above all, the most important element of endurance training for any sport or activity has to do with the mental aspect. For today's post, I will address the mental aspect of endurance training that I have learned throughout my years as an athlete. Tomorrow, I will address the physical elements.
For me, the mental aspect of any activity is far more important than the physical side. Since every action starts with a thought, the mental aspect must have a profound influence on the quality of our performance. I discovered that my body was perfectly capable of maintaining the level of physical exertion necessary for any given challenge, but my mind has always been the limiting factor. I remember when I was training for the 1,500 and 3,000-meter track events in college, the mental discipline necessary was more demanding than just about any other sport I've ever done – including climbing! The most crucial aspect of this mental discipline had to do with acceptance – the ability to accept the pain or mental resistance when pushing myself. Whenever I felt like I couldn't bear the effort any longer, I would try to do what I call a mental shift. Instead of focusing on sensations of fatigue, I focused on breathing and maintaining perfect form. By concentrating on the details of how I swung my arms and the most efficient trajectory of my stride, my attention was directed in a much more productive way and I could accept the effort more easily.
Another technique I use to sandbag myself into pushing as hard as possible is to pick a training goal that is reasonably attainable. For example, I would pick either a particular landmark or a time interval to maintain a challenging pace and once I arrived at that point, I would often continue the effort, choosing a new landmark or time interval. Unless I felt that it would be damaging to continue at that pace, I never allowed myself to give up before the end of each objective. I found that it's easier to make several small goals that offer small victories and augment my motivation. By choosing several incremental goals, I can more easily maintain the mental toughness to push myself all the way to the end.
Though most forms of endurance training require a high degree of discipline, mental endurance for climbing has more to do with having the confidence to keep trying all the way to the top. When I start to get tired, it's usually in a situation where I've hesitated about the upcoming sequence of moves. In these situations, I wait until I feel confident about committing to action. If I wait too long, I risk losing more precious strength. These are the moments when knowing how to relax, recuperate, and plan a sequence of moves is essential. Over the years I've learned how to relax my muscles and trust my intuition. When my strength is waning I focus on committing to action and if I really commit with 100% confidence, most of the time I succeed. If I fall, it's usually because I didn't use the right method or technique. It is rare that I fall off because I simply can't hang on any longer. When tired, we are more susceptible to having tunnel vision. In these moments of difficulty we no longer think with clarity or use the most efficient technique. The key to climbing well, like most activities, is to be in the right state of mind.
Lynn's Tips & Training Series
How I Train Pt. 1 – Mental Endurance
How I Train Pt. 2 – Physical Elements of Endurance
Breathing and Energy Flow
Muscular Balance
Setting Realistic Goals
Motivation
Traversing Techniques
It Takes a Village to Raise a Child