Your Rad Dad Stories – Hip Mountain Biker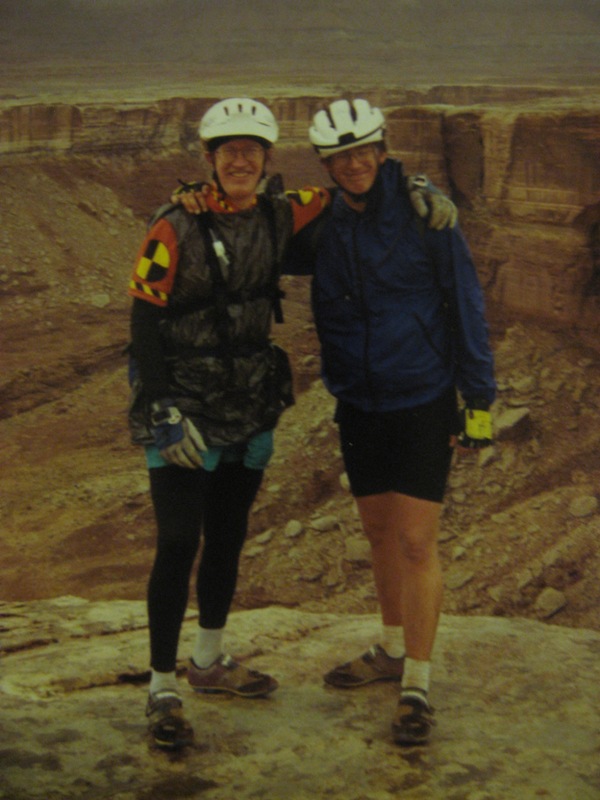 Editor's Note: Today's post comes from Dan Moore, down in southern Utah. Dan sent us this story in response to our request to "Tell Us About Your Rad Dad." Last week's featured submission was from a young lady whose discovery of herself and the outdoors is still unfolding. This week's feature offers a look back from the perspective of a man now raising his own son.
It's not uncommon for dads to push us to do better, to try harder. But it's the uncommon dad who figures out how to make that fun. Dan Moore is lucky to have one of those dads:
____________________________
I was thirteen years old when I first started beating my dad on the mountain bike. The first time I out rode him was on a trip to Moab, and Poison Spider Mesa was the ride. After that, Moab trips became a fairly frequent event, and my father, an orthopedic surgeon, was always inviting more of the guys from the hospital to come along. It was always a bit of a competition. My dad would try to find young guys in good shape to pit against me throughout my teenage years in order to push me to ride better and faster.
On one particular trip, when I was about sixteen, my father had run out of guys at the hospital who could push me. As we drove in our van to Moab, all of the doctors, nurses and scrub technicians joked about needing to do something to slow me down. I basked in the macho adulation of the men I'd grown up idolizing and the feeling that I was viewed, not only as one of them, but when it came to riding, as the top of the food chain.
[Dan Moore and his dad, David, on the White Rim Trail, 1993. Photo courtesy Dan Moore]
We pulled into the Slickrock Trail parking lot and started putting front tires on the bikes to get ready for the ride. My father started putting his and my packs together. Chuckles arose from the group as they watched my dad digging through his toolbox and tossing things into my pack while muttering under his breath things like "can't be too careful" and "best to be prepared."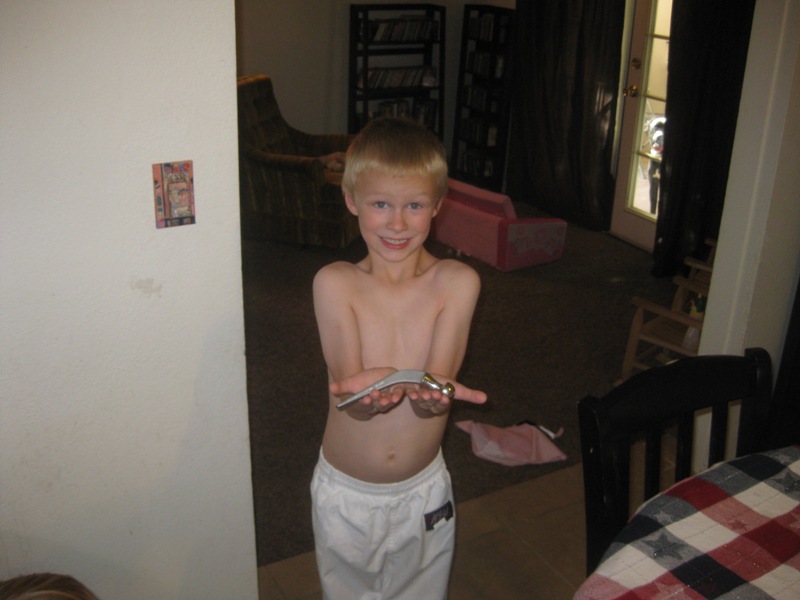 Crank pullers, socket wrenches, extra spokes and even a spare bottom bracket found their way into my pack. As the final hurrah, my father got a funny smile on his face, reached into his toolbox and produced an artificial hip. Smiling broadly at the group of medical professionals, he said, "Just in case," and threw it in my pack. I did every ride that weekend with that pack and rode as well as I ever had. It was probably the high-water mark of my mountain biking career.
On Father's Day, I'll turn thirty-two years old. That incident occurred half my lifetime ago. I have a son who will turn seven three days after my birthday. At this point, I don't have any trouble keeping up with him.  He's still working on learning to ride a bike, but when he gets too fast for me, there's a stainless steel artificial hip sitting in my sock drawer. Just in case.
[Dan's son, Bennett, holding the fabled hip. Photo: Dan Moore]